ComicBoxer is a monthly comic book subscription box for comic collectors.  Every month you'll receive 5-7 comics ranging from hot new releases, variant covers, #1 issues and more from top publishers. ComicBoxer mystery boxes are for adult collectors and readers and may contain comics with mature situations, violence, and explicit language. They are currently working on a ComicBoxer for Kids! That one is also sure to be a hit! ComicBoxer works with publishers like DC Comics, Marvel Comics, Image Comics, Boom Studios, IDW, Dynamite, Dark Horse, and Oni Press to bring you fresh new comics monthly.
We removed the bubblewrap for the first photo, but as soon as we opened it we could tell they really cared about the condition of the comics – everything was bubblewrapped to protect the comics inside!
A bonus comic – Grant Morrison's 18 Days, plus all the comics.
A peek at the Grant Morrison comic!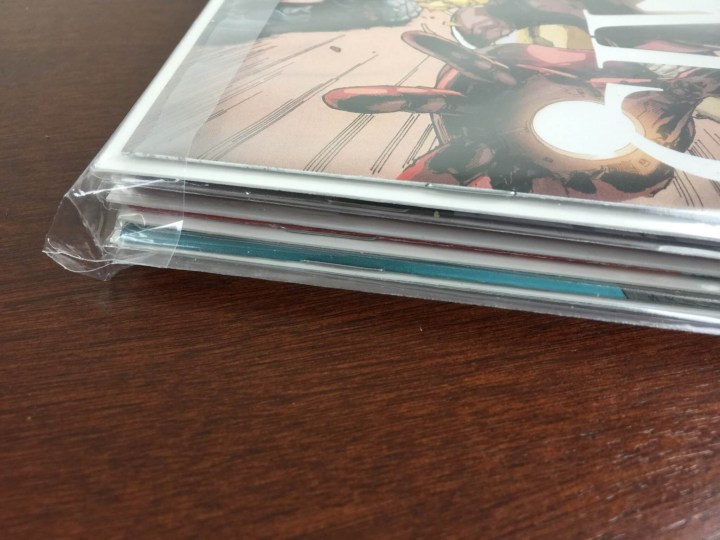 The care of the comics went further – all the comics were bagged together.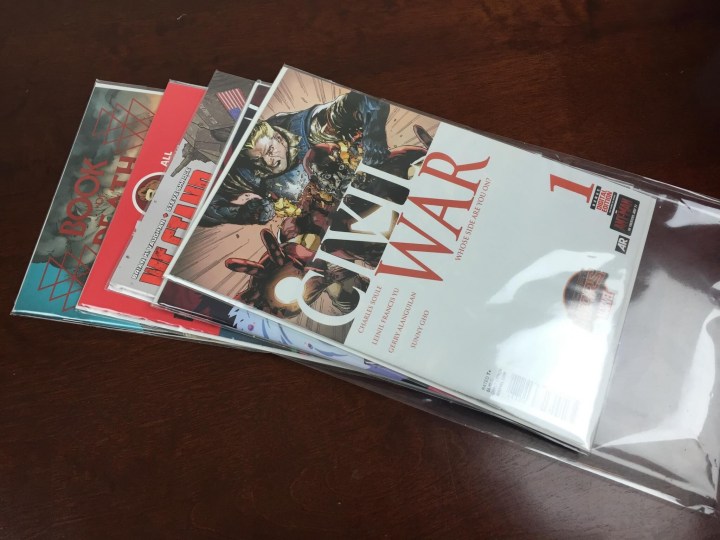 And each comic was individually bagged and boarded.
The information sheet gives the information on each book – the artists, the publishers, the story, and most importantly the value!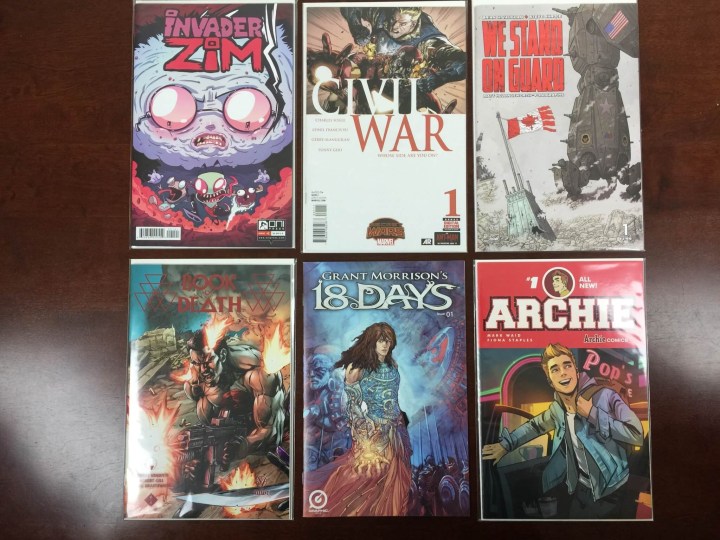 All the comics in the box! Note that while we've listed the cover price for each item, a couple of these are already rare and sell for over twice their cover price already! I don't know much about these series (except of course Archie) but I assume you'll be able to figure out whether this comic book subscription is curated in a way that you'd appreciate by checking out the titles, publishers, and descriptions, so that's what I've included below!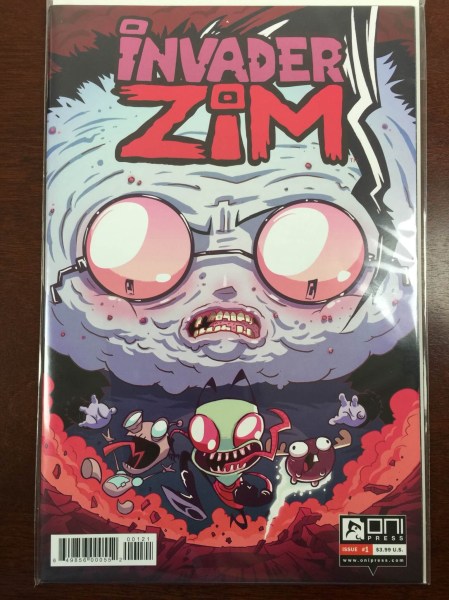 Invader Zim #1 by Jhonen Vasquez & Aaron Alexovich (Oni Press) ($3.99) One of two regular covers were included and one (I don't know which!) sells for $10+ at auction!
ZIM and his filthy evil ways have been gone for what feels like years. But Dib KNOWS the alien menace will rear his head again, and he won't leave the house, or his 900 security monitors, until it happens. And it WILL happen. Oh, it WILL.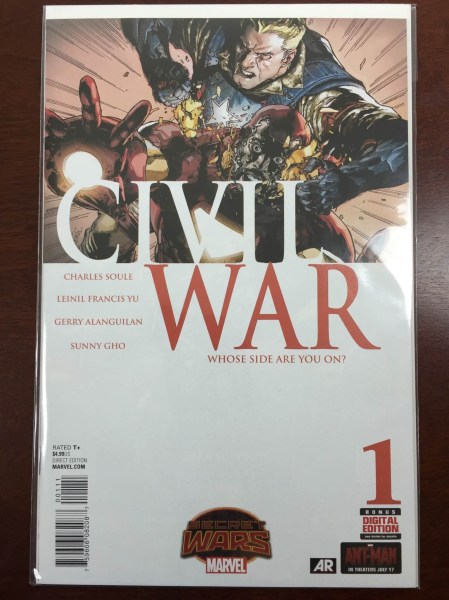 Secret Wars Civil War #1 by Charles Soule & Leinil Yu (Marvel Comics) ($4.99) I have a couple of these and it's a great story! This is a different cover than I've received previously, and it also has a bonus digital edition.
The Civil War never ended. Welcome to the Warzone, where six years of non-stop battle between the forces of the Blue and the Iron have split the nation down its center, utterly transforming it. In a world of new alliances and strange enemies, President Tony Stark and General Steve Rogers meet to make one last attempt at peace.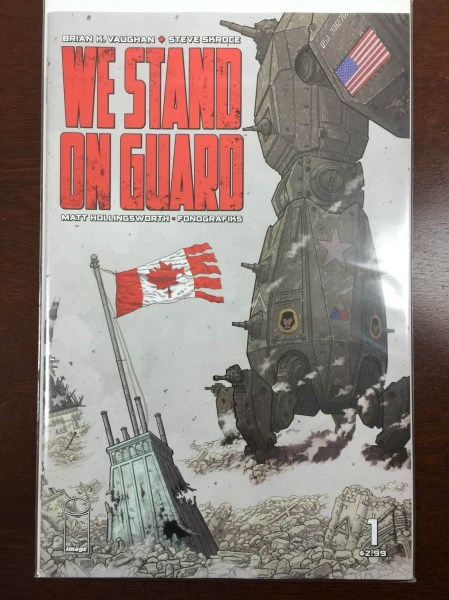 We Stand On Guard #1 by Brian K Vaughan and Steve Skroce (Image Comics) ($3.99)
an action-packed military thriller that will have everyone talking. 100 years from now, a heroic band of Canadian civilians must defend their homeland from invasion…by the United States of America! The hyper-detailed combat between badass freedom fighters and giant f***ing robots begins with a spectacular 40-PAGE FIRST ISSUE 
Book Of Death #1 (Valiant Comics) ($3.99) This has a rare variant cover that sells for $10+!
"A coward dies a thousand times before his death, but the valiant taste of death but once." The Valiant heroes. X-O Manowar. Bloodshot. Ninjak. The Harbinger Renegades. Unity. This is how they lived. This is how they died. Now we know. The Book of the Geomancer has recorded it all. But only a young girl – the last in a line of the enigmatic mystics who protect the Earth known as Geomancers – has seen this future come to pass, from the coming cataclysm to the dawn of the 41st century. Alone with her sworn protector, the Eternal Warrior – a soldier battle-forged across five thousand years of combat – the duo must defy their allies to stop the Dark Age that now threatens to eclipse our world. Together, they are the number one target of every hero and villain on Earth. Either the Eternal Warrior hands her over … or they take him down. But can even he single-handedly protect one child when the entire Valiant Universe wages war against him?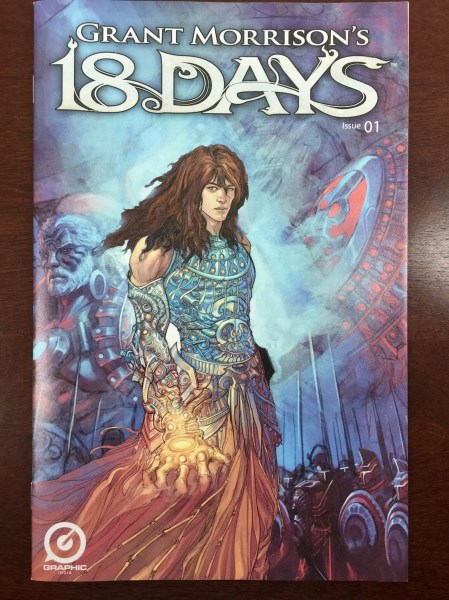 18 Days #1 by Grant Morrison & Javeen Kang ($1) I liked that this wasn't bagged and boarded, it invited me to get into it!
From legendary creator Grant Morrison (All-Star Superman, Batman & Robin, The Invisibles), comes the first chapter in his newest creation. 18 Days is the story of three generations of super-warriors, meeting for the final battle of their age, a climactic war that concludes the age of the gods and begins the age of man. "This is not a Lord of the Rings or a Star Wars where the good guys win because they are right. The good guys in 18 Days are forced to cheat and lie and break rules to win. Although it has fantastic, mythic trappings, this is a very modern story of realpolitik and the failure of ideals in the face of harsh truth."
Archie #1 by Mark Waid & Fiona Staples (Archie Comics) ($3.99) What?! Archie's back?? I won't spoil the story but it was an interesting fresh take on a totally classic character, and really brought back memories! My aunt used to pick up the Archie books (they weren't in a comic format, the size was more like Reader's Digest) from the supermarket and we would read them!  Great throwback!
Change is coming to Riverdale in this can't-miss kick-off to Archie's new ongoing series! Familiar faces return in new and unexpected ways in this must-have #1 issue! As the new school year approaches, you'd think Archie Andrews would be looking forward to classes and fun—but nothing is as it seems in the little town of Riverdale. But is this a one-off or a sign of bigger changes awaiting for America's favorite teens—and the entire town? Find out in this exciting and remarkable first issue!
All of the comics included in the August ComicBoxer were #1 issues, but I don't think they do that 100% of the time – this box is for collectors and readers alike and they mix up what they send, although it's focused on curating and discovering new series of comics to actually read, everything is packaged collector-style. ComicBoxer really took great care with all the comics and there was a nice variety – blockbusters like Marvel, reimaginings like Archie, comics based on cartoons (Invader Zim), as well as new entries like 18 Days and Book of Death, with enough serendipity to mirror wandering around the comic book store.
Visit ComicBoxer to subscribe or find out more!
The Subscription
:
ComicBoxer
The Description
: ComicBoxer is a monthly comic book mystery box. Each month our experts hand pick 5-7 of the hottest new release comic books, variant covers, first appearances, #1 issues, and more – and we send them right to your door!
The Price
: $19.99 per month plus $8 US shipping (also ships worldwide)
The Coupon
: Save 10% with a 6-month subscription