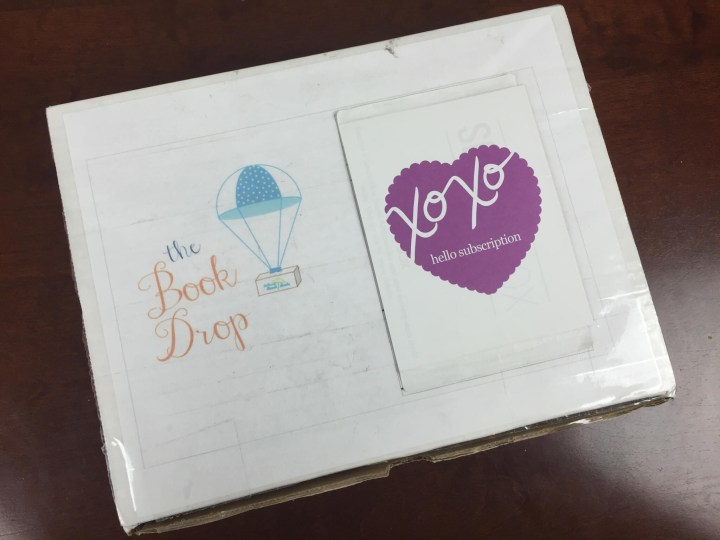 The Book Drop is a monthly book subscription box from Bethany Beach Books, an independent bookstore. Every month you'll receive a reading selection (no bookish items in this one) that you may not have discovered in or to start or rekindle your love of reading! (Or just feed your addiction). The Book Drop offers 4 separate subscriptions, with customizations.
The Jane: Contemporary + Historical Fiction, with a sprinkling of Literary Fiction books. Paperback.
The Ernest: Thriller + Action novels, with a sprinkling of Non-Fiction books. Paperback.
Young Adult: Paperback books appropriate for readers with a maturity level of age 14-15+.

Adventure & Action: For the reader that likes to be on the edge of their seat! Could include a little bit of sci-fi, too!
Love & Romance: Mostly contemporary reads that focus on love & relationships.
A Little Bit of Everything: Perfect for the reader who likes to read a variety of books!

Children: Our favorite paperback books perfect for children ages 8-12.

Adventurous: For the adventurous reader who likes to be on the edge of their seat. With a mix of funny books, too!
Pleasant: For the reader who likes stories about friendship, animals, nature, & pleasant topics.
A Little Bit of Everything: Perfect for the outgoing reader who reads a variety of books!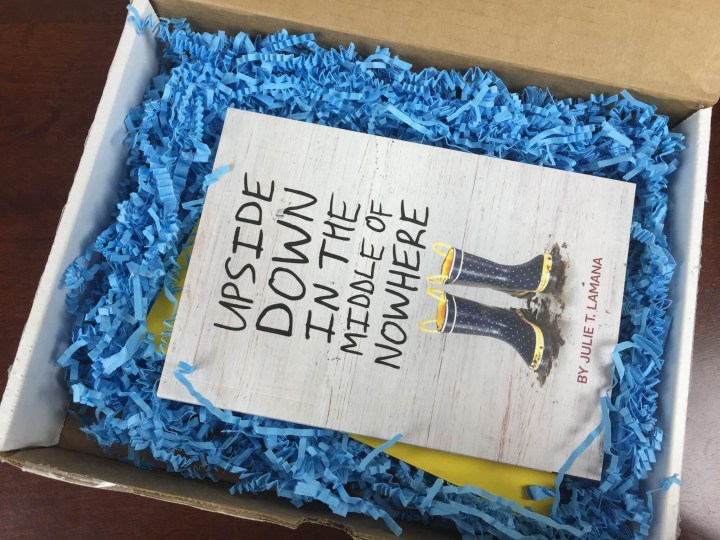 The book comes nicely packed in squiggles, along with a small extra and a curator's note.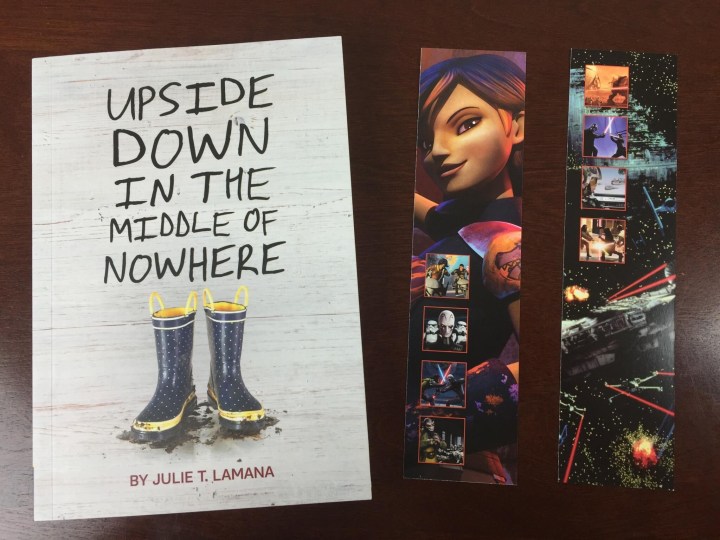 We selected the Children's Subscription – A Little of Everything. We should have picked adventurous – the selection was Magic Marks the Spot (Very Nearly Honorable League of Pirates).
The Star Wars Rebels series might be a great way to get a reluctant reader going!


Curator's Note: With the 10th anniversary of Hurricane Katrina this last week of August, we thought why not read a novel about it? This is a story about survival, bravery, and the miraculous power of hope and love. Great for both avid and reluctant readers!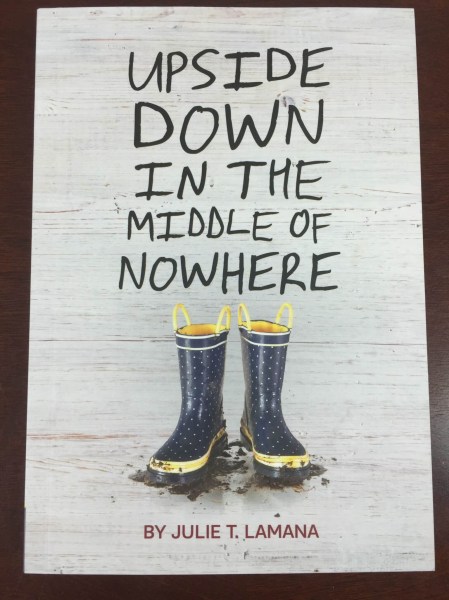 Upside Down in the Middle of Nowhere by Julie T. Lamana ($7.99)
Armani Curtis can think about only one thing: her tenth birthday. She's having a party, her mama is making a big cake, and she has a good feeling about a certain wrapped box. Turning ten years old is a big deal to Armani. It means she's older, wiser, more responsible. But when Hurricane Katrina hits the Lower Nines of New Orleans and tears her world apart, Armani realizes that being ten means being brave, watching loved ones die, and mustering all her strength to help her family weather the storm. A gripping story of courage and survival, Upside Down in the Middle of Nowhere celebrates the power of hope and love in the face of the unthinkable.
The children's subscription is selected for 8-12 year olds, and this book was rated for 4th to 7th graders, so it was right on point. Looking at the pages I expected a 5th or 6th grade level. I subscribed for my daughter, who is nearly 7, and the book is much too mature and long for her needs (we have a lot of problems finding good books for her that fit her age, attention level, and reading level).  This book is the right level but wouldn't hold her attention. While the book is sensitive subject matter for a lot of parents and pretty weighty, I don't think most kids would be overly affected by it because they don't have personal experience with Katrina.
Based on this selection I would say that this is an excellent selection service, while a bit provocative (which is what a good librarian or bookseller should be). I wasn't thrilled with the value – the book is selling for $7.99 on Amazon and the total cost for this month was $15 – it's pretty terrible and I think something should have been included to bring it up. This subscription would make a nice gift for readers that don't like to pick out their own books or want to discover new ones. The variety and customization of each subscription is really excellent. But ultimately we were disappointed with the box because of the lack of value and subject matter for our own child. Looking at the book it seemed to me that it would be something that would be assigned in a 5th or 6th grade class. We would have been happy with the "adventurous" selection.
Visit The Book Drop to subscribe or find out more!
The Subscription
:
The Book Drop
The Description
: Book Drop is a subscription book service created and run by Bethany Beach Books. You can opt to receive hardcover or paperback books and can be customized for a variety of ages and tastes.
The Price
: $9 for kids, $13 for YA, $16 for Adult + $5.99 shipping