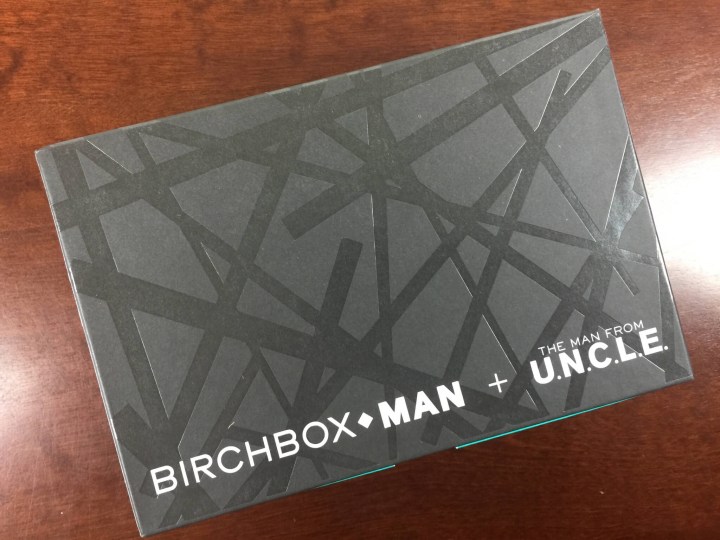 The September 2015 Birchbox Man was a collaboration with the Man from U.N.C.L.E.  Birchbox Man is a monthly grooming and lifestyle subscription for men. You'll receive 3-4 samples, plus a lifestyle item. Boxes are $20 per month and you'll earn points for reviewing the items in the box. You can earn 110 points ($11 in the shop) for picking up a yearly subscription. This is a great deal.
The box sleeve had a little extra flair this month, and the "info card" was customized with some teaser shots from the film.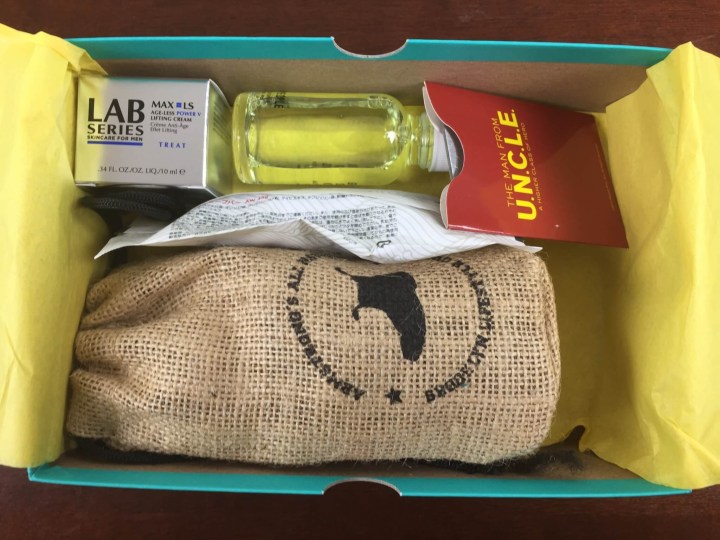 The information card no longer gives the details on each item, though this might be due to the tie-in this month.  Good thing I logged in to check – an item was missing from my box.  See your box at birchbox.com/mybox.  Subscribers are given a sample choice opportunity via email, and I selected the Leather Care Trio (in the burlap bag).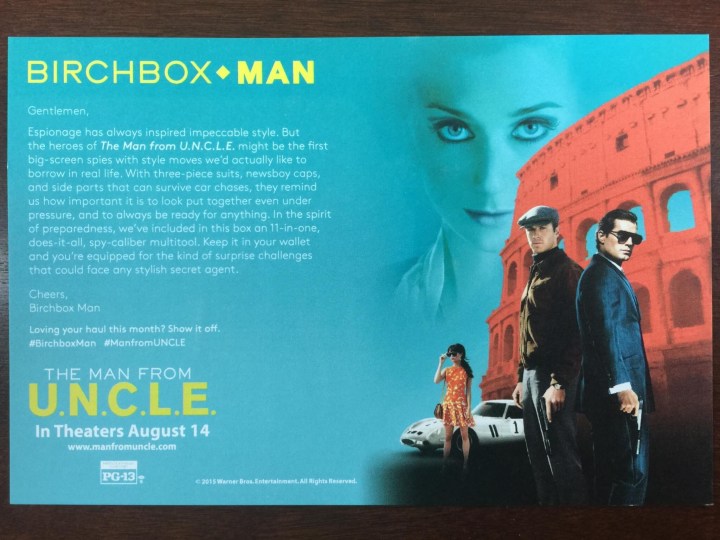 Espionage has always inspired impeccable style. But the heroes of The Man From U.N.C.L.E. might be the first big-screen spies with style moves we'd actually like to borrow in real life. With three-piece suits, newsboy caps, and side parts that can survive car chases, these spies remind us how important it is to look put together even under pressure, and to always be ready for anything.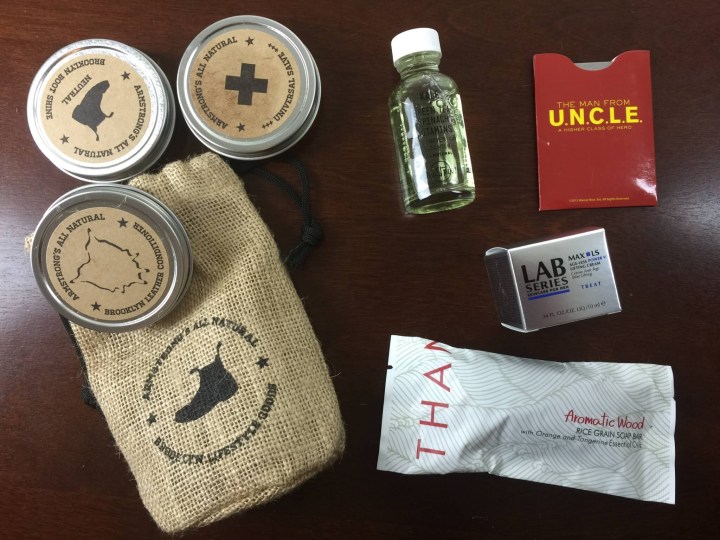 Everything in my box this month. 

Lab Series Max LS Age-Less Power V Lifting Cream ($15.6):  Anti-aging skincare formulated for men.  The texture was surprising — a fluffy balm, not a lotion.  It clings nicely to the skin, making it great for use on your face.
Youth To The People – Kale + Green Tea, Spinach, Vitamins Age Prevention Cleanser ($4.5):  packed with anti-oxidant-rich plant extracts to help combat aging, this cleanser is all natural and suitable for all skin types.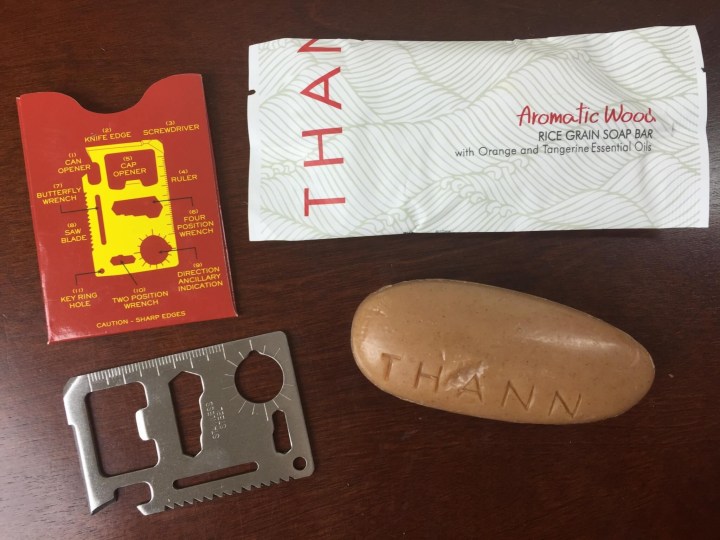 THANN Rice Grain Soap Bar ($4.28):  The rice bran oil and shea in this bar help it moisturize as it cleans.  Coconut, orange, and tangerine oils combine with cinnamon and nutmeg for a fantastic fall-appropriate scent.
All-in-One Tool:  Sized to fit in your wallet, this sturdy little rectangle has 11 useful gadgets built in.  Admittedly, these are pretty inexpensive, but it goes with the theme of the box.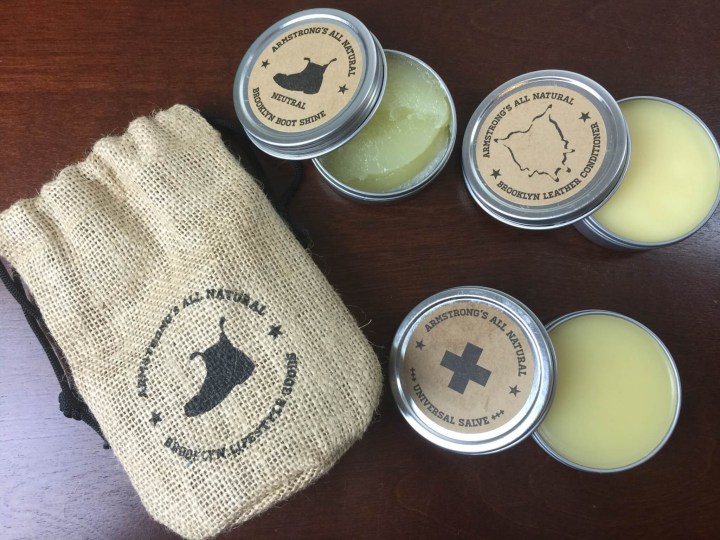 Armstrong's All Natural Leather Care Trio ($36):  Even at leather goods stores, conditioning and protection products have all sorts of horrible chemicals in them.  This set is all natural and contains no petroleum products.  Just keep the lids straight so you don't use the leather conditioner as lip balm!
Universal Salve:  This stuff can be used for pretty much anything.  Made from grapes oil, carnauba and beeswax, this is safe to use on your lips, skin, to season cast-iron, or whatever.  Originally designed as a wood cutting-board conditioner, it is food service safe.
Brooklyn Boot Shine: I can smell the orange oil in this very soft sludge.  Works on boots, shoes, and even furniture — lends a nice waterproofing and sheen.
Brooklyn Leather Conditioner:  Softens even the most aged and hardened leather.  Like the other products, the dye free and all natural formulation means you can work it in with your hands and not worry about staining or chemicals.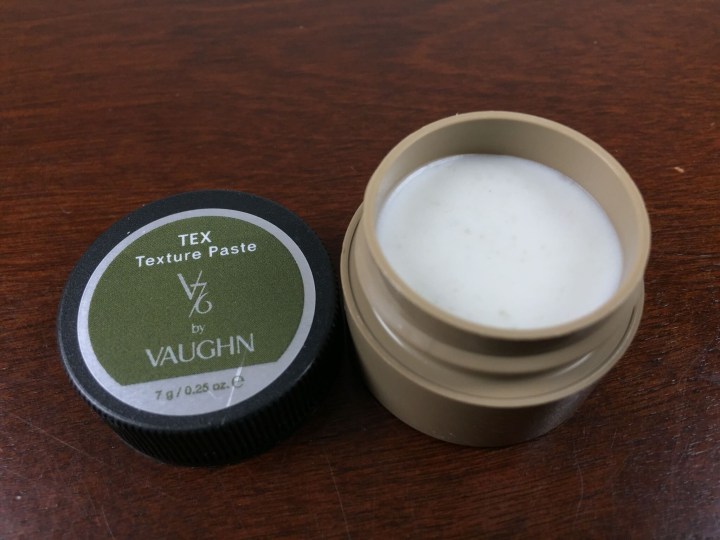 V76 by Vaughn TEX Texture Paste ($26):  We seemed to be missing this item in our box.  We wouldn't have known had we not checked the site. They are sending a replacement. Update – we got it.
Birchbox Man is still the king of men's grooming and lifestyle boxes.  The grooming products are mid to high-end, and the lifestyle items are always fun and geared toward guys' interests.
Visit Birchbox Man to subscribe or find out more.Use SUBSCRIBENOW50 to get an extra 50 points when you subscribe.
The Subscription
: 
Birchbox Man
The Description
: Birchbox Man offers grooming and lifestyle products in a monthly theme matching your profile. Items include haircare, body care, fragrance, electronics accessories, and dressing accessories.
The Price
: $20 per month
The Coupon
:Use
SUBSCRIBENOW50
to get an extra 50 points when you subscribe.