SnackSack is a monthly snacking subscription box that aims to bring high nutritional value natural snacks to your door every month. Snack Sack comes loaded with a variety of health-conscious snacks that leverage fruits, vegetables, and other natural ingredients to provide you with a more nutritious and balanced snack pantry.  Snacks are organic or all-natural, non-GMO, vegan, fair-trade, or gluten-free.
We were amused that the snacks still came with an actual burlap sack — even though only a small portion of the haul actually fit in it!  The bag sheds, so get it out of the way before you dig into the yummy snacks.
The information card gives you brief info on the many snacks packed into this box, plus a guide to which the snacks are non-GMO, gluten free, and vegetarian.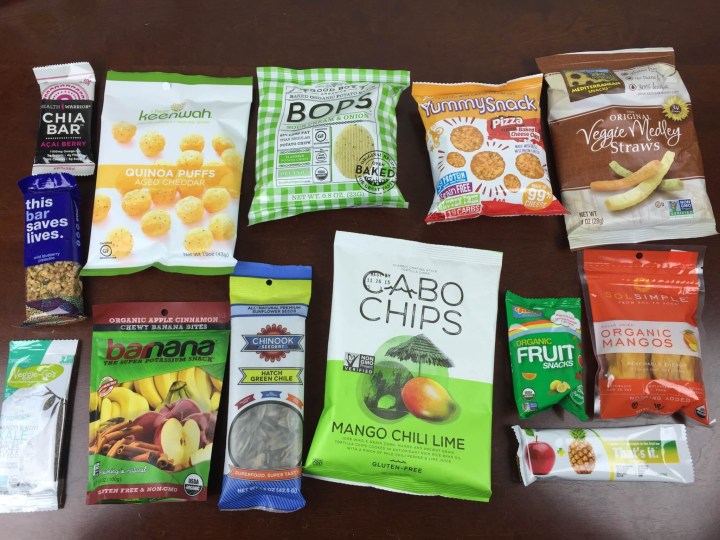 All the items in the box!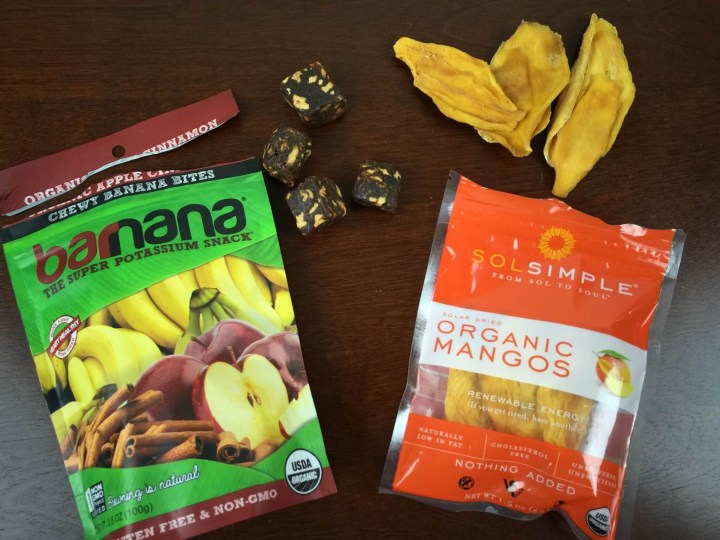 Banana Apple Cinnamon Banana Bites:  The dried banana browns deeply and has a heartier, less sweet flavor than the sugared or fried banana chips commonly seen.  The bits of dried apple are a nice kbit of texture, and the cinnamon provides big flavor, a nice upgrade to the unseasoned variety.  
Sol Simple Solar Dried Mangos:  Containing nothing but Nicaraguan mango, these are unsulfured and have a pleasant bit of toughness to them.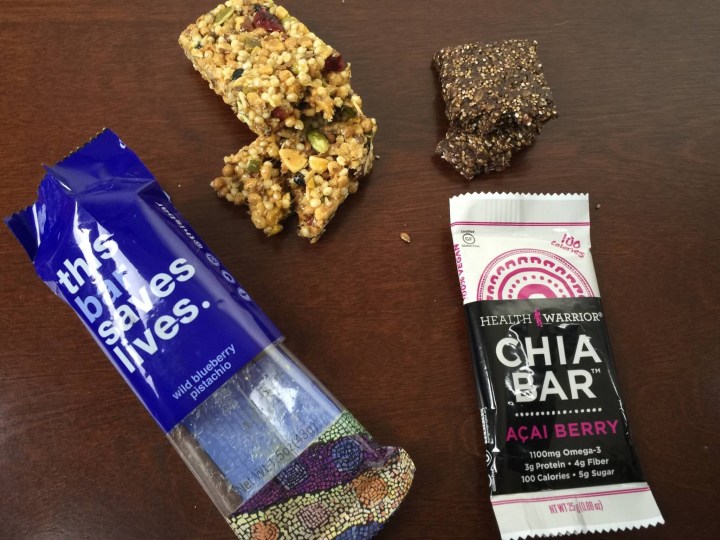 This Bar Saves Lives Blueberry Pistachio:  Named for the meal-donation program supported by sales of the bar, this is a nice, chewy and fairly sweet bar loaded with seeds and nuts.
Health Warrior Chia Bar:  This sweet and chewy bar has 1100 mg of omegas and the crispness of chia.  3 grams of protein are provided in each serving, but this is primarily for those wanting some superfood and bit of sweetness.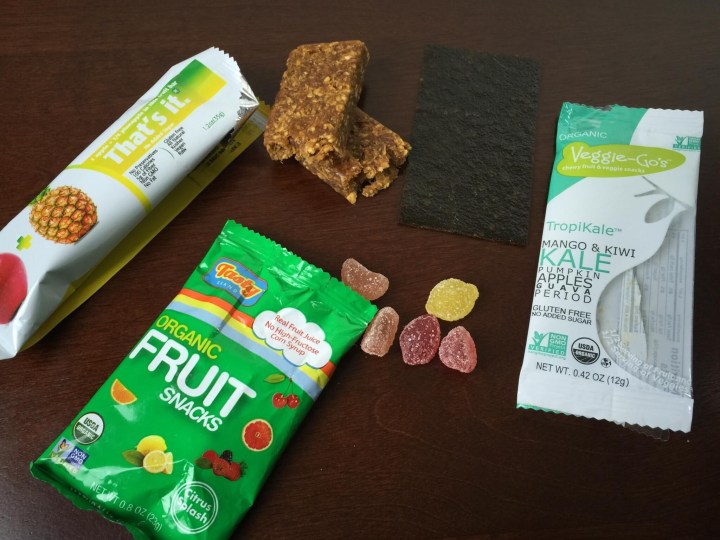 That's It Bars Apple and Pineapple:  Aptly named, these are less sweet than anticipated, since most fruit concoctions add extra pear or apple juice to up the sugar content.  Nicely flavored and gently chewy, these are sticky and tasty.
 Tasty Brand Citrus Splash Gummies:  These little guys are shaped like little fruits and dusted with can sugar crystals.  Sweet and chewy, the flavor comes from real fruit juice.
Veggie-Gos Tropikale:  This fruit leather combines mango, kiwi, kale, pumpkin, apple, and guava into a sweet and chewy strip.  The flavor is pretty good, but the kale really takes over after a couple seconds.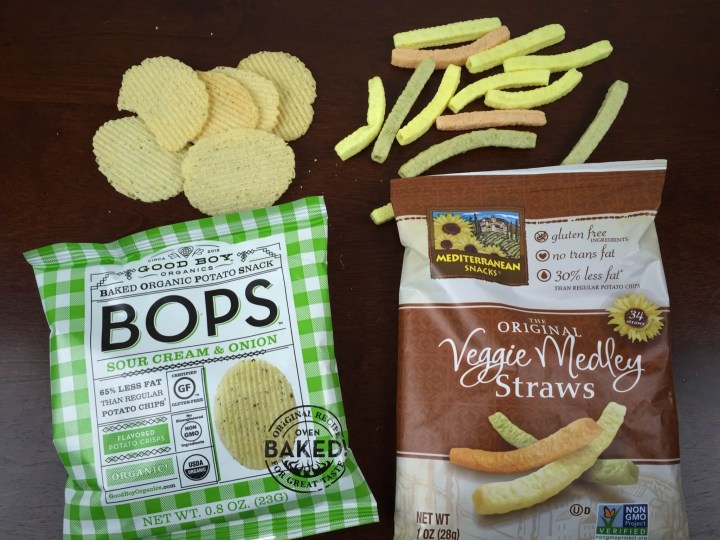 Mediterranean Snacks Veggie Medley Straws:  Crisp and light, these potato and corn starch sticks get their pleasant colors from tomato, spinach, and turmeric.  The coloring agents lend a ever so subtle flavor, giving each kind of straw a slightly different character.  
Good Boy Organics Sour Cream & Onion Bops:  These potato crisp are shaped like ridged chips, but they are much lighter and have a slightly crispy texture.  The seasoning is a classic sour cream and onion — many alternative grain or starch snacks have a unique flavor all their own, so it's good to have something that targets that urge for old school potato chip flavors.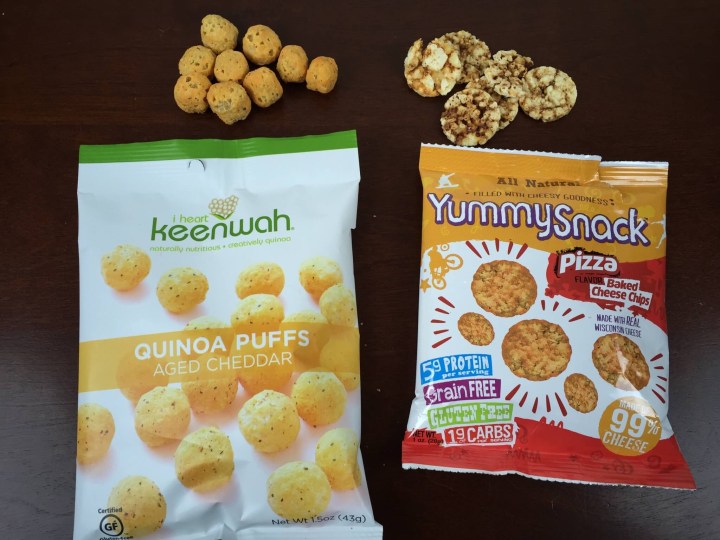 I Heart Keenwah Quinoa Puffs:  Super crunchy and having the characteristic taste of quinoa, these are heavily powdered in dusting of whey powder and cheddar.  These are quintessential quinoa, with the huge initial crunch and "hollow" feeling crispness.
Yummy health Yummy Snack Pizza Chips:  Made nearly entirely from dried Wisconsin Cheddar, these crispy little rounds are seasoned with some tomato and spices to make a tasty little pizza bite that has 5 grams of protein and only 1 carb per serving.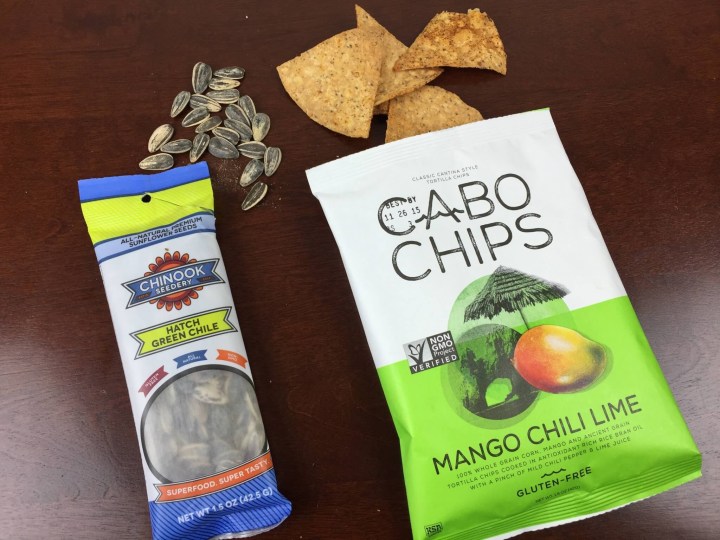 Cabo Chips Flavored Tortilla Chips:  Mango, teff, and chia are added to white corn to create a cantina-style chip that has a little more heartiness than straight corn.  Gluten free and whole grain, these have a nice dose of chili-lime seasoning.
Chinook Seedery Hatch Green Chile:  The great flavor of Hatch chiles lends nice depth of flavor to crunchy, whole sunflower seeds.  Not overly spicy, the chiles are an awesome match for the seeds, and the salt level is modest.  
Check out my video review of this box!
https://youtu.be/LIUOxLnM7SU&rel=0
This was one big batch of snacks!  Some of the snacks have cross-over appeal and will satisfy fans of "ordinary" less healthy snacks.  Others are best for those who enjoy chia and grain alternatives, but all are healthy and this is an excellent box to get you through a month or to share!
Visit SnackSack to subscribe or find out more! Get 15% off the entire lifetime of your subscription! Use coupon code HELLO15.
The Subscription
:
SnackSack
The Description
: Monthly surprise delivery of delicious all-natural & organic snack foods. We curate a delicious assortment of gluten-free, non-gmo, & vegan goodies. Sent from beautiful Colorado directly to your doorstep.
The Price
: $23 per month
The Coupon
: Get 15% off the entire lifetime of your subscription! Use coupon code
HELLO15
.