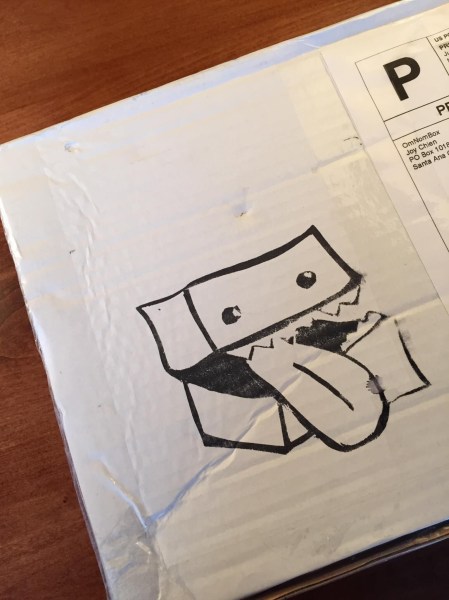 OmNomBox is a monthly Asian snack subscription box with snacks from Japan, Korea, Taiwan and more! Every month's box has 10-12 different Asian snacks including a drink and a mix of full-size and deluxe size products.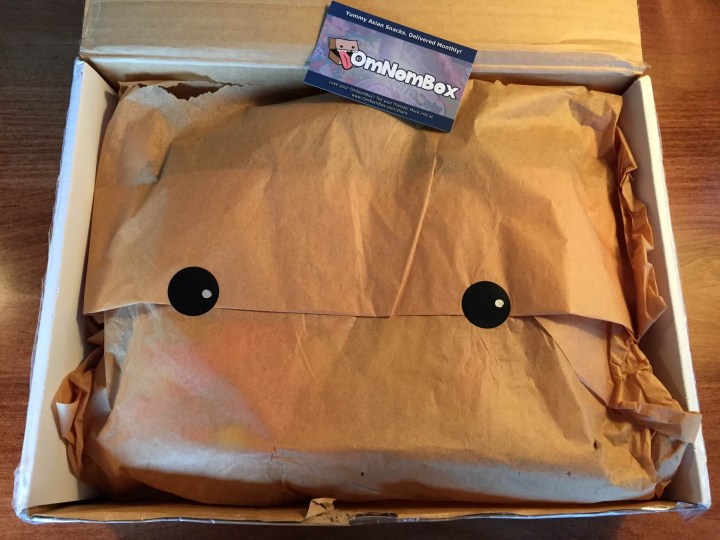 I love the packaging for this box, it's so cute!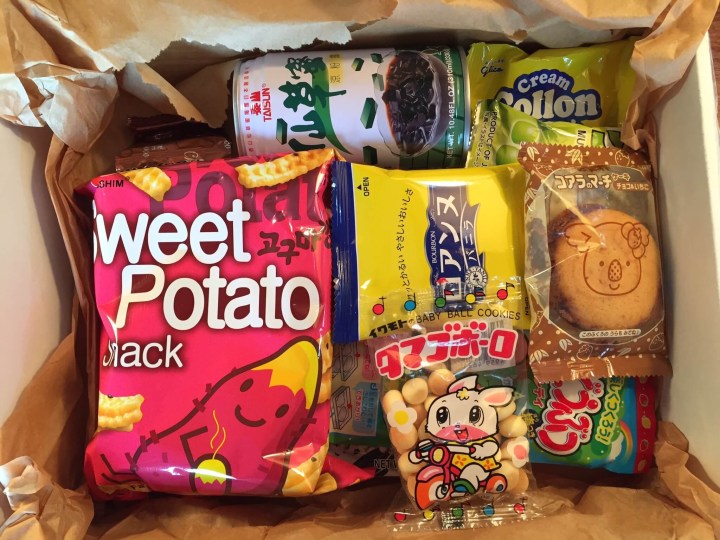 There's quite a lot of snacks in the box!
Everything in the July Box.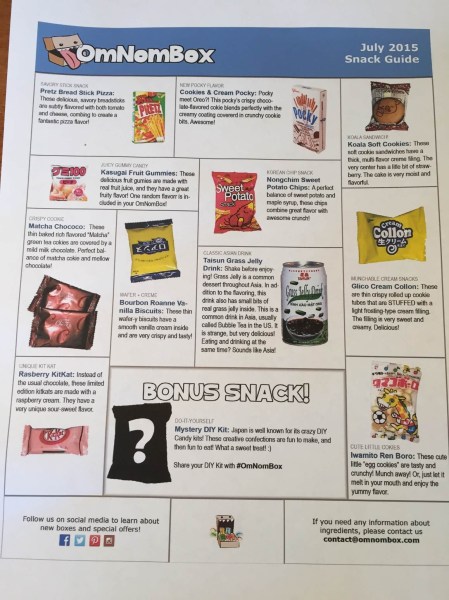 The information sheet has all the details on every snack. If you need ingredient information for any snack they provide an email address.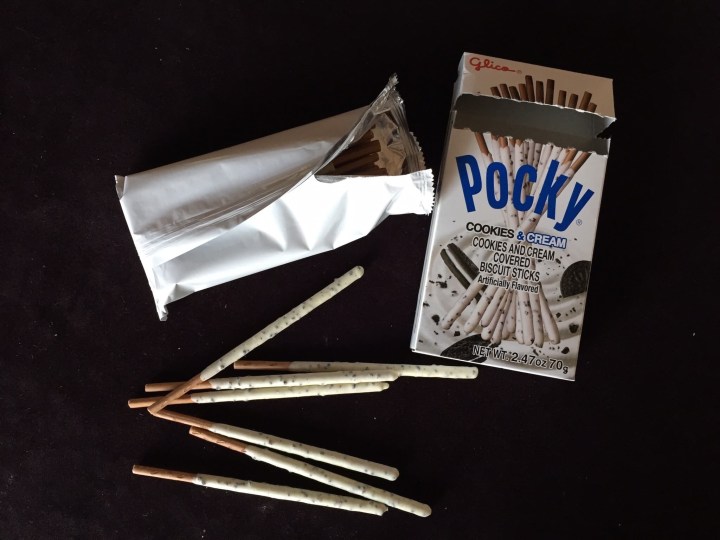 Glico Cookies & Cream Pocky:  Omg, the cookies and cream pockeys are fabulous.  I buy Pockys for the grandkids all the time but have never had this flavor.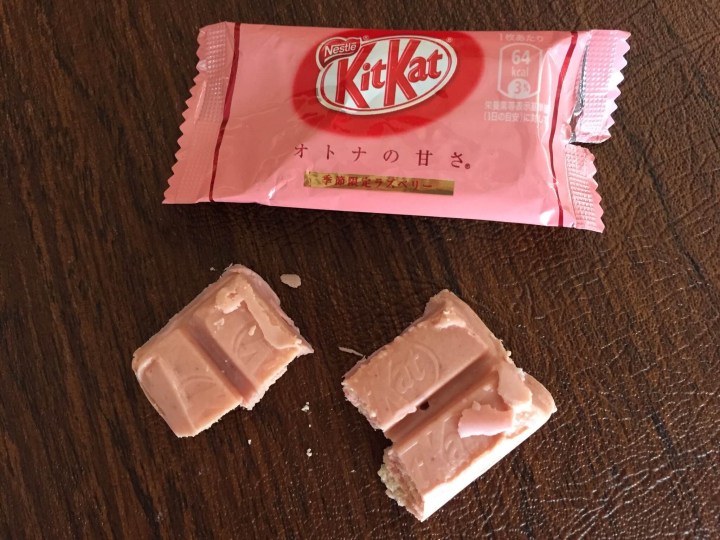 Raspberry KitKat: That was really good.  I could eat a handful of those. Nice raspberry flavor and I wish we could get these here!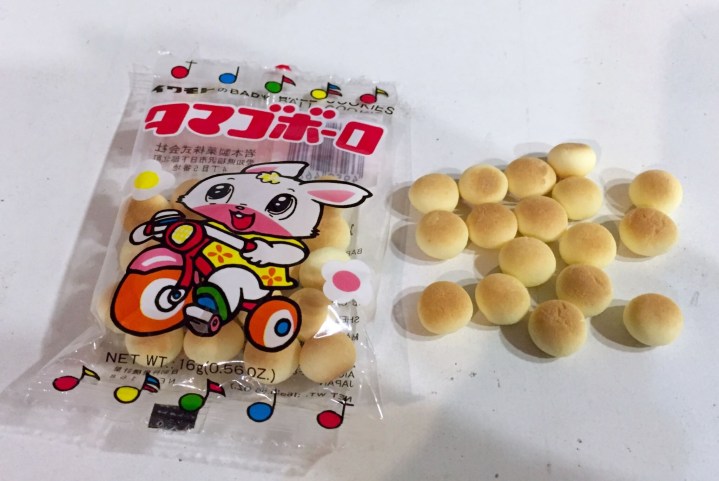 Iwamito Ren Boro:  We called these Baby Ball cookies.  You have an initial crunch and then they melt in your mouth.  Mild sweetness – they would be a great snack for toddlers too, and the card says that they're a baby snack!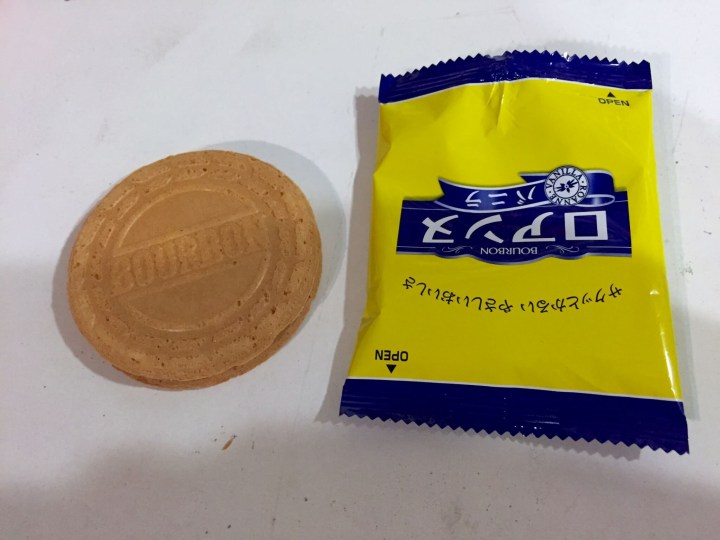 Bourbon Roanne Vanilla Biscuits:  Small print on the front says bourbon.  These are small thin wafers sandwiching vanilla cream.  Very good but no bourbon flavor.  More like vanilla flavoring. [Brandy: Vicky doesn't know that Bourbon is a Japanese snack brand!]
Kasugai Fruit Gummies: Muscat! My husband liked these jelly candies and said they have a mild tang to it, a grapey flavor.  My granddaughter said it smelled like medicine! They are made with real fruit juice and I've never seen muscat candy from the US.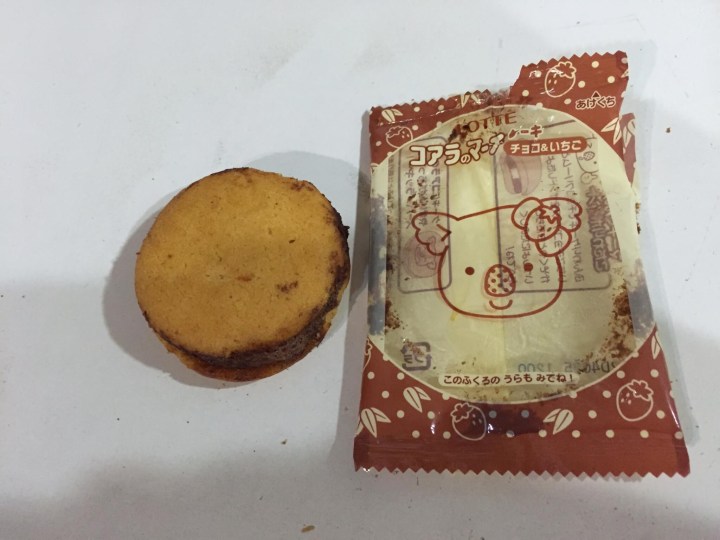 Lotte Koala Soft Cookies:  Mild flavor soft vanilla cookie with s thin layer of chocolate in the middle.  We ate this really quickly!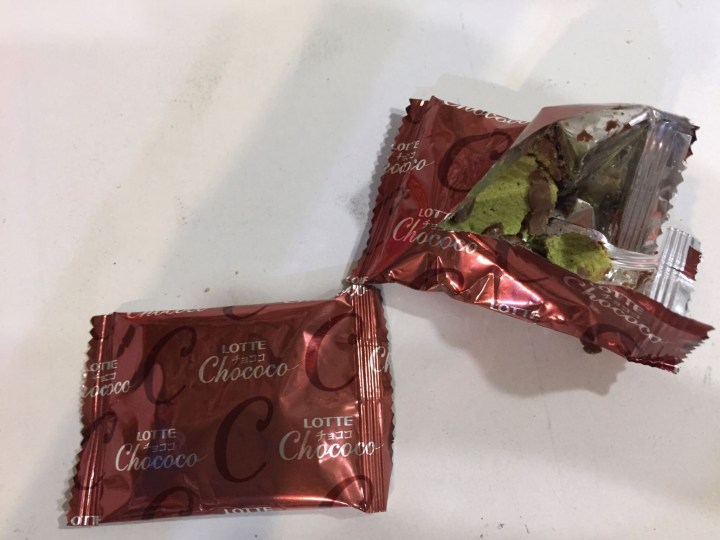 Lotte Matcha Chococo: Two thumbs up from the grandkids! These are Chocolate covered matcha (green tea) cookies.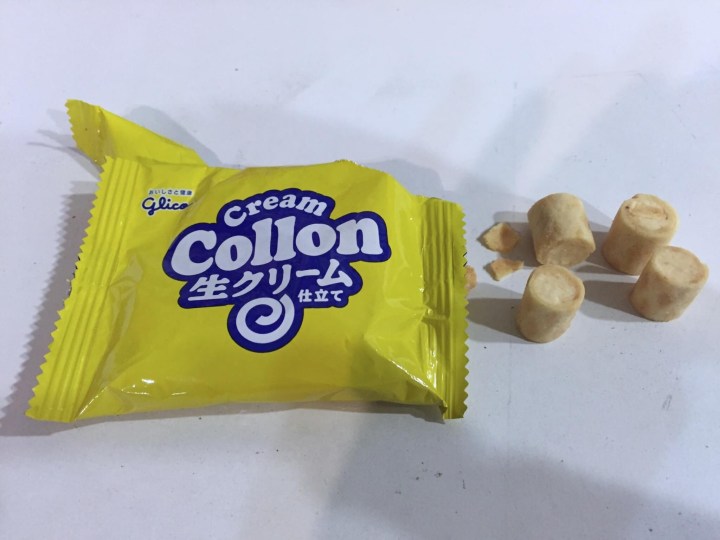 Glico Cream Collon:  The outside is similar to Chinese fortune cookies – crunchy.  There is a cream inside so they're like enclosed cannoli. They were good!
Glico Pretz Pizza Flavored Baked Snack Sticks:  Just what we expected. Tasted like pizza and/or spaghetti and was crispy and crunchy! These are basically undipped savory flavored Pockeys.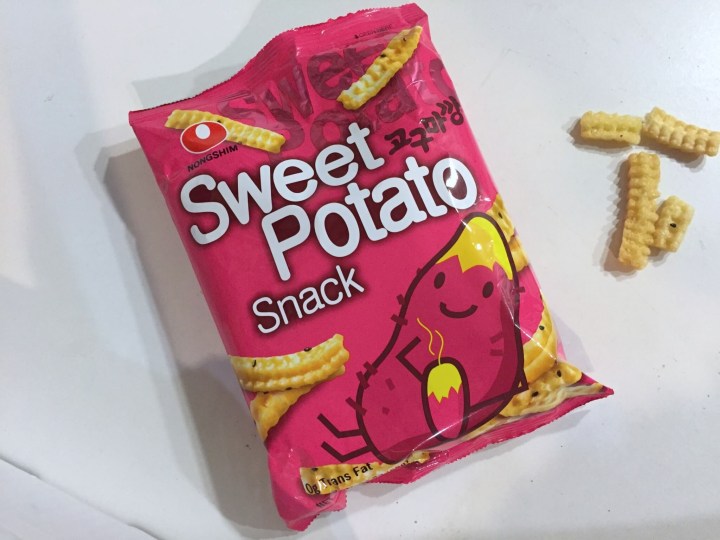 Nongchim Sweet Potato Chips:  Very crunchy.  My husband kept saying "just like a potato chip."  This didn't taste like a sweet potato to me – it was more like a Cheetos without the flavor. Not a whole lot of flavor but interesting.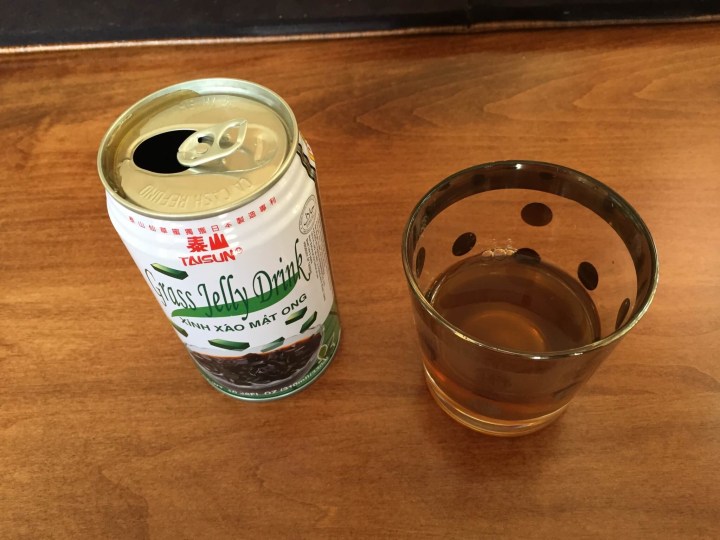 Taisun Grass Jelly Drink:  Grass jelly drink doesn't even sound good! My husband drank some and said the flavor was so mild it really didn't taste like he was drinking anything but water.  I smelled it and it smelled like tea a very mild tea.  There were globs of "stuff" at the bottom   Fortunately, nothing like the picture on the can, which shows chunks!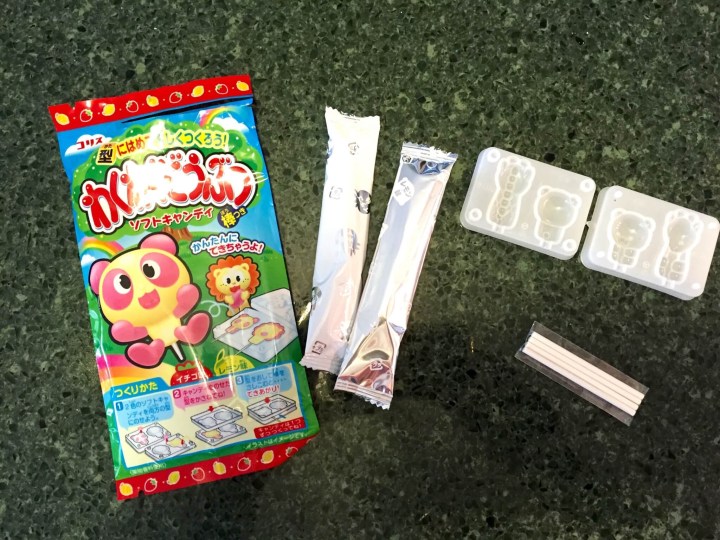 Bonus Snack: Mystery DIY Kit:  This one has no English directions on it.  My granddaughter had fun making it once we figured out what to do!  They have a mild flavor of lemon and strawberry!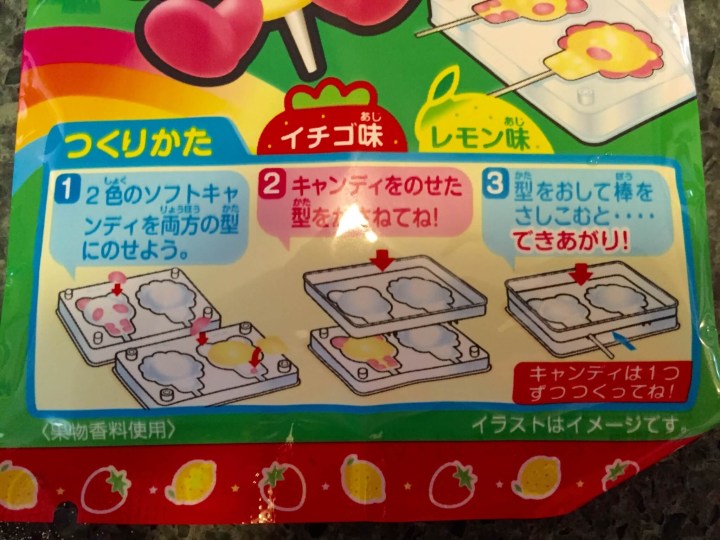 It was really fun to get a snack that was also a craft!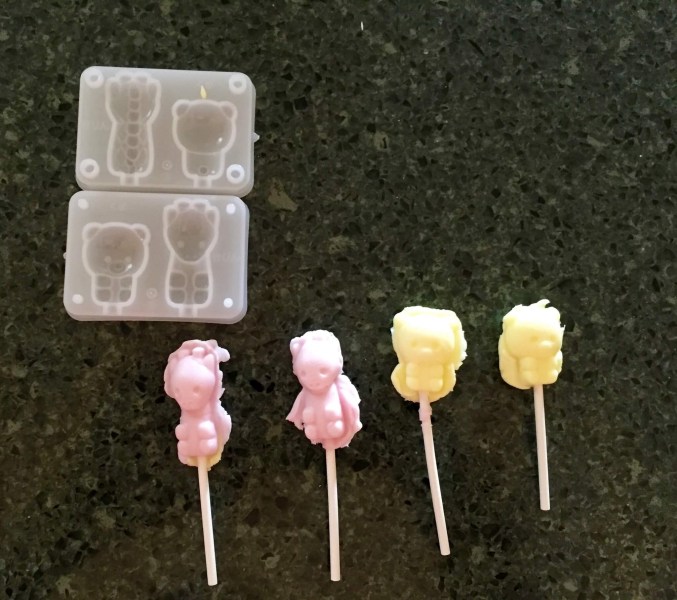 We really enjoyed trying all the different treats with different flavors but noticed that the Asian treats have very mild flavor a compared to our American treats.   The major exception to that was for the 2 packages of pockeys with the distinctly American tastes of cookies and cream & pizza! Although we regularly purchase the plain (chocolate and strawberry) Pockey sticks we have never really had a different flavor, and it was really fun to try all the different snacks.
Note from Brandy – I've been traveling a bunch so I had this box sent to my Aunt! This is the first subscription box she's ever opened. She's going to be picking up some of the craft reviews from time to time, but I thought it would be great to show you the experience of someone who isn't intimately familiar with Asian snacks. I'm more than a little jealous – it looks like a great box, and Cream Collon are my faves!
Visit OmNomBox to subscribe or find out more. You can use coupon code HELLOSUB3 to save $3 on your first month. Find more international food boxes in the directory or all the Asian snack & candy subscription boxes.
The Subscription
:
OmNomBox
The Description
: OmNomBox is a monthly subscription box that is packed with Asian snacks from Japan, Korea, Taiwan and more! Every box includes a drink and a mix of full size and smaller sized snacks! Free shipping to US, additional charge for international orders.
The Price
: $25 per month
The Coupon
: Save $3 on your first month with coupon code
HELLOSUB3