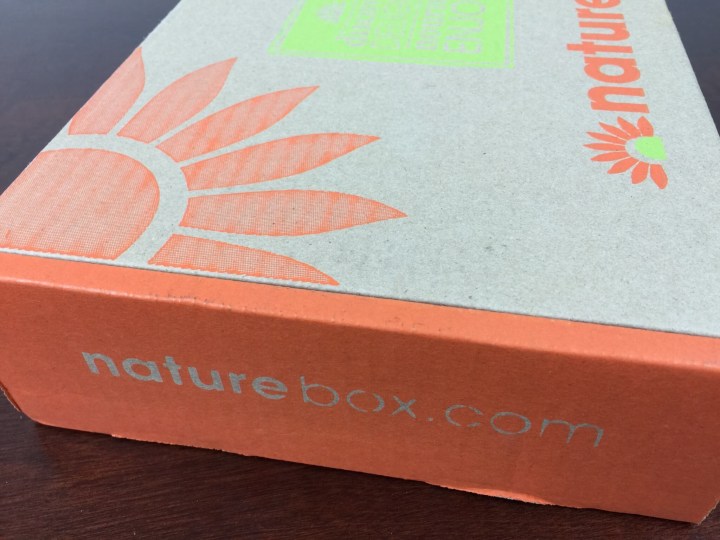 NatureBox is a monthly snack subscription box. Every month you'll receive 5 snacks and can add on additional premium snacks (or sometimes sale snacks!). You can create a "pantry" of snacks that will dictate what snacks you receive. We recently resubscribed to this box after a hiatus because we enjoy the snacks so much!
Yay snacks! The information card is totally meaningless because you pick your own.  The amount of snack varies depending on what you select — our selections came in 3 to 5 oz packs.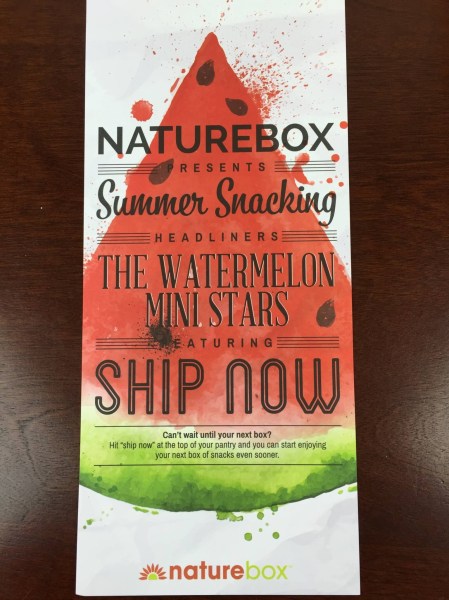 As subscription box aficionados, however, we can attest to the fact that having a card adds fun and distinguishes a box from an Amazon delivery.

 Because we choose our own selections, its always fun to unpack the shipment — its like they read your mind and sent exactly what you are craving.  There is a really low occurrence of misses when you can select your own stuff!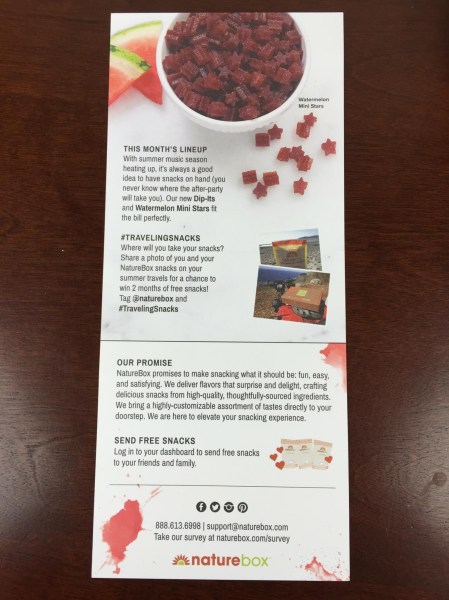 The information card does tell you the newest snacks they've added, which is great.  It serves as a reminder to update your snacking profile occasionally to include some new tries.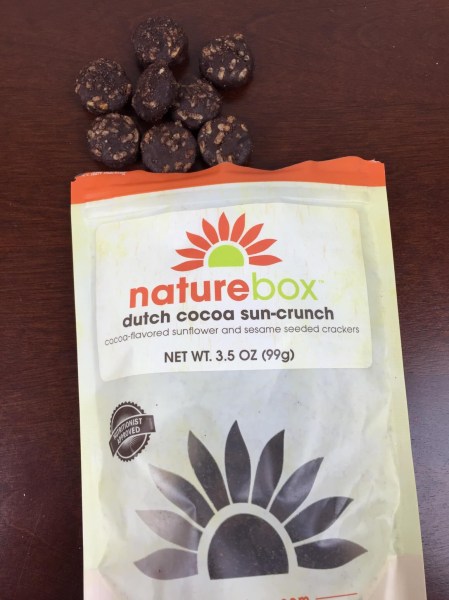 Dutch Cocoa Sun-Crunch:  Can you call it a cracker when it's loaded with cocoa?  We got our cookie fix with these, but we don't feel too indulgent – the sesame and sunflower add a lot of interest without hurting the nutritional profile.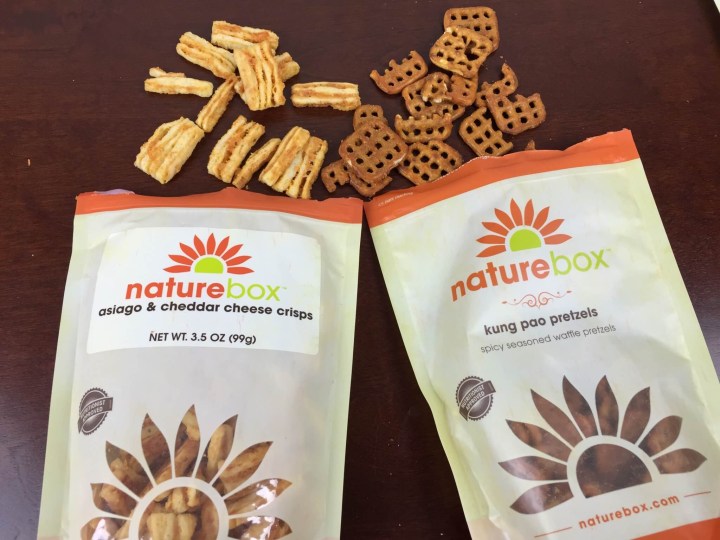 Asiago & Cheddar Cheese Crisps:  This is our first try on these.  The asiago lends a nice nutty sharpness, and the crisps are very light and, well, crispy.
Kung Pao Pretzels:  We love these and should really get a second bag next time.  The seasoning is like a tangy (not really sweet), fairly spicy BBQ, and some of the waffles are completely filled in, giving an awesome flavor blast!
Cashew Power Clusters:  Crunchy and sweet, these things are loaded with cashews.  Really delicious, and all-to-easy to pop.   The 3 oz bag goes quickly, but these are still a favorite.
Honeycomb Sunflower Kernels:  Shelled sunflower seeds get a sweet and slightly salty treatment.  Great as a cottage cheese topper, added to trail mix, or just by the handful.
NatureBox is an awesome snacking subscription.  We choose what can be included in our order, so we know it will rock.  And the bags are big — usually 3.0 to 5.0 ounces, depending on how dense the snack is.  Regardless of which snack you get, the bags are big enough that you will feel great shame if you eat it in one sitting.  We find that we get a couple good-sized two-person snacking sessions out of each bag, or several pinches from the pantry.
Naturebox is also now offering NatureBox Breakfast Boxes and NatureBox for Teams. The breakfast box is $35 per month and breakfast for the entire month! The Teams box is designed for an office and offers 4 different snacks in 50 single serving bags a month. Sounds good for general office snacking, a vending machine, or a large family that is extremely devoted to NatureBox, although availability is much more limited.
Visit NatureBox to subscribe or find out more. Check out all our Naturebox Reviews or take a look at other Snack Subscription Boxes.
The Subscription
: 
NatureBox
The Description
: In each Naturebox Discovery Box you get 15-20 servings total from 5 different seasonally themed natural snacks. No HFCS, no artificial sweeteners, colors, or flavors! No partially hydrogenated crap.
The Price
: 20 per month