Loot Crate's theme for August was VILLAINS 2! The second sequel (and also the first sequel to the first sequel?)!  Loot Crate is the original subscription box for geeks & gamers. Every month you'll get awesome geeky items curated around a central theme. One of the things I love about this box is that it's only $20 per month – a super affordable geeky fix with a subscriber base so gigantic that every box is full of really awesome geeky items – many of which are exclusive to this subscription (and not just oh, it will be released later – actual exclusive items you'll only get in this box!). You can save $3 on any Loot Crate subscription with code SAVE3 or save 10% on a longer subscription plan with promo code HELLOSUBSCRIPTION (perfect for the new annual subscription).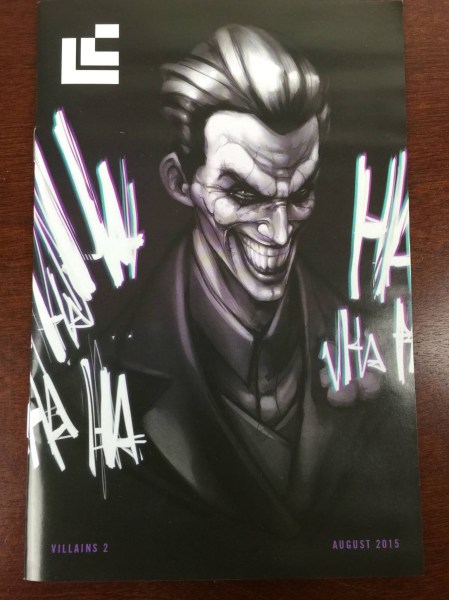 Every Loot Crate box comes with the mini mag.  There are interviews and fan stories inside, as well as details on all the products.
Some examples of what's in the mini mag.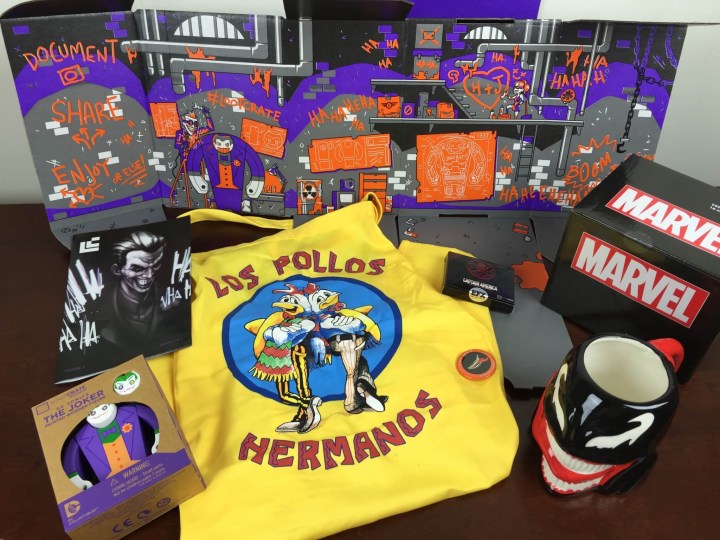 All the items in the August box. The crate itself folds back to be a box again (inside out)
Carnage OR Venom Coffee Mug ($12.27) We got Venom! This is a handpainted officially licensed mug and I just love the look on his face. It's just like, it's good to be bad!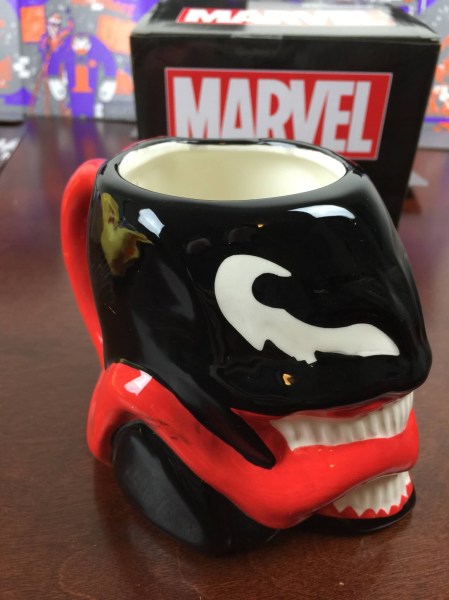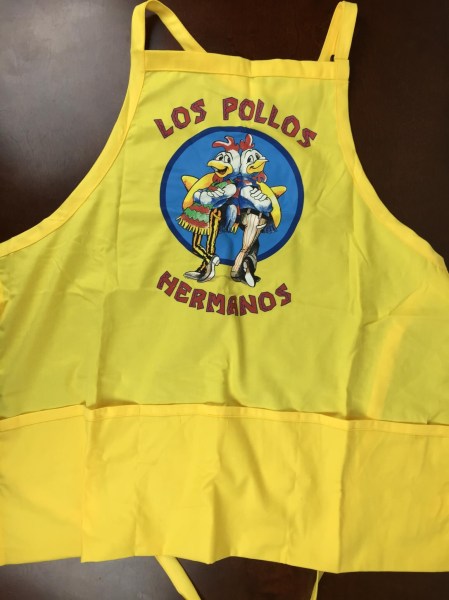 Los Pollos Hermanos Apron ($25.64) What a great idea instead of a shirt! I'm not a fan of Breaking Bad (not in the way that I dislike it, but that I haven't really watched it), but I know that this show has some wild fans – so many that they're thinking about opening a real chicken restaurant (it's like El Pollo Loco).  Even though I'm not a Breaking Bad fan, I appreciate this item as a high quality way to express your fandom!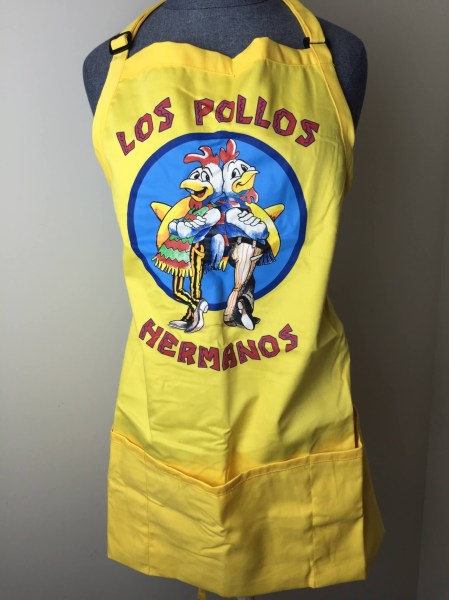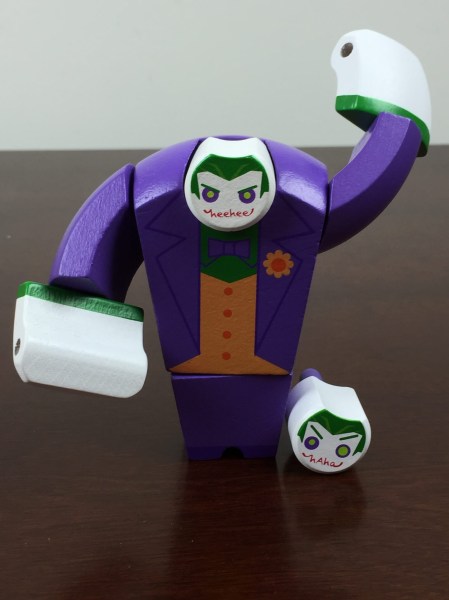 DC Collectibles Wooden Figure – The Joker ($12.99) A Lootcrate exclusive, this matches the Batman Figure. I love this item! I think it's a really excellent quality piece for fans who are looking for something different that isn't plastic or vinyl. Loot Crate is trying out  having fewer but more high quality items, and it's really working for me. I love his hands and the fact that you can switch the faces out – one smile says heehee and the other says haha. Nice contrast with last month's Batman!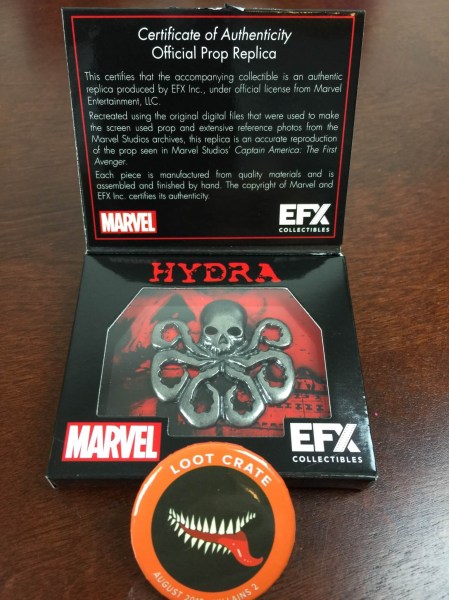 Captain America Hydra Pin ($20) This is really a fun villainous pin! You can use it for cosplay, a Halloween costume, regular pin usage, or if you're like us (with kids), it will probably be appropriated for a pirate outfit!
There's also the Loot Crate monthly button pin.
See my husband's video review of this box!
The Villains box is a little bit hard for me to get into personally – I'm really more of a heroes fan. I did, however, appreciate that they really concentrated on high quality items and reducing filler – about $71 in value for a $20 box! Any long-term subscriber of boxes knows the stuff they tend to keep or get rid of, and the filler-ish items tend to be in the latter category (and aren't always giftable). Even though I wasn't super into this box myself, I am pretty sure we're keeping all of it (the apron is a funny item all by itself!). My favorite item was the Joker. Even though I'm not crazy into villains, I'm really looking forward to seeing what's in the Level Up boxes for the month. I think it will be interesting to see what they do with the women's accessory item. No spoilers yet but we'll post the review as soon as we get them in!
Visit Loot Crate you'd like to subscribe or find out more! Save $3 on any Loot Crate subscription with code SAVE3 or save 10% on a longer subscription plan with promo code HELLOSUBSCRIPTION. Check out all our Loot Crate Reviews and other Geek, Gamer & Nerd Subscription Boxes in the directory!
The Subscription
: 
Loot Crate
The Description
: Lootcrate is a subscription box full of gamer-ific loot for geeks and gamers. Past crates have included figurines, candy, stickers, gift cards, accessories, more figurines, buttons, books, postcards, shirts, stickers, games, you name it, all with a geeky, game-y flair.
The Price
: $20 per month
The Coupon
: Save $3 on any subscription with code 
SAVE3 
. Or save 10% with coupon 
HELLOSUBSCRIPTION 
!