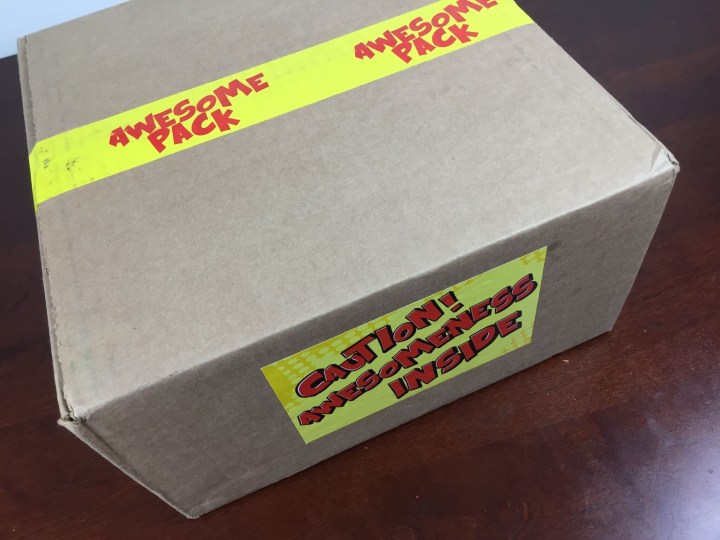 Awesome Pack is a whole family fun subscription box with a tabletop board game in every box. Whether your family includes kids or not – choose either the family box or the Big Kid box, for the game loving fun at heart big kids – this is a great fun box that will keep you away from your screen! Every box will include a board game and other fun activities selected based on your preferences. Family Boxes include a family board game, and Big Kid boxes are for kids 12+ and will include higher quality (and more advanced!) games and other activities. You do not have to have a child to order this box, they have plenty of adult awesomeness, but our family has kids, so that's what our box includes.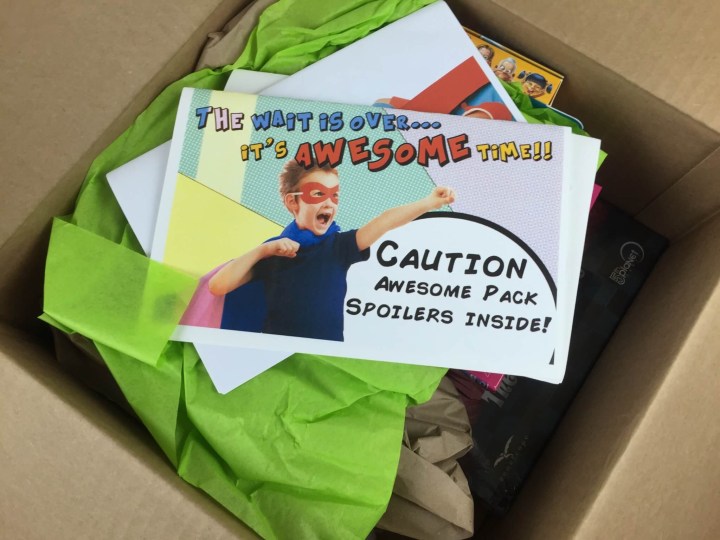 It's Awesome time!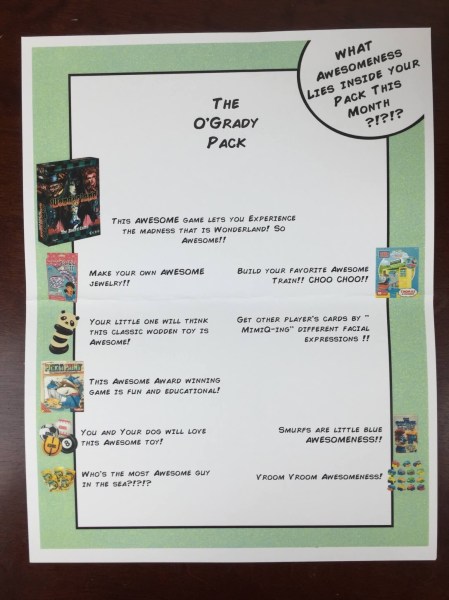 An information card detailing all the items is in the box. Awesome Pack curated this box for our family, which includes mom, dad, a 6 year old girl, a 4 year old boy, an 10 month old baby, and a dog.  We always sing the EVERYTHING IS AWESOME song when this box comes!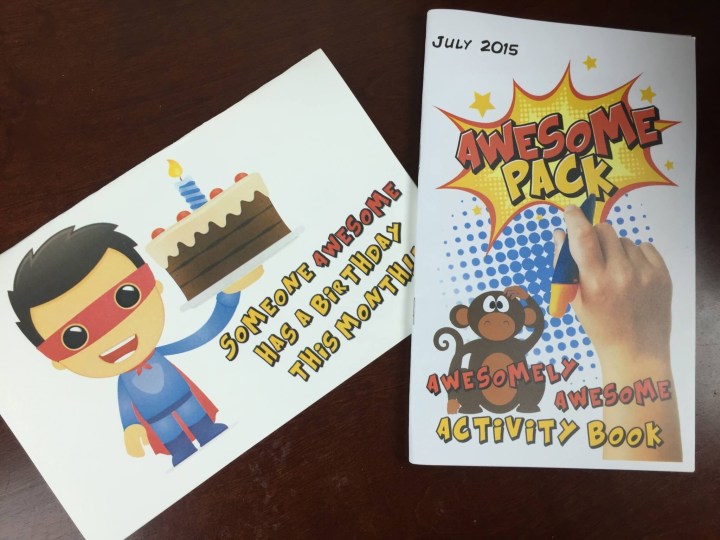 Birthday Card (Brandy's is in July!) plus the Awesomely Awesome Activity Book!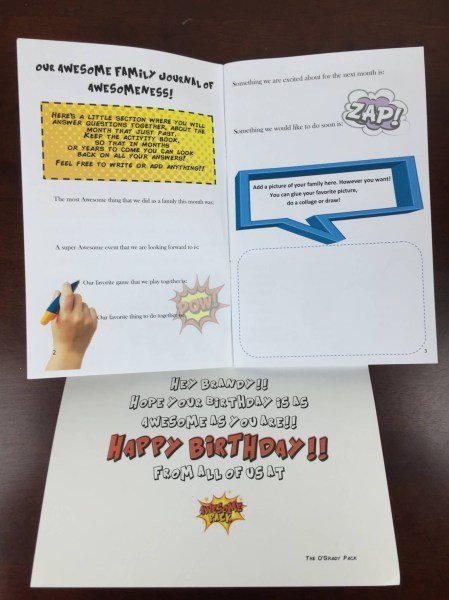 My daughter is obsessed with this activity book. Remember those magazines with all the puzzles and games? It's like that, plus activities and other stuff. She completes every activity.
All the items in the July Box!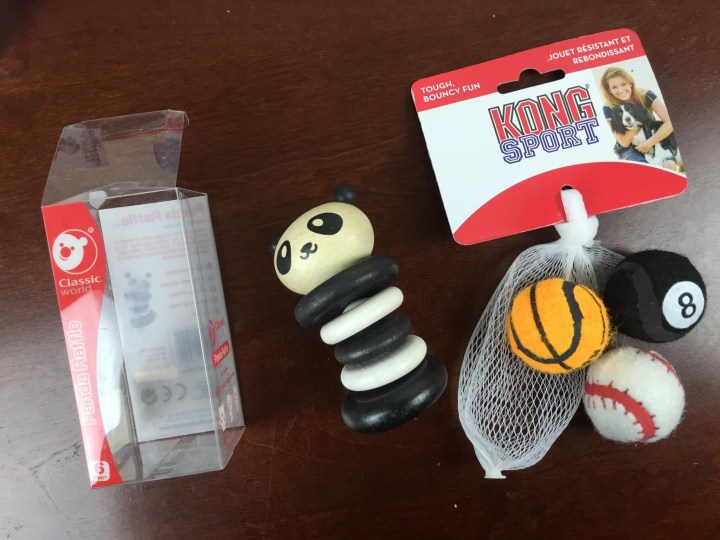 Classic World Panda Rattle ($7.25)  This little wooden wonder is cute and fun for the little one.
Kong Sport Tough Bouncy Fun Balls ($5.39):  Something for the furriest member of the family. These are like mini tennis balls, and much better to give your dog than a real 8 ball.
The Smurfs Tag-Athon Figure ($2):  How sweet is it to draw Papa on the first try!  This little collectible figure is meant to be used as part of a capture-the-flag-style game.  Unfortunately, the game calls for each player to use three or more figurines, so starting out with a lone figurine doesn't really help out family game night unless you are already into it.
Tonka Chuck & Friends Die-Cast Car ($9.17):  This little taxicab is like a Hotwheel or Matchbox car that has been cartoonified to appeal to an even younger audience.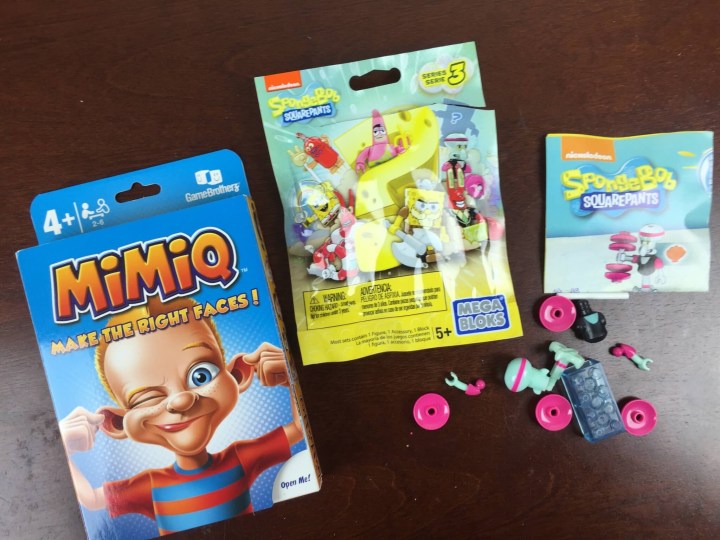 MiMiQ ($6.99):  My daughter got a kick out of this game.   It's like Go Fish, except you have to mimic, or MiMiQ, the face on the card you are requesting.
Mega Bloks SpongeBob SquarePants – Micro Action Figures Mystery Bag ($4.99):  Squidworth pumping iron.  This thing is super-easy to assemble (thought he arms are a little tough to pop into their sockets) — really an add-on to your Mega Bloks character collection.
Orb Factory Stick n' Style Sparkle Cuff Craft Kit (~$10):  I had to hide this from my daughter until I could get a pic of the box.  This requires a little fine motor skill, but is great for little crafters.  Fun to make, and then fun to wear!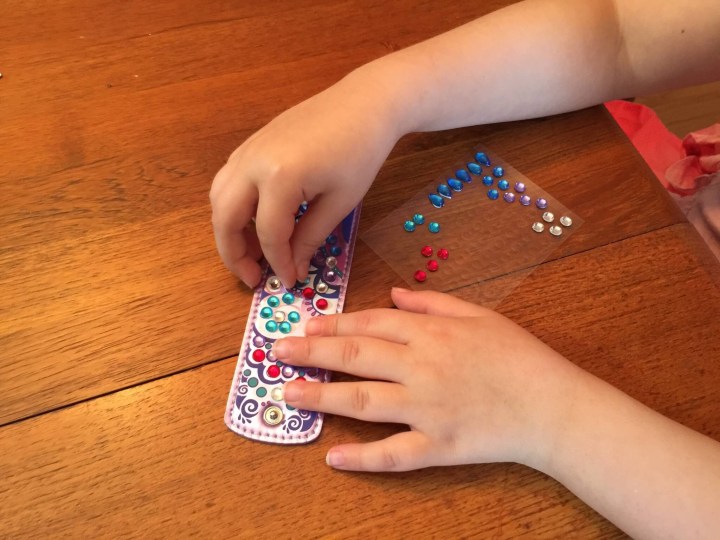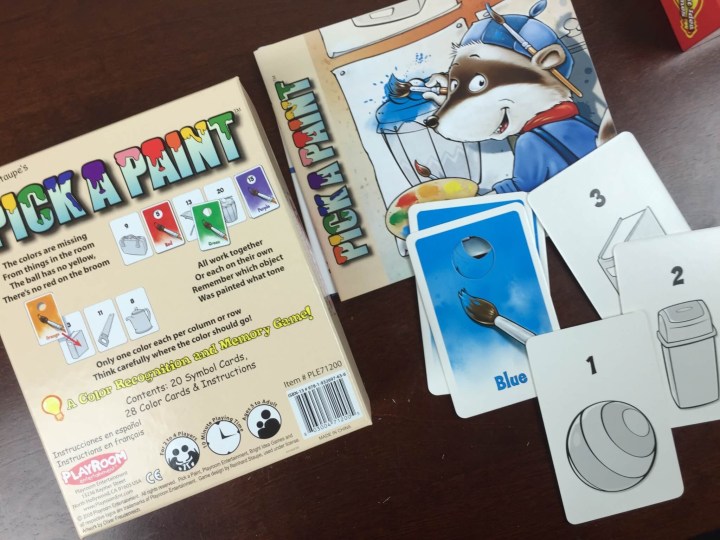 Reinhard Staupe's Pick A Paint – The Game of Rainbow Recall! ($7.99):  A fun twist on the Memory game, this activity challenges participants to remember what color was assigned to each object.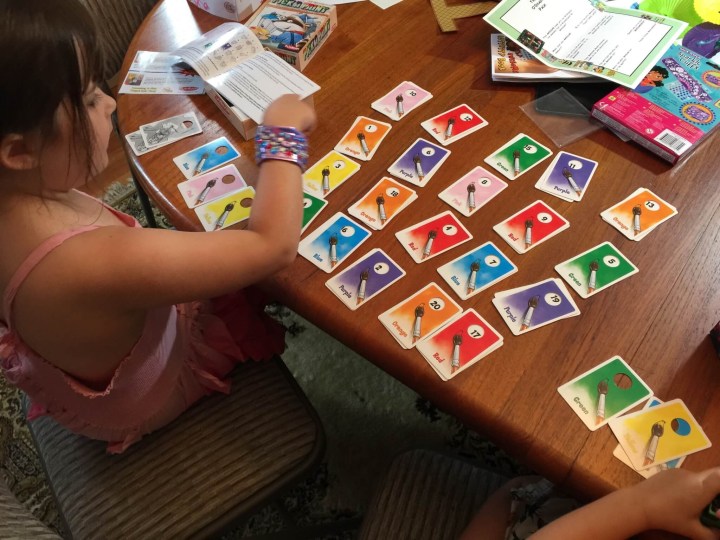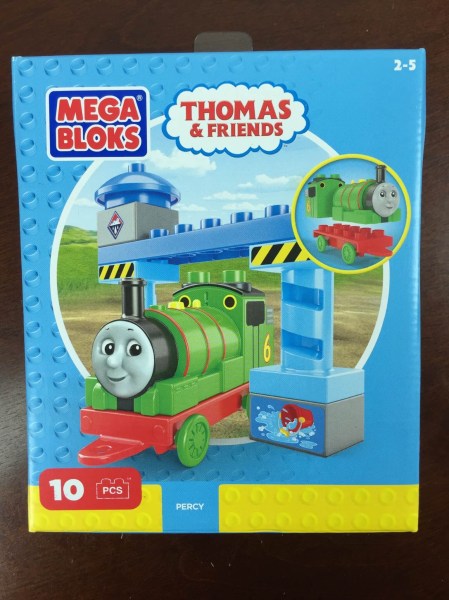 Mega Bloks Thomas & Friends Percy Buildable Engine Toy Figure ($5.99):  Squidworth can get a job at the trainwash!  Easy to assemble fun little set from the Thomas & Friends franchise.  Adult help is needed to put on the stickers, but otherwise super simple.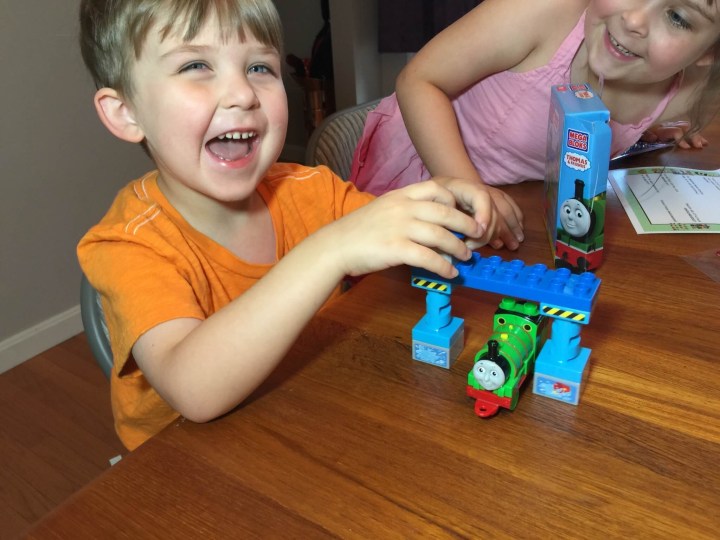 Wonderland The Board Game ($19.95) Awesome Pack knows that we would like to sometimes receive adult-only board games that aren't necessarily for the whole family (we let them know this on our customization form!).  This was certainly one of those games.  It is based on the popular comic book series featuring "Calie", a Baywatch version of Alice.  Probably a little mature for kids, but fun for a slightly older crowd.
Experience the madness that is Wonderland! Calie, her friends, and her enemies fall between the cracks of the real world that is ripe with danger and an even deadlier realm that exists on the other side of the Looking Glass. Win epic battles against Cheshire, Jabberwocky, and a host of other deadly foes, all the while keeping from the brink of insanity – or diving right over the edge! The Wonderland series is one of the most popular comic book series Zenescope publishes, and the company is proud to unveil Wonderland: The Board Game. Play one of your favorite characters including Calie, the Mad Hatter, Brandon, the Queen of Hearts, and the White Knight as they venture into a vibrant, twisted world full of surprises – right in your living room!
I love that there's something for every member of the family in this subscription, plus it always includes a game that we can play together (or in this case, without the kids).  FYI – the base pack is for 2 kids & 2 adults, but you can add extra kids (human or pet) for $4.49 each. You will fill out a customization sheet so they can curate your box for you, plus you will receive a monthly survey to provide feedback. I think they are very attentive to our desires! For the hours of fun you get out of a board game and great family activities, this is a good value.
Visit Awesome Pack to subscribe or find out more, or check out all our Awesome Pack Reviews.  You can see more Geek, Gamer, and Nerd boxes in the subscription box directory.
The Subscription
:
Awesome Pack
The Description
: Awesome Family Fun time that is customizable to your family's size, ages and genders. There is a Board game in every pack! Every pack contains Awesome games and activities handpicked for each family to offer hours of fun! We also offer a pack for families without kids. We offer free shipping to the USA and to Canada.
The Price
: $44.99 per month