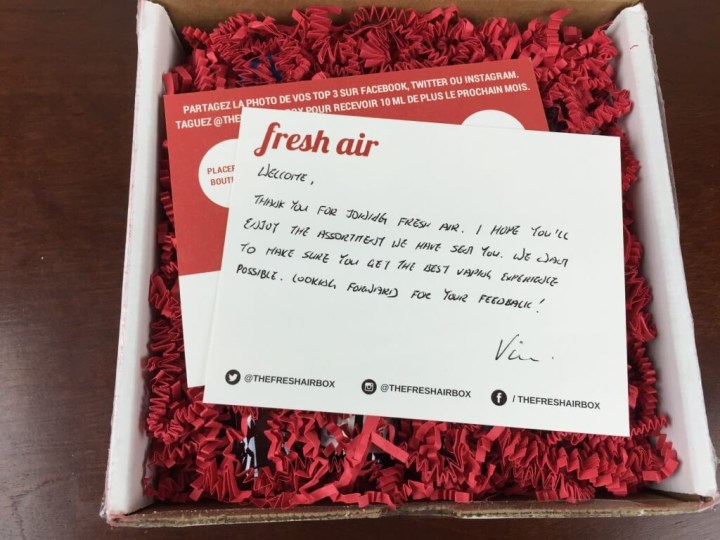 Fresh Air Box is a monthly subscription box of premium e-liquid samples customized to your nicotine, flavor, and PG/VG preferences. They offer 3 different boxes – the basic (CAD$25), the discovery (CAD$39), and the advanced (CAD$49). Free shipping worldwide! As I had been paying retail prices for my juice, this was a pretty exciting discovery! This box is based in Canada and ships pretty much worldwide. They also have a shop to repurchase your favorites.
Note from Brandy: We unboxed this box, and passed it off to our friend "Misty" for review. You can find out more in the author box below! Note that this review is intended only for vapers, smokers who are interested in quitting, and only for adults 18+. 19+ in Canada. However, this box does offer 0mg juices.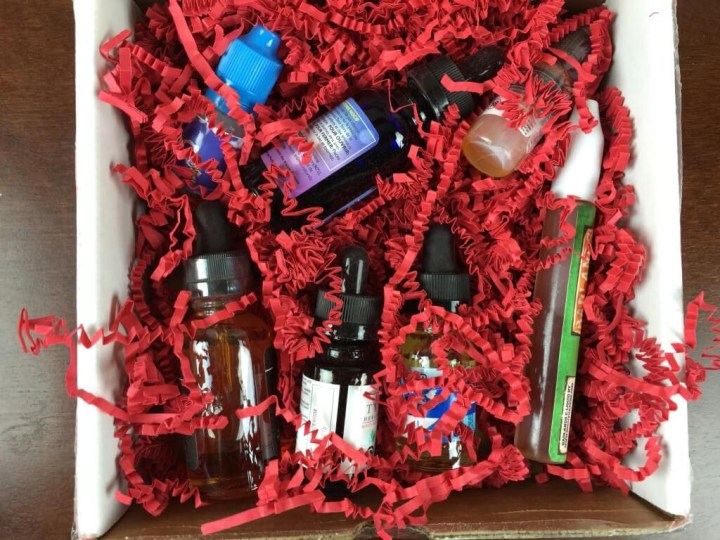 I looked at the Fresh Air Box checkout and found they had a profile. I specified that I didn't like coffee, tea, or tobacco flavors and that I preferred 6mg. I am not a professional e-juice reviewer, but I have been vaping since I quit smoking about 4 years ago. So I apologize if my descriptions aren't very fancy! Your box will be curated to your own tastes, this is just my impression of the Fresh Air Box. Thanks to Brandy for letting me review it!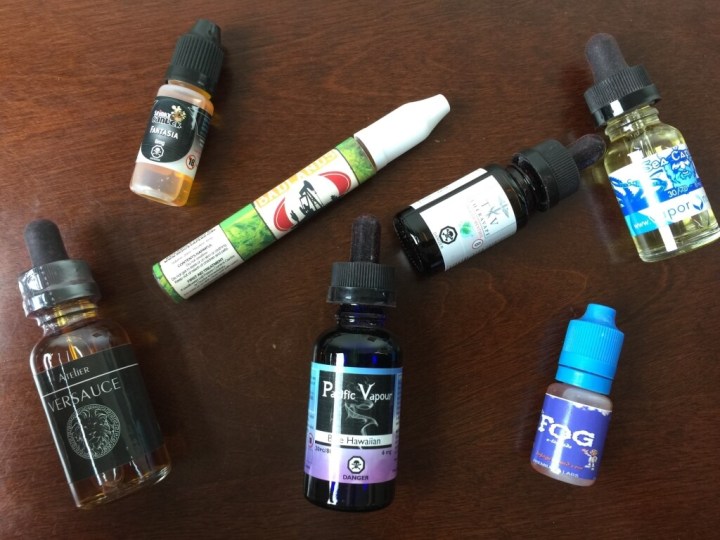 I received 7 different e-liquids, of varying sizes, brands, and flavors. This was a lot of juice. This was the Discovery Box from Fresh Air ($39 CAD – about $30 USD).
There is a card to rate your top 3 bottles and share on social media.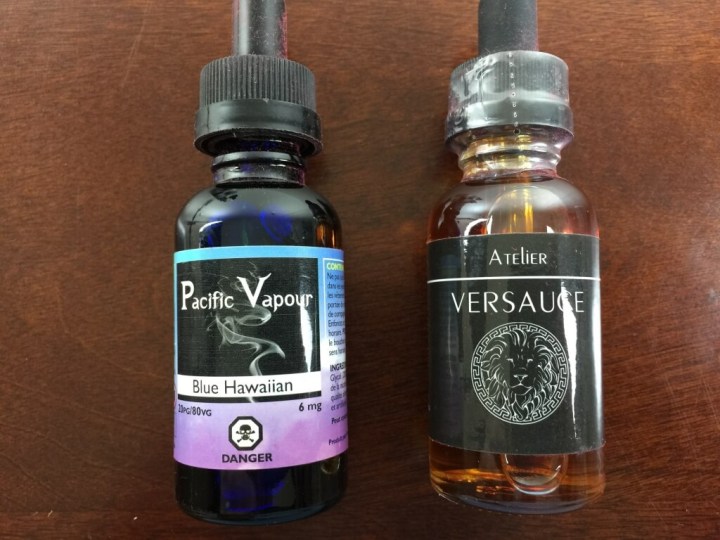 Pacific Vapour Blue Hawaiian ($18.50 CAD): This is described as a Hawaiian Punch flavor, and I'm not sure I would call it that! It's very difficult to describe, and while it's punchy, it's also a little bit floral. It's one of the most unique juices I have vaped. It has a 20PG/80VG ratio and produced a really nice vapor.
Sovereign Premium Versauce Atelier ($22): Versauce Premium is a line of decadent dessert flavours made with 70 VG. I thought the branding and name was hilarious and clever. This was a cinnamon sugar cookie flavor and one of the tastiest juices I've sampled. Unfortunately it kills the cartridge on my eGo One (cinnamon flavors can be tricky) so I'm looking for something else to finish off this delectable bottle. I also sampled this one a couple weeks after I received this box – I may have had less problems with it had I tried it first thing without steeping.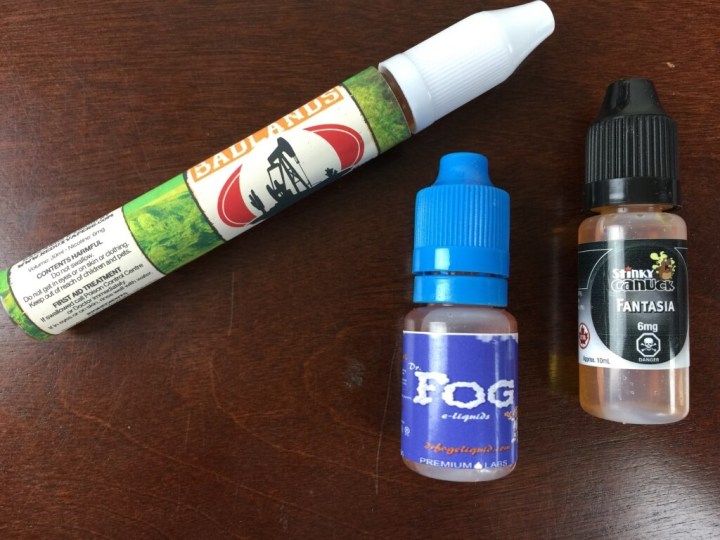 Redux Vapors Badlands Fossil Fuel E-Liquid ($16 CAD) This was an amazing find! It's a handcrafted cream soda flavor, and I don't recall having vaped anything like it before. I've tried cola, which I like, but this was fantastic. It was nice and thin and has a lovely, non-drying flavor. I will buy this one for sure, and maybe some of their other flavors.
Dr. Fog E-Liquids Groovy Guava ($20 CAD) Once again, a flavor I've never tried. I didn't expect to like this, I'm not sure why, but I loved it. I usually go for vanilla baked good flavors and wouldn't have selected this. It was fruity and tropical and delicious. The flavor was really incredible. I don't recall if it had a PG/VG ratio on it – but it's described as max VG, so probably 20/80.
Stinky Canuck Fantasia E-Juice ($17 CAD) This is described as a fruity shisha vape. This is 60 PG/40 VG so it was great for my tank. It had a milder flavor and I think pineapple or strawberries, basically whatever flavors would be in your favorite hookah, but it's incredibly hard to pinpoint the exact flavors. I would get this one again.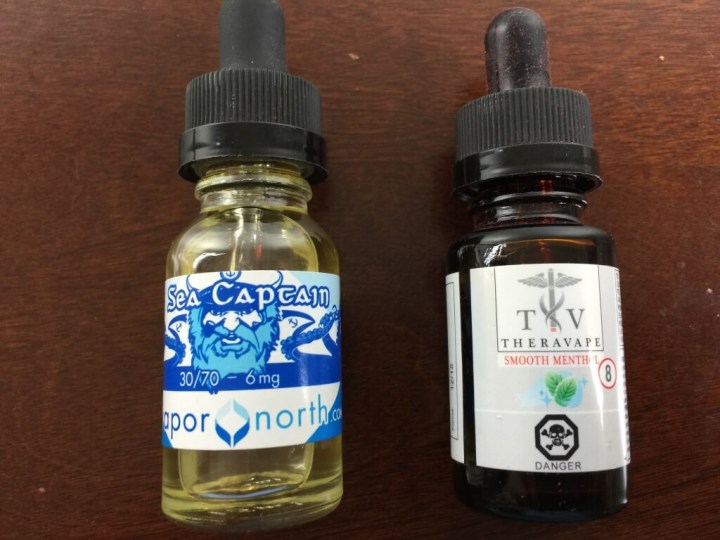 Vapor North Sea Captain ($17 CAD) This one was almost bizarre – it has a cola flavor, a cinnamon kick, with a minty undertone. I've never had anything like it. I kept coming back for more yet I would never have selected this myself. What a cool juice.
Theravape Smooth Menthol ($20 CAD) This is mostly menthol with spearmint and vanilla undertones. It reminded me of chain smoking Kools and Camel Vanillas back and forth. Except without the smoke! I still have a lot of this one left because menthol is not an all the time thing for me.
It took me quite a while to review this box – there was so much juice in it. I am a heavy vaper and it took me an entire month to vape my way through this whole box, and I still have some left. That's really impressive. I loved everything – especially getting to sample juices that are from Canada – they were all high quality and I enjoyed the different taste experiences in each one. Some I would purchase again and some were just enjoyable to have once or maybe again in the future, but I definitely liked all of them. I felt that this box was really well tailored to my tastes, even though I didn't give them much to go on I think they understood what I was looking for.
This box is an amazing savings. The total value of this box was $130.50 CAD, approximately $99 USD. I also didn't have to go to the store, pay shipping, or worry about running out anytime soon! I also like that they have a store so that I can purchase more of my favorites.
Visit Fresh Air Box to subscribe or find out more. See other vaping and e-juice subscription boxes in the directory.
The Subscription
:
Fresh Air Box
The Description
: Fresh Air Box is a discovery commerce destination for premium e-liquid and e-juices. We are offering consumers a personalized opportunity to discover, learn about, and shop the best e-juices brands out there.
The Price
: 3 monthly boxes offered – the Basic (CAD$25), the Discovery (CAD$39), and the Advanced (CAD$49). Free worldwide shipping.