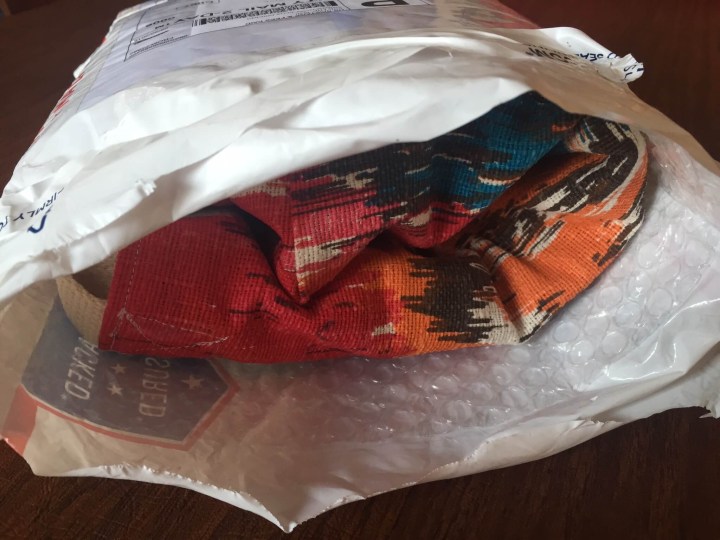 Fair Trade Friday is a monthly subscription box that sends high quality fair traded items to your door. The production of these items provides employment to women all over the world. They have the original Fair Trade Friday box with 3-4 surprise items (stylish accessories, organic soap, coffee, etc) and the Earring of the Month. 100% of the proceeds from each product go toward the empowerment of impoverished women as an avenue to introduce them to the Gospel. This is a review of the original box.
When I first peeked into the envelope that this package came in, I immediately was intrigued by the wonderful colors of fabric.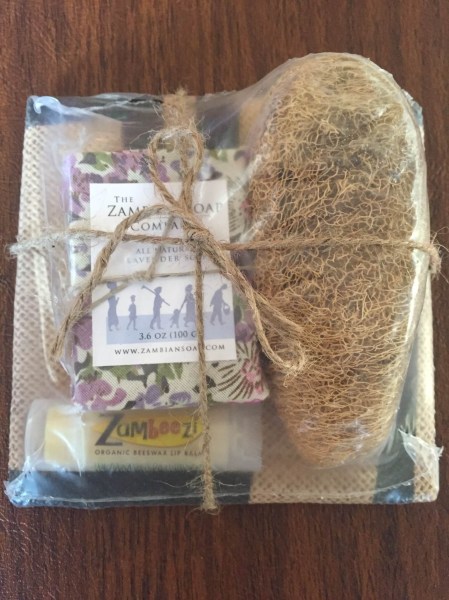 Everything came neatly packaged inside the bag!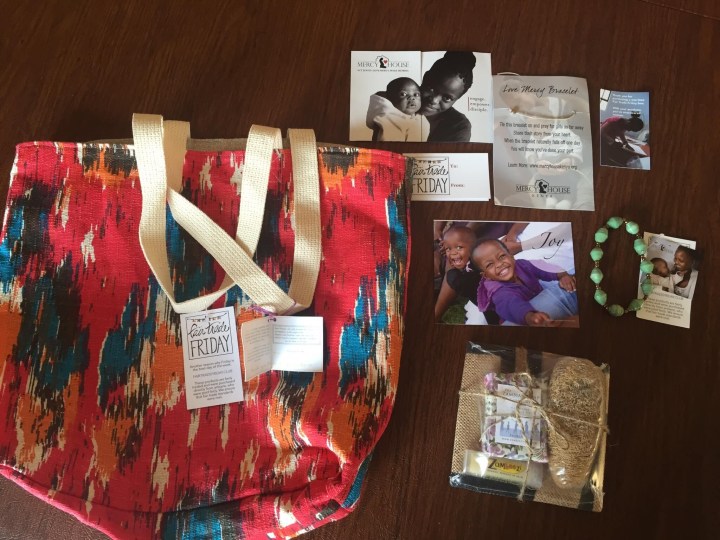 Inside was a handmade bag.  I don't believe the bag was intended to be reversible but it is constructed well enough that it certainly could be.  See the picture where the pocket is on the outside.  Zoom in and you can see the stitching is well done.  I really like this bag and will carry it with pride.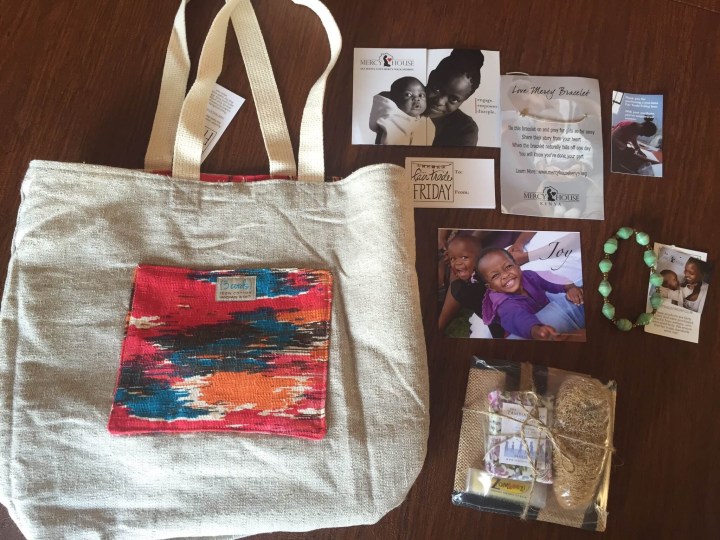 With this package came 2 gift cards, a nice touch.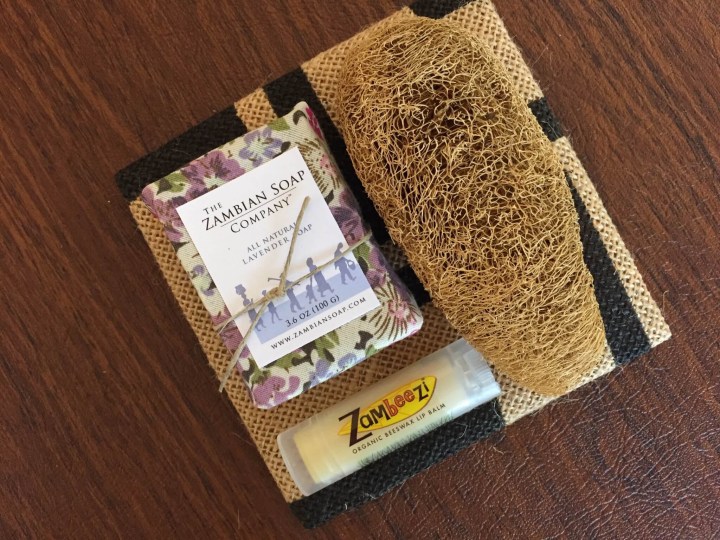 Inside the bag is a simple tie-around-your-wrist type of bracelet, a paper bead bracelet and a small package of soap, beeswax lip balm and a loofah.   The soap is an all natural lavender soap from The Zambian Soap company and the lip balm is Zambeezi organic beeswax lip balm. I needed a new one so this set of pampering items was perfect for me.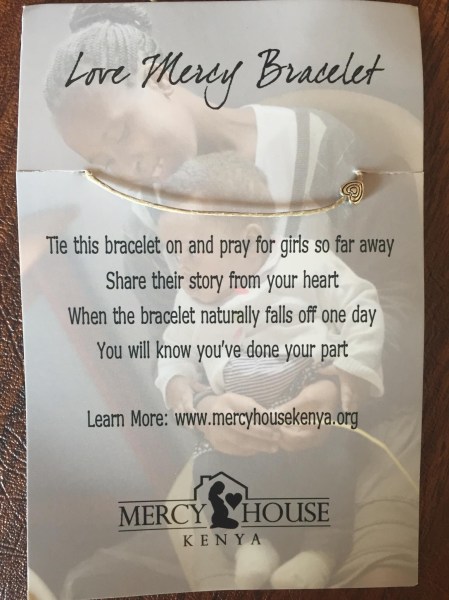 This bracelet is a nice reminder, and pretty too.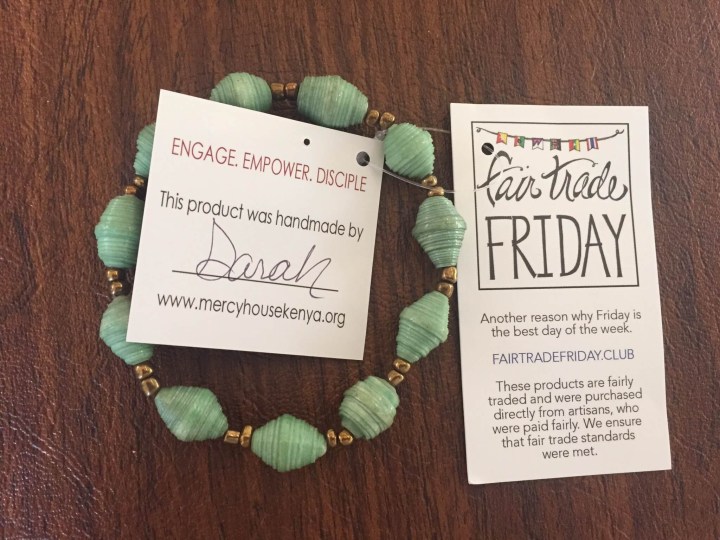 I was happy with this package from Mercy House's Fair Trade Friday Club.  This is a ministry to support women in extreme poverty, similar to the Bead for Life ministry which I have supported and held 3 Bead Parties at my church over the last several years.  After looking at Mercy House's website I'm looking forward to next month's package and can't wait to see what's in it!
Visit Fair Trade Friday to subscribe or find out more!
The Subscription
:
Fair Trade Friday
The Description
: Fair Trade Friday has two options:
the Earring of the month club
 delivers a high quality, stylish pair of fair trade earrings to your mailbox every month! From the people who brought you the
original Fair Trade Friday box
delivered to your door each month comes something just as fabulous. 100% of the proceeds from each pair of earrings goes to the empowerment of oppressed women as an avenue to introduce them to the Gospel.
The Price
: $11.99 for Earring of the Month, $31.99 for the
regular box