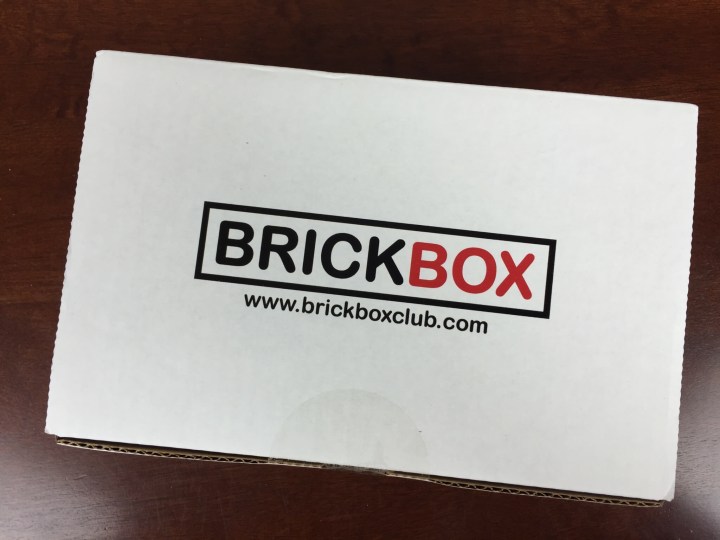 BrickBox is a monthly subscription box for LEGO fans.  BrickBox distinguishes itself from other brick-themed boxes by providing actual LEGO pieces and accessories to add to your set instead of LEGO-themed merchandise. BrickBox offers 3 sizes of box: Loot (minifig + accessories), Mini (brick set + goodies), or the full box. This is the full box.
The inside of the box is neatly wrapped in tissue to preserve the suspense.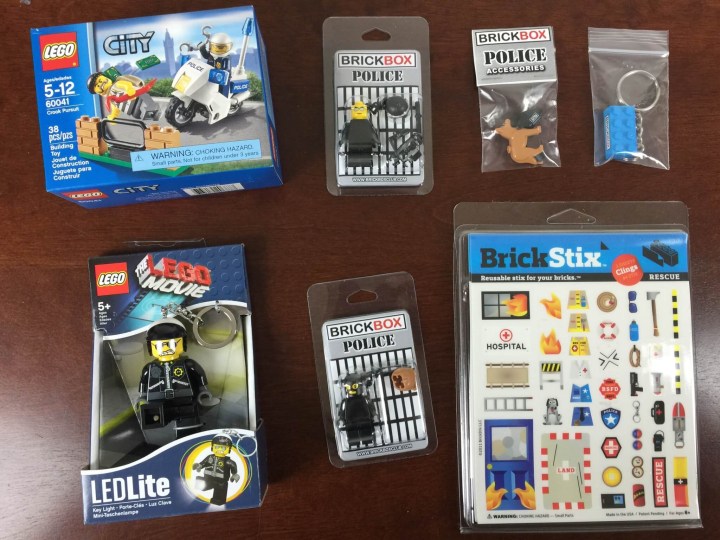 All the items in the box.  We received LEGO-licensed sets and merchandise, independent creations using LEGOs, as well as third party LEGO compatible accessories. This box was themed around the LEGO City Police Crook Pursuit 60041 ($6.58)!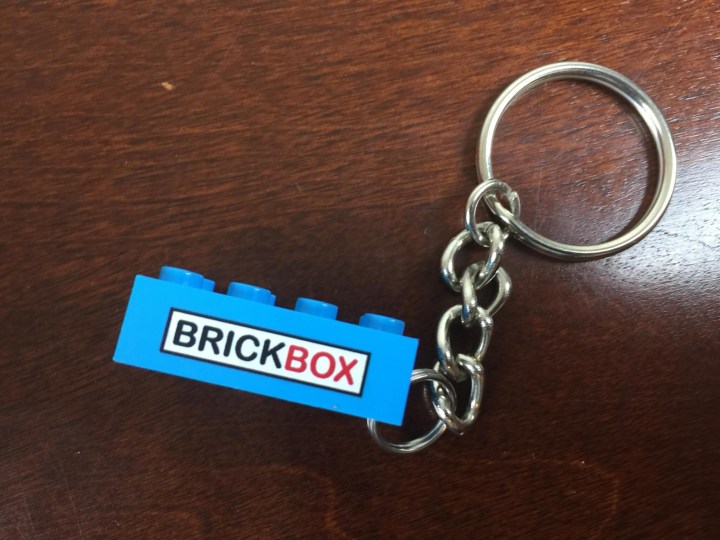 This box came with a BrickBox keychain ($5?), which is really neat!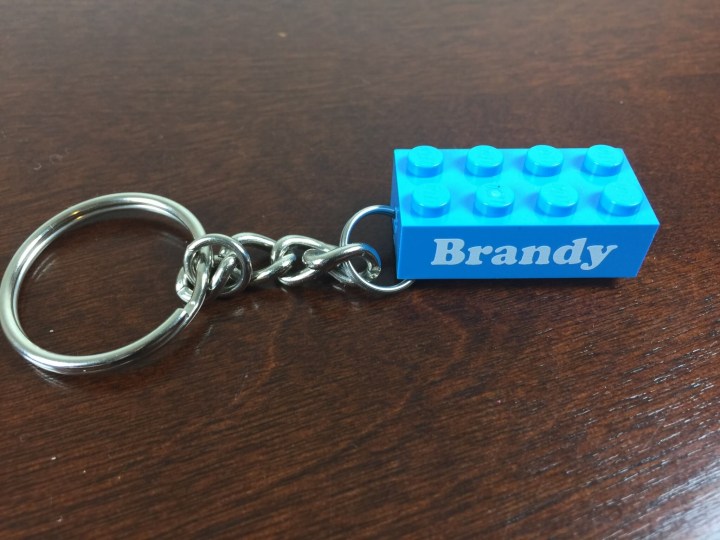 It has my wife's name on it of course! We don't know if every box comes with a custom item or if it's just for new subscribers. (We think each new subscriber gets one.)

One of the officially-licensed items was a LEGO Movie Bad Cop key light ($11.97). This was fun and my kids love the LEGO Movie and we all got a kick out of it.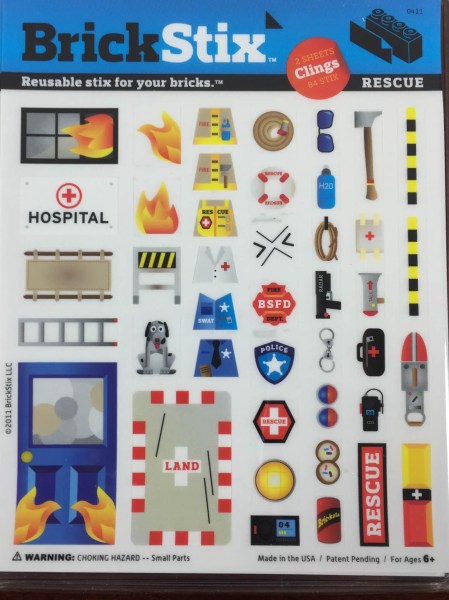 Brick Sticks Rescue Set ($4.99) Brick Stix are LEGO-scaled decals that can be used to transform ordinary characters and builds into themed sets.  The "Rescue" set has two sheets of stickers that can turn any set into a first responder wonderland by adding rescue, fire, and police insignia, equipment, and uniforms to vehicles, buildings, and even people.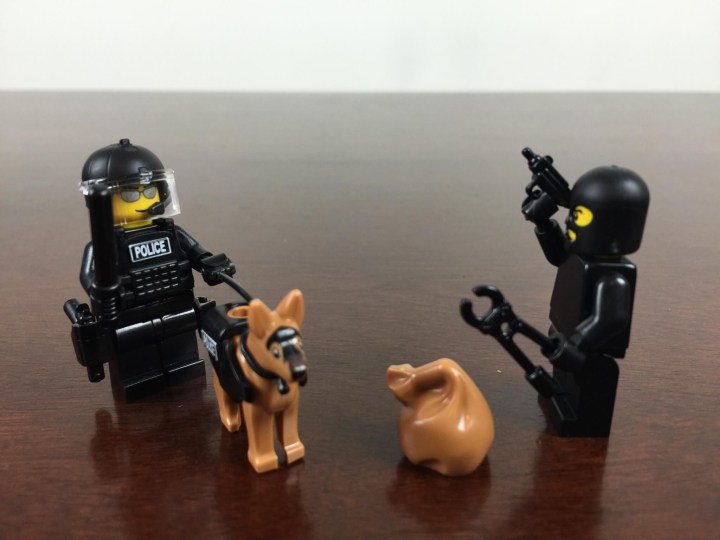 The three BrickBox character creation s($15??).  The policeman comes with a riot helmet with microphone, bullet-proof vest, and utility belt, complete with baton and pistol.  The Police dog comes with a leash and protective vest.  The burglar has a loot bag, bolt cutters, uzi, and ski mask. We admittedly have no idea how to value this (we found the dog for $5 on Amazon without gear and a LEGO City police set that has more gear but is less cool for $15).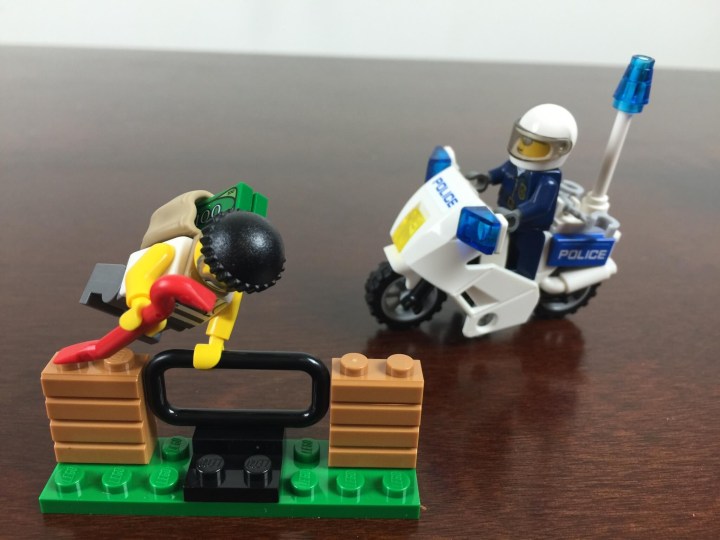 The official LEGO City set is the Crook Pursuit set, complete with crowbar-wielding burglar, motorcycle cop, and fence to jump.

All the official LEGO and the BrickBox compilations together.
I thought this was a great box for LEGO fans who still build with the sets, because everything was actual LEGO characters and accessories.  Fan boxes are good for anyone who likes the brand, but this set also had utility for active builders. Based on our value estimation, the value came in around the cost of the box including shipping, and we really thought this was a fun box!
Visit BrickBox to subscribe or find out more!
The Subscription
:
BrickBox
The Description
: Join Brick Box and receive awesome LEGO products every month! They carefully select Authentic BRICK Sets, Minifigures, Accessories, Parts, T-Shirts, Gear and much more, put it all together and deliver it right to your door.
The Price
: $19.98 for the BrickBox Loot (MiniFig & Accessories), $29.98 for the BrickBox Mini (LEGO brick set + accessories), and $39.98 for the regular BrickBox