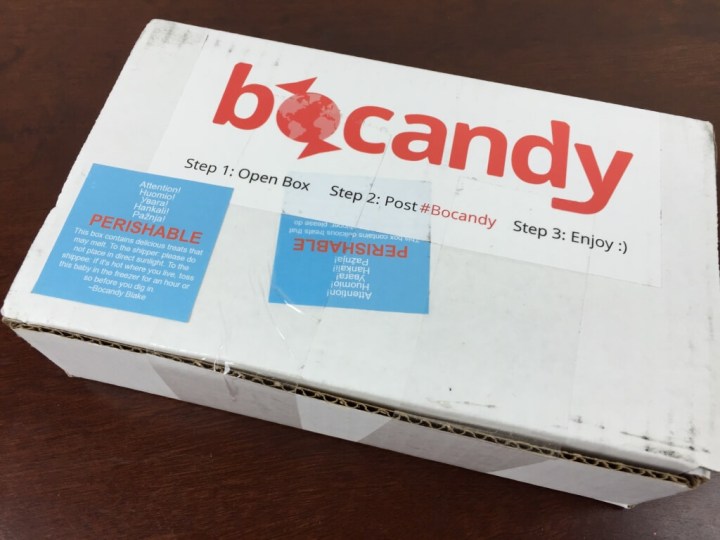 Bocandy is a a monthly candy & snack subscription sending 7-10 different types of candy from around the world straight to your door! Bocandy offers a half off first box trial with coupon code HELLO so if you're interested in this type of subscription, it's a great way to check this one out!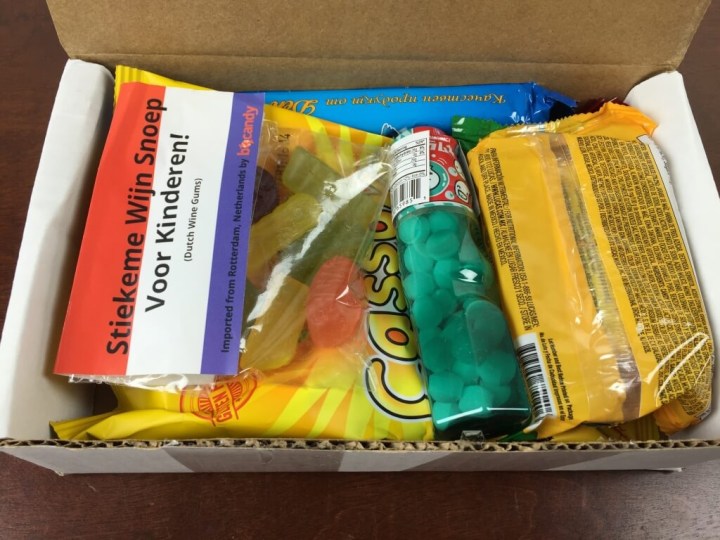 The July Box includes items from Holland, Japan, Hawaii, Bulgaria, and Mexico.  The box is fairly petite, but it arrives full to the top with treats.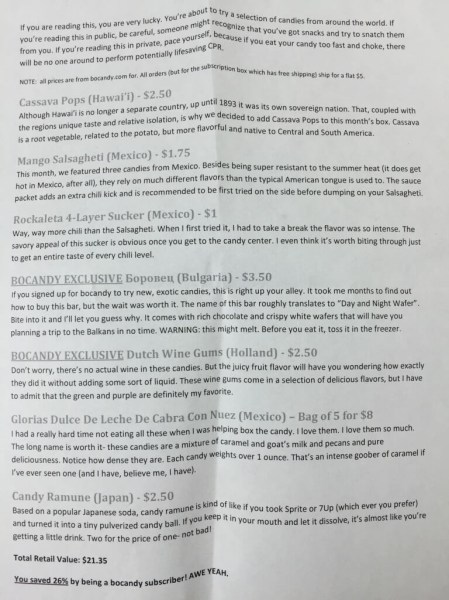 The info card has some background on each item, as well as a ballpark figure on the retail value — I'm not sure if this is a conversion of purchase price in country of origin, cost of purchase from specialty stores stateside, or if it is derived from allocating shipping costs to direct purchases.  Candy is not as cheap as it used to be, but if these are everyday treats, the prices seem a little higher than what I would expect.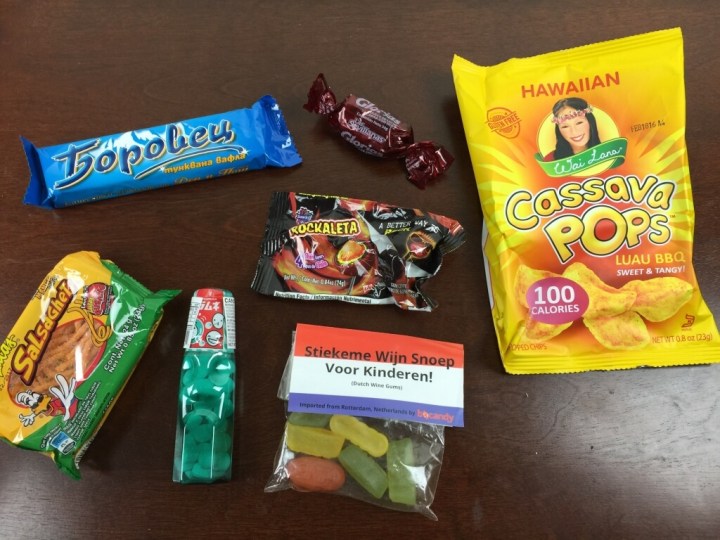 Group photo.  The selection features a bit of variety.  The inclusion of the Cassava Pops was a bit confusing. Brandy said it was because of the weather.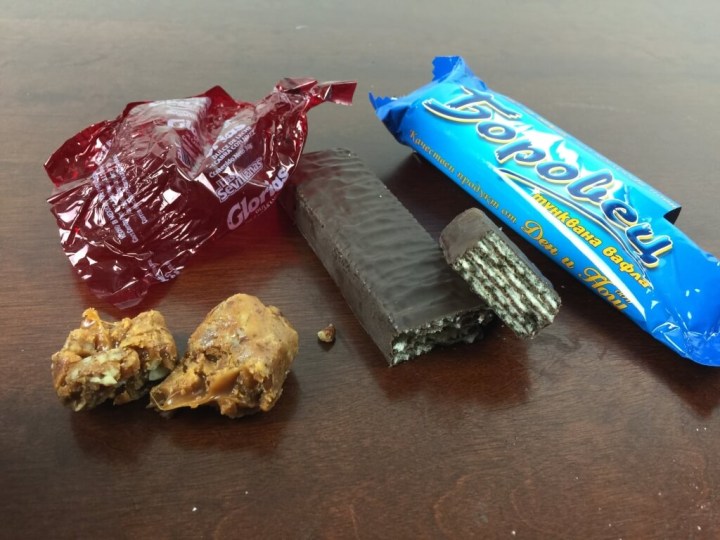 Glorias Dulce de Leche de Cabra con Nuez:  My favorite Mexican candy — this is a goat's milk caramel loaded with pecans.  The center has a bit of smooth caramel, but the outer layer has a slightly crumblier texture.  The goat's milk lends a great chèvre character to the cluster.
Day and Night Bar (ƀopoȴeų):  The thin wafers are stark white and very sweet, while the chocolate creme and coating are very dark and have a deep cocoa flavor.  The overall impact is a very light-textured, crispy bar with nice chocolate flavor.  The coating melts very easily, but tastes delicious if you can wrangle it properly — refrigeration or hand wipes are in order.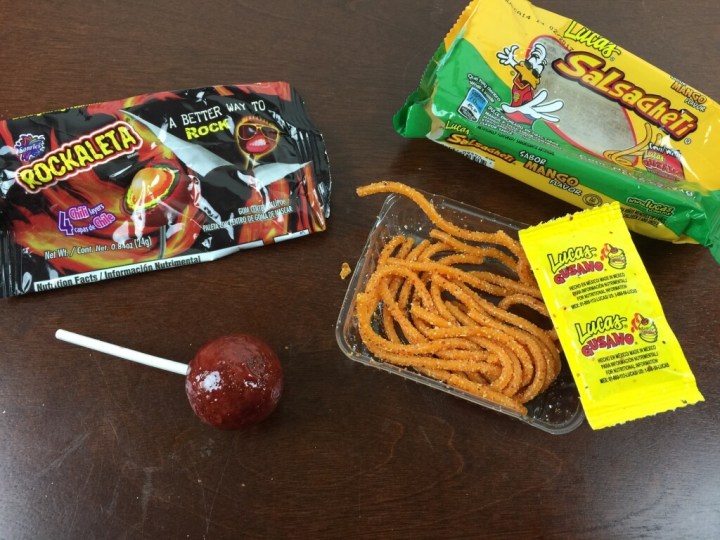 Rockaleta 4-layer chili pop:  this is a quintessential Mexican candy — sweet and spicy together.  The center is chewing gum, if you can make it through the outer 4 layers.  Each is flavored like a variety of hot pepper, but none is mouth-blisteringly hot.  The predominant flavor s a sweet, tangy spice, with the pop actually having more of a sour flavor than a straight heat.  After the outermost layer (which has chili-powder-like granules in it) dissolves, the inner three pepper layers soften and meld together.  Surprisingly enjoyable.
Lucas Salsaghetti:  This bizarre candy features mango-flavored gummy candies and a hot liquid sauce.  The combined effect is to create spicy, candy spaghetti.  The "noodles" are pretty firm, being closer to red vines than gummies.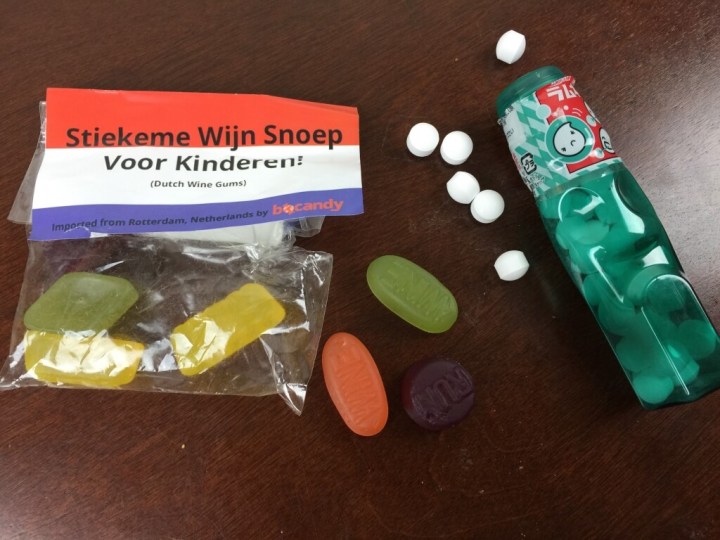 Dutch Wine Gums:  The flavor of each gum differs, but they do not taste quite like any identifiable fruit — I think they are intended to mimic wine varieties.  They have a great soft texture and a very juicy taste.
Ramune: Ramune is a Japanese tart soda similar to lemonade.  These candies have the texture of Smarties, and they approximate lemonade in the same way Smarties approximate fruit.  Very sweet and a bit sour.
Wai Lana Luau BBQ Cassava Pops:  I didn't understand how these fit thematically, since they are more a snack than a candy.  When I read "cassava pops", I was thinking of a lollipop made from cassava.  The chips are, however, very tasty.  The BBQ is very sweet and just a little spicy.  Cassava is a major food crop in the tropics, and it has a more interesting flavor than regular potato.  When prepared as chips or, in this case, puffs, the texture is indistinguishable from potatoes.
Bocandy had a couple exclusives I haven't seen before.  If they are able to keep this up, I will be really excited to see what comes in future boxes.  The value is decent, and it becomes very good with a longer subscription (this is new).
Visit Bocandy to subscribe or find out more. Use coupon code HELLO to save half on your first month. See more candy subscription boxes in the directory, or more subscriptions you can try inexpensively.
The Subscription
:
Bocandy
The Description
: Bocandy is premium candy from around the world! Each month Bocandy will send 7-10 different kinds of candy straight to your door. From savory to sweet, you will enjoy new brands each month.
The Price
: $15 per month, down to $11 per month on a year long subscription.
The Coupon
: First month half off – use coupon code
HELLO