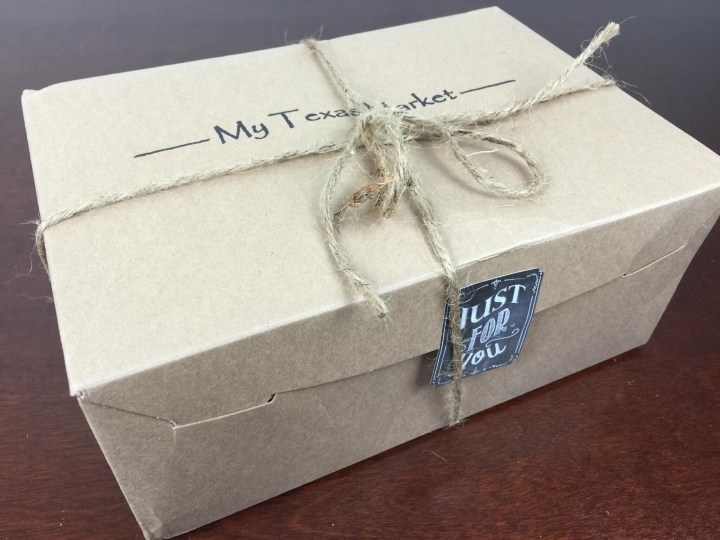 My Texas Market is a new monthly subscription featuring small batch and artisan made goods – including beauty products, food items, home goods – all from Texas!  You can enjoy awesome artisan goodies from farmers' markets and local Texas shops without even leaving your home!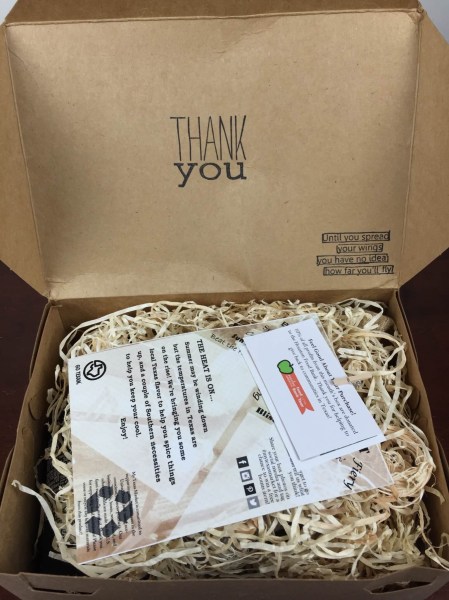 I love the packaging for this box! The box itself came in a priority mail box and it fit perfectly, I don't even know how they get it in there. It has great rustic appeal and country style!
Everything in the August box!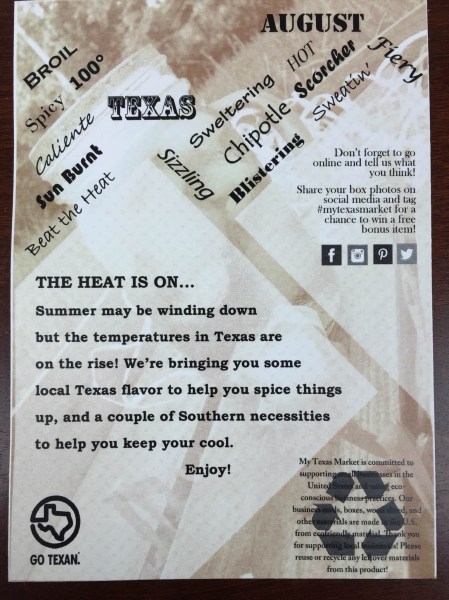 And I loved the card too! The August theme is "The Heat Is On" and featured items that bring local Texas flavor to help spice things up. FYI, this box donates 10% of its profits to the Houston Food Bank.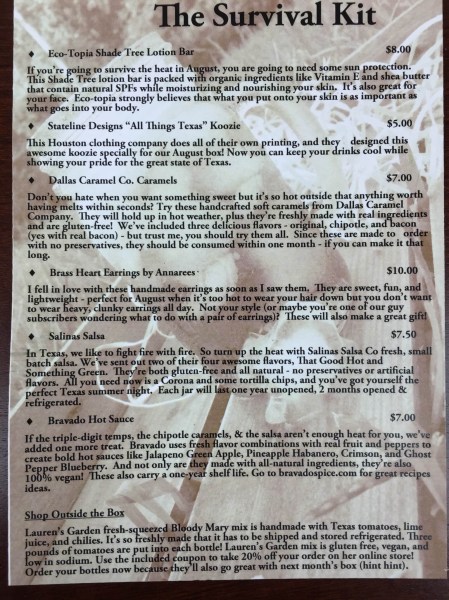 The information card had the details on each item, plus a "Shop Outside the Box" feature with a 20% Off coupons for Lauren's Garden fresh-squeezed Bloody Mary Mmix. This is a cute idea and perfect for this kind of regional box, when you're specifically hunting for producers from the area.
Annarees Brass Heart Earrings ($10) Love these! They had a piece of tape holding them down which left a bit of residue and my husband was very concerned (he took the photos), but it rubbed right off.  I really like the design of these earrings – they're super cute!
Eco-Topia Shade Tree Lotion Bar ($8) My husband absolutely adores lotion bars and immediately scooped this one up. It's soft and emollient and I love it when he uses them because his feet aren't so terrible! Goodbye lotion bar! At least I still get your benefits!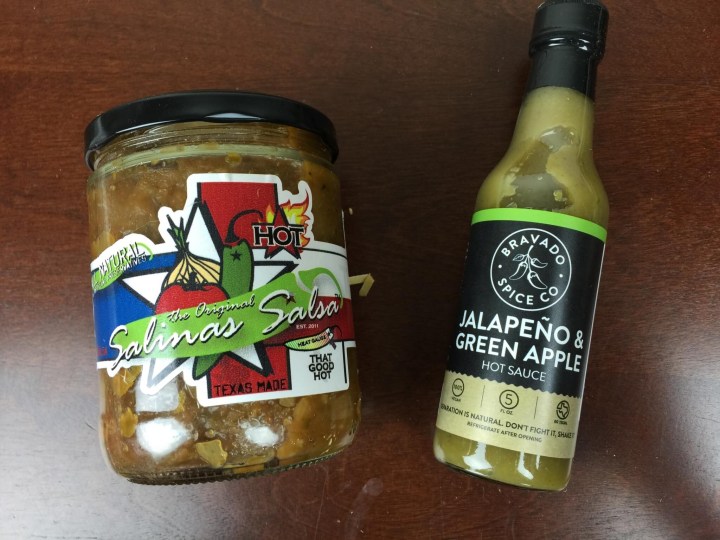 The Original Salinas Salsa ($6.95) This says HOT with flames on the front, so I think it's safe to assume that it's pretty spicy! We haven't tried it yet but Salinas says that this flavor (which is technically called "That Good Hot") is The burning flavor that keeps you coming back for more!" Ours arrived leaky so My Texas Market sent out a replacement.
Bravado Spice Co Hot Sauce – Jalapeno & Green Apple ($7) Granny Smith apples blended with fresh peppers and garlic. I knew this brand looked familiar – it was also in a Bespoke Post Box (Charred)! This is a great twist on traditional hot sauce with a great blend of spicy and sweet! I love green hot sauce to begin with (Tabasco Jalapeno is like my best friend) and this one is really unique.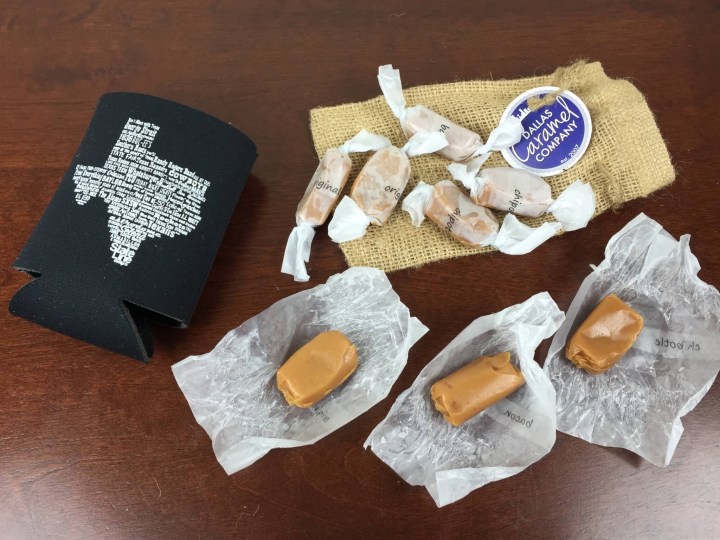 Dallas Caramel Co. Caramels ($7) We got caramels in three flavors – original, bacon and chipotle! They were all delicious. The chipotle had that smoky heat, and the bacon was a natural bacon flavor – with actual bacon! That was a first for me. The caramels were also soft and not sticky – a really high quality confection!
Stateline Designs "All Things Texas" Koozie ($5) This is a very fun and very Texas product! It's a great design plus it shows the diversity of Texas!
This was a great box! I loved how it had some spicy products for the theme but not everything was tongue-searing and it included a nice mix of items. The total value was $44, which was also great, especially when you start to think about paying shipping for individual items. This is my favorite new subscription right now. I really love the curation and mix of items, and the quality of each item selected. Plus I've only been in Texas but I love everything Texas so it's sort of perfect for someone like me!
Visit My Texas Market to subscribe or find out more.  Save 10% on your first box with coupon code 10FIRST.
The Subscription
:
My Texas Market
The Description
: A monthly subscription box including small-batch locally made food items, beauty products, & home goods, all from Texas.
The Price
: $35 per month
The Coupon
: Save 10% on your first box in a month to month subscription with coupon code
10FIRST
.