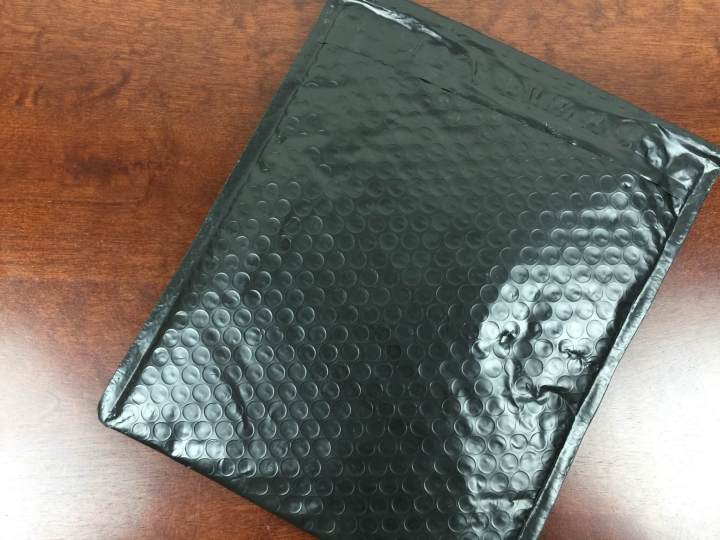 I love my Moustache! Moustache Coffee Club is one of the most consistent and enjoyable coffee subscriptions I've had.  Moustache Coffee Club  is a coffee subscription box featuring freshly roasted single origin beans that are shipped the day they are roasted.  They feature certain roasters that appear quite frequently, but with different offerings (and always good quality).  This batch featured Burundian beans prepared by Lift Coffee Roasters of Riverside, California.
Moustache Coffee Club offers several different plans, depending on your coffee demands, as few as a bag a month to as many as one five-pound bag every week.  You can get your first bag free by signing up. You may cancel anytime and if you don't like the coffee you can get a refund or double the coffee.  I have not yet had to use their refund policy.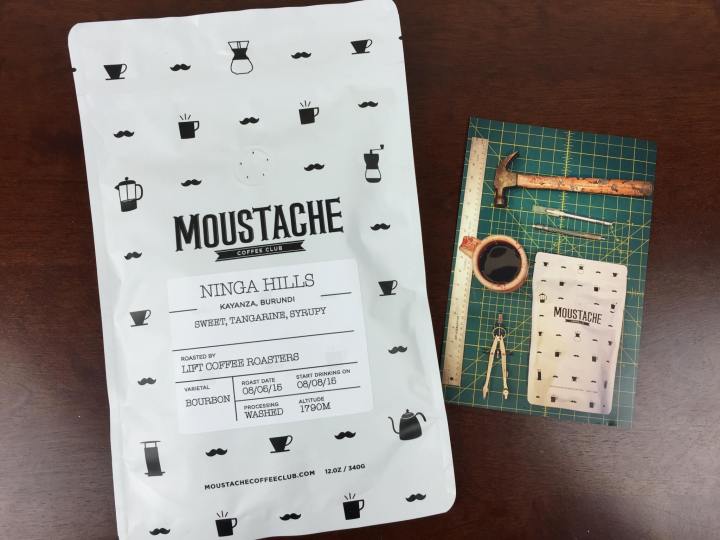 Moustache just recently debuted new bags to keep the beans fresher.  The top is resealable, and I like that all the relevant info for the coffee is right on the bag.  It's too hard to cross-reference info cards, etc, before the first cup of the day.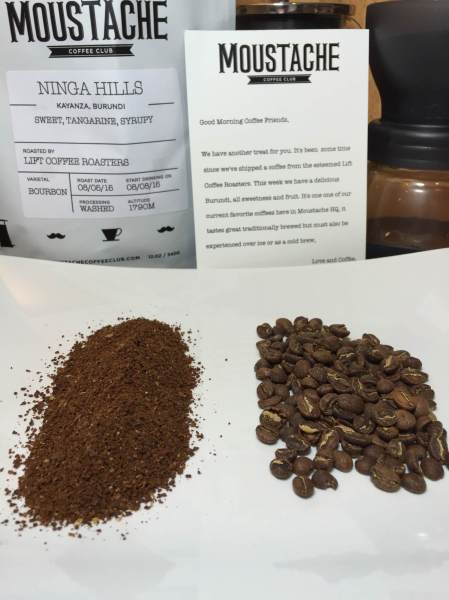 Lift Coffee Roasters Ninga Hills (Kayanza, Burundi). Moustache Notes: Sweet, Tangerine, Syrupy. Roasted 8/6, Delivered 8/10.
Roaster's Notes:
Ninga Hill is one of many hills or "collines", as the Burundians would call them, in the Kayanza Province. Ninga is located approximately four miles from the washing station, and many more miles from any form or electricity or city area. Ninga is an extremely obscure and robust village where coffee trees occupy nearly every  unoccupied space. These coffee trees sustain life for this community, and the farmers work hard to produce coffee worthy of a substantial price.

Ninga is still fighting off the effects that a civil war has had on their coffee trees and farming areas. As they combat these issues, Ninga farmers have succeed in producing a bright, tangerine tasting coffee, with a sweet and syrupy body.
This may be the first Burundian bean I've sampled, but the flavor characteristics really identify this as an African coffee.  It has the bright and high notes typical of the region, but it still stands out as uniquely sweet — in contrast to the dry and floral character of many Ethiopians and the slightly richer Kenyan beans I've previously sampled, this cup has no flowery pretensions and is devoid of heavy, dark notes.  Accented with some fruit and just a whiff of citrus, this is a pure play on sweetness, too light in character to even describe as caramel.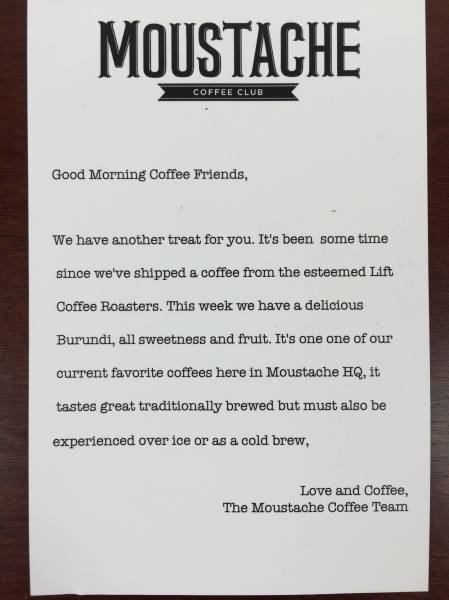 Though I like having the relevant info right on the bag, the additional info card does provide a nice intro to the coffee and some helpful suggestions, like serving this Burundian roast over ice or cold brewed.
The roast is medium, and the beans have some individual character, with some a little lighter than others.  I presume these are all from a single roasting session, so the mixed appearance must be an artifact of differences at the source.  I like a little more body and boldness for my everyday drink, but this is a great light change of pace for enjoying the remaining warm days of Summer.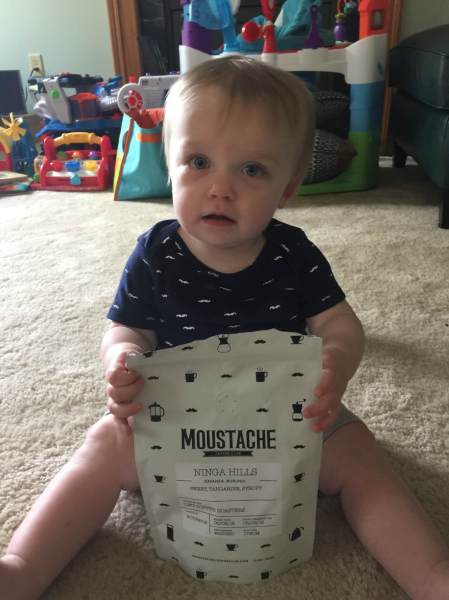 I had a legacy 6 oz every other week subscription so I've switched my subscription to a full bag every other week.  This subscription is really one of my favorites.
Visit Moustache Coffee Club to find out more or subscribe. You will get $5 off your first bag when you sign up with this link (or grab the free trial). You can see all our Moustache Coffee Club reviews or check out all the coffee subscriptions in the subscription box directory
The Subscription
:
Moustache Coffee Club
The Description
: Get amazing freshly roasted, single origin coffee beans every week! Beans are shipped the day they are roasted. MCC features high quality beans and lighter roasts to feature the beans' natural flavors. Biweekly plans also available.
The Price
: $19 per 12 ounce bag, includes free shipping
The Coupon
:
Sign up for the club
and get $5 off your first bag (or get a free trial).