August's Lit-Cube theme was Home Sweet Oz! Lit-Cube is a monthly themed book and bookish items subscription box. This box provides you with an immersive reading experience by providing reading material paired with quality themed items!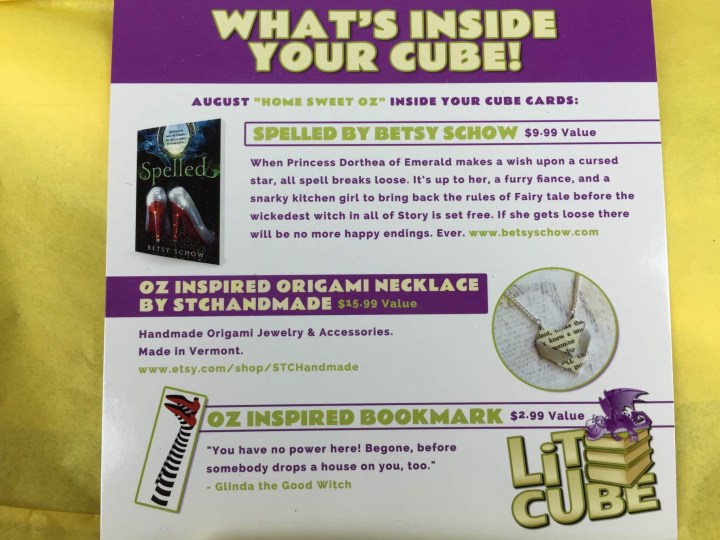 The information card has all the details on each item.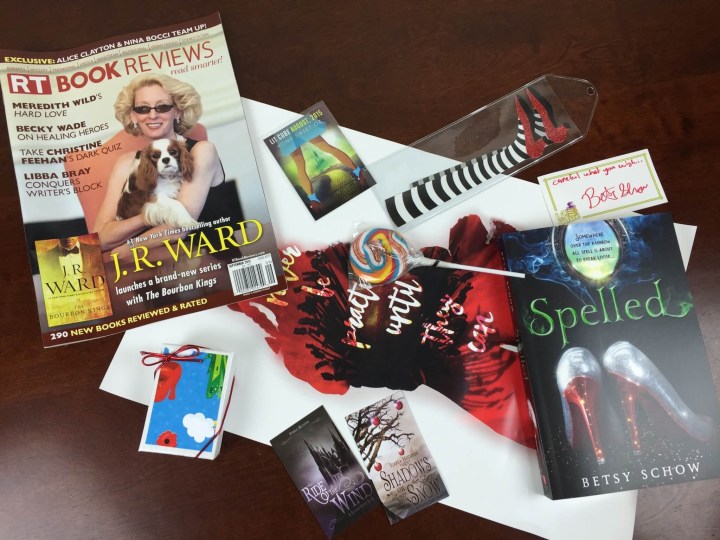 Everything in the box!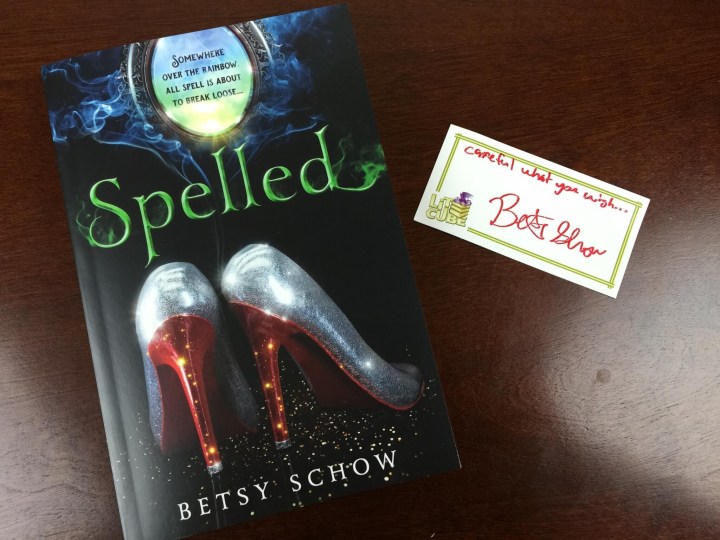 Spelled by Betsy Schow ($9.18) & signed bookplate – I am pretty excited to dig into this book! It looks like a fun page turner and I tend to like the riffs on classics genre and basically anything Oz.  I never quite finished the Gregory Maguire series, which I absolutely loved, and I may pick that up again (I wrote up a current reading list below) but I'm happy to see that other authors are taking on a niche like that!
Fairy Tale Survival Rule #32: If you find yourself at the mercy of a wicked witch, sing a romantic ballad and wait for your Prince Charming to save the day.

Yeah, no thanks. Dorthea is completely princed out. Sure being the crown princess of Emerald has its perks―like Glenda Original ball gowns and Hans Christian Louboutin heels. But a forced marriage to the not-so-charming prince Kato is so not what Dorthea had in mind for her enchanted future.

Talk about unhappily ever after.

Trying to fix her prince problem by wishing on a (cursed) star royally backfires, leaving the kingdom in chaos and her parents stuck in some place called "Kansas." Now it's up to Dorthea and her pixed off prince to find the mysterious Wizard of Oz and undo the curse…before it releases the wickedest witch of all and spells The End for the world of Story.
Haha Hans Christian Louboutin!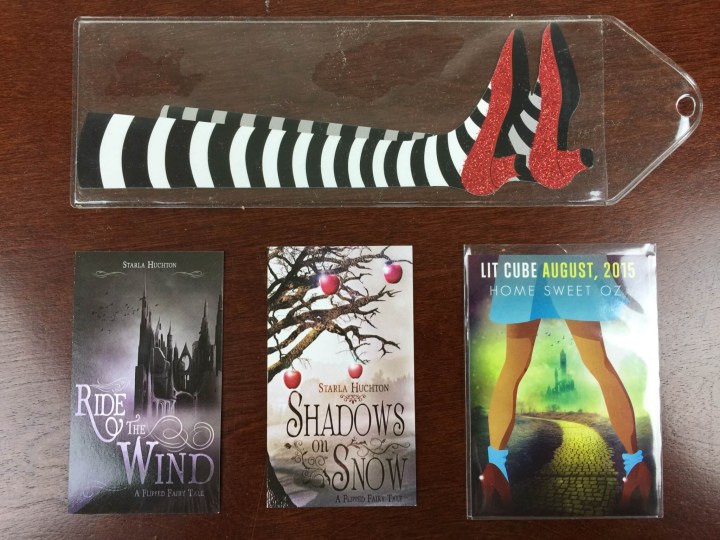 Oz Inspired Bookmark ($2.99) I think this is the cutest bookmark evarrrrr. When you stick it in your book the slippers stick out just like they did under the house!
Flipped Fairy Tales: Ride The Wind and Still of the Sky by Starla Huchton Magnets + Lit Cube Collector Card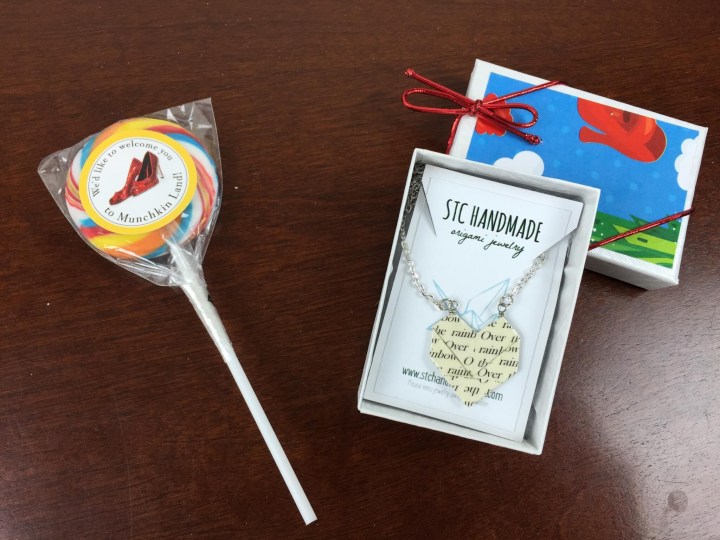 Bonus Lollipop – I love this! It says we'd like to welcome you to Munchkin Land!
STC Handmade Origami Paper Heart Necklace ($16) This is such a pretty necklace! It's handmade in Vermont, and made from Over the rainbow paper. Nice and subtle and artisan crafted!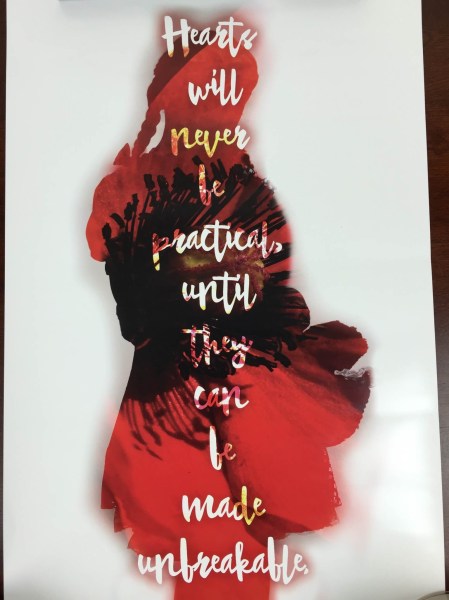 Contagious Covers Dorothy Poster ($9.99) This is a really nice quality poster with a silhouette of Judy Garland as Dorothy. At least that's what it looks like to me!
RT Book Reviews Magazine ($5) This seems bizarre, but I was really excited about this. I have a hard time sifting through reviews on Amazon and I'm going to use this to find some good books to read. Or series! I always love a good series!
This was a really fantastic box! I thought this month came with a really solid book choice that is a fun and attractive read written with a lot of humor and excellent items that carried out the Oz theme. I'm going to be so cute reading my book on the bus with my wicked witch bookmark wearing my necklace! This is just the kind of box I want to see from this kind of subscription!
And just for fun…
Currently I am reading: The Grace of Kings by Ken Liu (only $1.99 on Kindle! It's my current Kindle novel – he's a winner of a Nebula, two Hugos, a World Fantasy Award, a Science Fiction & Fantasy Translation Award).
Next up on my list: Aurora by Kim Stanley Robinson. (I will read this checked out from the library because it's pricier). Oliver Potzsch's next book in the Hangman's Daughter series is after that in October (although I thought the 4th one was terrible I have to read this one). And what the frill, Gregory Maguire wrote a riff on Alice in Wonderland (coming in October).
Last books I finished: Seveneves by Neal Stephenson (not his best, but always my favorite author), The Book of Life by Deborah Harkness (I love this series even though it's SO over the top. I'm pretty sure there will be another trilogy and I'll read all of them).
Visit Lit-Cube to subscribe or find out more!
The Subscription
:
Lit-Cube
The Description
: Lit-Cube is a monthly subscription box for readers. Lit-Cube strives to pair hand-picked books with high quality literary themed products to bring you a magical reading experience each and every month. Now also offering Junior subscriptions!
The Price
: $21.99 plus $7.99 shipping and handling.