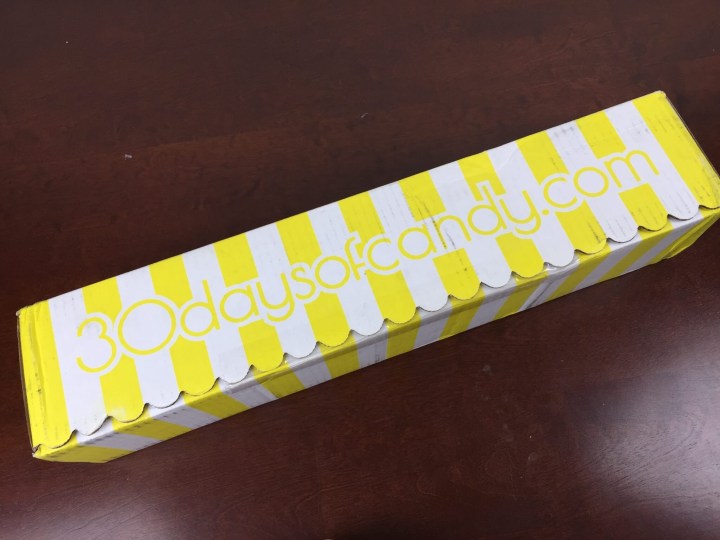 We think this is one of the best and most unique subscription boxes out there! 30 Days of Candy is a new monthly candy subscription box. Every month you'll get 30 different candies from around the world, packed into individual servings.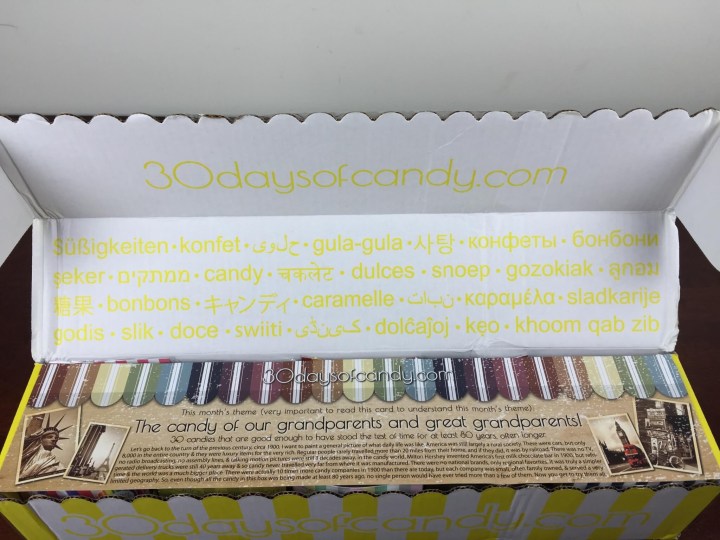 The theme for this month is "The candy of our grandparents and great grandparents – 30 candies that are good enough to have stood the test of time for at least 80 years, often longer. Currently when you subscribe you will always get the first 30 Days of Candy box, Around the World in 30 Sweets. Essentially you are subscribing to a candy narrative and as you go further, you will experience different parts of the story. This subscription's founders are candy experts and one of them is the owner of Powell's Sweet Shoppes in California. Their expertise shows in the packaging, quality, theming, and information provided with the sweets!
Usually when we review candy and snack subscriptions we try to sample most of the candies – there is so much candy, so we'll be showing you all of them (you can click on the photos to get a larger picture) and we tried a few as well.  The candies are individually packaged along with an information card as well as a cool photo on the back.  This month, each pack featured photos of various discontinued candies.  30 Days of Candy has made each pack around 100 calories (perfect for a daily sweet treat!) but we also found that there's just enough to share for our family, too! We all enjoy tasting the candy and the kids adore reading all the facts. This would be perfect for a family (or maybe even a cool lunchbox snack??), a candy fiend, or of course, as a corporate gift.
There was no organization for this theme – this box was all about each vintage candy (the ones that have stood the test of time and are still here!).
Bonus Candy: Tootsie Rolls, Hershey's, Juicy Fruit, LifeSavers Pep-O-Mints:  The box came with a bonus bag containing four of the most famous, long-standing American candies.  Because each is still so popular, they didn't waste one of the 30 selections showcasing them — how sweet!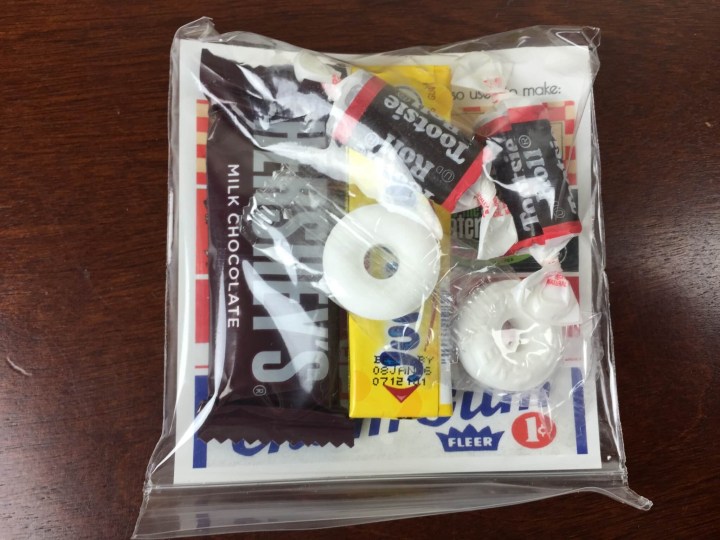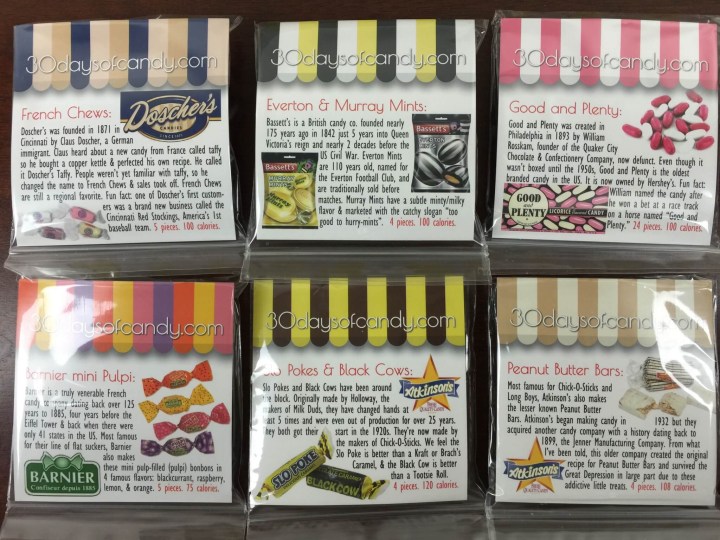 Doscher's French Chews:  A soft taffy, in vanilla, chocolate, and caramel.
Everton & Murray Mints:  Made famous through association with eponymous football clubs.  The milky/mint of the Murray's is an odd combo, and one can see why it has not been emulated with any frequency.
Good and Plenty:  The classic candy-coated licorice.
Barnier mini Pulpi:  Filled with a little dab of sweet jelly, these sweet hard candies come in fruit flavors, including the unique blackcurrant.
Slo Pokes & Black Cows:  The former is a soft caramel roll, the latter a softer, more delicate Tootsie Roll alternative.
Atkinson's Peanut Butter Bars:  These crunchy little bars are layers of flaky peanut and white crispy candy.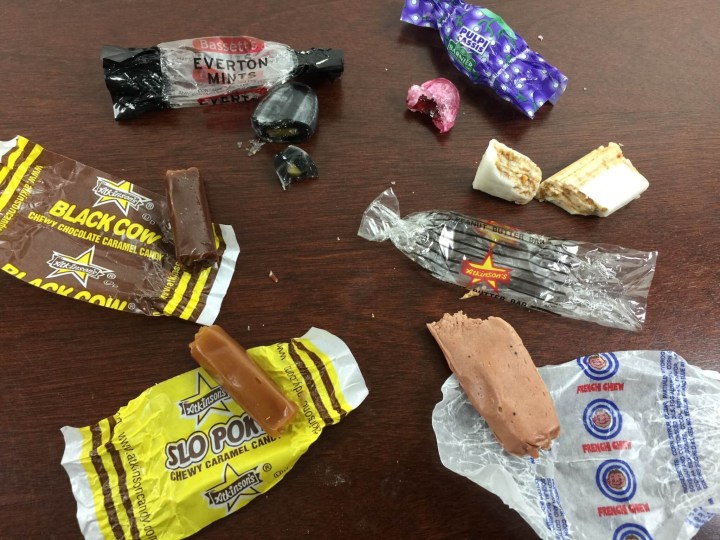 NECCO Mary Jane's:  One of the best classic candies, these have an unbeatable chew and rich peanut and molasses flavor.
Runk Candy Kits:  like a soft Starburst or a most Hi-Chew, these come 3 to a pack in chocolate, banana, vanilla, and strawberry.
Washburn's Sour Lemon Balls:  Classic hard candy in sour lemony goodness.
Zeeuwse Babbelaars:  A caramel-flavored hard candy — I crunched the one below to see if there was any filling (none).
Atomic Fireballs & Lemonheads:  Atomic is hard and fiery cinnamon, Lemonhead gives under a firm bite and is not as extreme in its lemon flavor as the Atomic is in its cinnamon.
Richardson Pastel Mints:  The candy Brandy asked for by name after she saw my photos.  Whoops, I already ate the melty, creamy, minty things.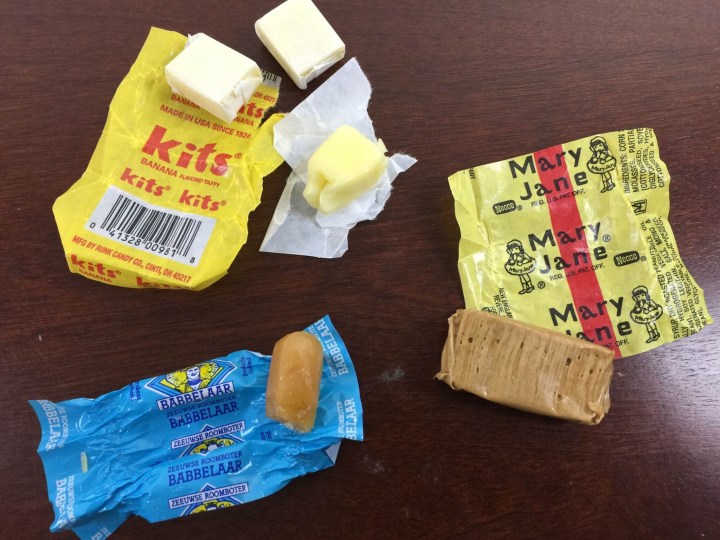 Fralinger's Peanut Butter Chews:  Really stretchy… and sweet and chewy.  Like a creamy version of taffy.
Goetze's Bullseyes:  Very Hi-Chewish (firm and almost waxy/gummy) exterior with a super soft creme center.
NECCO Wafers:  Perhaps THE classic — NECCO has a bunch of candies, but this is the one that comes to mind when you say NECCO.  These brittle wafers have a chalky, sweet flavor.  We received the fruit flavored assortment (they also make them in a great cocoa and other flavors too).  The powdery sugar dust and chalky taste make these an unforgettable classic.
Fazer Dumle Toffee:  Super sweet soft caramel-like "taffy" (what's the difference anyway — this one certainly walks the line) inside a chocolate coating.
Fralinger's Salt Water Taffy:  A soft, sweet taffy in banana, caramel, vanilla, and chocolate flavors.
James' Butter Mint Rolls:  Crumbly and melty.  Similar to pastel mints, but even softer.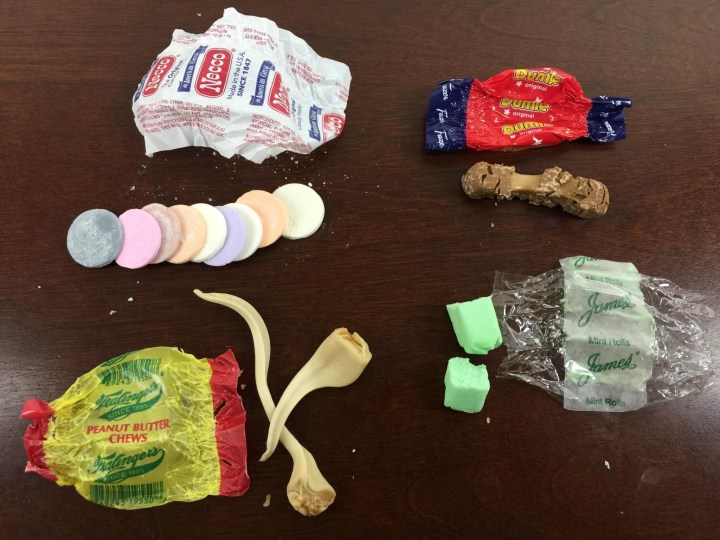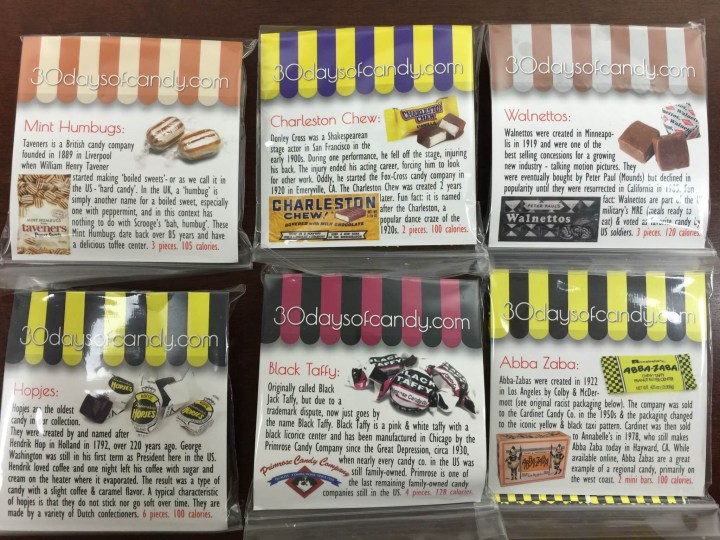 Tavener's Mint Humbugs:  A really disconcerting combo of mint and caramel give this hard candy an odd flavor.
Charleston Chews:  I think the small size really affects the character of the bar — I recall these being much more dense and chewy.  Semi-firm marshmallow nougat inside a chocolate coating.
Walnettos:  Textured like fudge with a caramel/fudge hybrid flavor and studded with walnut bits.
Hopjes:  Basically a reduced coffee, these hard candies have a great coffee and caramel flavor.
Primrose Candy Company Black Taffy:  Don't be fooled, only the licorice-flavored dot at the center of these red and tan taffies is actually black.
Annabell's Abba Zaba:  The card details the branding rehabilitation of this candy.  Peanut butter filled white taffy — and nearly impossible to split with your hands neatly!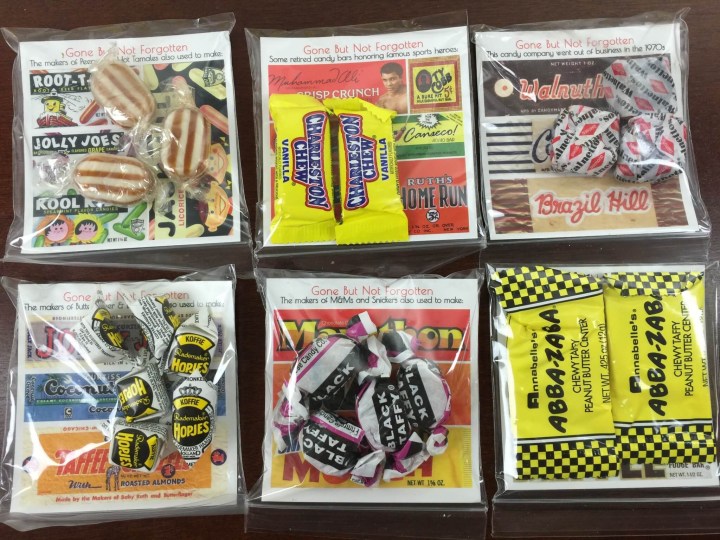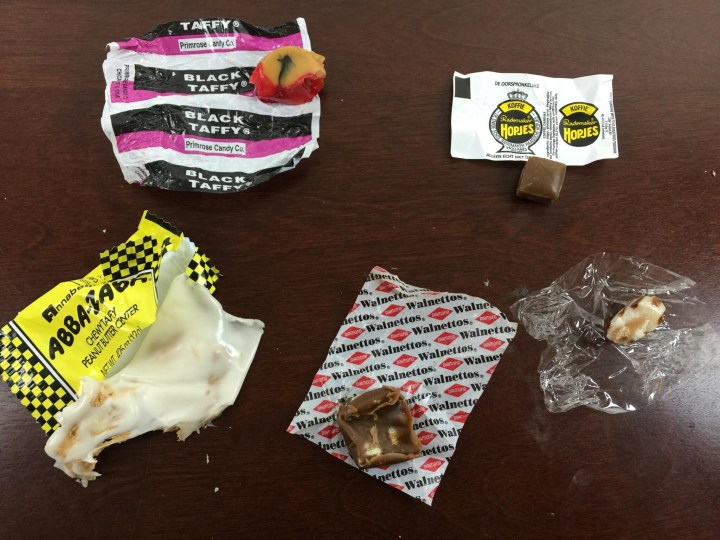 Bonomo's Turkish Taffy:  probably called "Turkish" to add an exotic air, these are pretty classic chewy taffies.  Interestingly, these were extinct for a couple decades following recipe meddling by acquirer Tootsie Roll.
NECCO Squirrel Nut Zippers:  Chewy peanut butter, similar to the Mary Jane, but with caramel notes instead of molasses.
Washburn's Root Beer Balls:  I grew up with the rootbeer barrel candies, but these predecessors have the same flavor in an elegant sphere.
Primrose Candy Company Maple Walnut Chews:  Walnut studded caramel.  More of a classic caramel profile that the fudgy Walnetto.
Red Bird Peppermint Puffs:  A bit like a butter mint, with great peppermint flavor and an oh-so-fun to bite texture.
Fortuin Wilhelmina Mints:  A nice, powerful mint.  I was pleased to see the intricacy of the imprint.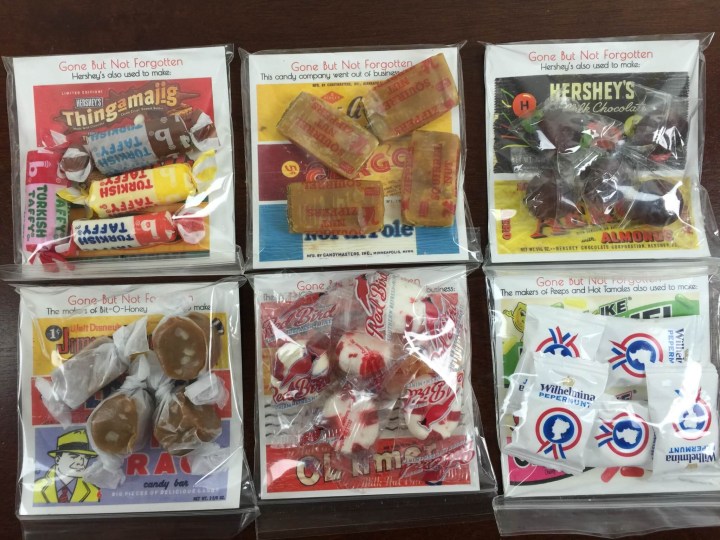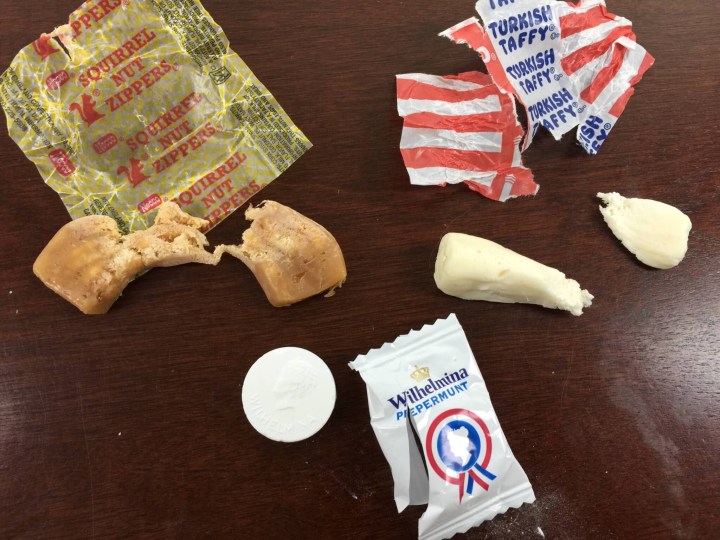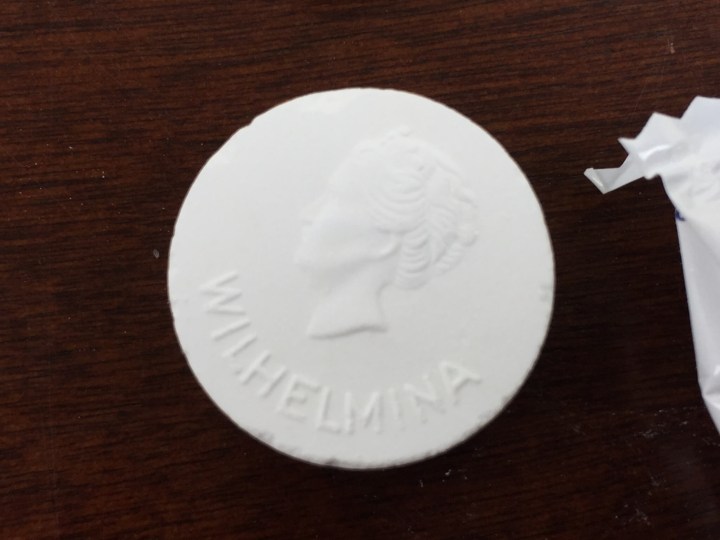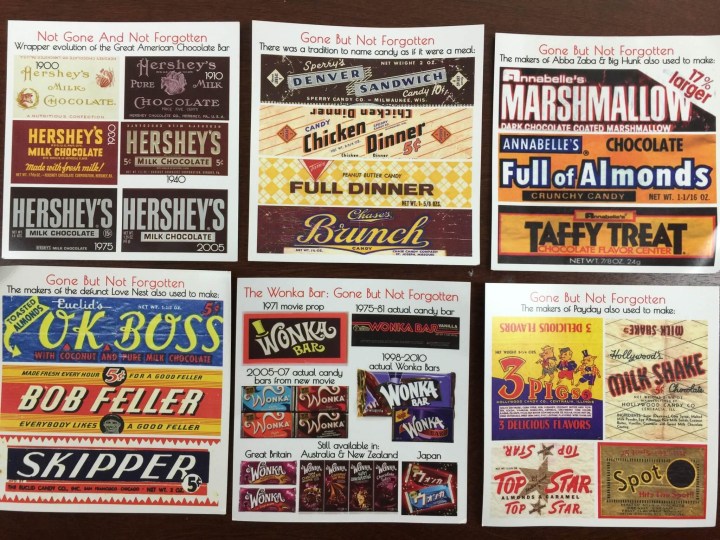 A sampling of the backs of the cards — each featured extinct bars or classic packaging of current favorites.


The next theme in this subscription is Candy from behind the Iron Curtain: 30 Candies from Eastern Europe.  Having come across a few great Bulgarian candies in other subscriptions, I am expecting big things from this one!  If you were wondering how many themes 30 Days of Candy might come up with, we suspect it is very many, and that they are probably the preeminent candy experts in the entire world. We really have truly never seen anything like this. If you are a candy fan, this is a must-subscribe. Remember that your box starts with the first box – read all our reviews (linked below) to get a peek at your candy journey, or don't and just be surprised!
Visit 30 Days of Candy to subscribe or find out more. Use coupon code 30%OFF to save 30% on your first box – expires August 31!
The Subscription
:
30 Days of Candy
The Description
: Get 30 deliciously indulgent, individually packaged, expertly curated, portion controlled (about 100 calories per bag) and super fun candies from all over the world every month. You'll also receive little behind-the-scenes stories of each candy and fun little trivia tidbits that add to the joy of discovery.
The Price
: $29.95 + $5.95 shipping
The Coupon
: Use coupon code 
30

%OFF
 to save 30% on your first box – expires August 31!