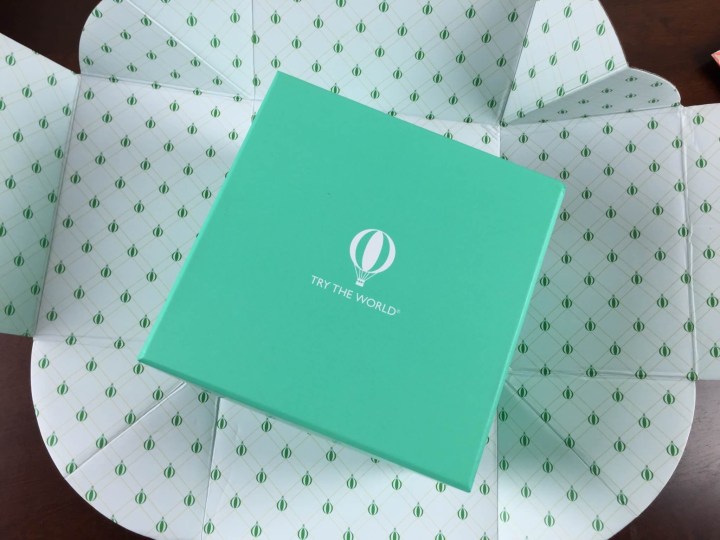 Try The World is a bimonthly international food subscription box – every month you'll get new treats and delicacies delivered from a new destination! Every Try The World box includes 7-10 artisanal food items, a card describing each product, and a culture guide & recipes! So far they have curated boxes from France, Japan, Brazil, Italy, Turkey, India and the UK with the most unique and authentic products you won't easily find where you live (they directly import many of the products featured in their boxes).. Every box includes $60+ of delicious food from a different country. Boxes are $39 – lower with longer subscriptions!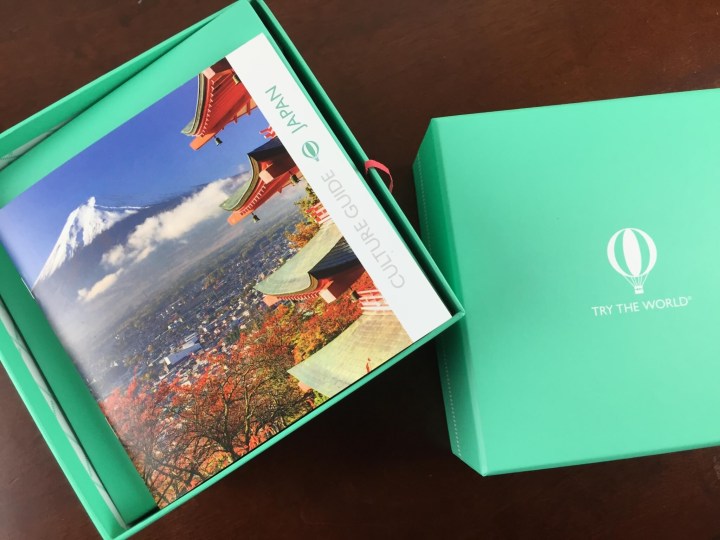 This is a gorgeous box (as in the box itself) – super reusable and I love the way the outer brown box unfolded (you can see it in the first photo).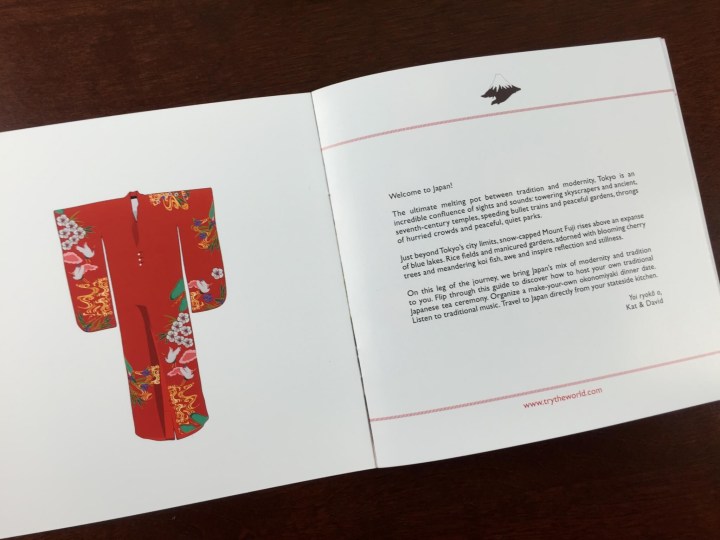 The included culture guide. While this subscription has had a Japan box, this is more specifically Tokyo – a mix of tradition and modernity. The items inside reflect that mashup! The booklet suggest hosting a traditional Japanese tea ceremony and a DIY Okonomiyaki dinner date – and includes all the information on these old and new Tokyo experiences (and playlists for both!).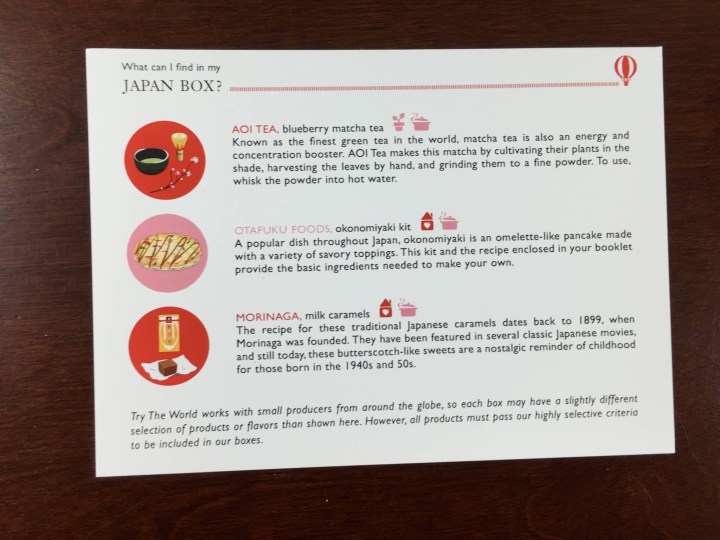 The two-sided information card gives the facts on every item in the box. There are small icons indicating whether the item is produced by a small family business, supports local community, is a traditional recipe, or is natural or organic or sustainably grown.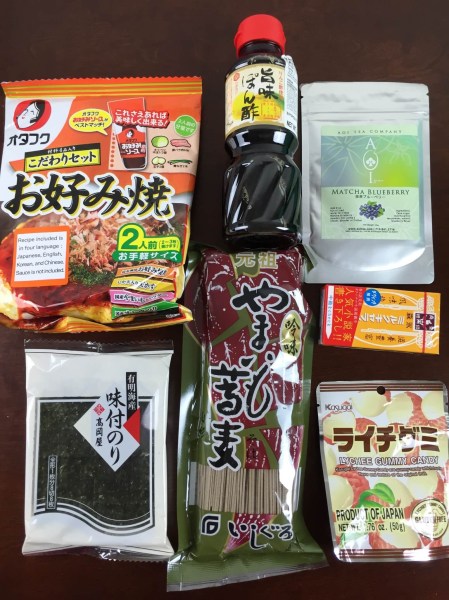 The Japan box!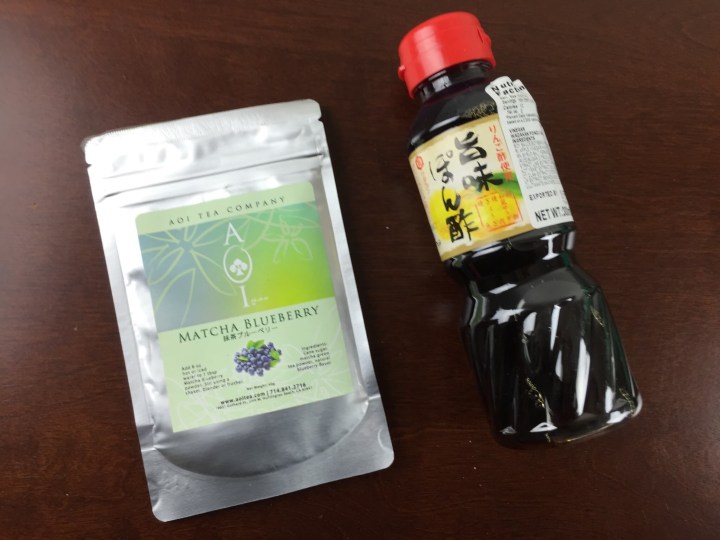 AOI Blueberry Matcha Tea: Matcha is ground green tea, and while I'm not a big tea drinker, I love the taste of matcha, so I'll be incorporating this into a baked good or oatmeal or something interesting (blueberry matcha white chocolate buttercream? just sayin!). The book included a matcha shortbread cookie recipe. The possibilities are endless!
Wadakan Umami Ponzu Sauce: I've only ever had American ponzu, so I was thrilled for this to arrive! Ponzu is a citrusy soy sauce that you can use as a marinade, dip, or make into a quick vinaigrette with oil for your soba!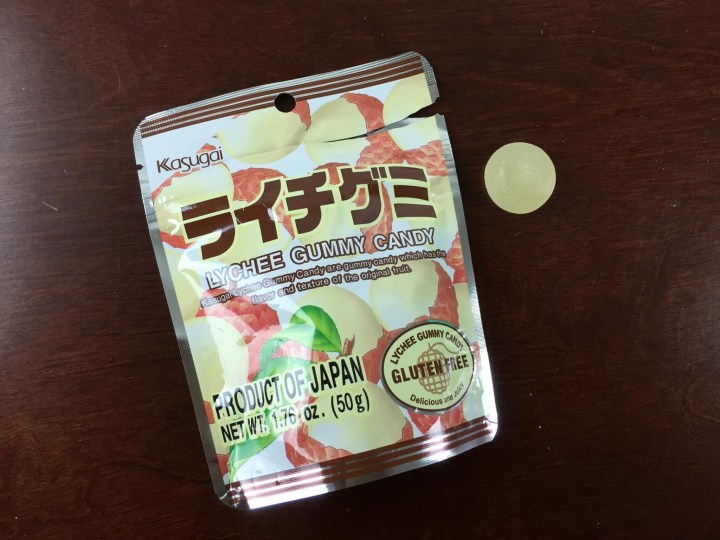 Kasugai Lychee Gummy Candy: These were tasty, gummy, and they are made with real lychee juice, so they had excellent flavor.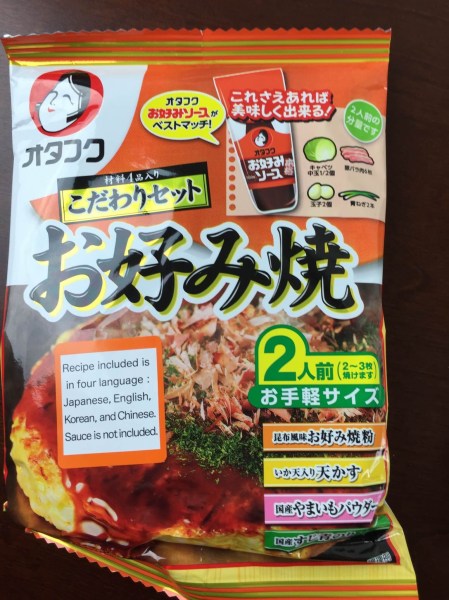 Otafuku Foods Okonomiyaki Kit: This is like an omelette pancake with toppings, and the recipe inside the book has more information on exactly what to do with it. You can mix in cabbage to the flour included, and make what you want and grill it (which is what the word okonomiyaki means). This dish apparently originated in Osaka, but I'm betting the kit is more popular in huge cities like Tokyo and there is an area of Tokyo (Tsukishimia district) very popular for this dish. I would love to visit sometime! Wikipedia says you can serve okonomikyaki with a layer of fried udon, and then it's called modan-yaki
Morinaga Milk Caramels: I love these caramels, which are a sort of fan fave, and they're so much less sticky than the American kind. YUM! Hard to control myself around these.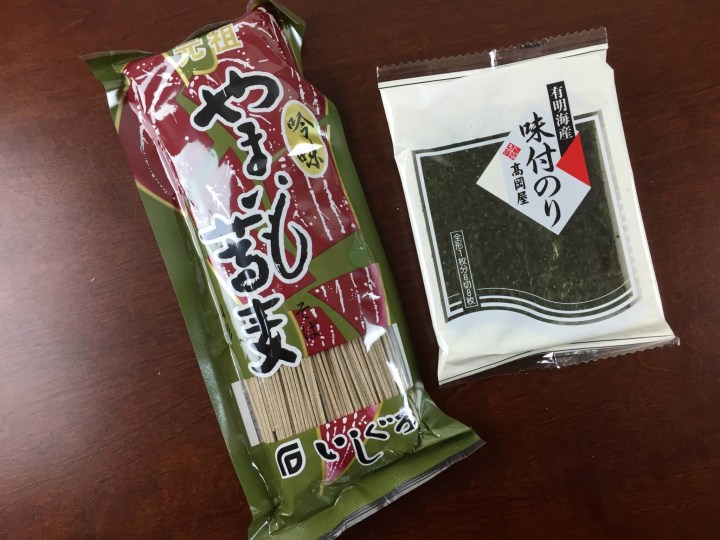 Ishiguro Yamaimo Soba Noodles: These are made with japanese yam and buckwheat, and you can serve them in broth or cold, dressed with ponzu sauce (which I love!)
Takaokaya Seaweed Snack: This is a traditional snack and not my personal fave, but perfect for this box.
This was a great box with items that represented the curator's idea of showcasing Tokyo as a mix of tradition and trend. I would have liked to see some Kawaii sweets kits in this box – I think it would have been the perfect ending, but of course, not everything fits. We enjoyed this one and thought it was a fun journey!
Visit Try The World to subscribe or find out more. Start with the Japan box and get the Paris box free! Use this link to get the deal!
The Subscription
:
Try The World
The Description
: Try The World delivers the best products coming from the greatest cities in the world, to your door! Go on an incredible journey across continents delivering some of the best products from the most exciting places on the planet. This box is delivered every 60 days!
The Price
: $45 per month
The Coupon
:Save 15% off all subscriptions and gift orders with coupon code 
HELLOSUBSCRIPTION15