True Drool is a subscription for 40+ pound dogs.  All of the toys and treats (4-7 items) are boxer-tested and boxer-approved, plus this subscription gives 10% back to rescues and non-profits.  Everything in the box is selected for big dogs!
This box is fun to open – and full of BIG items for big dogs!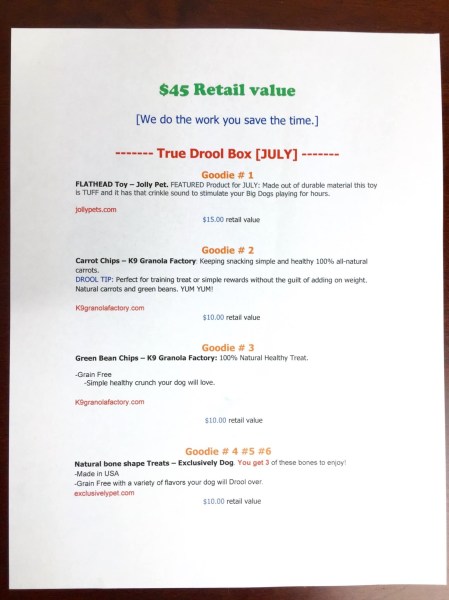 An information sheet gave the information on each goodie plus the retail value.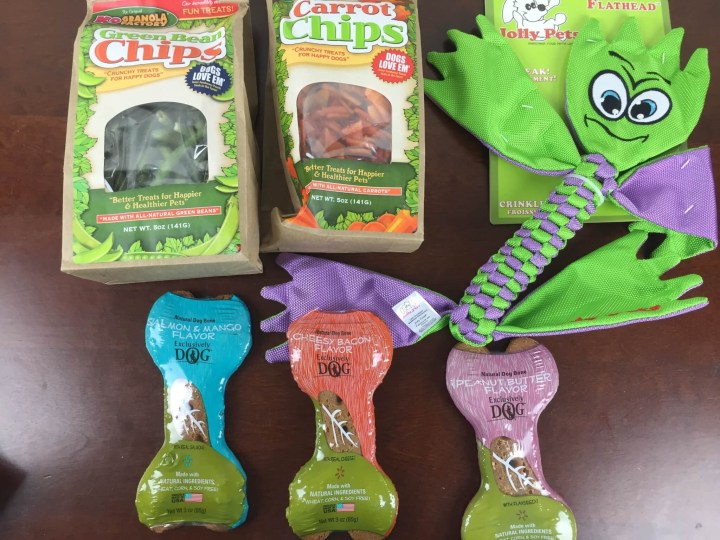 Everything in the July True Drool box!
Everything in this box is really big! Here's a shot of my dog taste testing the treats – she came upstairs as soon as I opened the box! Basically everything in it is the size of my dog.
Jolly Pet FlatHead Toy ($10)  This is just one big toy! It has a really nice squeaker, great crinklies, and has no stuffing! I love the design of the "body" because it's great for big dogs to get their teeth into.
K9 Granola Factory Green Bean Chips ($9.55) Yum! Lindy is sitting at my feet begging for more. These are super crispy and LOUD – so much crunch! My dog absolutely loves veggie treats and this is a really big bag of treats so any big dog will be happy snacking on this for a while.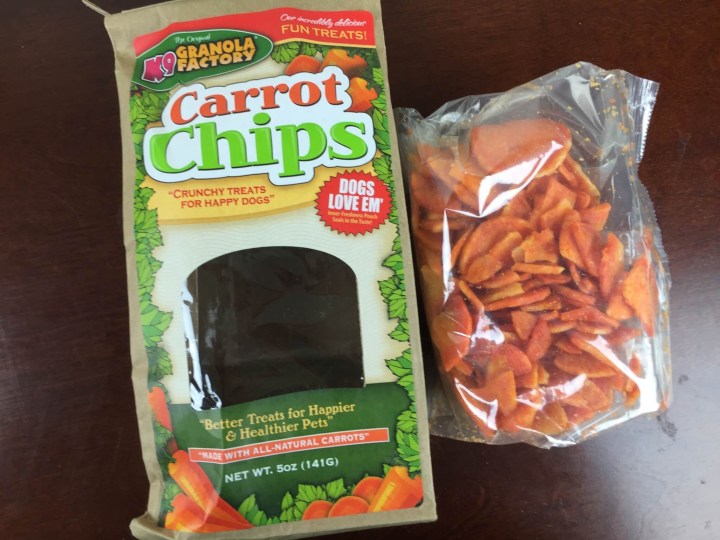 K9 Granola Factory Carrot Chips ($8.52) From the same company – Lindy was wild about these too. They must be very tasty because she keeps on coming back to beg for more – like they were made out of meat! I think she really enjoys the crunch on them, just like we do potato chips.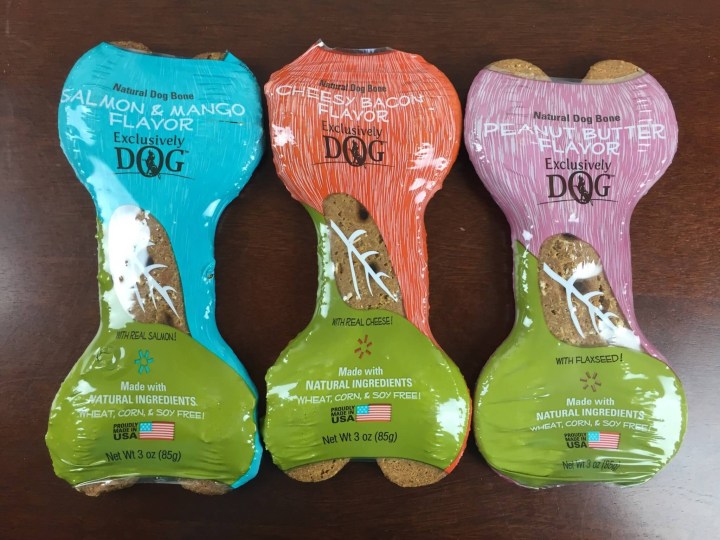 Exclusively Dog Natural Dog Jumbo Bones – Salmon & Mango, Cheesy Bacon, Peanut Butter ($3.33 each – $10 total) These are wheat, corn, and soy-free (they're made with rye and oats) and super crunchy. I thought it was unfair to let my dog taste test these – they are as big as her legs – and I will bring them with us next time we visit the neighbors. Their dogs seem a little rowdy to my 4 year old and these will keep them busy. I love how they have real salmon and cheese, and add in flaxseed to the peanut butter variety, plus they're made with natural ingredients. We are always super conscious of our dog's food – she only has so much room – but big dog owners should pay attention too. Natural ingredients mean nicer poop.
This is a great box for big dogs! We'll need to share our treats and toy with the large dogs in the neighborhood – Lindy doesn't even eat that much food in a month! The value was a little lower this month – the toy was half off on Amazon, but I don't think that affects the overall value or curation of having a box of size-friendly snacks and toys sent, plus as usual, you will do better on any dog subscription with a longer term subscription.  We also discovered some must-have snacks – Lindy is "talking" to me right now asking for more treats. (Schnauzers are funny!)
Boxes are $38 on a monthly plan (so the value is no different than Barkbox, but you get items sized right for your dog), down to $32 on a 3-month subscription. You can also "Paw it Forward" and donate a box to a recently-rescued dog for $20. True Drool offers a monthly Sneak Peek at the next box! If you've been interested in this box – be sure to subscribe with the $15 coupon below before it expires!
A DURABLE TOY from: Tuffy —STARFISH—
With a rating SCALE 9 this toy really lives up to it's name: TUFFY !
If you have a big dog that likes to chew this is the toy for you.
Visit True Drool to subscribe or find out more! You can save $15 on your first box with coupon code hello15. Exp 8/4. Read all our True Drool reviews or check out all the dog subscriptions in the directory!
The Subscription
:
True Drool
The Description
: TrueDrool boxes, which are geared for dogs 40lbs and up, are filled with toys and treats. Each month your dog will receive 4-7 toy/treat items for them to wag, wiggle and drool over.
The Price
: $38
The Coupon
: Save $15 on your first box with coupon code
hello15
!