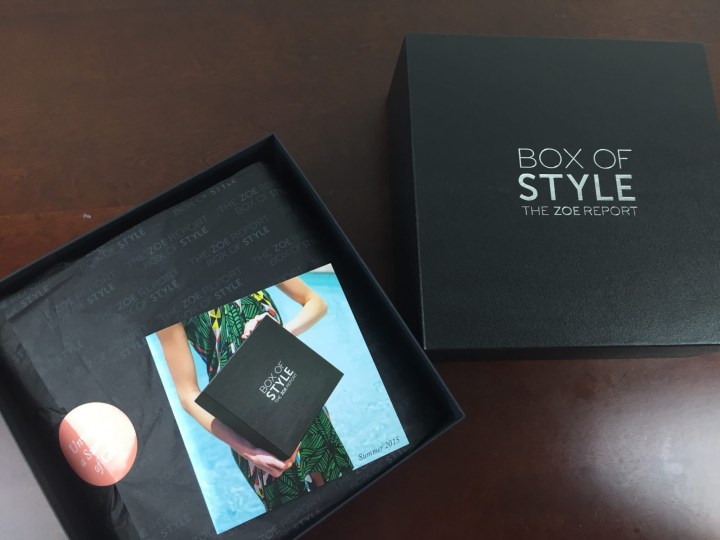 The Zoe Report Box of Style is a new fashion, beauty, and lifestyle quarterly subscription box from Rachel Zoe's The Zoe Report.  love subscriptions like Popsugar and this is definitely a great one – every box is like a limited edition box! I didn't really have time to open this today, but it's my birthday, so I did because we went to the pool, and I knew there were perfect items for that inside!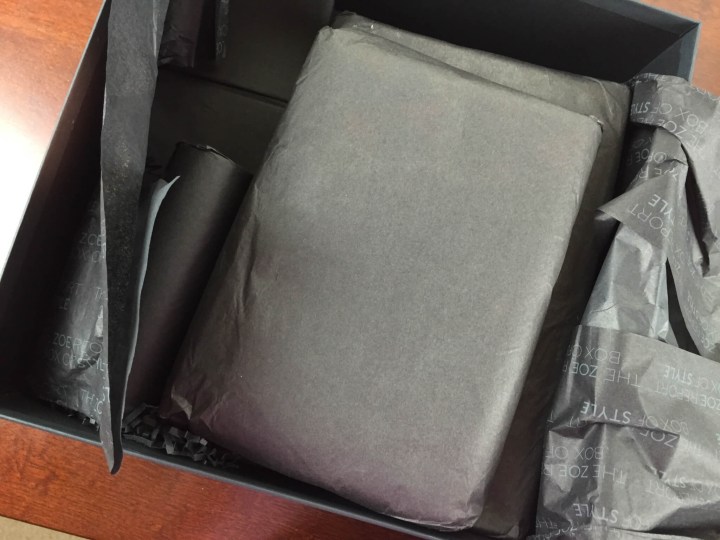 Everything is wrapped in tissue, it's a great presentation.
The information booklet has a different design – glossy and book-like instead of fold out. I preferred this. The letter from Rachel Zoe (who apparently does not believe in the clear supremacy of the Oxford comma) says:
Beach, beach and more beach – that's what this season's Box of Style is all about! Think summer essentials: from great beauty must-haves and a styling kit necessity to a white-hot caryall and colorful, multipurpose accessory. Curated by me and The Zoe Report editors, this Box of STyle brings our summer obsessions straight to you. It's everything you need to make warm weather dressing  effortless, glamours and seamless. I hope you love each item as much as I do!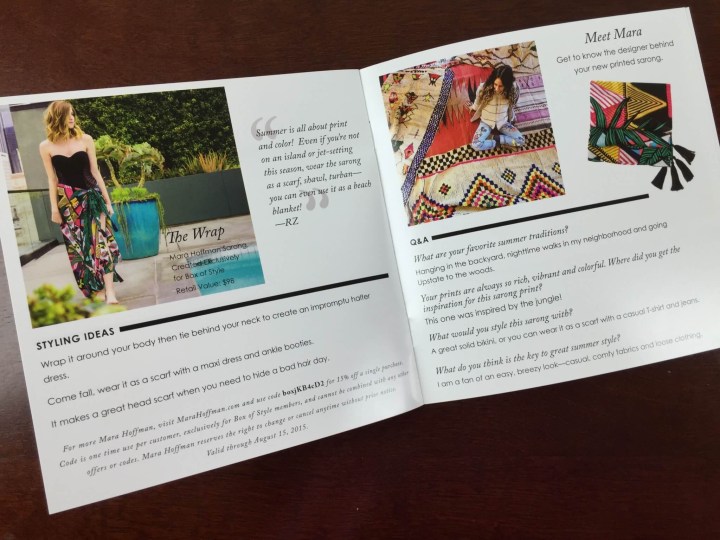 The inner pages detail the items, value, and styling advice!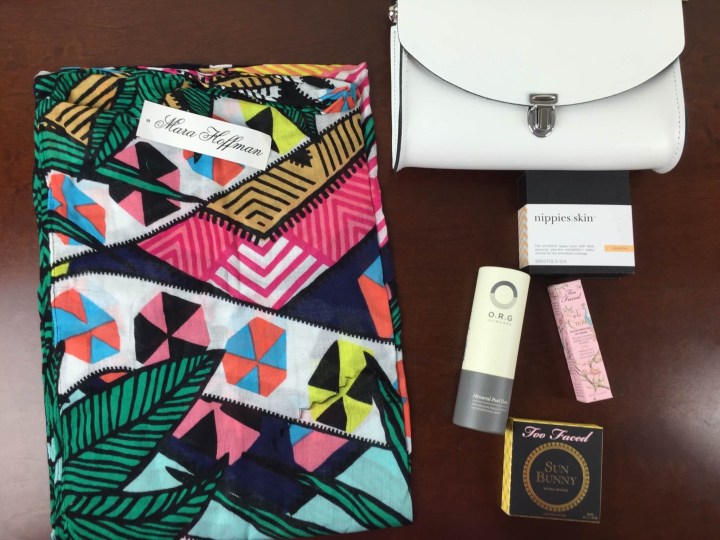 Everything in July's Summer Box of Style!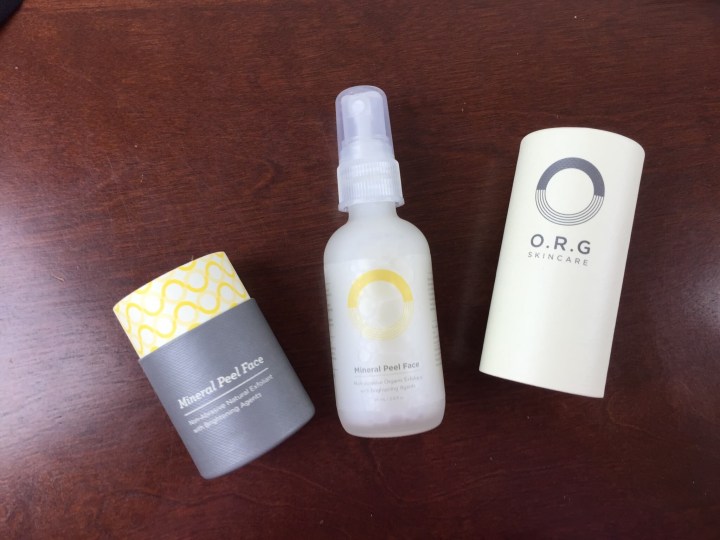 O.R.G. Skincare Mineral Facial Peel ($44) I love the packaging on this – super luxe and cute! This is a non-abrasive natural exfoliant. I like both types (peels and scrubs) so I will happily add this to my repertoire especially because summer skin always needs help no matter how much sun block you use!
Too Faced Bronzer ($30)
Too Faced Lip Creme ($22)
I love Too Faced cosmetics and I was happy to see them in this box – though I would have preferred an eyeshadow palette! The bronzer is nice and velvety, but shimmery, which makes it very tricky to use properly. The Lip Creme is in Spice Spice Baby and I like the color – but it's a tad too light for my lip. The formula is great though and super creamy.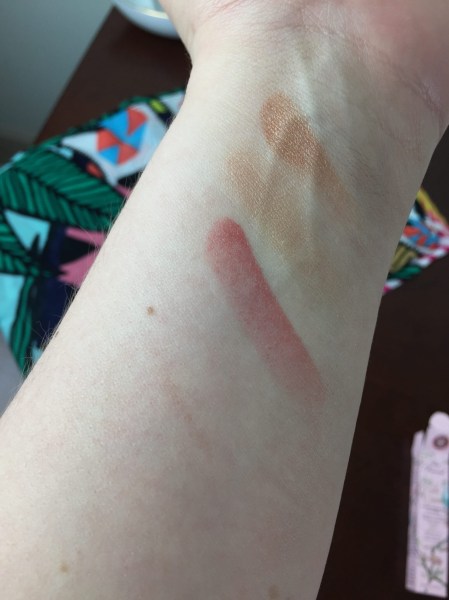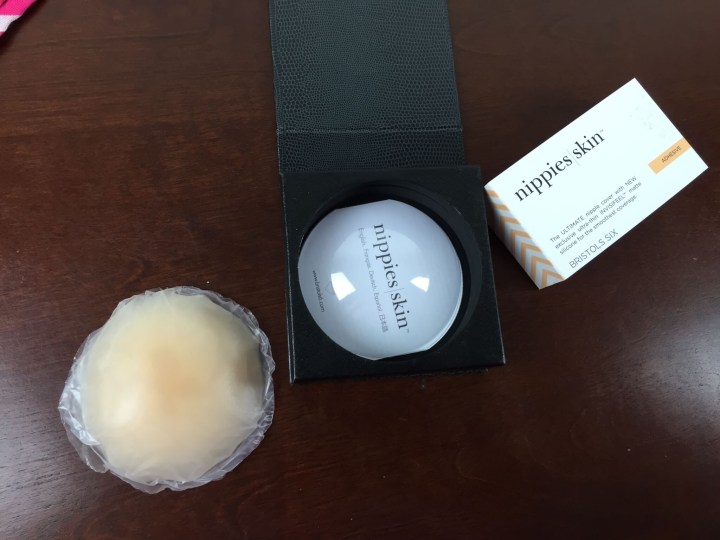 Bristols 6 Nippies ($26) I'm just going to come out and say I don't have any use for these. No nip slip probs here – passing these along to my bestie *cough*.
Summer is the season for sheer, gauzy, and lightweight fabrics. Nippies are the perfect styling accessory when a bra would be distracting. They mold to your body, work with your natural curves and go unnoticed in the best possible way.
As a woman who is not currently wearing a bra because I just took off my bathing suit, no. Just no. I would not be in public braless unless they were lifted.  Amusingly they suggested to use them in your shoes, which is ridiculous.
Don't get me wrong – this is a great item for the box! But use nipple coverings in your shoes? NO. If you can't use them – gift them!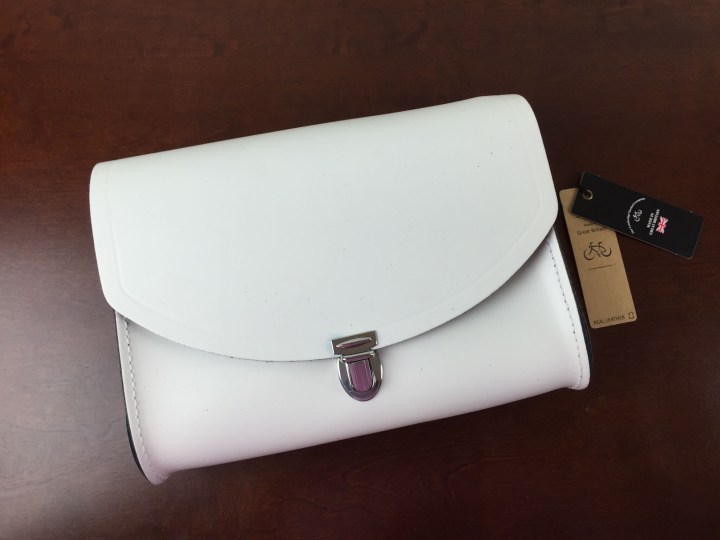 Cambridge Satchel Company Large Push Lock Leather Bag ($150) Gorgeous! At first I was a little iffy on the black backside of the leather, then I realized I loved it much more than tan, because it really fit my style. I would never straight up purchase a white purse but I'm so glad I have one now! It's perfect. I would maybe like it a weensy bit more if it was dyed some bright fab color on the back.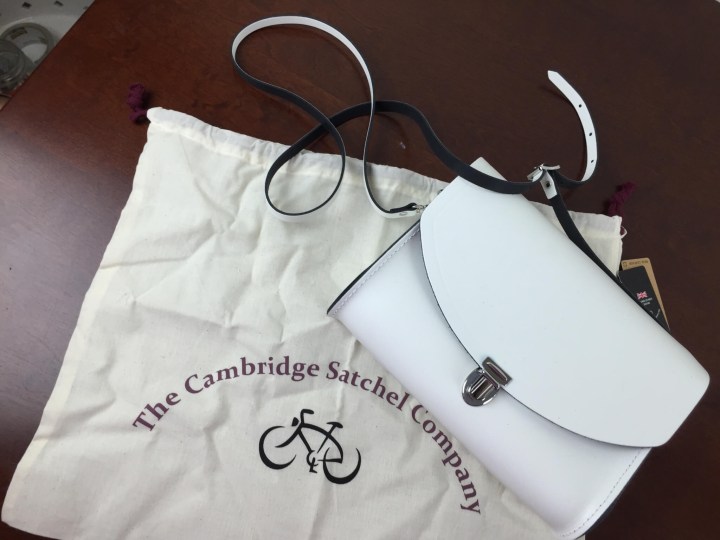 The handbag came with a storage bag too. The long strap is detachable, so you could carry it as a large clutch, but I think honestly it's a little large for that.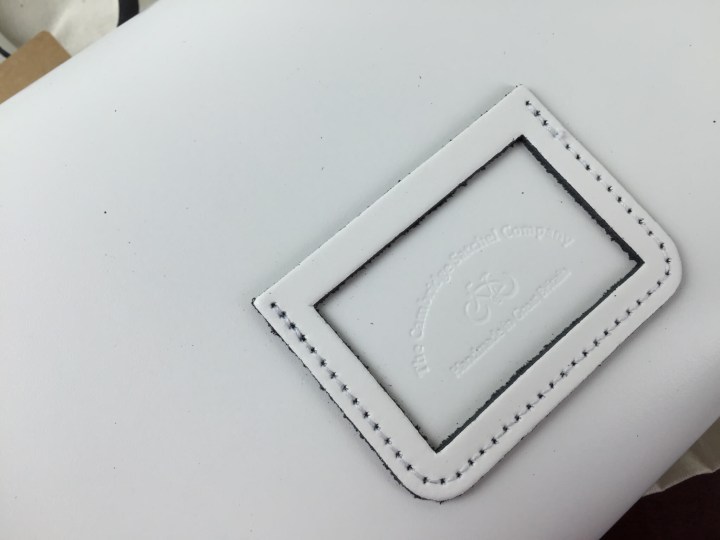 Im not sure what this is about because the back isn't the sort of size for… anything. Ideas?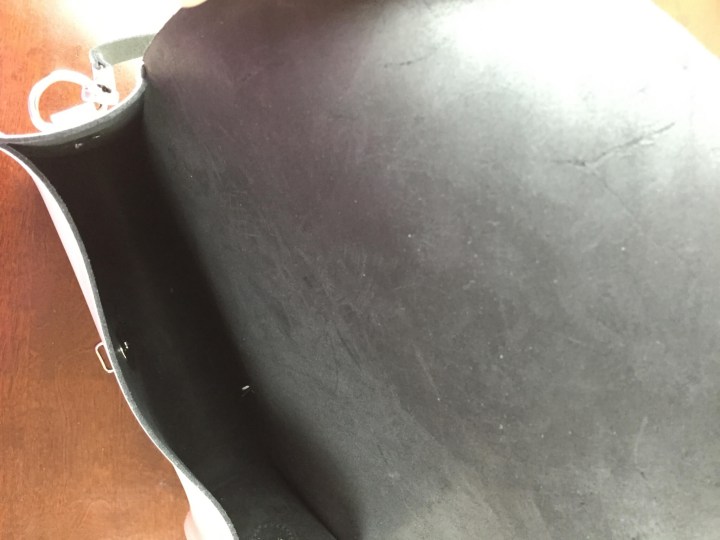 No pockets on the inside.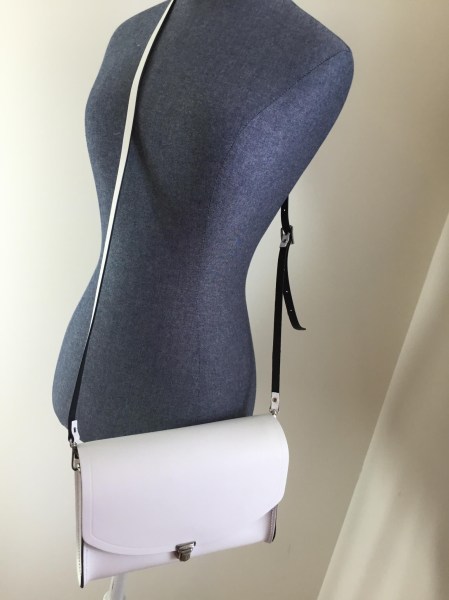 This is a substantial size!
Mara Hoffman Sarong – Exclusive Print for Box of Style ($100) I LOVE this! It's my favorite item in the box easily, and I was super excited when I saw the spoiler – the print is gorgeous and perfect. When I unboxed it I was surprised to find how high quality the fabric is, and the tassels! I just love it!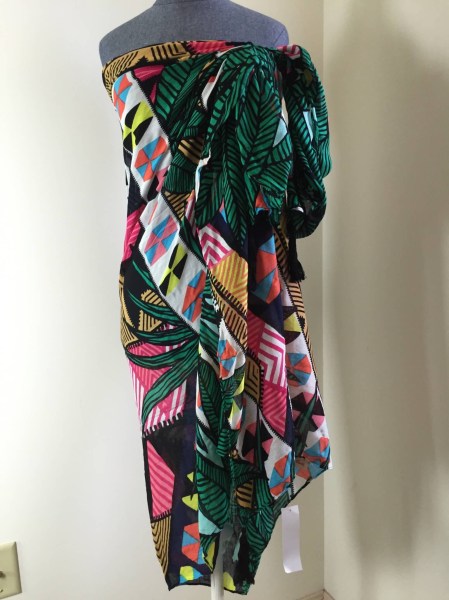 Love this, Going to wear it out I'm going to use it so much! It's light and gauzey and perfect. You can wrap it, drape it, lay it out, do whatever you want with it – it's super large and beeyoutiful.
While I wasn't totally in love with the first box, I thought the Summer box was great even though a couple items were misses for me personally. Unlike the Spring box where the cuff ended up to be so small for at least half the purchasers, a handbag is sizeless! The box has such a high value that it doesn't matter too much that I didn't love a couple of the items because I adored the two big ones. I'm looking forward to seeing the Autumn hero item spoiler! FYI, the fall box starts shipping September 1.
Visit Box of Style to subscribe or find out more, or check out our Rachel Zoe Box of Style Reviews. You can see more subscription boxes for women in the directory, or check out the fashion and clothing subscriptions!
The Subscription
:
Box of Style by Rachel Zoe
The Description
: A curated assortment of the best fashion, beauty, and lifestyle items of the moment – and of course one styling tool to make sure you're looking your most glamorous all year-round. Every box has at least $300 in value and is curated by Rachel Zoe.
The Price
: $100 per quarter