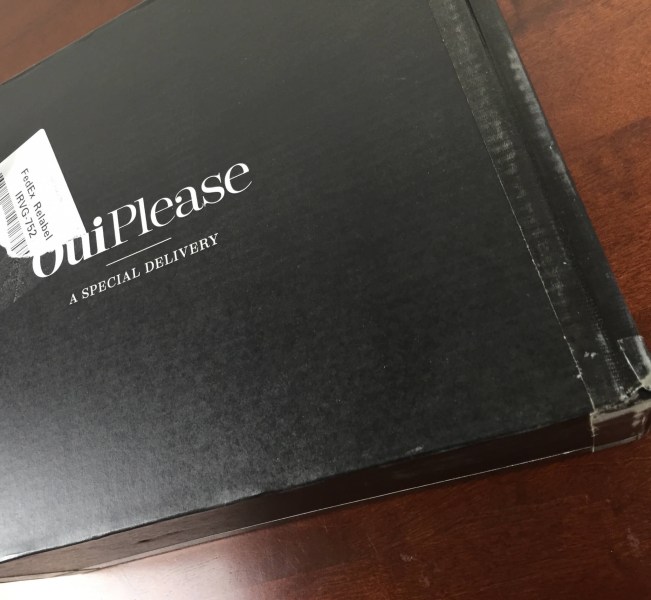 Oui Please is a French luxury subscription – every parcel contains an assortment of full-size products from France.
OuiPlease Vol. 1.4: Escape to the French Riviera recreates the decadence and exuberance of the French Riviera with colorful, and beach-appropriate treasures. We have curated a diverse selection of jewelry and accessories that will serve all your summer styling needs from day to night.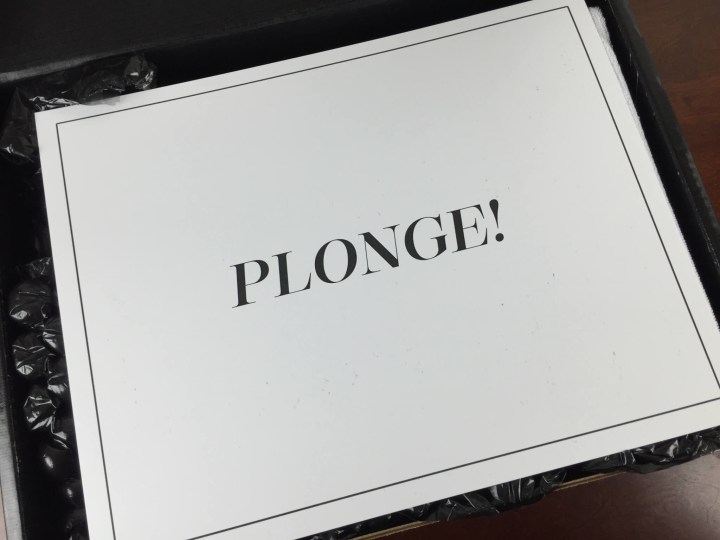 A giant card on the top commands PLONGE! (dive in).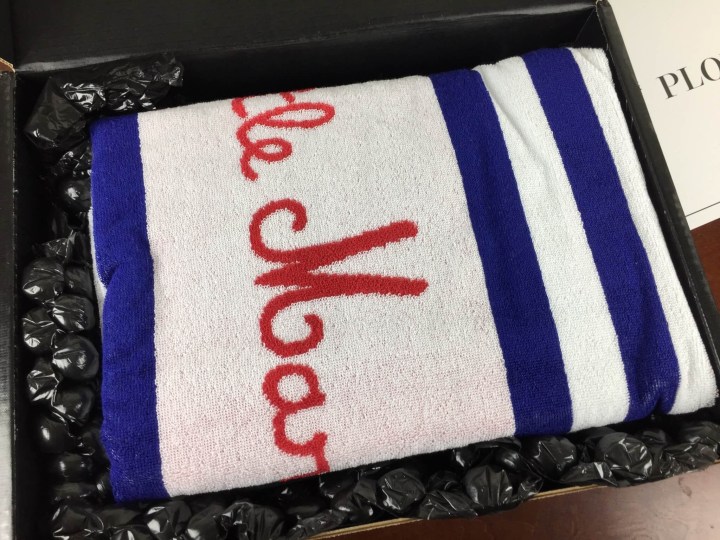 Oooh!!!!
The Oui Please box is gorgeous and high quality.
A mini-mag comes with the box – it details all the item variations (subscribers don't all receive the same box) and makers. Values vary accordingly.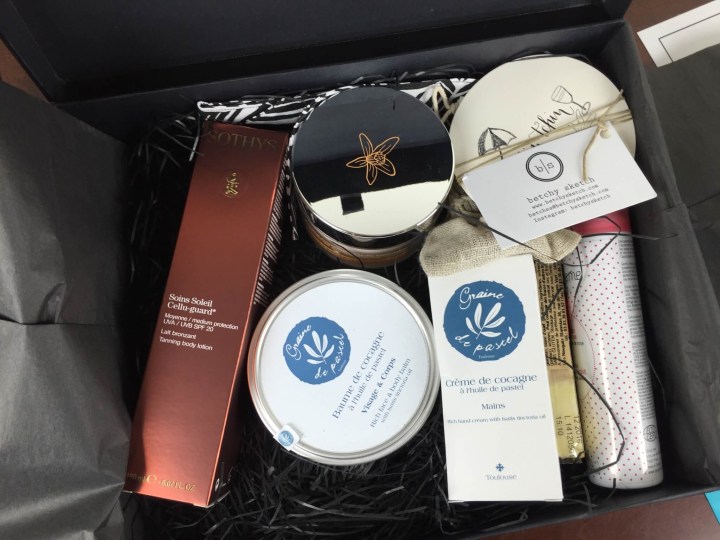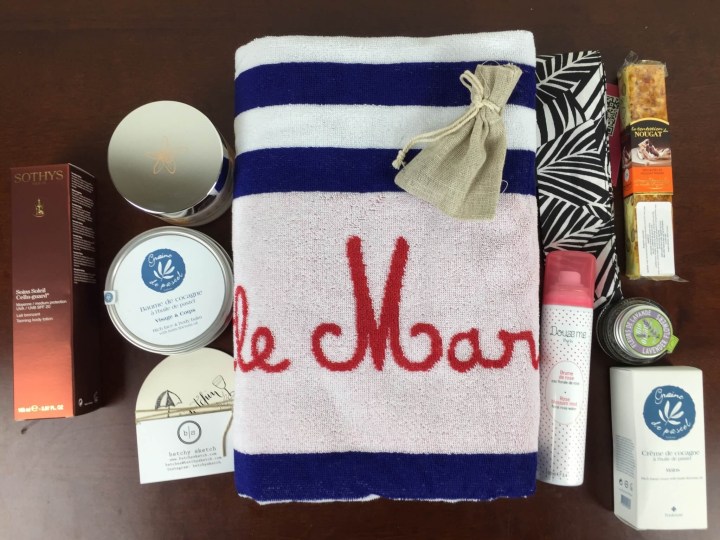 Everything in my vol 1.4 box. Note this subscription has a tendency to misprice so I show their price and my calculated price.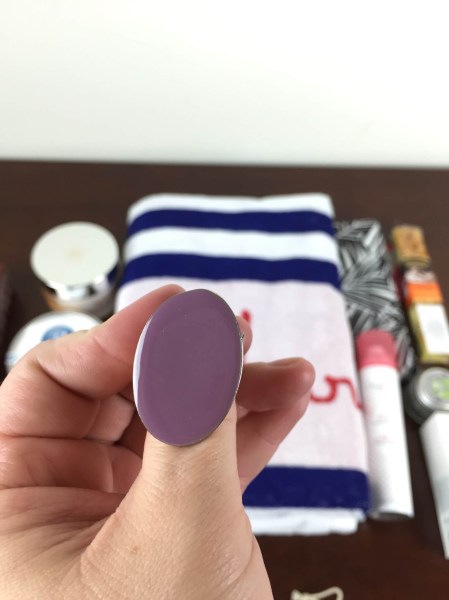 Little Woman Paris Enamel Ring ($50 $59 yes they underpriced this one!) This is supposed to be organically shaped, but mine is a perfect oval except for the top end. May be hard to see in this photo, but it just looks off instead of organic. Love the color.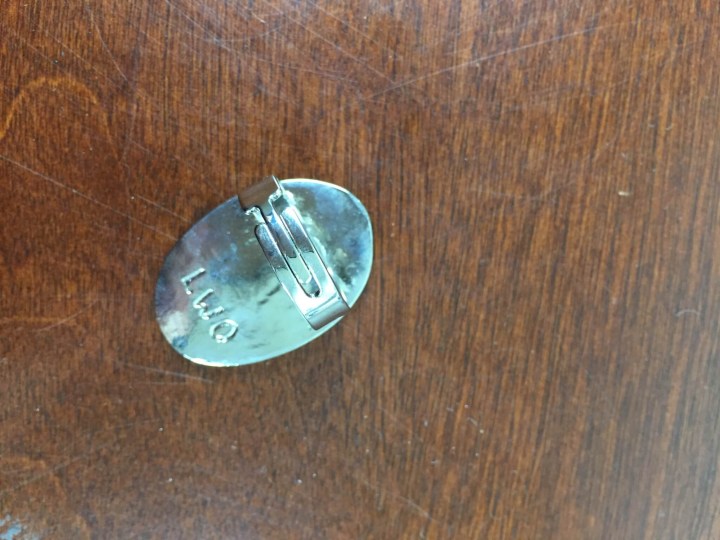 I liked that it was adjustable, but I don't find it to be giftable as it's just not quite perfect. I adored the honeycomb earrings in the mag (which I should call a catalog because few subscribers actually get the best items) so I was sad. This appears to be a British company.
Graine de Pastel Body Butter ($50 $36.61) and Hand Cream ($30 $15.42)
Enriched in pastel oil, with a rich and dense texture, this face and body balm intensely nourishes and regenerates the skin. It brings an immediate comfort to dry, sensitive and damaged skins and provides a better protection against external aggressions.
Super unique – I'm not sure yet if I like the smell!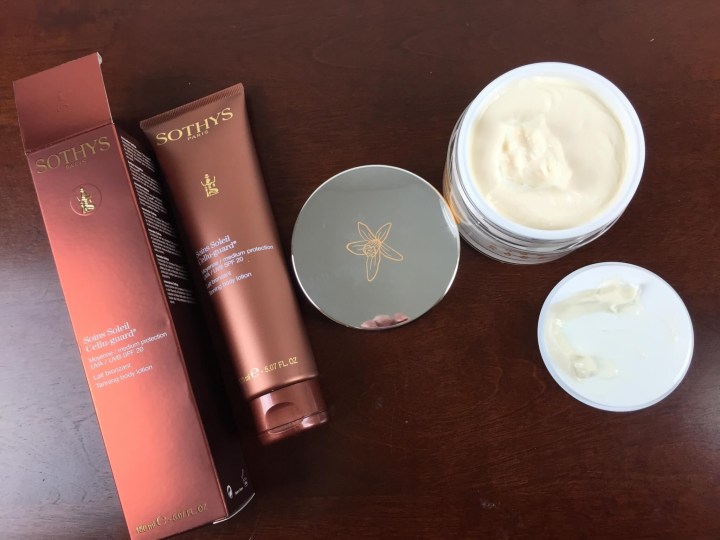 Sothys Soins Soleil Cellu-guard Tanning Body Lotion SPF 20 ($40 $42) I think this is a great item to include in a French Riviera box. A bit of glow with sun protection too!
Pier Auge Body Caresse Agrumes Body Cream with Grapefruit Essential Oil ($80 $47.78) Oh how I want to love anything with Pamplemousse in the name – and I normally love everything grapefruit – but the scent wasn't quite right for me and this is paraben-laden.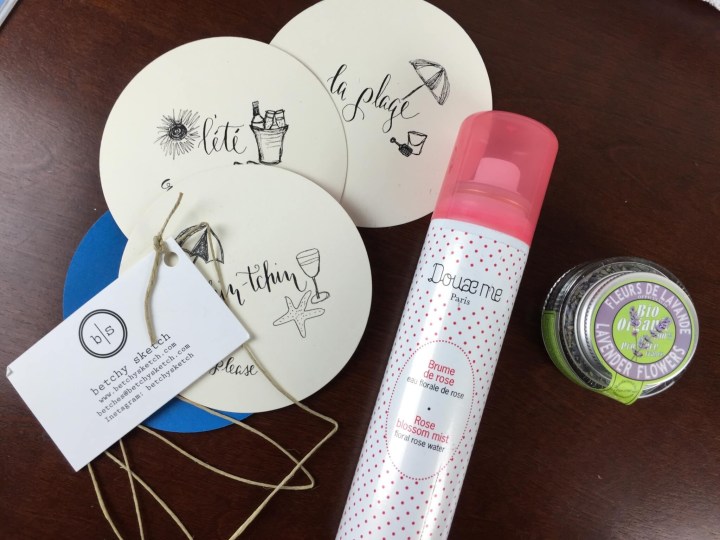 Betchy Sketch Coasters ($20 $4) They cannot be serious on these coasters – which are uncoated paper. The designs are darling and I would have loved them were they actual coasters. I cannot believe they sell any of them at that price.
Doux Me Rose Mist ($35 $21.09) I love mists, but this one had too much rose in it, so I am passing along to MIL, who loves rose. Hope she likes mists as much as I do! They're so fancy and I can never bear to shell out for them.
La Fare 1789 Lavender Flowers ($20 $14) Not found on the manufacturer site – I am basing the pricing on the previous box's incorrect pricing (which was 60-70% of what Oui Please stated as the retail).
Cage Creations Head Band ($30 $22.19) I love the print on this and they show it on a hat in the catalog, not on a head, probably because it's in reality much smaller than the one on the hat. It is the same size as the one on the website, so it's just Oui Please being deceptive. This tie only leaves a tiny bit to tie (I have a large head), so I'll tie it on my handbag instead.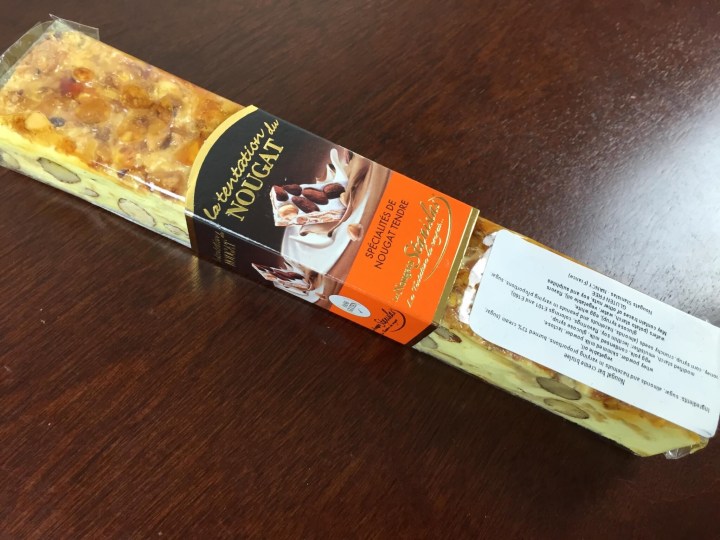 Confiserie Santislas Nougate Creme Brulee ($20 $4.62) This looks absolutely delicious. I haven't tried it yet but I have to say – Oui Please does source some marvelous confections, and they've been my favorites. This one has a crust on the top, just like a creme brulee!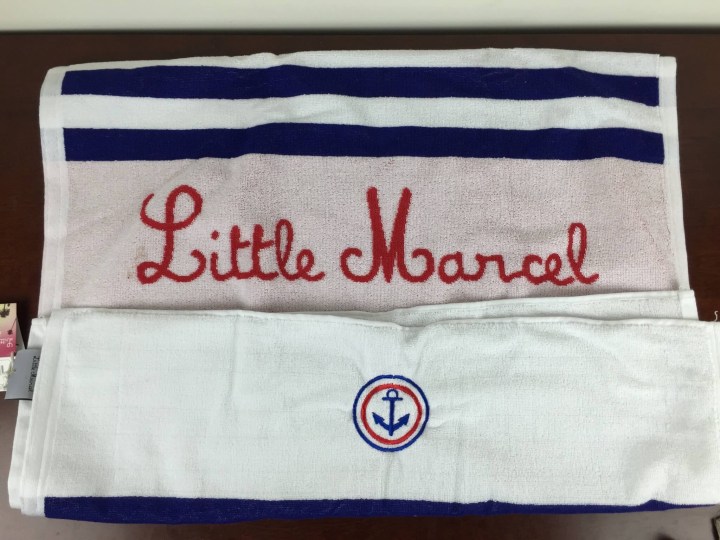 Little Marcel Simia Beach Towel ($45 $17.31) I love the style of this towel and it has nice soft loops of terry – the quality was much better than the towel in the PSMH box earlier this summer.
Note that at the time of this review the Oui Please site is down. I believe this is a problem with WP Engine (a hosting provider) that several other sites are currently also experiencing. Oui Please represented this box as having a $420 value via the prices in the catalog. I find $284 – which is perfectly respectable – so I don't understand why they continue to pull this monkey business. I rather liked this box – I'm tired of Sothys, didn't care for the jewelry – but like the towel, treat, and a couple other items.  The headband is too small for my large American skull, but I can repurpose it, and I love the vibe on my print. I think they do their company a great disservice but inflating their prices so much. I recommend only subscribing with a 20% off code – nothing less. If you want to share a photo of what you received in your box, feel free to post it on the Oui Please directory page.
Visit Oui Please to subscribe or find out more. You can see all our Oui Please reviews or check out more lifestyle subscriptions in the directory.
The Subscription
:
Oui Please
The Description
: Full size French luxuries in every parcel including apparel, beauty, jewelry, home/decor, and epicurean delights.
The Price
: $150 every other month, or $650 annually