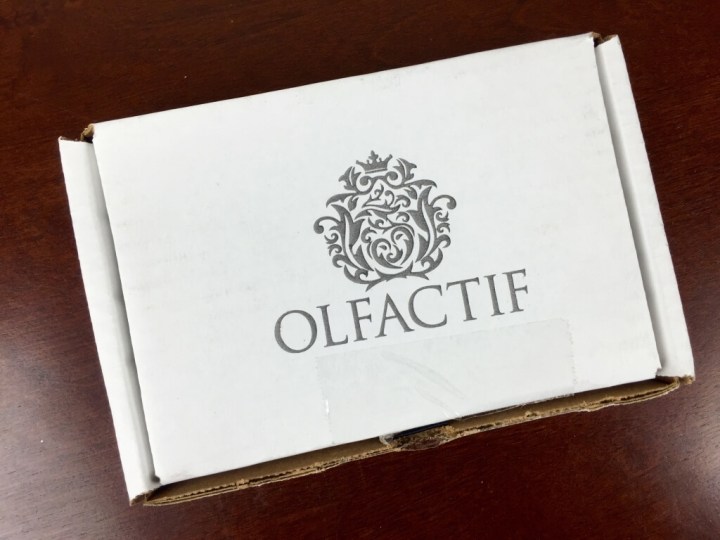 Summer is perfect for the July Olfactif theme – The Sun, The Moon, The Stars. Olfactif is a monthly unisex fragrance discovery subscription box. You'll get 3 samples in your box, each containing 15-20 "wears" of an independently designed perfume. With every box, your account will be credited with an $18 voucher to use on fragrances from the store. Olfactif's focus is on niche fragrance, so you'll see different & unique scents, higher quality and hard-to-find ingredients.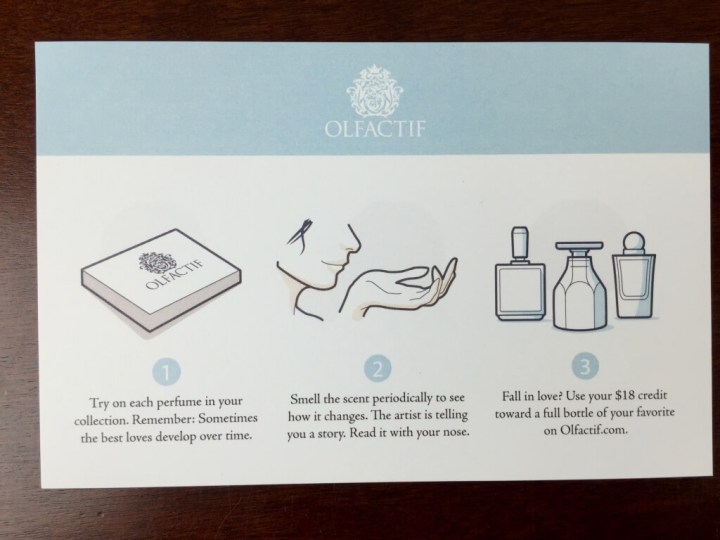 If you aren't used to experiencing boutique perfumes, there's a basic information card on how to do it! My husband is really great at deciphering scents. I'll often see him taking a quick whiff and going back and back again.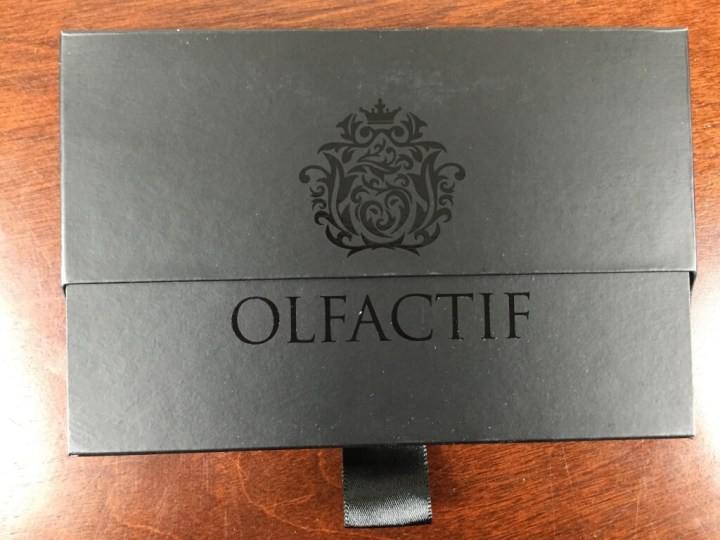 Olfactif has the most unique & awesome packaging. I adore the slide-out box. The information card for the fragrances is tucked inside.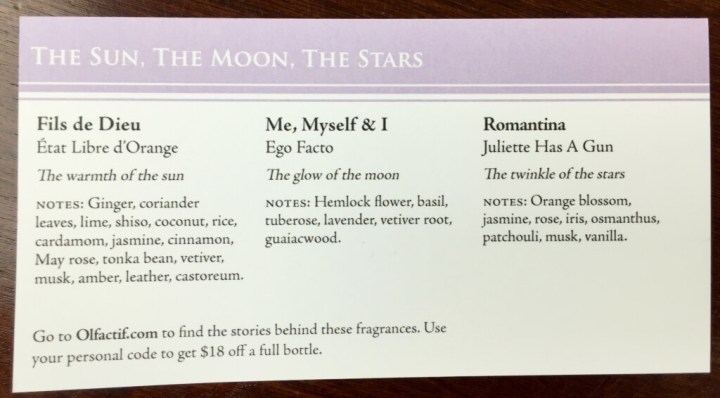 For hundreds of thousands of years—and probably longer—humans have looked to the sky for answers. How did we get here? What else is out there? What's the point?

Good luck finding answers to those questions, particularly the last one. But the sun, the moon, and the stars have provided endless inspiration for scientists, poets, and dreamers. We also use them to mark the time in our days and set our moods by their appearance or disappearance. They bring a comfortable rhythm to life, reminding us that no matter what happened today, there's always tomorrow.

This month, we're exploring perfumes that represent these three celestial phenomena. We hope they delight you.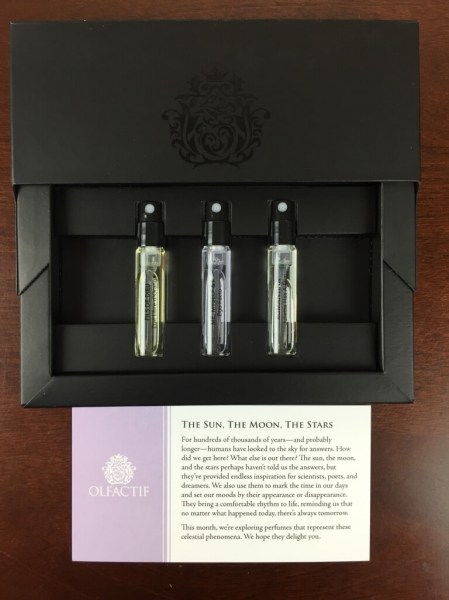 The Sun: Fils de Dieu by État Libre d'Orange. Notes include ginger, coriander leaves, lime, shiso, coconut rice, cardamom, jasmine, cinnamon, May rose, tonka bean, vetiver, musk, amber, leather, castoreum. Tom opened this one and was like wait a minute, what's castoreum?  It's made from beaver glands and a traditional component of many fragrances. This looks like this would smell like food, but it doesn't – it's sunny and warm like a tropical vacation with very lush tones.
The Moon: Me, Myself & I by Ego Facto. .Notes include hemlock flower, basil, tuberose, lavender, vetiver root, and guaiacwood. This one is a purply color and smells like a frolic in moonlit woods.
The Stars: Romantina by Juliette Has A Gun. Notes include orange blossom, jasmine, rose, iris, osmanthus, patchouli, musk, and vanilla. This one is more floral, but a white floral, so it was perfect for the "stars." The story it tells is falling in love after talking into the midnight hours.
I loved the theme for this box and thought it was particularly well curated. Every fragrance has different parts as it opens and unfolds, and I liked how this box told a story, too. This is a subscription to connect you with the every day pleasures of fragrance in a really special way!
Visit Olfactif to subscribe or find out more, or check out all our Olfactif Reviews. See more Fragrance & Perfume Subscriptions in the directory.
The Subscription
:
Olfactif
The Description
: Get 3 niche, unique fragrances curated around a theme. Purchase a full bottle that month and credit your box price against the cost of the fragrance.
The Price
: $18 per month