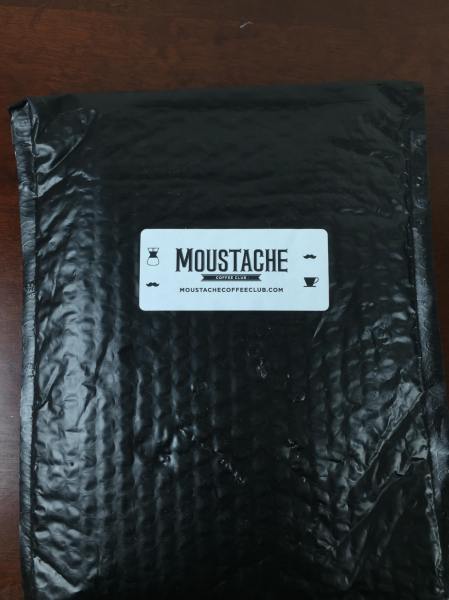 I love my Moustache! Moustache Coffee Club is one of the most consistent and enjoyable coffee subscriptions I've had.  Moustache Coffee Club  is a coffee subscription box featuring freshly roasted single origin beans that are shipped the day they are roasted.  They feature certain roasters that appear quite frequently, but with different offerings (and always good quality).
Moustache Coffee Club offers several different plans, depending on your coffee demands, as few as a bag a month to as many as one five-pound bag every week.  You can get your first bag free by signing up. You may cancel anytime and if you don't like the coffee you can get a refund or double the coffee.  I have not yet had to use their refund policy.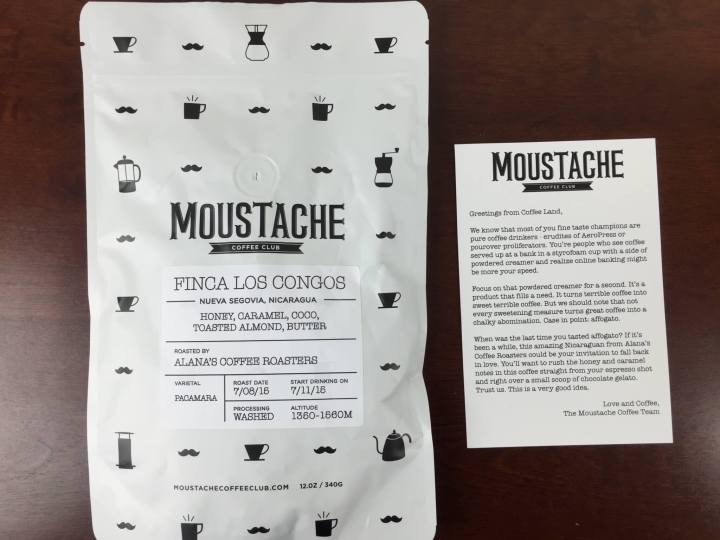 Moustache just recently debuted new bags to keep the beans fresher. I was happy to see the return of a printed card with more information on my coffee.  The card suggests pairing this Nicaraguan roast with some sweet ice cream or gelato for a nice "affogato" treat.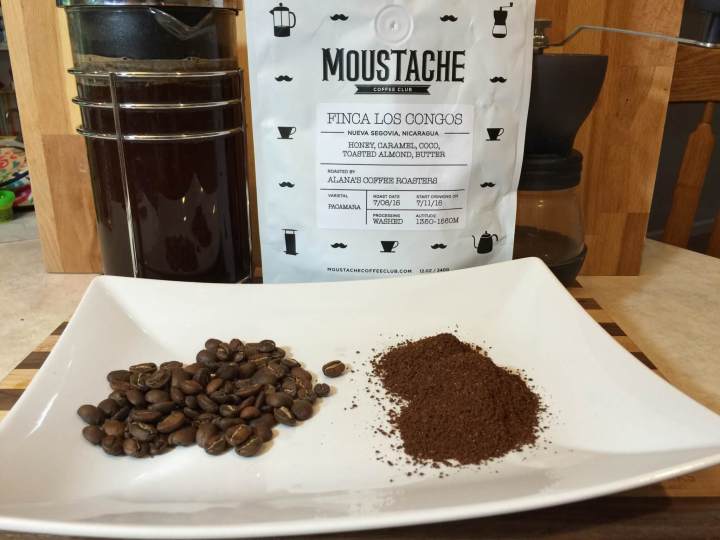 Finca Los Congos from Neuva Segovia, Nicaragua. Moustache Tasting Notes: Honey, Caramel, Coco, Toasted Almond, Butter. Roasted by Alana's Coffee Roasters Alana's Coffee Roasters is one of Moustache's frequently featured purveyors and also roasted the last bag I picked up.  I like their sourcing (they start with beans that have a lot of potential), as well as the level of roast.  The beans are toasted enough to bring out the flavor, but they aren't dark to the point of masking the lighter flavor notes.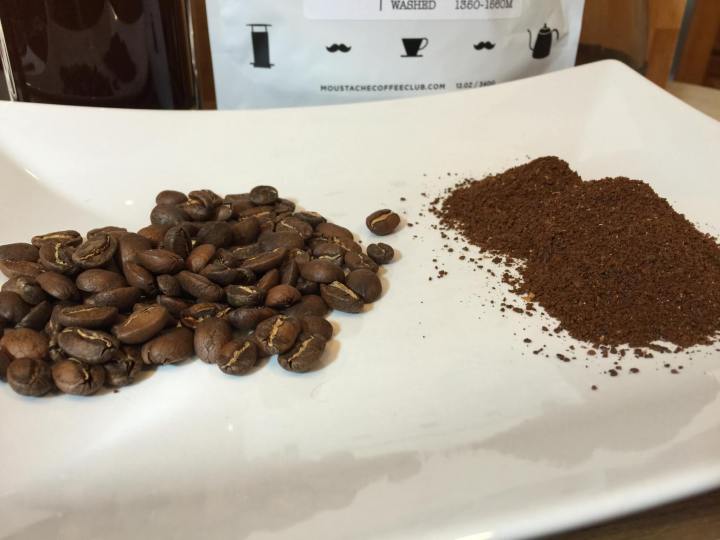 I found this to be a very pleasing bean.  I had a catastrophic mug spill, and, true story, found myself more aggrieved over the lost coffee than the ruined carpet (at least on an emotional level).  While the notes play up the honeyed quality, I found this to be an exquisitely balanced bean, and the cocoa and toasted notes are present in sufficient force to play foil to the sweet highlights.  This is a great selection that shows a nuanced coffee can have great depth and general appeal.  Alana's shows up regularly among Moustache Coffee Club selections, but they are always welcome in my pot, and this bean demonstrates why.
Visit Moustache Coffee Club to find out more, subscribe, or get a free trial bag. You can see all our Moustache Coffee Club reviews or check out all the coffee subscriptions in the subscription box directory
The Subscription
:
Moustache Coffee Club
The Description
: Get amazing freshly roasted, single origin coffee beans every week! Beans are shipped the day they are roasted. MCC features high quality beans and lighter roasts to feature the beans' natural flavors. Biweekly plans also available.
The Price
: $19 per bag, includes free shipping
The Coupon
:
Sign up for the club
and get a free trial bag.