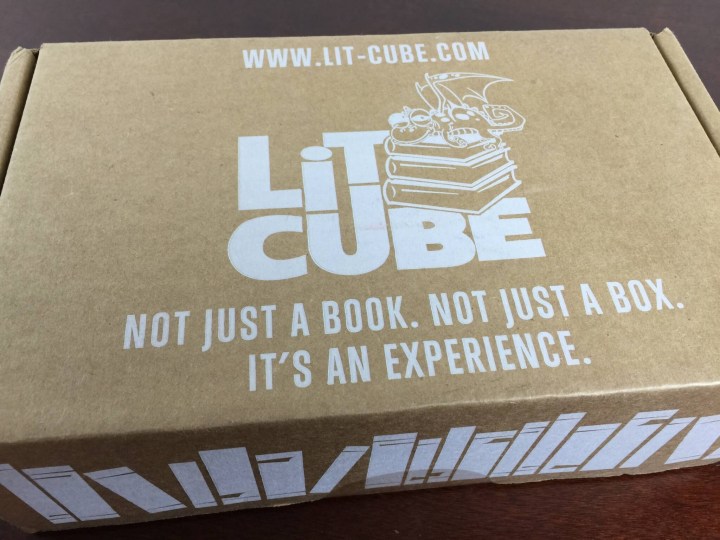 Lit-Cube is a monthly themed book and bookish items subscription box. This box provides you with an immersive reading experience by providing reading material paired with quality themed items!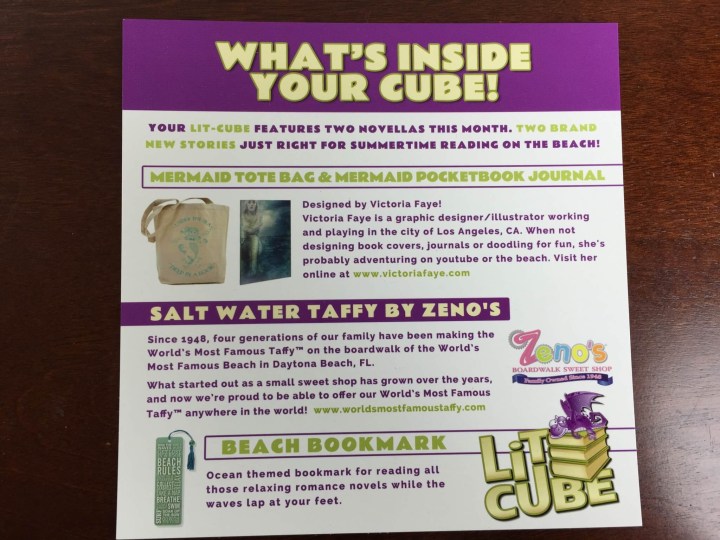 The information card has all the details – the books are on the back. The theme of this month's box was Mermaid Kisses and Starfish Wishes!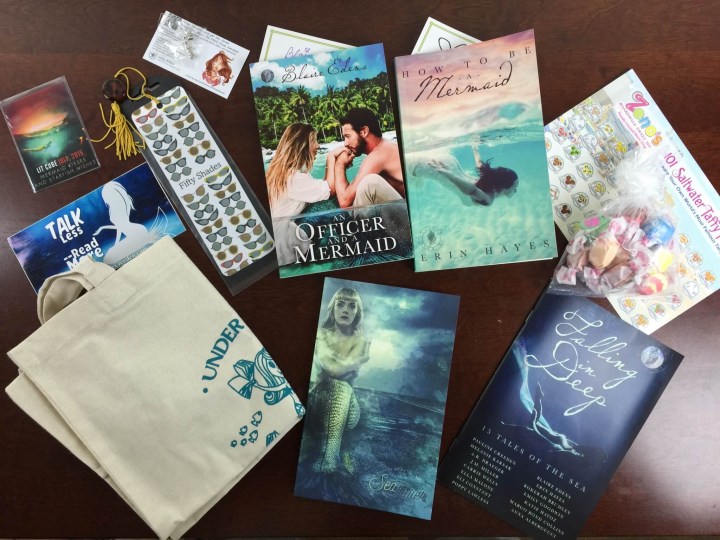 Everything in the box! One of the cards has a QR code for a free eBook from Amazon – Never Forgotten by Kelly Risser, which is already free on Amazon, but I wouldn't have known about it, so that was nice.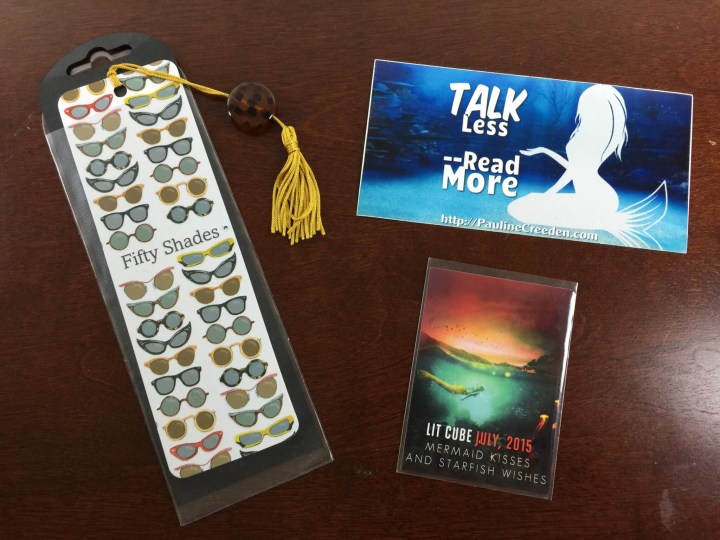 50 Shades Bookmark ($2.95) I thought this was hilarious!
Talk Less – Read More Sticker from Pauline Creeden: She has a book in the Falling In Deep Series – Scales.
Lit Cube Collectors Card: Plus there's a little theme card in there too.
One note – I originally had this listed as a YA subscription in the directory. After looking at this box, it's not! Lit-Cube never said it was, my mistake.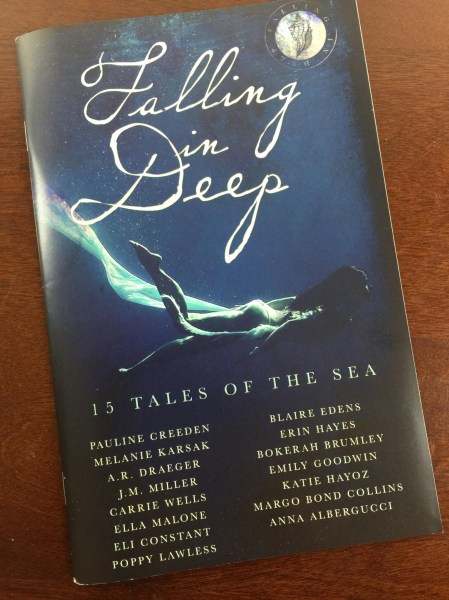 This booklet gives a sneak peek of stories from the Falling In Deep collection from the Blazing Indie Collective. Witches are up in the fall! YAY! I just (finally) finished Harkness' Book of Life yesterday.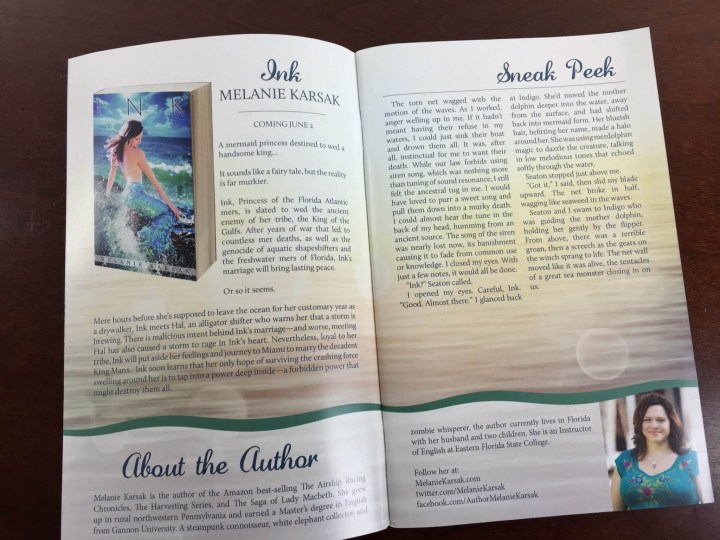 There is definitely a whole turning into a mermaid genre that I didn't know about.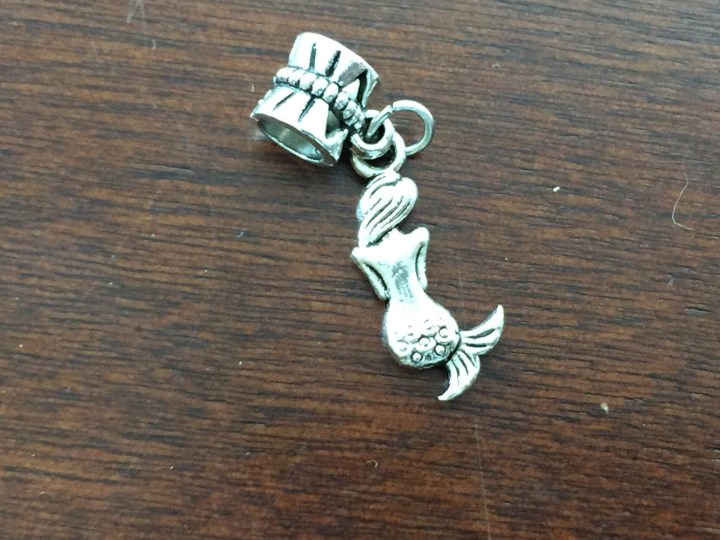 Mermaid Charm: This is a cute little charm – I'm guessing you can put it on whatever you'd like!
Zeno's Saltwater Taffy: This was fun and absolutely a perfect treat for this box! 11 different flavors of taffy, plus a card to go along with it (the back of this card is also full of flavors). We had a great time determining which flavor was which and they were all delicious.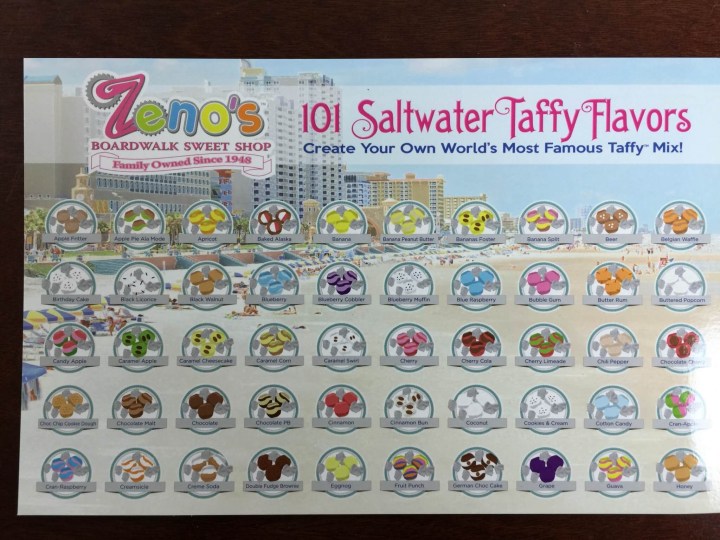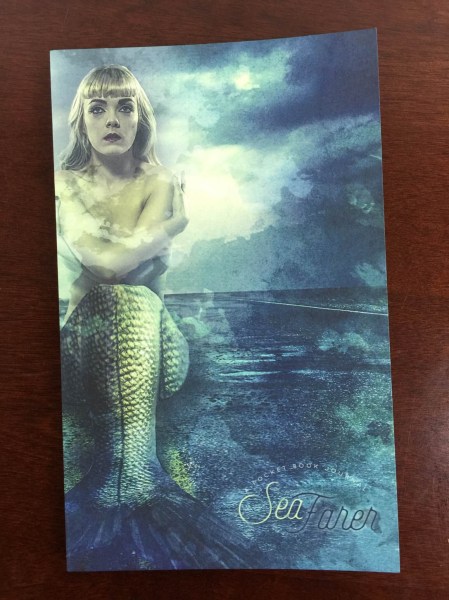 Victoria Faye SeaFarer Mermaid Pocketbook Journal: This is super pretty and a fun journal to take to the beach to write in.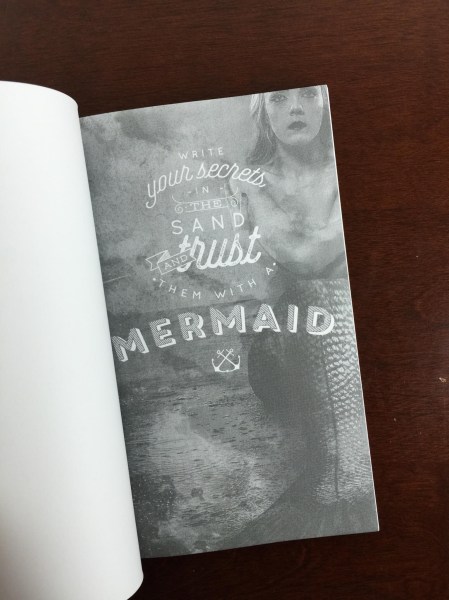 The rest of the pages were lined.
An Officer and a Mermaid by Blaire Edens ($6.99)
When a slave uprising threatens the life of Syreena, the daughter of an eighteenth century plantation owner, a servant uses voodoo to transform her into a mermaid. The spell will be only broken when she returns to the beach where it was cast. After three hundred years of swimming, she's ready to trade fins for legs. The only problem is she can't find her way home. Dylan, a twenty-first century Coast Guard Officer, has sworn off love for the sea. When a wave throws him overboard, Syreena uses her amulet to ward off the sharks and save his life. With Syreena and Dylan stranded on a remote cay, Dylan has the know-how to build a raft and navigate but his near-drowning has made him terrified of the water. Syreena will use every charm she has to convince Dylan to take her home. Even if it means falling in love. . .
My husband helpfully has provided excerpts from these books! 😉
How to Be a Mermaid by Erin Hayes ($6.99) Can I say that I want her handwriting? She has Disney handwriting!
All Tara ever wanted was to be a mermaid. So she takes a year off between high school and college to don a fake tail and tour aquariums across the country in a professional mermaid troupe. Everything's great until she meets a gorgeous real-life merman named Finn. Suddenly, what she thought was a dream turns out to be a nightmare — she's turning into a mermaid herself. For real. Yet when she returns to the sea to seek out Finn and reverse her transformation, she finds herself in the middle of an impending war between the land and sea. Tara may have always wanted to be a mermaid, but now it's sink or swim. In order to survive, she has to learn how to be one, too.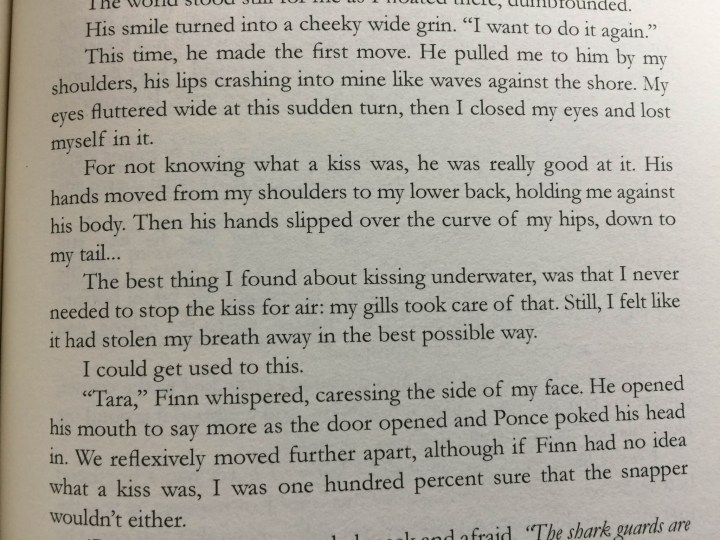 I would categorize both these novellas as escapist indie fiction with a healthy dose of bodice ripping (where bodices apply!).
Mermaid Tote Bag by Victoria Faye – This one is going straight to the kiddo to keep her library books organized – she's a die-hard bookworm!
I don't normally review book subscriptions but multiple readers have asked that I start reviewing book boxes, so I started with this subscription, because it looked fun.  I think this is a great box for book fans looking for a themed book box that want to see indie fiction writers (which may sometimes be bodice rippers!). The box was well themed and I definitely liked the themed items that went along with the books. The books weren't my taste – which run more towards very long involved fiction – but my aunt will be absolutely delighted with them, it's exactly what she likes to read!
Visit Lit-Cube to subscribe or find out more! See other book subscription boxes in the directory.
The Subscription
:
Lit-Cube
The Description
: Lit-Cube is a monthly subscription box for readers. Lit-Cube strives to pair hand-picked books with high quality literary themed products to bring you a magical reading experience each and every month. Now also offering Junior subscriptions!
The Price
: $29 per month