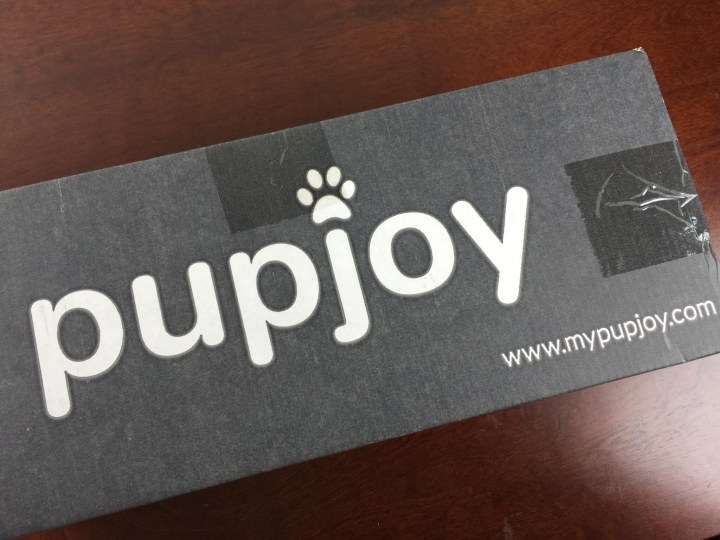 I was glad to see our new Pupjoy arrive, because we really appreciate the quality of the ingredients use in their selections (the dog was psyched, too!).  Pupjoy is a new monthly subscription box for dogs. Pupjoy finds the healthiest dog treats with clear ingredient labeling, well-crafted dog toys and artisan accessories for the discerning pup. There are two box sizes, and each is totally customizable to whether you want grain-free treats, the play habits of your dog, the size of your dog, etc. Like all dog subscription boxes the best deal is on a year long subscription stacked with a coupon code.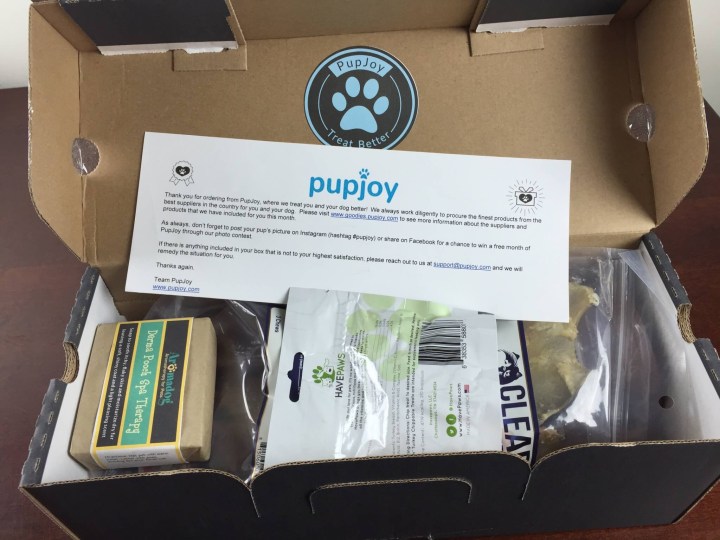 You can select toys, treats, or mixed boxes, grain free or training specific only treats, and tailor your toy preferences.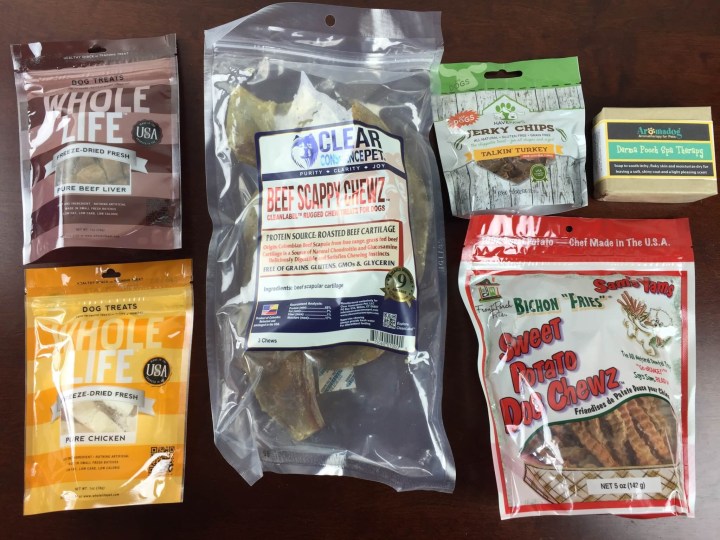 Everything in the box.  This was, obviously, a treat box. We think that this is the Grande box.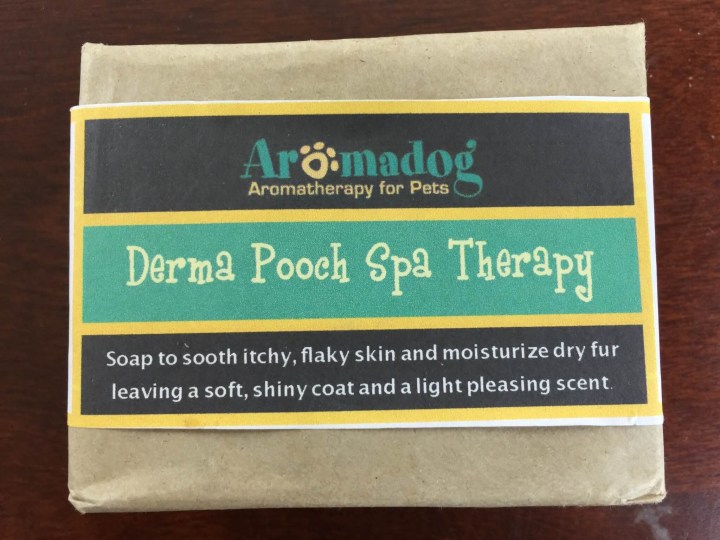 Aromadog Derma Pooch Spa Therapy ($9.99):  Smells nice, predominately of shea, lavender, and rosewood.  It's like people soap for your pup.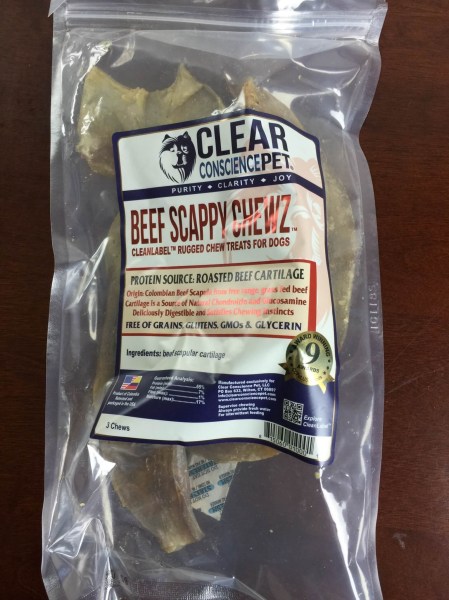 Clear Conscience Pet Beef Scappy Chewz ($9.95):  Nothing in here but beef scapula.  All natural and very tough.  These are HUGE and would be best for a large dog.  Our pack contained three pieces, and I imagine even a large dog would take awhile to get through them all. I am sure we will find these lovingly buried throughout the house.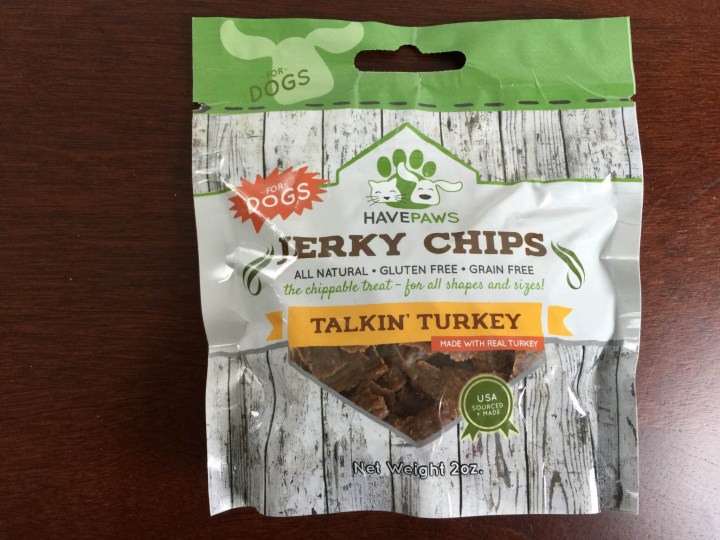 HavePaws Jerky Chips – Talkin' Turkey ($4.99):   Turkey makes a fine jerky, and it has the added benefit of being less stringy — helpful for dogs with questionable teeth.  I know I get tired of having to floss every time I eat beef, and dogs don't even have that luxury.  This item is all-natural, gluten-free, and sourced and made in the USA, so you can be confident that the "turkey" is, in fact, turkey.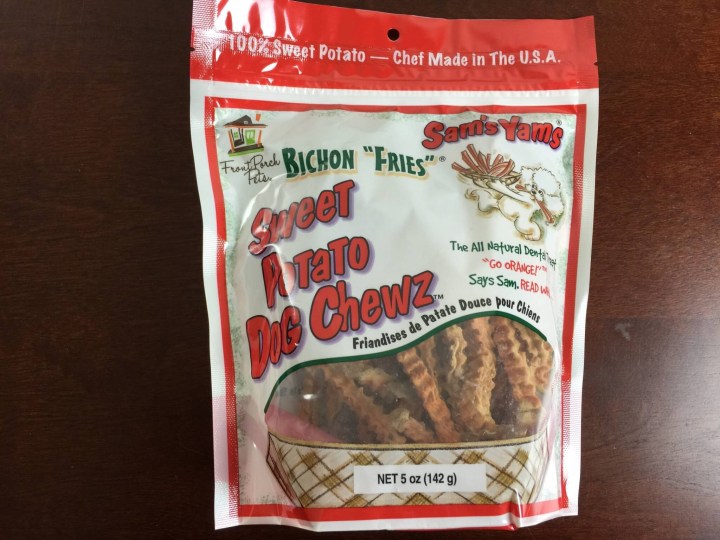 Sam's Yams Bichon "Fries" Sweet Potato Dog Chewz ($6.65):  My miniature Schnauzer loves sweet potato, second only to squash.  Made only of dried sweet potato, Bichon "Fries" are a healthful option for your dog (in moderation, of course).  The value is decent too — sweet potatoes are not a cheap item in the grocery store, and the hydrated weight and size of the 5 ounces in the bag would probably cost you several dollars, plus the time and expense of dehydrating them (a slow oven doesn't adequately dry them, unless you leave them in for a looong time. Yes, we have tried!).
Whole Life Dog Treats – Pure Chicken ($14.39) & Pure Beef Liver ($13.19):  I like the increased prevalence of single-ingredient treats.  Meat is what your dog craves and has evolved to eat as a primary food source, so all-meat treats are the best.  Freeze-drying creates a softer, less-dense product than you would expect, so a bag can go a lot further than jerky-style treats if you portion correctly.
I'm glad we got the all-treat selection this time, as our dog doesn't destroy toys that quickly.  All the treats were, as promised, mindfully sourced and produced using the bare minimum of ingredients.  The value of the box is pretty good, too — the $29 box price bought us about $59 in treats, and all high-quality.  Plus, we got more bag for the buck, because we weren't paying for fillers, only quality ingredients.
 Visit Pupjoy to subscribe or find out more, or check out all our Pupjoy reviews. Find more subscription boxes for dogs in the directory.
The Subscription
:
Pupjoy
The Description
: PupJoy resets the bar for dog subscription services, with fully customized ordering, concierge service and free home delivery. 4-6 healthy and high-quality products customized to your dog's preferences and dietary needs!
The Price
: $29 per month, $39 for the Grande (save lots on a year-long plan)
The Coupon
: Use code
HELLOSUBSCRIPTION
to save 10% on any subscription!