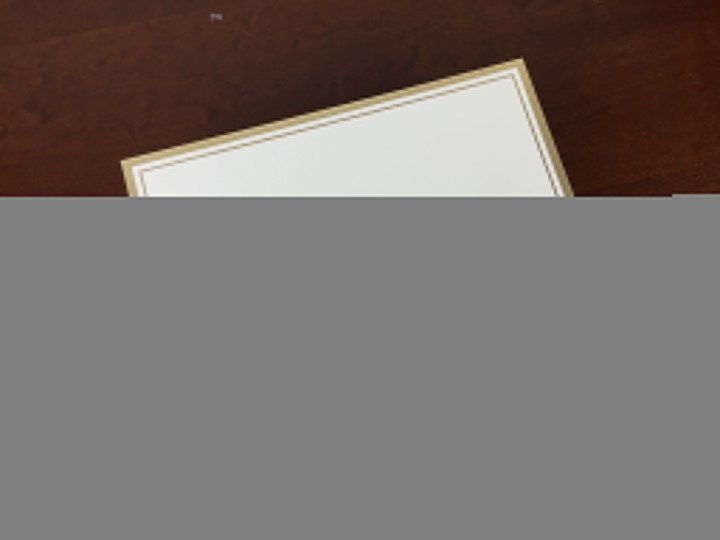 Le Matchbox is a new quarterly beauty subscription box from cosmetics brand Jouer. When you visit the site, you'll be prompted to take your warm/cool profile quiz (and make sure to log in before you subscribe, or they will not be able to send you emails). Jouer promises an assortment of full size Jouer essentials most flattering for your coloring and suitable for your skin type. I'm not going to hide the ball – the colors they select for cools are terrible for me. I'm a cool, but I have a medium skintone, and the pinks they pick are clown colors on me. I'd meant to change the box to warm just to get something that wasn't barbie pink, but I forgot. I'm disappointed in the lip color choices in both boxes I've received.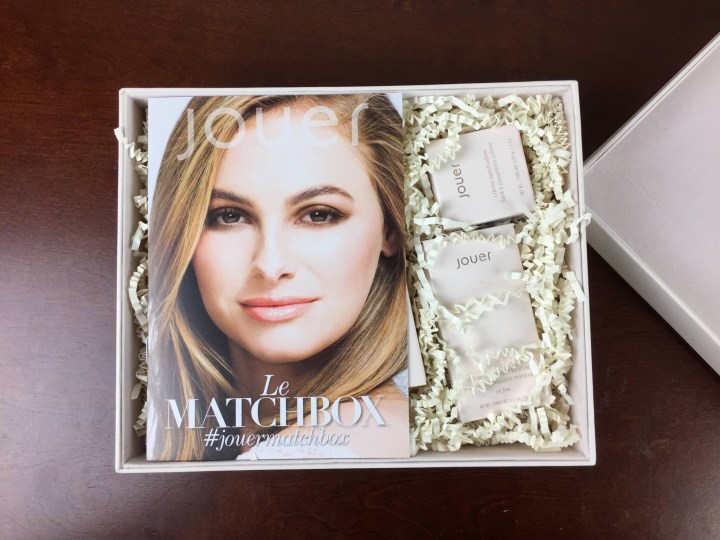 The box itself was different this quarter – it lifts off instead of up, and the inside is flocked.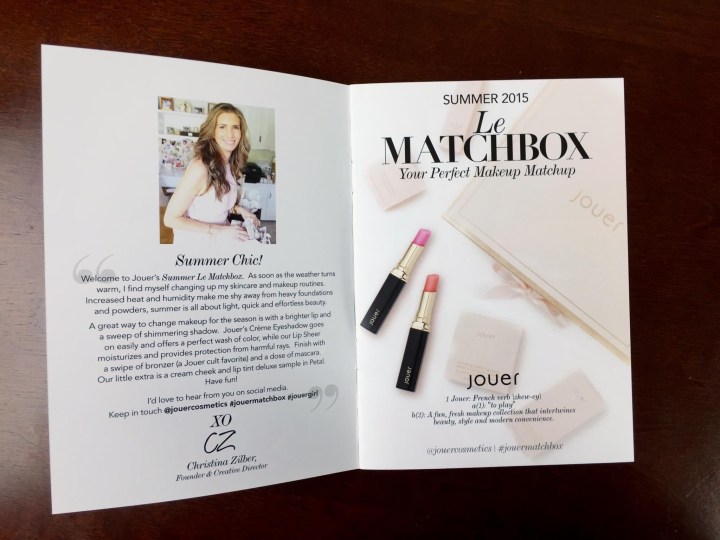 The box comes along with an information booklet about the items and variations.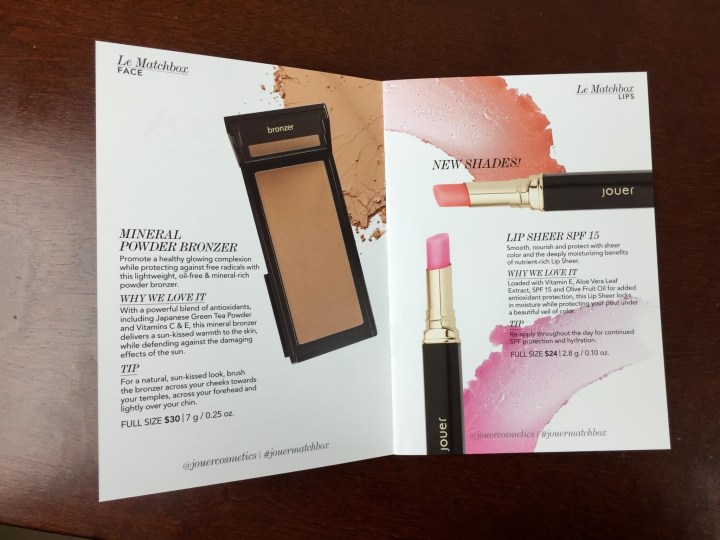 It details the items, why they were chosen, and tips for use.
Jouer Lip & Cheek Tint – Petal ($9.50) At first I was slightly bummed to get this because I got this exact sample in my April Birchbox, but then I remembered I loved it! I wish this had been full size!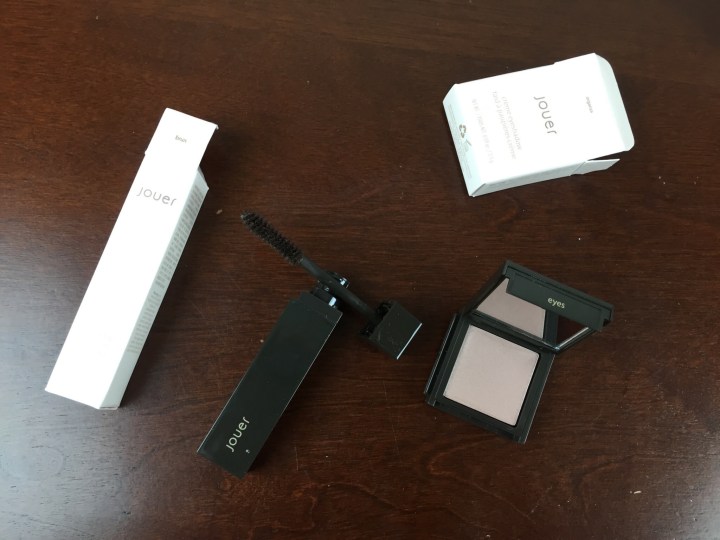 Jouer Everyday Effortless Mascara – Brun ($24)
Jouer Crème Eyeshadow – Organza ($22) This is a nice blendable sort of fawn neutral! It's velvety, but not a cream, so don't be misled! It's shimmery and light and will go great with a summer light makeup look.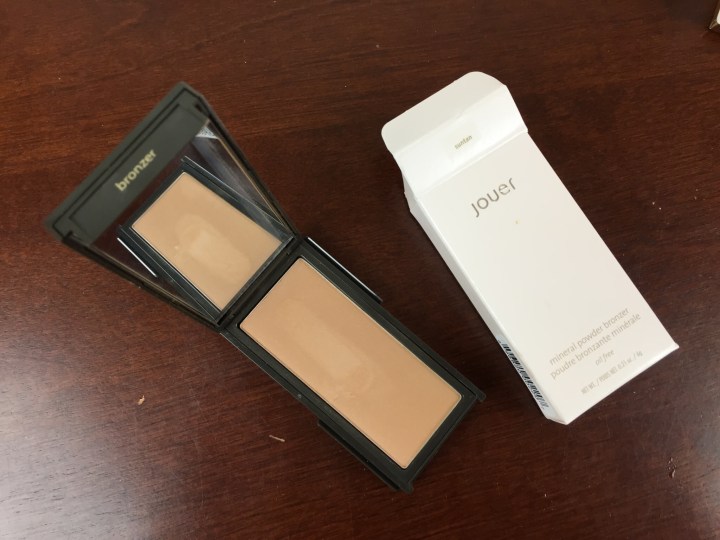 Jouer Mineral Powder Bronzer – Suntan ($30) This is a super finely milled bronzer that's a matte honey bronze. It's super lightweight and soft and I enjoyed it. I think it would be good for multiple skintones.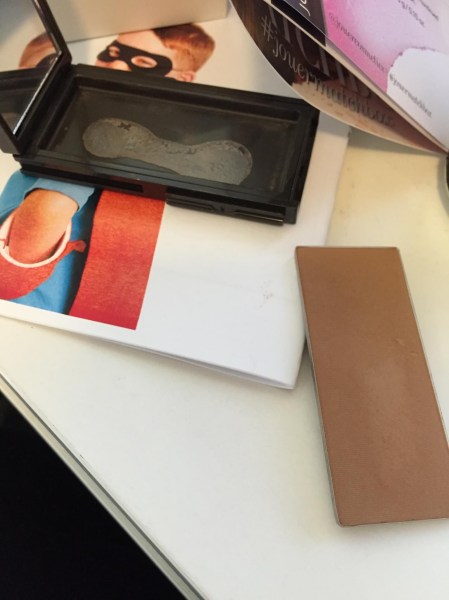 Too bad it totally fell out of the case.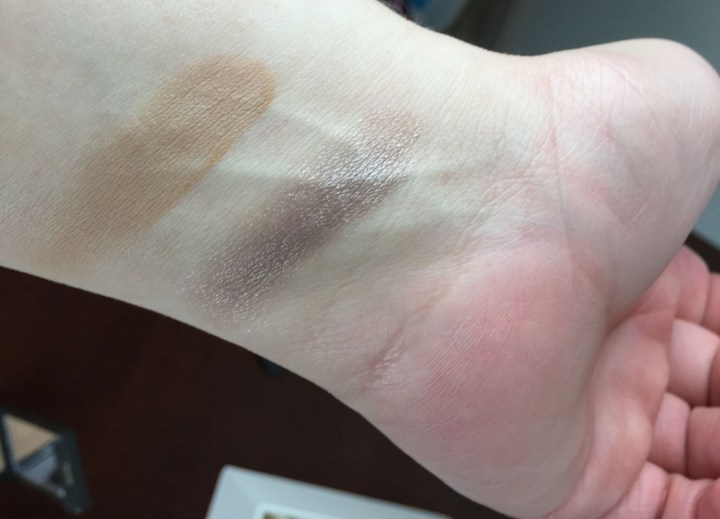 Bronzer, shadow swatches.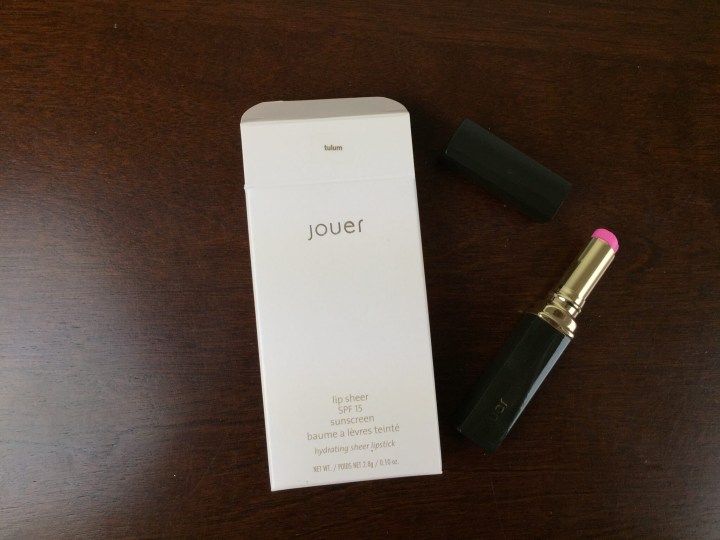 Jouer Lip Sheer SPF 15 – tulum ($24) I'm going to be a bad reviewer and not even swatch this, because I know I will never, ever ever wear it. I learned my lesson with swatching nude lipsticks – they just don't ever look good on me, and this color will never look good on me either. The Lip Sheer in Positano (sheer berry wine)? I would've been all over that.
I don't know why cosmetic companies insist that all women with cool-toned skin must have very light complexions. It's obviously not true, and that pink isn't a wearable shade for most women. Unfortunately, I was so disappointed in yet-more-baby/hot-pink that it was hard for me to appreciate the rest of the box. (And I wrote this sentence before my bronzer fell out!). I don't recommend this box unless you look like one of the women above. It's pretty clear to me that Jouer has a pretty shade-specific vision of beauty that is very pale. Then again – everything in this box works for me, except for that pink lipstick. However, they selected really bright pinks two quarters in a row.
Visit Jouer Le Matchbox to subscribe or find out more, or check out all our Jouer Le Matchbox Reviews. Find other beauty and cosmetic subscription boxes in the directory.
The Subscription
:
Jouer Le Matchbox
The Description
: Get first access to new product launches and unbelievable savings on full-size Jouer products.
The Price
: $45 per quarter