This was such a great surprise in my mailbox yesterday! It really made me smile! Your Secret Admirer is a monthly themed surprise subscription box for women.  Each themed subscription box will contain a cohesive blend of unique and essential items and is curated to make every woman feel appreciated.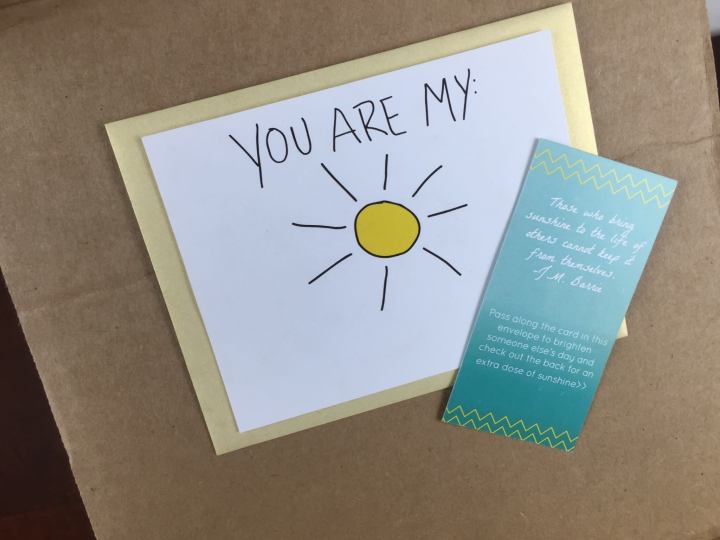 Every box contains a greeting card to pass along to a friend!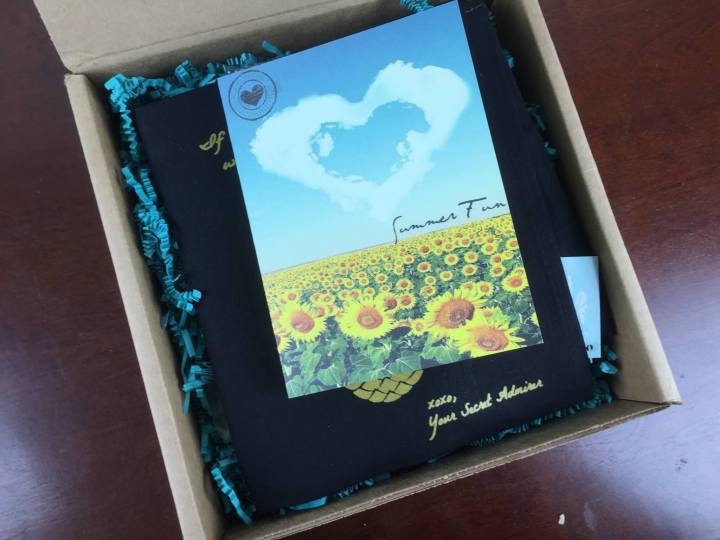 Super pretty when you open it, and what do I spy there?? 🙂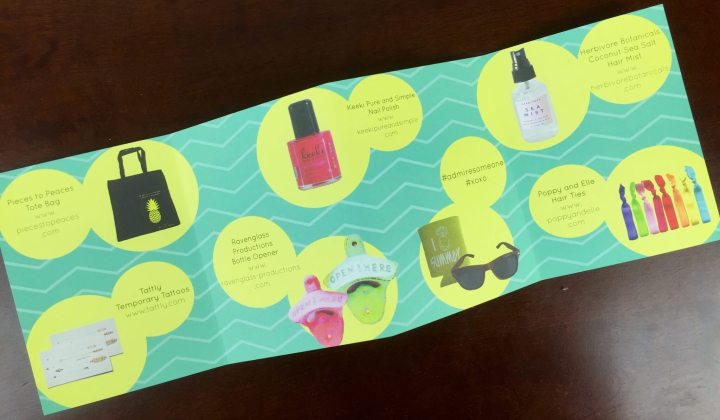 The information card unfolds to show all the products. Unlike the first box they didn't send along lengthy stories about the makers.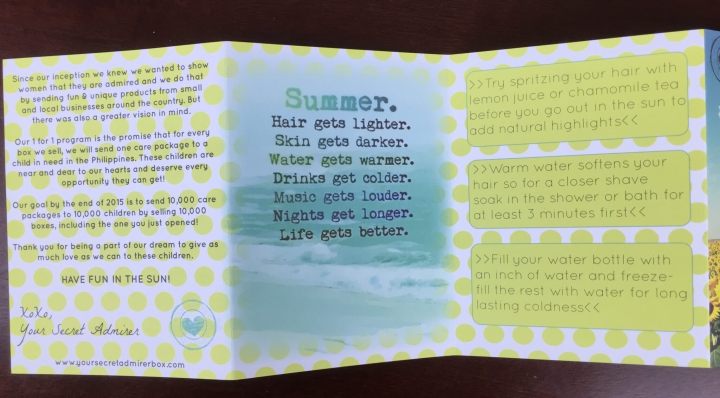 I think you could remove the two wings from the card and stick the middle part on your mirror. The left side is a note about their new program below, and the right side gives some summer beauty tips.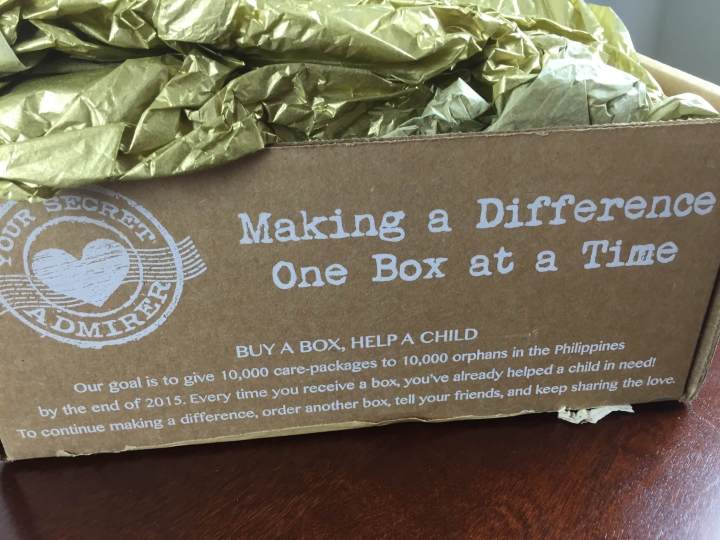 This month Your Secret Admirer is debuting their One for One program – every box you buy also donates a care package to an orphan in the Philippines.
This box was just fun and exciting to open! I absolutely loved everything.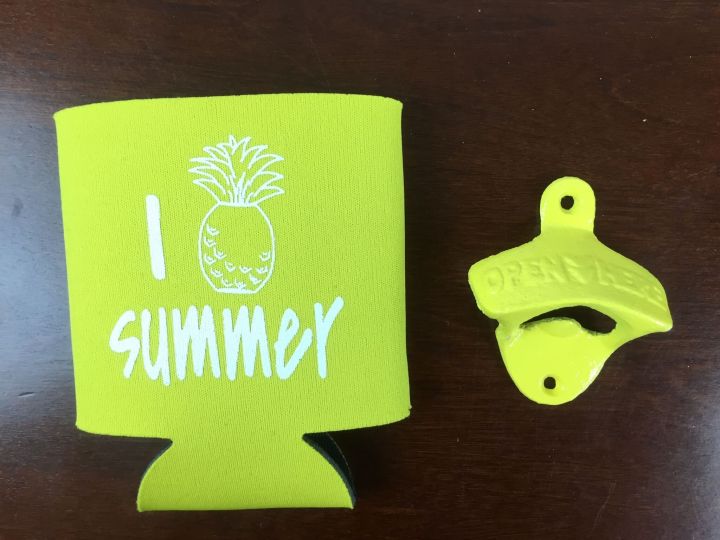 I (Pineapple) Summer Can Cooler ($4?) This was on the information card but no information, but it doesn't really need any! It's a can cooler and has a pineapple. Love it.
Ravenglass Productions Bottle Opener ($10?) I believe that these were painted by the company in fun summer colors.  (They are more of a functional art company and not a metal fabricator.) You definitely can't miss this one! We – my husband and I – had one on our porch during grad school, which saw very heavy usage. We need one for the house, so score!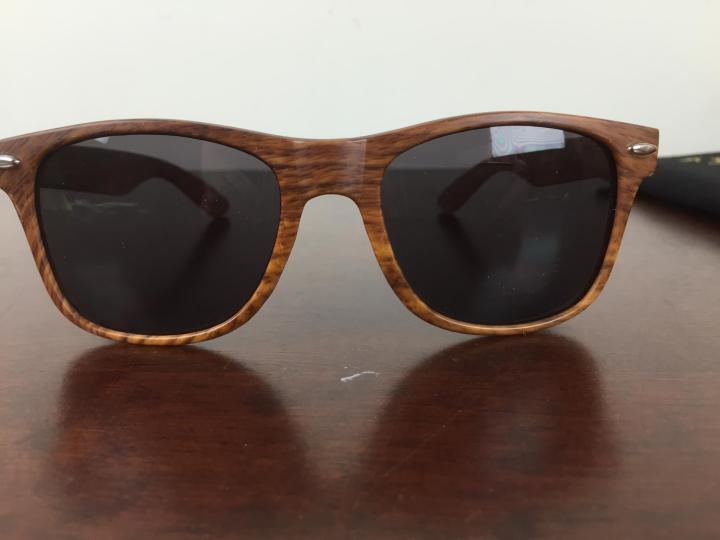 XOXO Sunglasses ($10?) I love love the wood paneling style of these glasses!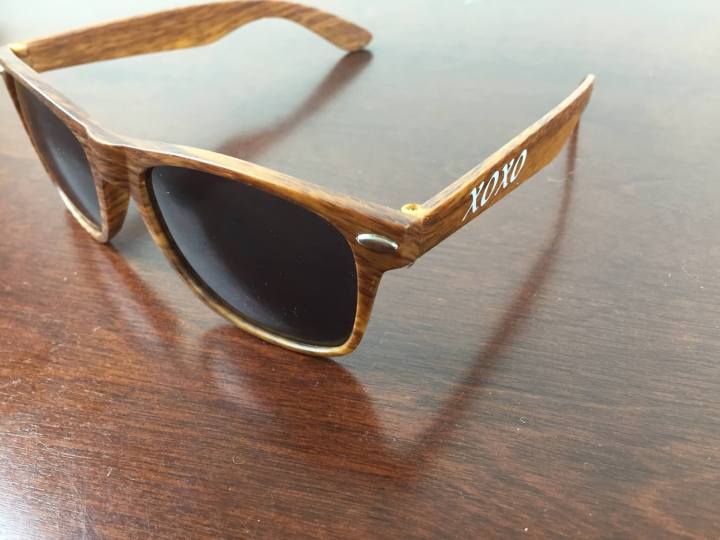 And they say XOXO on the side. I can't wear them so I put them in my sunglasses drawer for after LASIK (blind as a bat!). They're super cute.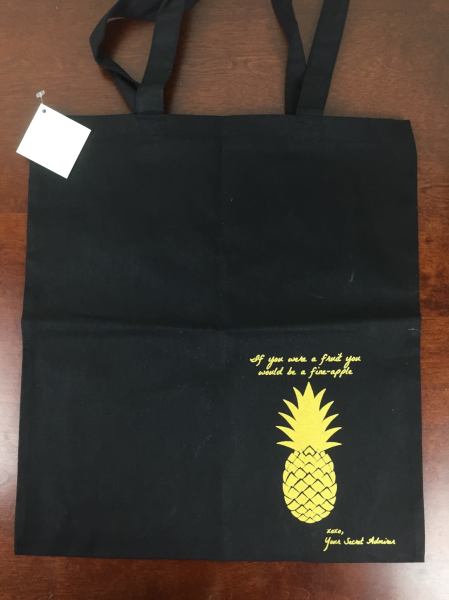 Pieces to Peaces Tote Bag ($10) If I were a fruit, I would be a pineapple for sure! Love it!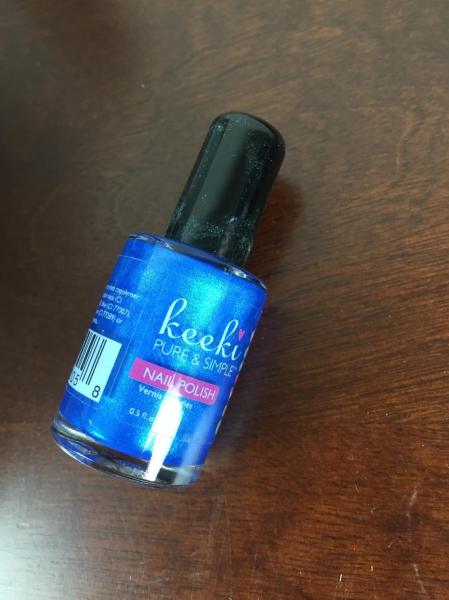 Keeki Pure And Simple Nail Polish ($10) The color is "Blue Slushie" and will make for a great summer manicure! It's billed as safe for pregnancy, kids, and cancer patients.
This 100% biodegradable formula is completely non-toxic, gluten-free & free from pthalates, formaldehyde, toluene and acetone. Keeki Pure and Simple's polish is the safest on the planet, so there's no damage done to your nails or the environment!
I'm very intrigued!
Poppy & Elle Hair Ties ($4.19) Fun summer colors!
Tattly Gold Metallic Tattoos ($6) These are printed in China (and Tattly says so right on the back and that they're working to move production to the US) but I love that they aren't imported off ali-baba because they're from a real small business with LOADS of ideas on how to wear them. Go check it out. So much better than the random sheet of tattoos dropped in a box.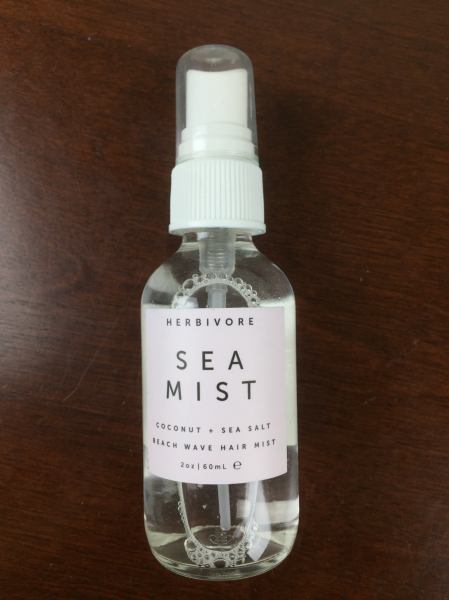 Herbivore Sea Mist ($5) This smells like beach to me – coconut and salt instead of just salt. I absolutely LOVE the fragrance. Didn't crunch my hair and it looked good applied dry too. I don't expect to make beauty finds in a box like this but this made me super happy. I really miss living in Florida during the summer (of course when I visit it's so hot and I think what was I thinking?!). This is better because the smell conjures my fave memories without the heat.
This is my only criticism of the box! So many squiggles, it was like they took classes from Julep on how many squiggles to use 🙂 No fear – I save them all for my aunt, who uses them to pack baskets for charity auctions.
This was such a fun box to open, and I was really surprised how much I loved it. I counted about $59 in value (oh, plus the greeting card!), which is good for this type of box, and I'm pleased to see them working on a charity program that gives a specific amount back (one care package) for every box purchased. I think Your Secret Admirer has a fun and unique curation that I personally really appreciate and enjoy. For me there weren't any duds in this box and it would be a perfect gift to subscribe and let someone else do all the work, or a fun gift for yourself!
Visit Your Secret Admirer to subscribe or find out more, or check out all our Your Secret Admirer Reviews.  You can see even more subscription boxes for women in the directory.
The Subscription
:
Your Secret Admirer
The Description
: A monthly subscription box that delivers a box of hand-selected items designed to make every woman feel appreciated
The Price
: $50 for a single box, $45 per month for 3 months
The Coupon
: Use coupon code
SUMMERFUN
to save $10 on your box!