I'm psyched to be receiving NatureBox again.  NatureBox is a monthly snack subscription box. Every month you'll receive 5 snacks and can add on additional premium snacks (or sometimes sale snacks!). You can create a "pantry" of snacks that will dictate what snacks you receive. We recently resubscribed to this box after a hiatus because we enjoy the snacks so much!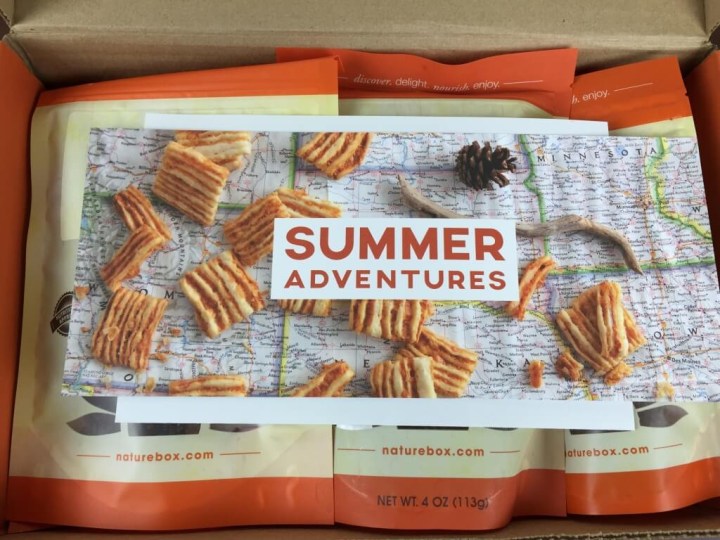 Yay snacks! The information card is totally meaningless because you pick your own.  As subscription box aficionados, however, we can attest to the fact that having a card adds fun and distinguishes a box from an Amazon delivery.
5+1 – we got an add-on this month!  Because we choose our own selections, its always fun to unpack the shipment — its like they read your mind and sent exactly what you are craving.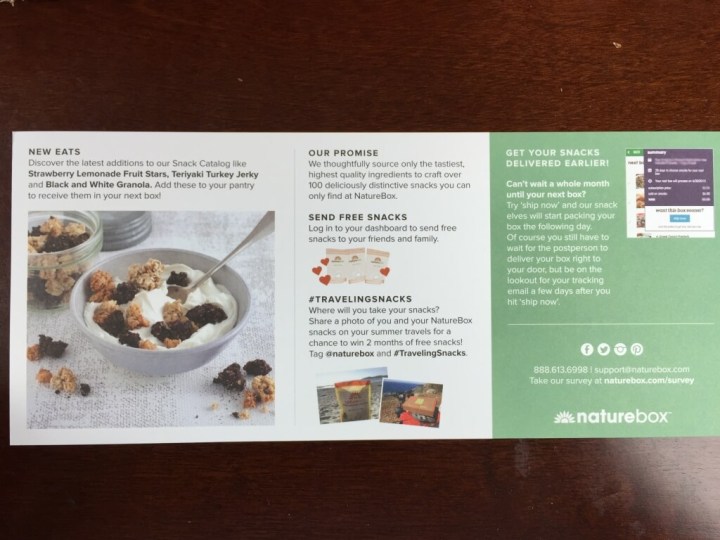 The information card does tell you the newest snacks they've added, which is great.  It serves as a reminder to update your snacking profile occasionally to include some new tries.
Chocolate Banana Chips:  Why has no one thought of this before?  Banana chips are great snacking, but they are usually one-note.  The dusting of sweet powdered chocolate is a great twist.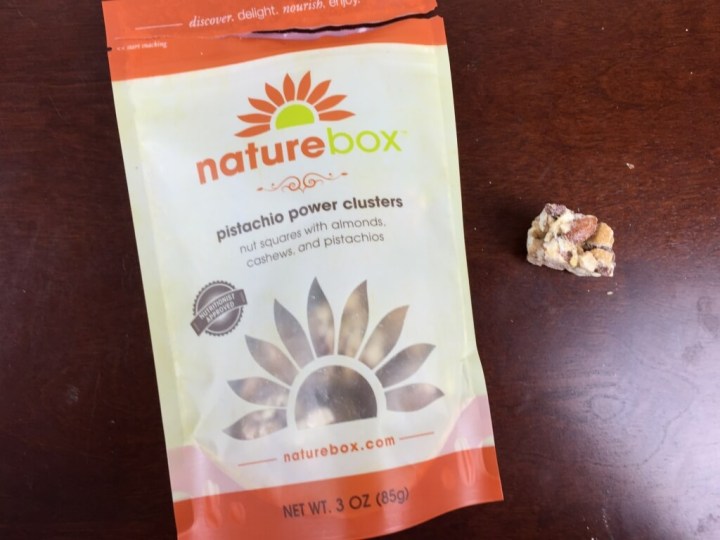 Pistachio Power Clusters:  One of my favs — I have to hide these from myself.  The little blocks are crunchy, sweet, and salty, with a great little bit of chew to them.
Original Beef Jerky:  Lean but tender, these have a classic, mild jerky flavor and come in small pieces, so you can dole them out over time (I hate it when you get one or two slabs of tough, un-splittable jerky in a bag).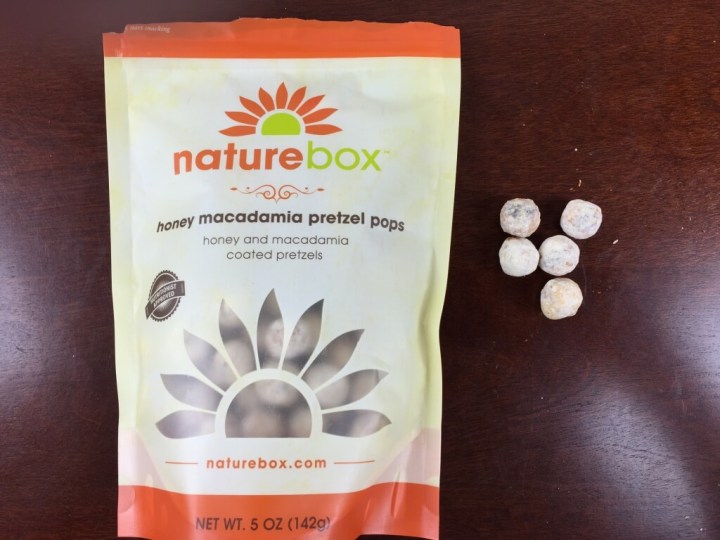 Honey Macadamia Pretzel Pops:  These are fun!  They are little crispy (crispy versus crunchy end of pretzel spectrum) pretzels about the size of a Corn Pop, and they are dusted with honeyed macadamia nut powder in the same fashion you would powder a donut whole with confectioner's sugar.  They are only slightly sweet, so don't feel you have to save them for dessert.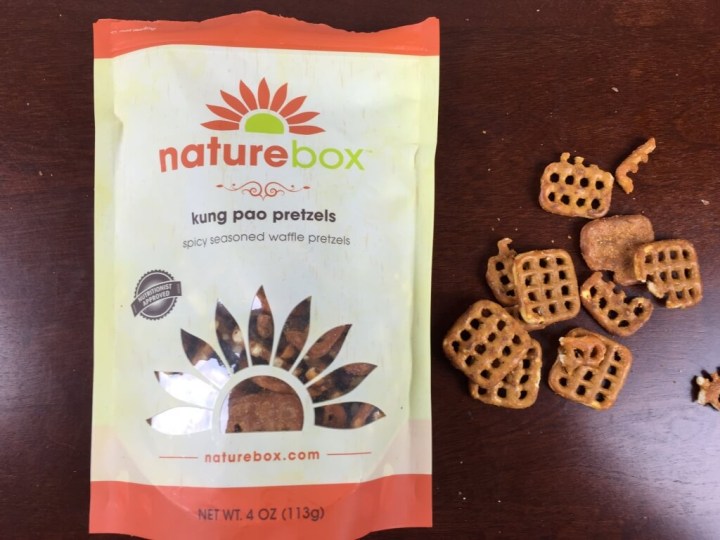 Kung Pao Pretzels: a nice crunchy standard waffle pretzel coated with spicy and slightly tangy kung pao seasoning.  Very much like hot BBQ seasoning, but goes really well on pretzel.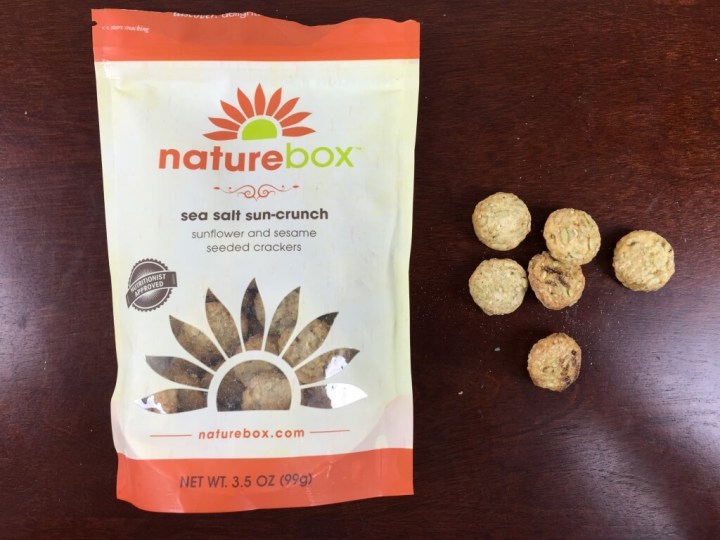 Sea Salt Sun-Crunch:  Brandy loves these things.  They are similar to Somersaults (lighter, less dense), and they make for a great salty-savory bite.
NatureBox is an awesome snacking subscription.  We choose what can be included in our order, so we know it will rock.  And the bags are big — usually 3.0 to 5.0 ounces, depending on how dense the snack is.  Regardless of which snack you get, the bags are big enough that you will feel great shame if you eat it in one sitting.  We find that we get a couple good-sized two-person snacking sessions out of each bag, or several pinches from the pantry.
Visit NatureBox to subscribe or find out more. Check out all our Naturebox Reviews or take a look at other Snack Subscription Boxes.
The Subscription
: 
NatureBox
The Description
: In each Naturebox Discovery Box you get 15-20 servings total from 5 different seasonally themed natural snacks. No HFCS, no artificial sweeteners, colors, or flavors! No partially hydrogenated crap.
The Price
: 20 per month