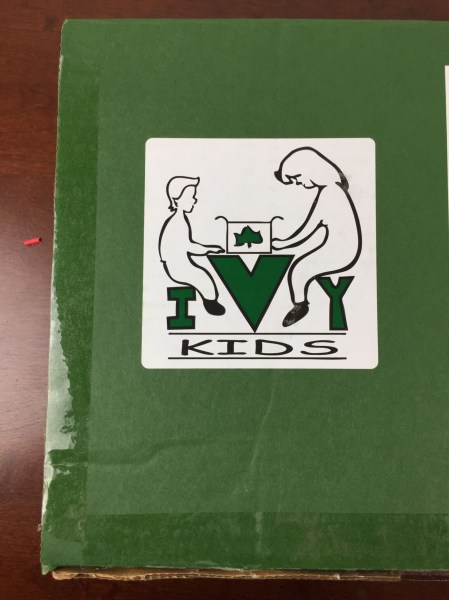 The July Ivy Kids box was giant and so much fun! Ivy Kids is a monthly subscription box for kids ages 3-8 providing tons of fun educationally focused activities from a certified early childhood educator. There are oodles of activities in every box, providing really an entire month of projects that will  develop fine and gross motor muscles, build math and literacy skills, encourage reading comprehension, and promote scientific thinking.
The July 2015 Ivy Kids Kit features the book A House for Hermit Crab by Eric Carle. This box encompasses two age ranges: 3-5 (Little Ivy) and 5-8 (Junior Ivy). It's also great to have a box that two kids can participate in.This particular box has supplies for two children, and you can add a sibling pack to your box for $5, which is totally worth it.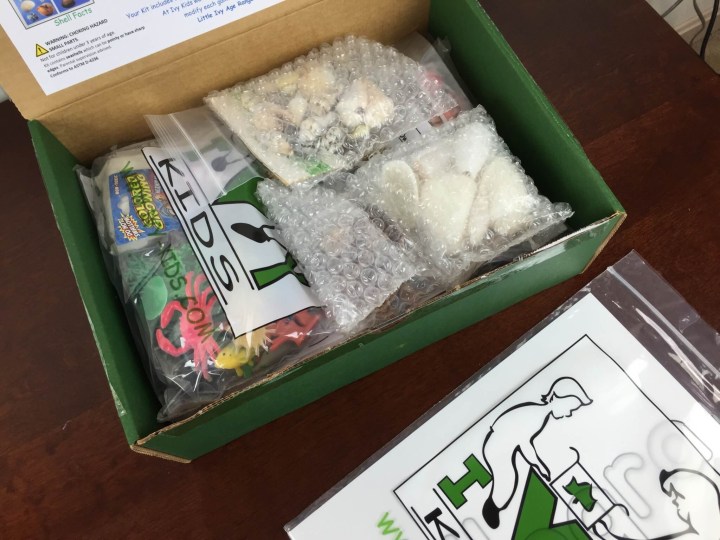 This box has so many activities, just filled to the brim.
I was pretty excited when I saw the shells and supplies – I knew it would be fun!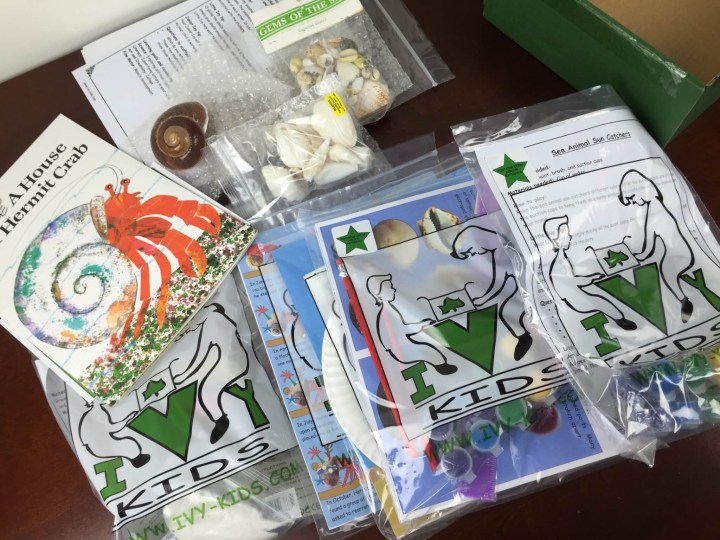 All the supplies that were in my Ivy Kids kit. Each activity is separated by a plastic bag, making it easy to grab and go, and to keep things organized. This is really important with so many activities. (And there are a lot of activities in this box! We use a lot of pictures for this review because it's an accurate representation of what you get!)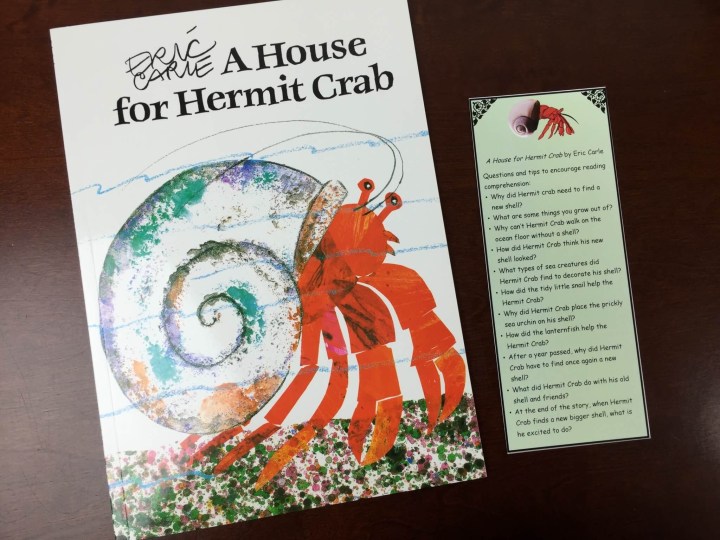 A House for Hermit Crab by Eric Carle: Every box is centered around reading, reading comprehension, and building on the story. We loved this story!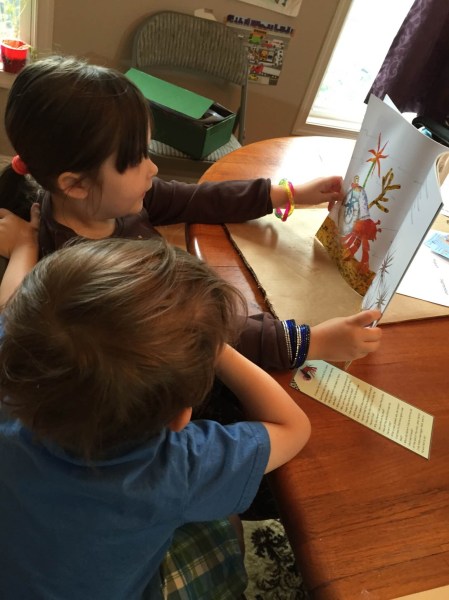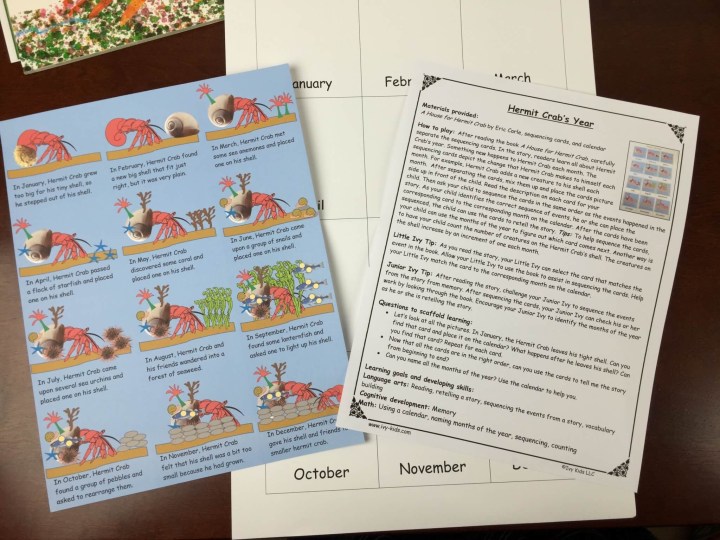 The next activity was a sequencing activity, using the clues in the book and on the cards to order the story after you break the cards up and mix them around. You'll notice on the sheet that there are general instructions, and then age-specific instructions. I love that we can take care of the learning needs of our two Ivies in one box.  You can use the goals at the bottom to help understand what you're doing and guide your teaching of your child.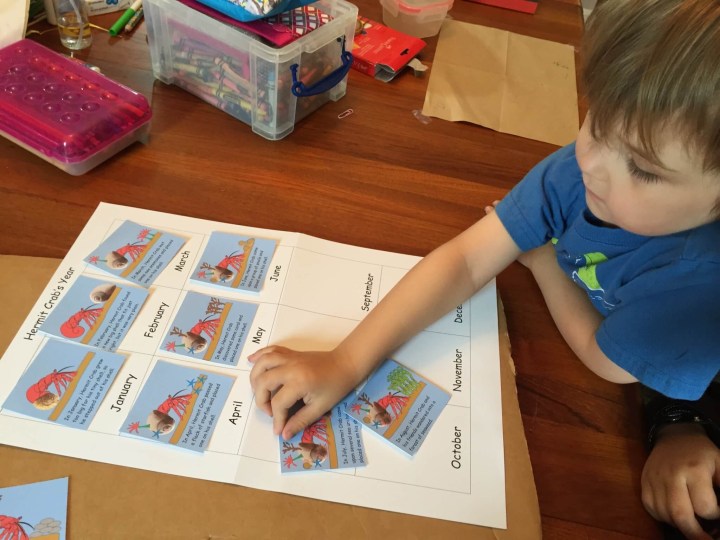 He was listening closely and used the clues on the cards!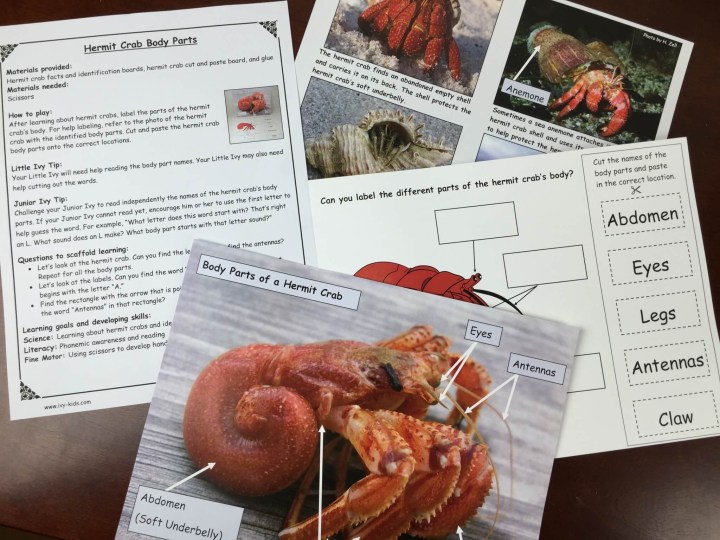 Every box comes with great picture cards describing some science concepts or facts.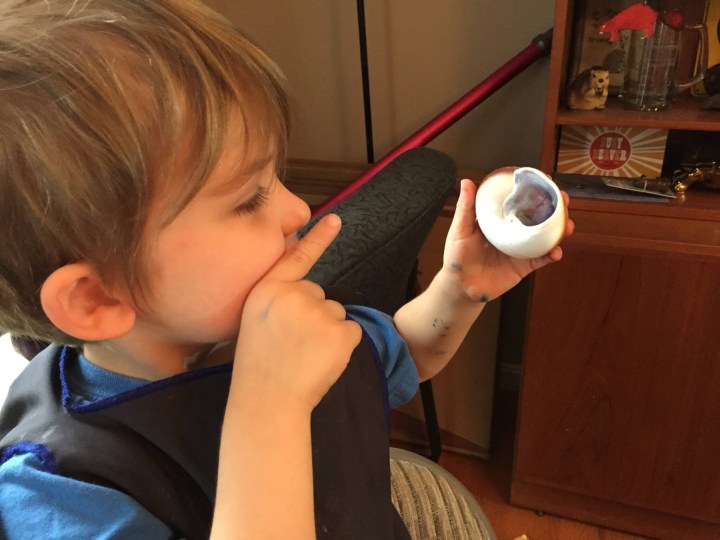 We took a close look at a hermit crab shell and then identified hermit crab body parts. I love the guidance on this box to help us go further with the activity.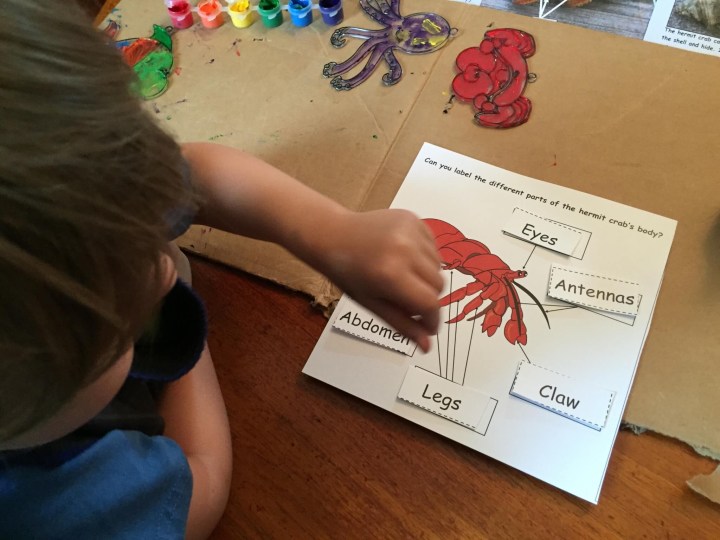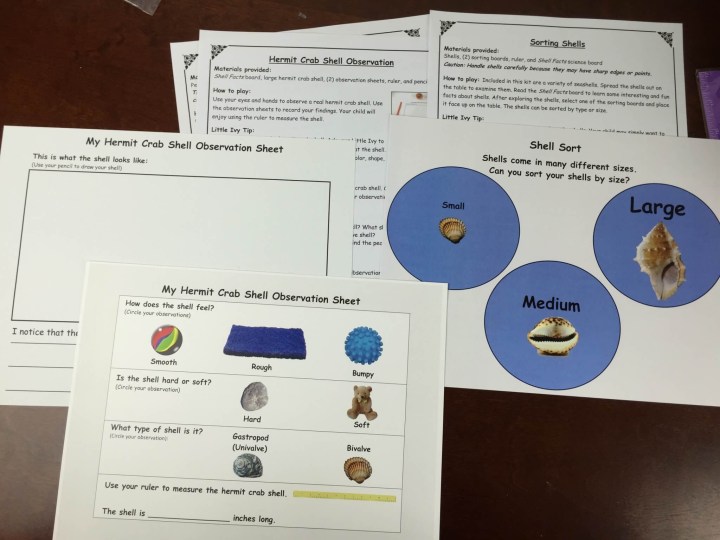 This was a set of activities dealing with shells that helps teach and reinforce scientific practice and thinking, like making observations and sorting by size.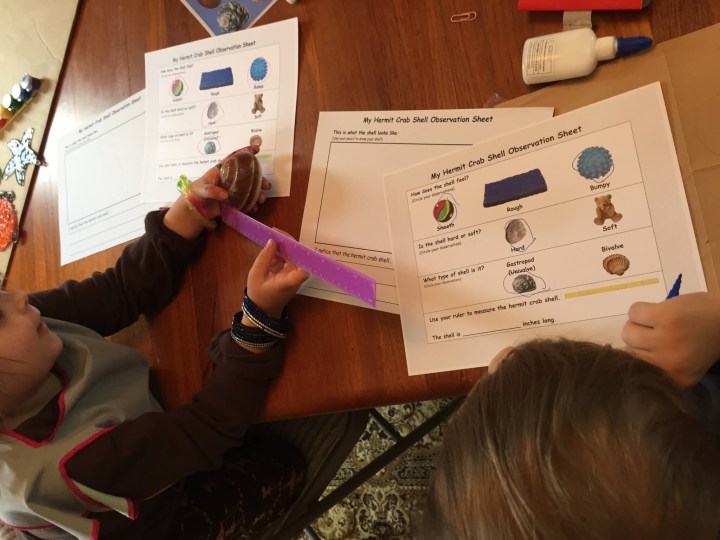 My daughter's kindergarten teacher had been surprised that she could use a ruler accurately, but I wasn't (thanks subscription boxes!).
More info. I read the card to them and we learned several somethings new about the types of shells and how they're made and what animals make them!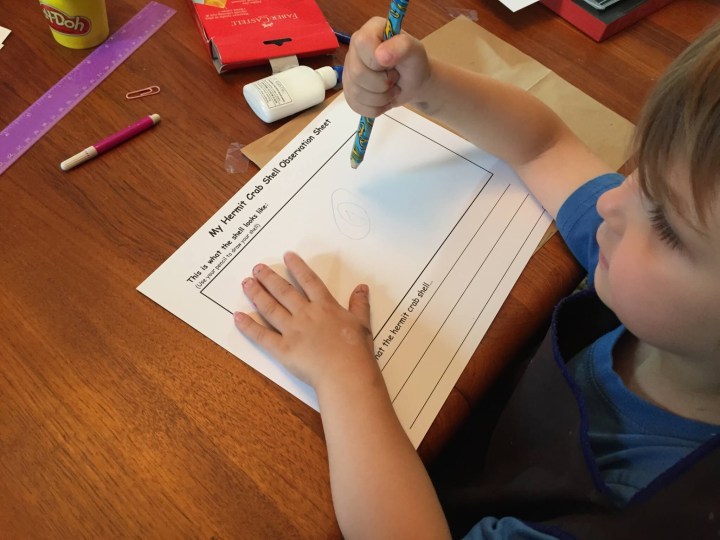 He drew a spiral to illustrate his observation of the hermit crab shell. It's great to give young children the opportunity to do science work!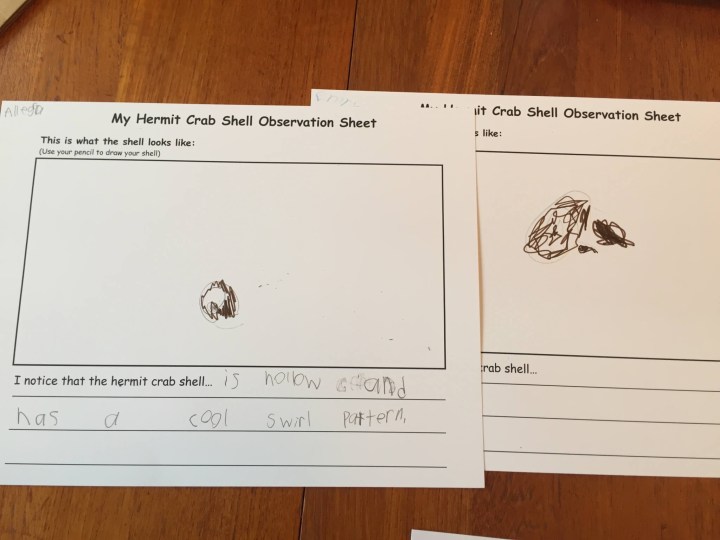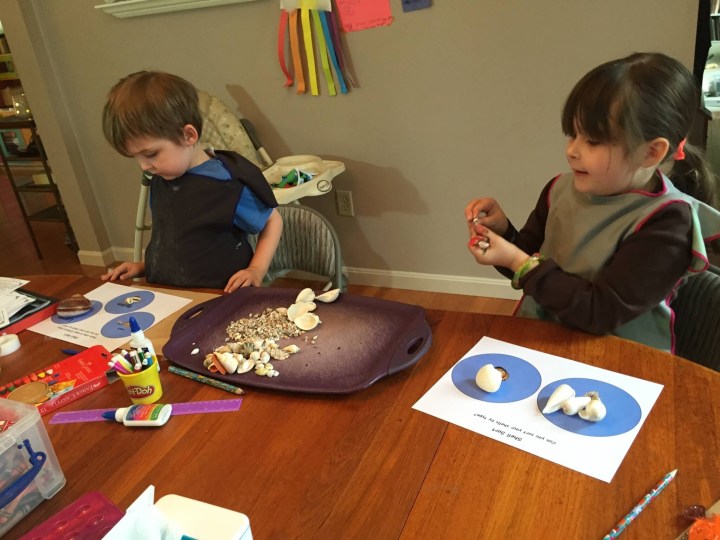 This activity helped reinforce the new information about shells. The sheets come with "Questions to scaffold learning" that you ask when your child is engaging with the activity, to help take it to the next level. I loved the open-ended question of "How else can we sort these shells"?
Every box comes with a game. This month it was Hermit Crab race.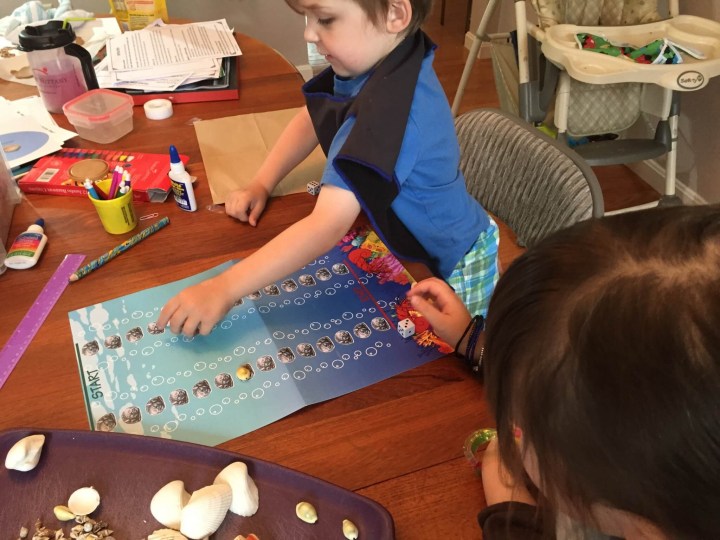 The game involved comparing quantities, moving in the right direction, and of course, taking turns.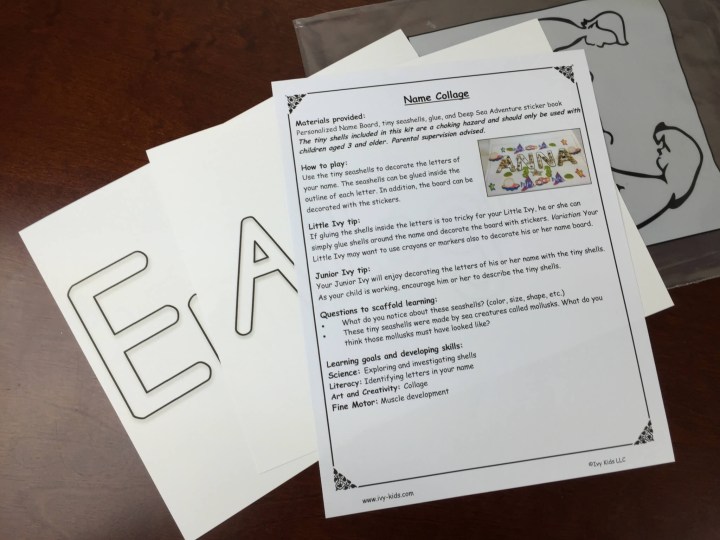 There's always a bonus personalizable activity, and this month was a SUPER darling name collage. FYI – I don't use my kids' names on my blog because they're unusual (although not weird!). So I put together what the finished product would look like below so you can get an idea.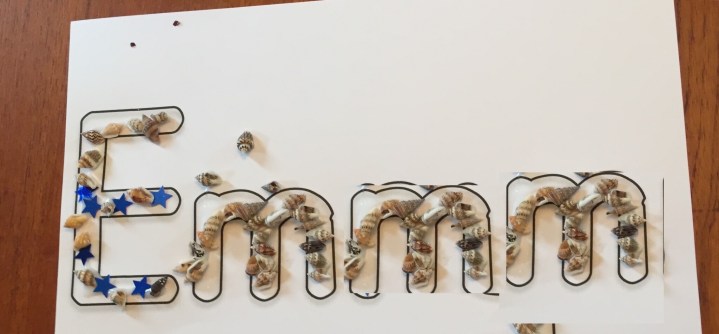 They did a GREAT job and we added some Fourth of July stars that we had on the table for a little flair! We love these and we're going to hang them up (and yes, the shells really stuck!).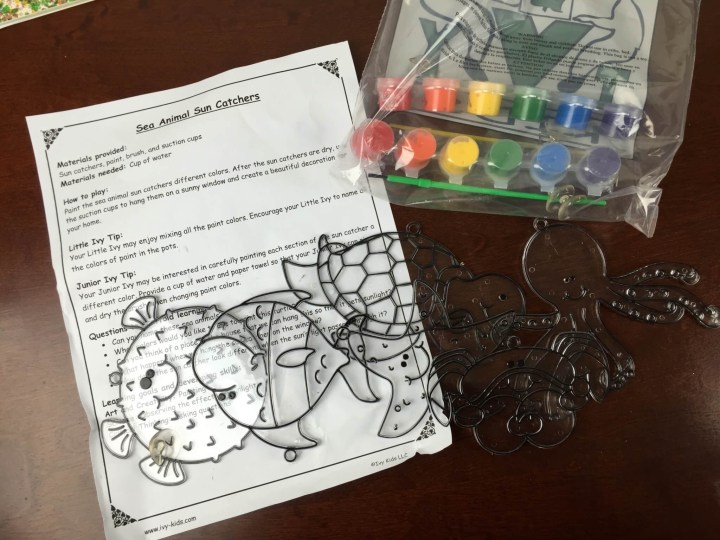 You may have noticed there were TWO sets of paint – one for the Sea Animal Sun Catchers activity, and one for the shell painting activity. Normal people do not do this box in a day – it's meant to help your child learn a unit over the course of a month, so you'll appreciate that they included two sets.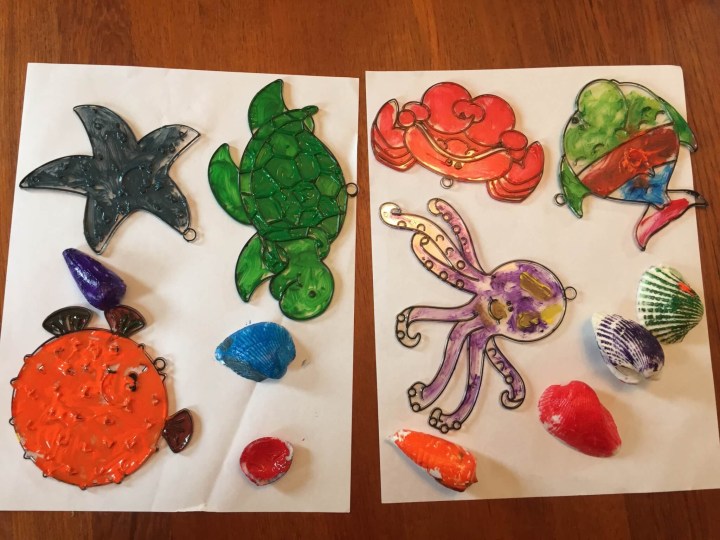 The kids adored both of these activities, and we did one at the beginning and one at the end. It was so fun to see their different painting styles and color mixing.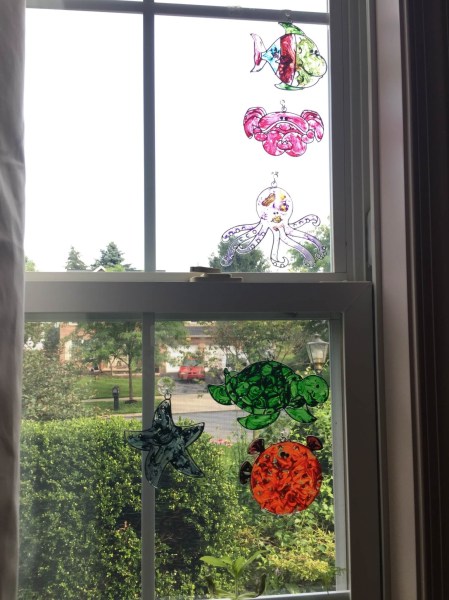 And I love the end result!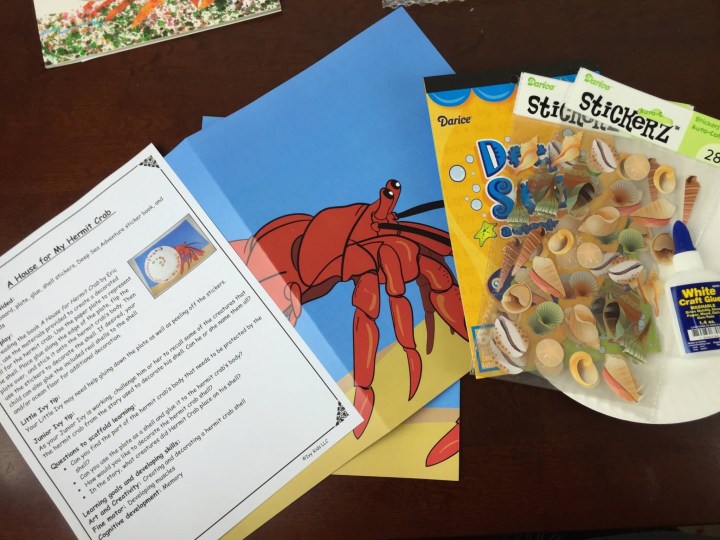 Just like the story, we also got to decorate a hermit crab shell. This reinforced the story, as well as the scientific info provided (did you know that sea urchins sometimes climb on their shells??).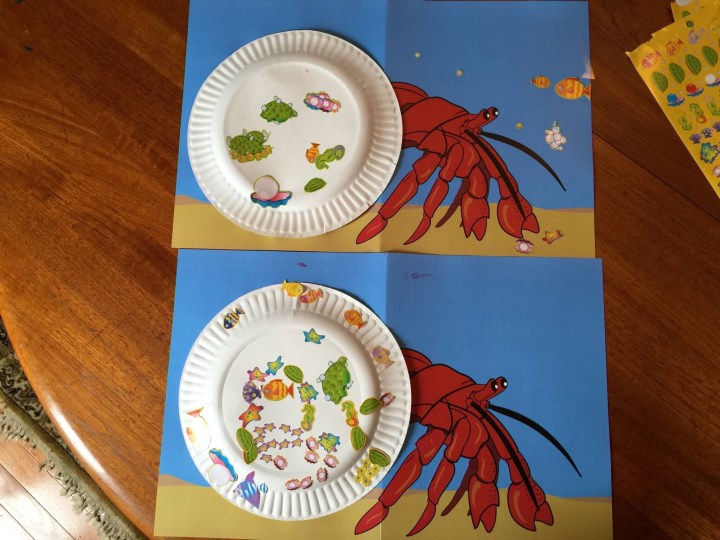 My daughter added significantly more swirling patterns to hers.
Create Your Own Hermit Crab Habitat was the grand finale. Don't worry – Ivy Kids did not send me real hermit crabs in the mail!

We used all the supplies to create a habitat (and an Erin Condren acrylic tray!) and added our little growing hermit crabs! Even the baby got in on this one, it was super exciting and fun, and of course provided hours of play for my kids.
They are still growing! It takes a few days to get to their peak, and as we learned from the story, the hermit crab will have to find a new shell once it outgrows a small one! This is a great learning subscription that will provide your family with learning opportunities throughout the month! I think it's an excellent choice for a homeschool preschool or for working families and I think there is a lot of value in this box, and of course learning and fun!
Visit Ivy Kids to subscribe or find out more, or check out all our Ivy Kids Reviews! You can also see more subscription boxes for kids in the directory.
The Subscription
:
Ivy Kids
The Description
: Ivy Kids is a monthly educational subscription box for children ages 3-8 with the goal to make every moment with your child quality time. Have the tools at your fingertips to ensure your child has a solid foundation in math, literacy, and science.
The Price
: $39 per month
The Coupon
: Save 20% on your first box with coupon code
IVY20
or code
IVYFREESHIP
for free shipping on any past kit.