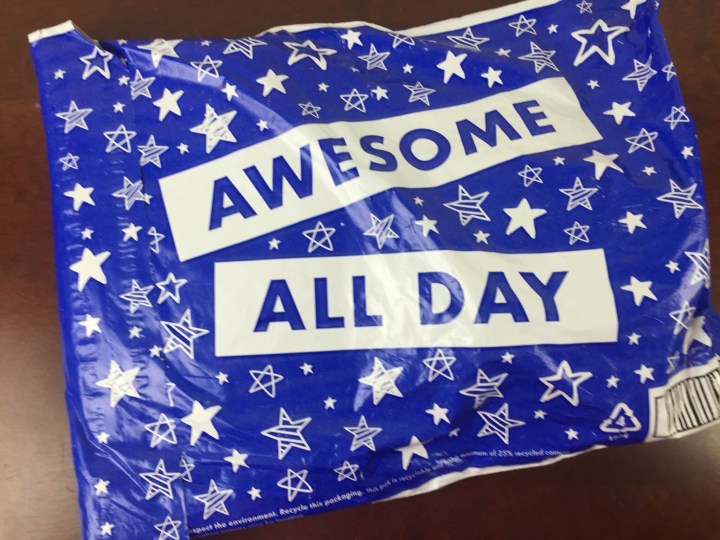 FabKids is a kids clothing subscription that's part of the Just Fab family and is a boutique subscription  – you'll get a showroom or boutique of outfits curated for your kid, making it easy to select great items without rooting through all the racks. Pick one or skip by the 5th (you'll get charged unless you skip). My kids love picking out a new outfit every month, and they are always among some of their favorites. When you sign up for FabKids you will be invited to join and get your first outfit for $15!  Just use this link to sign up!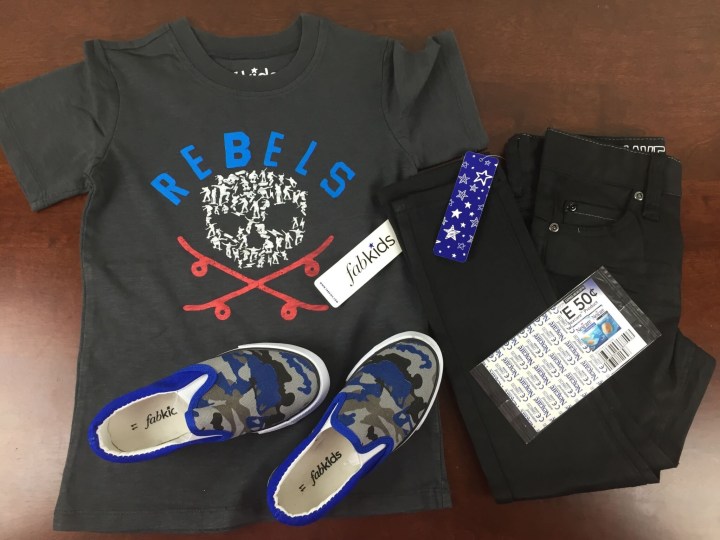 For July my son picked out the Skull Rebel Outfit ($29.95). We also got him a pair of shoes – the Blue Camo Slip Ons ($19.95) and the shipment came with a free Nexcare bandage sample. Grandma made our daughter a bunch of summer dresses using FROZEN fabric, so we didn't need a new outfit for her this month! (Obvs Frozen >>> anything else)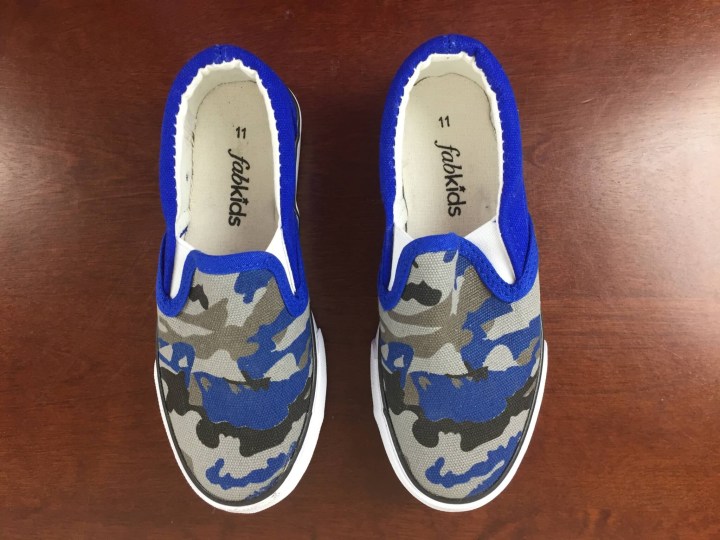 My son is pretty particular about what he wears and he was really excited about these! I don't love camo prints but he was wild about them!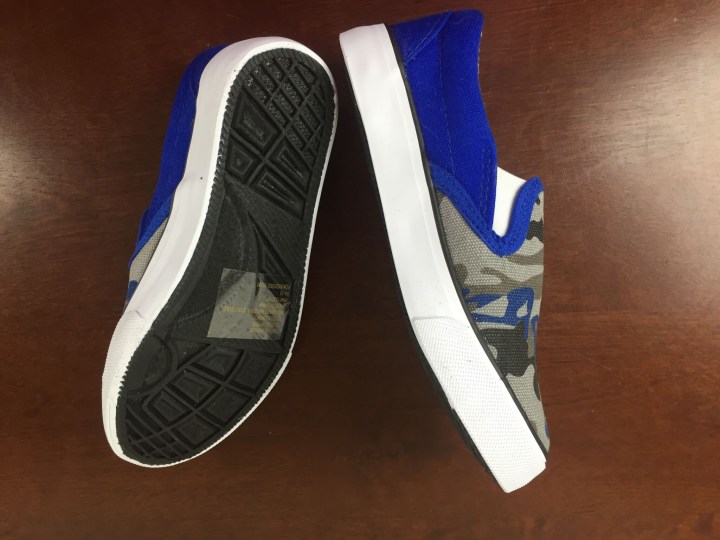 I love that they're easy for him to get on by himself (he's 4 and a half) and they do match his outfits. Dad likes them too!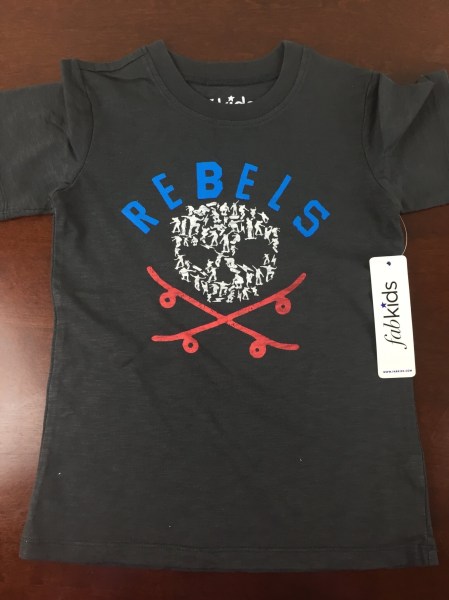 Skater Skull Graphic Tee (regular $24, currently on sale for $14.95) One thing that FabKids does right every time is very boy-friendly without being gruesome skull and pirate shirts. We have no less than 3 or 4 of them, and my son selects the pirate-themed one every time. They also happen to be nice and soft and he needs to wear them immediately!

Skinny Black Denim (regular $28, on sale for $24.95)  My camera sort of flips out when taking photos of certain colors, including black. these are pretty dark black jeans, but it's really hard to capture. These are really stylish and detailed, and feature an adjustable waist, which is perfect for my tiny guy.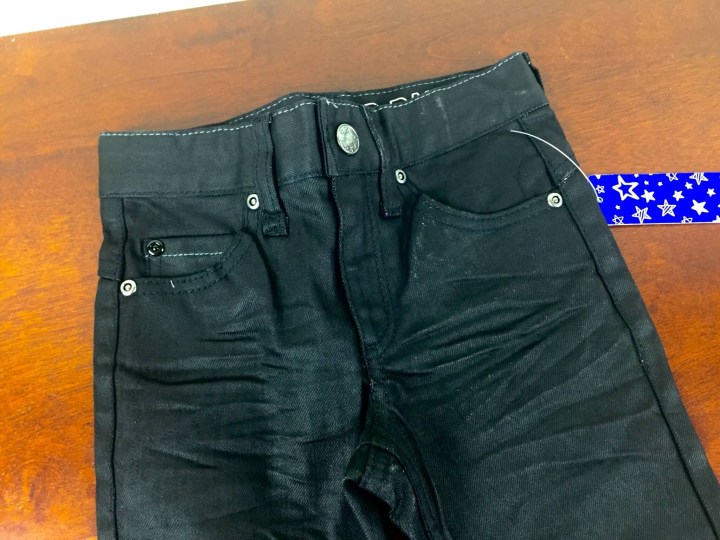 They have a resin/crinkle treatment and look like designer jeans!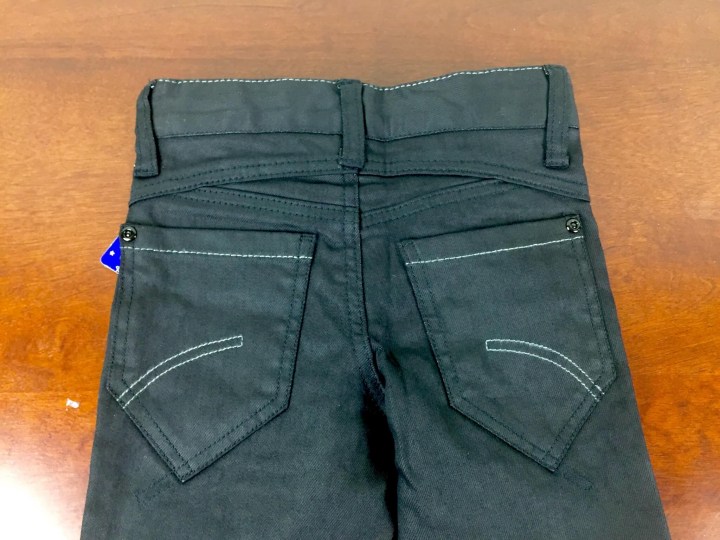 Great back pockets, too!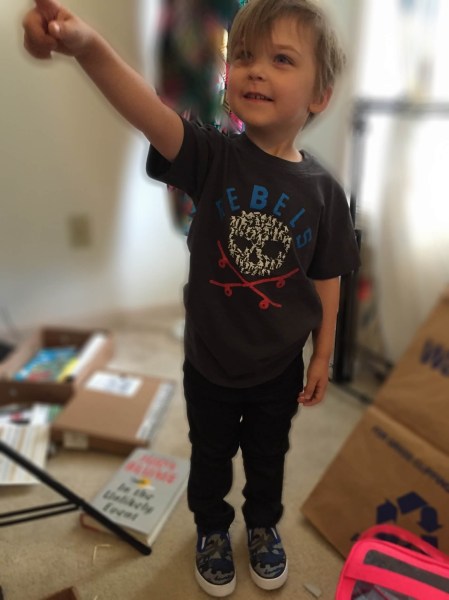 He got up yesterday morning and put on his new clothes immediately and demanded removal of the tags (I always have to explain that we have to try them all on first but he doesn't want any of that).
For boys especially we love the cool designs that are still kid designs without being too cutesy or freakishly too mature for this age. The fabrics are great and the construction holds up, and we're super happy with the service!  There also seems to be a free magazine offer/rebate available too at checkout!
Visit Fabkids to subscribe or find out more. You'll get your first outfit half off when you sign up! You can see all our Fabkids reviews or check out more monthly clothing subscriptions for kids in the directory.
The Subscription
:
FabKids
The Description
: FabKids is a monthly subscription box of kids clothes You can select one of the outfits or skip it entirely. Free shipping & free returns. The clothing is exclusively produced for FabKids (some designed by Christina Applegate).
The Price
: $30 per month
The Coupon
: Get your first outfit for $15! Just
use this link to sign up!