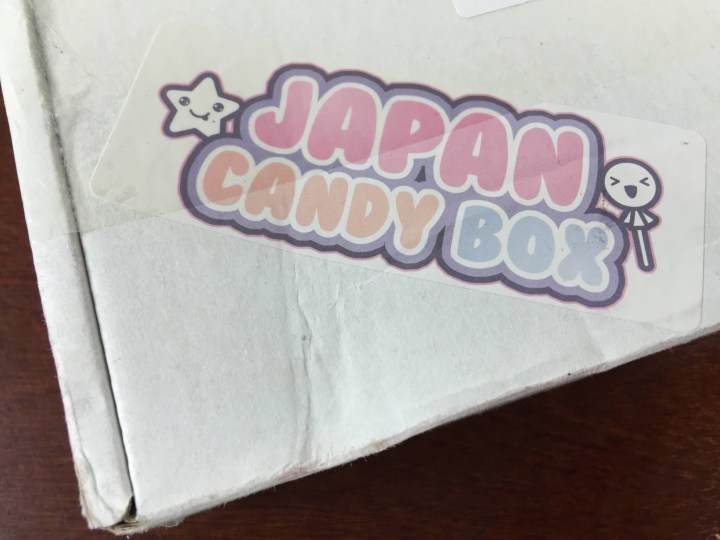 Japan Candy Box is a newer subscription box from Kawaii Box! We were super excited to review it because our whole family loves Japanese candies – they are just super fun, super cute, and super tasty!
Everything is wrapped up really nicely and made the journey here safe and sound.
The information card lists the names of the items.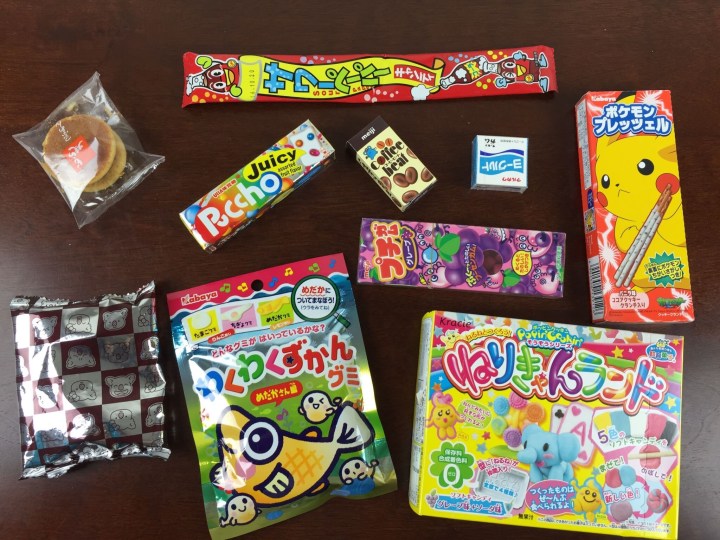 All the items in the June Japan Candy Box!  There were some cookie-type treats, gummies, gums, and even some high-concept stuff.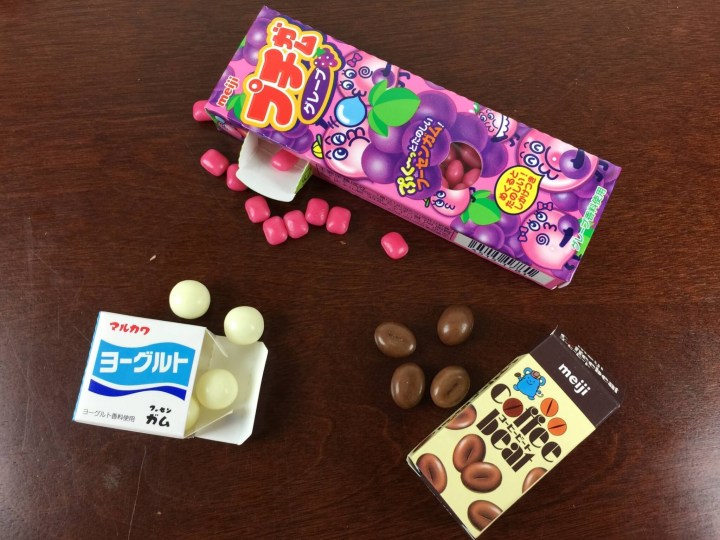 Marukawa Fusen Bubble Gum:  We expected this to have a peppermint flavor, since that is typically the "white gum" flavor.  Instead, it tasted like a creamsicle (creamy orange) — it made OK bubbles.
Meiji Petit Bubblegum:  Strong grape flavor.  The cute little dispenser door was fun, but the bubbles were just so-so, but this is typical of gum from Asia.  The texture of the gums is like bubble gum, but they are best used as a chewing gum.
Meiji Kotsubu Chocolates:  The coffee flavor is so authentic, that I had to look inside to verify it was chocolate and not an ultra-soft coffee bean.  Smooth and sweet, they only look like a chocolate-covered coffee bean due to the dimple — they are just chocolate covered in chocolate coating.

The back of the coffee chocolate box – O is for Onion!  Hilarious to see such youthful marketing on a coffee-flavored treat.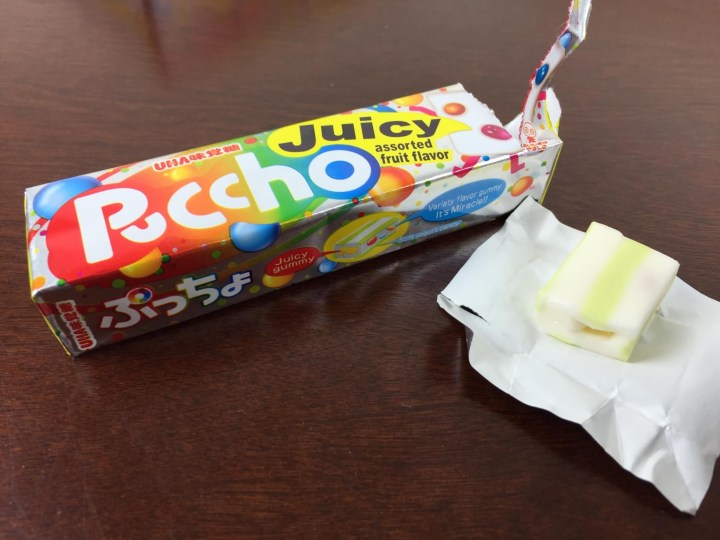 Puccho Mixed Fruit Chewy Candy: This is like a soft taffy with a juicy gummy inside.  Not my favorite.  The flavor is fine, but the taffy is a bit like soft plastic.  Would be much improved by increasing the gummy to taffy ratio. Brandy and the kids liked these!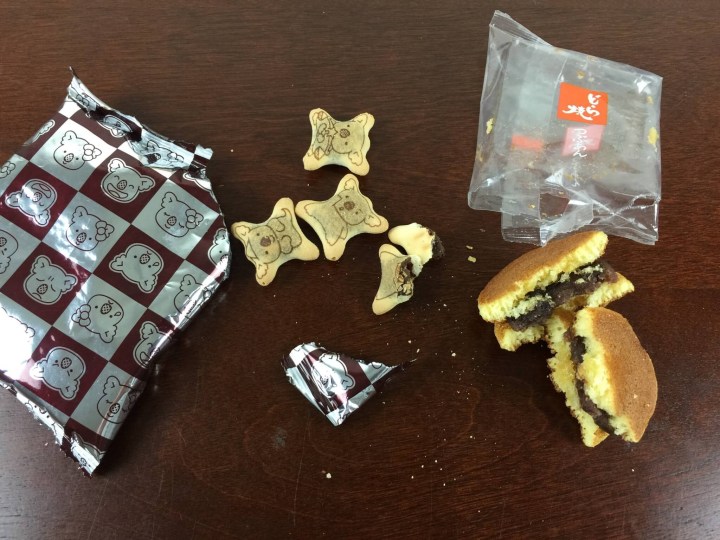 Lotte Koala March Biscuits:  These are very similar to the Hello Panda biscuit cookies, but the coating is thinner and shaped like a lumpy X instead of round.  They make for a tasty bite and of course our kids are wild over these (and everything in this box!).
Dorayaki Japanese Hotcake:  The cake is very soft and like a little pancake/hotcake.  The filling reminds me of creme de maron — I'm pretty sure it is made of sweetened Japanese chestnut creme.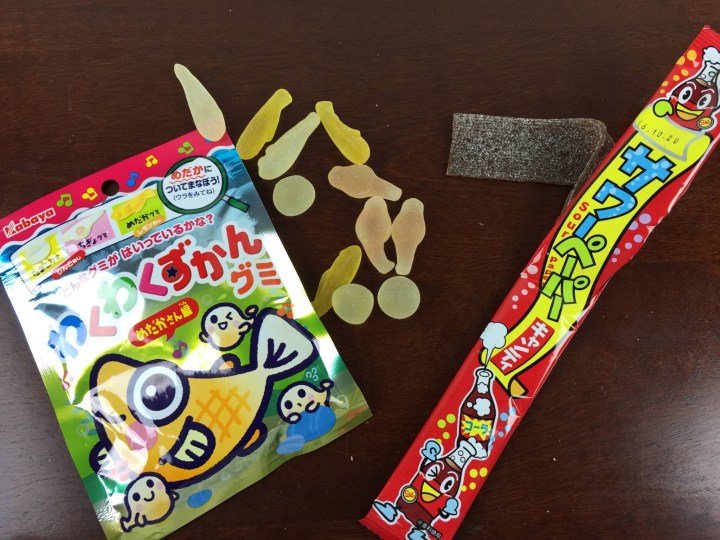 Kabaya Fish/Frog Gummies:  These peculiar little guys are in the shape of tadpoles, eggs, and fish.  Each has a different fruit flavor, and the texture even differs slightly.  Fish-shaped gummies are nothing new, but these get closer to pond science than I'm used to being with my candy.
Yaokin Sour Paper Candy:  Not extremely sour or paper-like, this long strip tastes like a slightly sour cola and has the texture of jelly orange slice.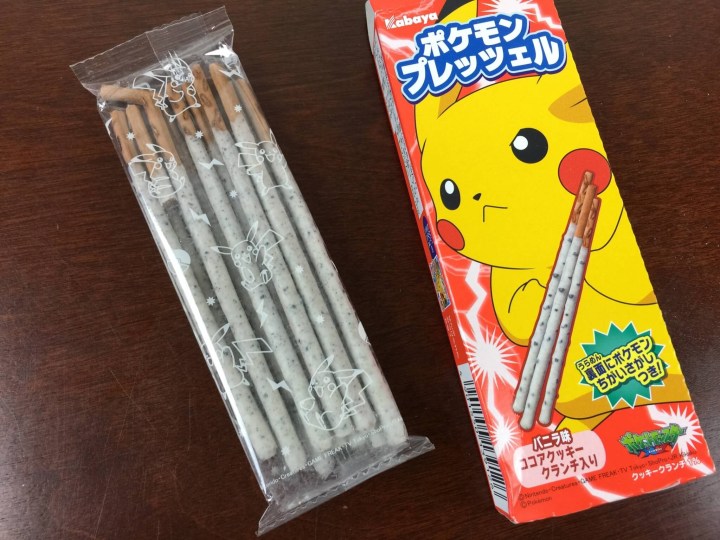 Pokemon Pikachu Pretzels:  Cookies and creme seems to be a popular flavor for these Pocky-style snacks.  The breadstick is more pretzel-like than the typical shortbread stick.  This brand sets itself apart via the coveted Pickachu endorsement.
The pack has a "spot the differences" game on the back.  Hint:  three characters have slightly shifted their orientation.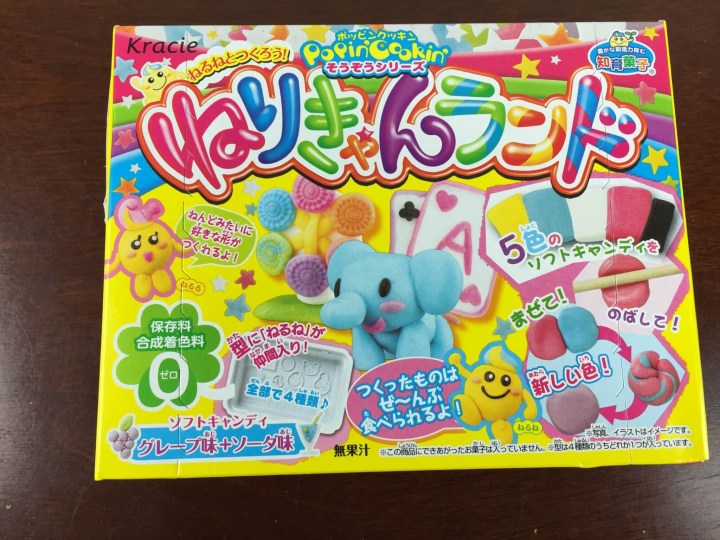 Kracie Popin' Cookin' Neri Candy Land DIY Kit:  This fun little kit makes you work for your candy.  If you are the ultra-creative sort, you could put in hours of painstaking sculpting before consuming your treat.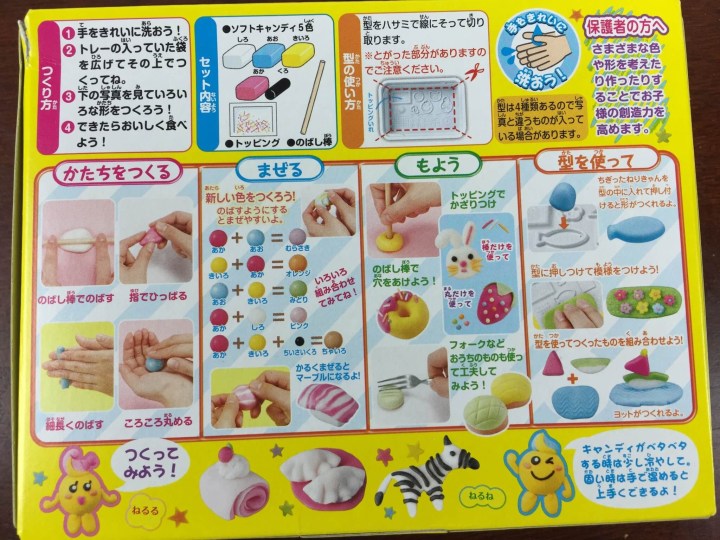 The back of the package has some handy hints on molding and mixing your candy clay, which is a soft Starburst-ish material.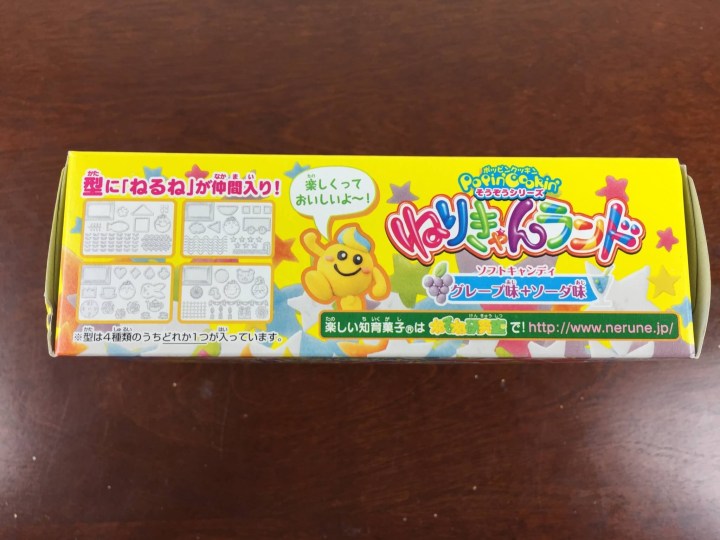 As shown on the side panel, the box comes with one of four molding templates.
The inner wrapper is just as busy as the outer box.  Lots of fun stuff to look at before you even get to the candy!
The kit has three primary color blocks, a white block and smaller black block, sprinkles, a molding tray, and even a tiny rolling pin!
Look at the concentration required.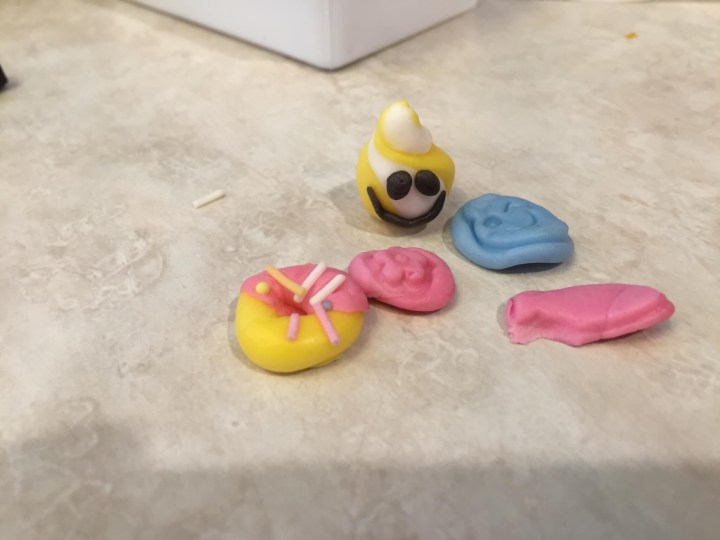 Some simple creations.  Its hard to muster the patience to craft an intricate sculpture when there is candy to be eaten.
This was a pretty cool box.  Lots of unusual treats — the Koala biscuits and Pocky-style sticks are the only items I've seen with any frequency in the U.S.  It was totally awesome that they included a candy crafting kit.  Those aren't in big supply, as kids here are less patient with their food play.  The candy comes in non-export packaging too, so you get all the neat Japanese doodles and in-country package decorations, which are much more intricate than American packaging.
Visit Japan Candy Box to subscribe or find out more! You can also find other Japanese Candy Subscription Boxes in the directory.
The Subscription
:
Japan Candy Box
The Description
:Every month Japan Candy box will send you a box filled with a carefully selected mix of quirky Japanese sweets & snacks. Each box will include 10 sweet treats delivered right to your door.
The Price
: $19.90 per month