Flaviar brings the selection-of-the-month concept to the world of fine spirits.  The concept is great for spirits, since the best out there can be quite expensive — a big investment for an item that cannot be truly understood without tasting for yourself.  The Flaviar sample gives you the chance to sample before shelling out for a full size, or if you and your buddies want to go in on a full-size subscription, you are assured your selections will be prescreened for noteworthiness and drinking pleasure.  Their Ryevolution sampler box featured five delightful rye whiskies from the U.S. and Europe.  Rye is one of those products that was hugely popular in the first half of the 20th century, only to fall into near obscurity as folks abandoned the classic cocktails for mojitos and vodka RedBulls.  Now, it is being rediscovered and newly appreciated.  I like whisky because of its great complexity, and Rye seemed like a great extension on this theme.  If it's not for you, no worries.  Every month you can skip or swap out the pack for a different selection.  I think we will be trying some clear selections next, maybe gin or rum.  Who am I kidding, we'll probably go for the tequila sampler (hold the worm).
Within the shipping box is a handsome interior box, within which are nestled your five new guilty pleasures.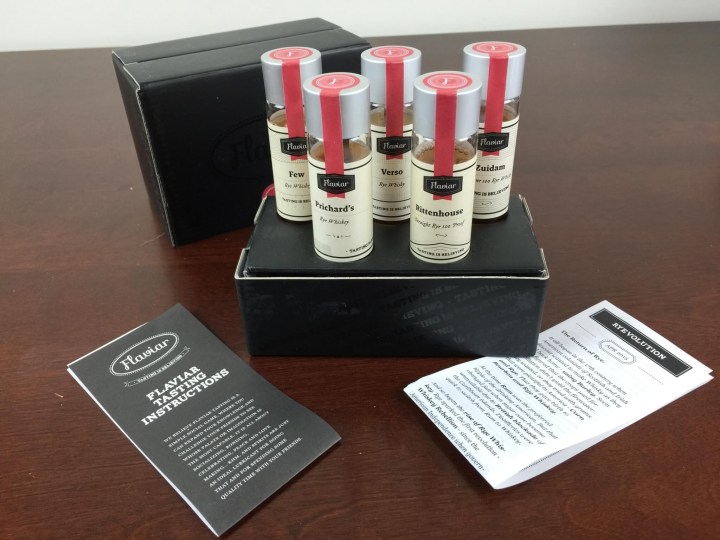 The kit is well-designed.  Not only is it like a hybrid of opening a watch box and playing with a test-tube stand, but it keeps your bottles from rolling all over and lets you admire them while contemplating the complexity of the featured liquors.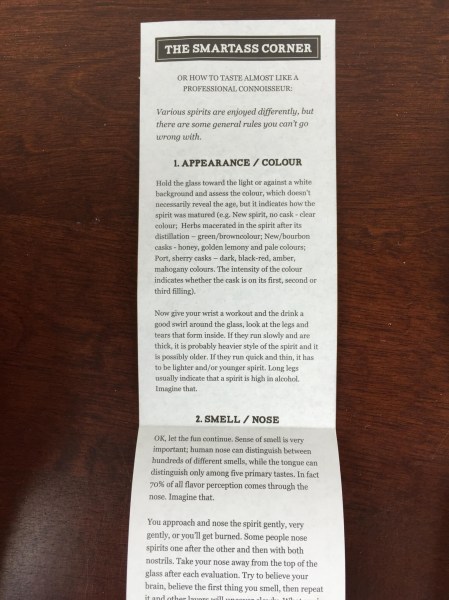 Included are some hints on conducting an effective tasting, as well as some key info on the samples, including flavors to watch for.
Although the foldout pamphlet is a little odd, it packs a lot of information in – here's a sampling of the note introducing the pack.
And so began the rise of Rye Whiskey. Rye sparked the first revolution – Whiskey Rebellion – since the American Independence when government tried to tax and enforce the taxation on distillers. It also turned into the most famous drink for more than a century. Cocktails became a thing and Rye Whiskey was the main ingredient of that boom, especially in the roaring 20's when Rye was at its peak.

But then the Prohibition hit American bellies. People started producing Moonshine here and there under the good name of Rye. That diminished Rye's good-held reputation and brought about a dark era for Rye Whiskey. In turn Bourbon became America's most wanted drinkin' drop.

It wasn't until the late 90s when craft movement and the bar culture reinvention brought old Cocktail recipes back to life and everybody grew back thirst for good quality Rye. The boom became global, reviving old American recipes of Rye Whiskey production and convincing Europeans to produce their own Rye Whiskey story.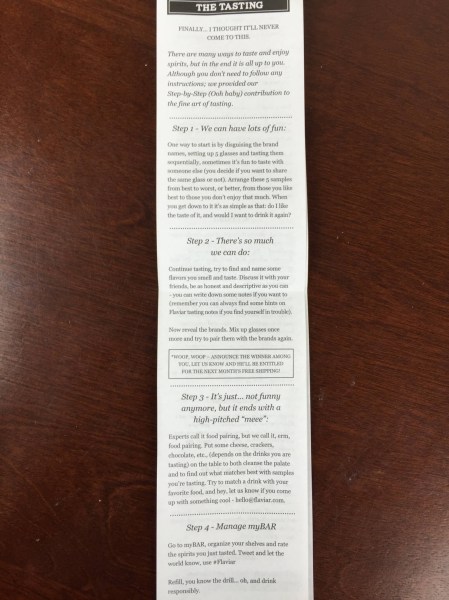 Some suggestions on mastering your tasting technique are included, Step-by-Step (ooohh, Baby…)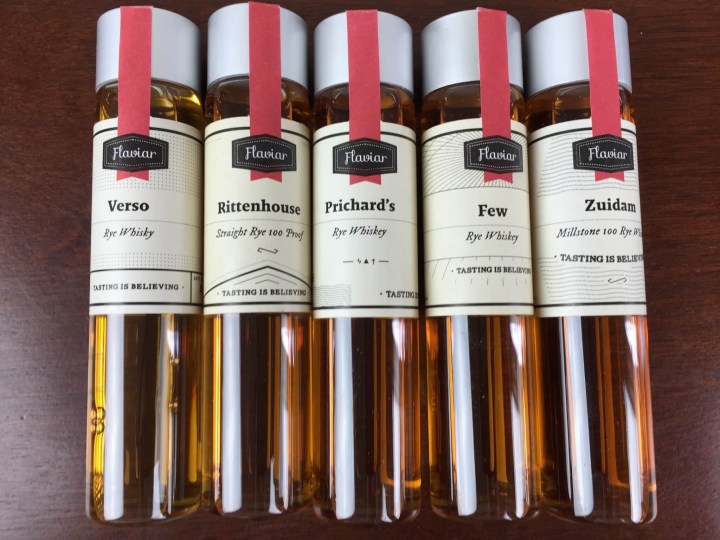 Here you have 5 Rye Whiskies from both sides of the Atlantic:
Verso Rye Whisky (Finland):  Sweet, with an oaky nose and initial taste.  The stand-out characteristic is the incredibly enduring cinnamon finish.  It is intense and incredibly distinct — almost like someone snuck some of your good rye and restored the level in your bottle by adding some cinnamon schnapps (without the cloying sweetness).
Rittenhouse Straight Rye 100 Proof (Kentucky):  Exhibits an interesting cleanliness — the spicy character pauses and mellows greatly in the middle of tasting, yielding to a nice rye finish.
Prichard's Rye Whiskey (Tennessee):  Floral notes and corn lace this complex offering.  The rye flavor that emerges is darker and heartier (think German pumpernickel) than the rye notes of the others.  Very nice.
Few Rye Whiskey (Illinois):  Has a sweet and malty character.  The initial big taste is all sweet rye bread.  Then moves through honey and pear notes.
Zuidam Millstone 100 Rye (Netherlands):  This attacks your tongue (in a good way) with a vanilla and peppery intensity.  The finish has a unique dark cocoa "feel" to it.  Very unique and very good.
The notes include some interesting background on the distilleries and the unique balance of ingredients chosen for each whisky.  The tasting notes go beyond my above big picture observations, tracing the whole "Flavour Spiral" of the liquor and the eight  to ten flavor notes and impressions to which you are treated with each potable.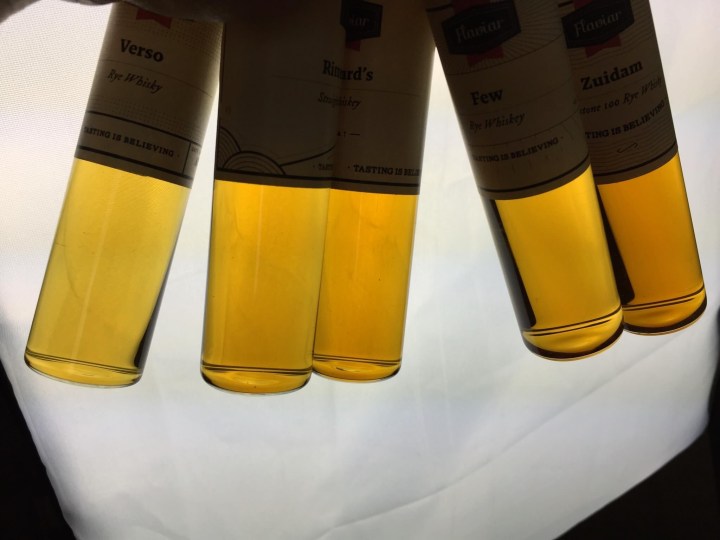 Held against the light, the mellow bronze color is apparent.  Remarkably similar color amongst the varieties, despite varying compositions.
To purchase everything on its own and do a home tasting would be around $385, so this is a pretty budget-friendly way to sample new items.  Admittedly, you'd have a lot more liquor if you sought these out on your own, but Flaviar is a lot easier and eliminates the need for a second mortgage.  These selections were a little more dialed in than the around the world whisky pack.  This was a great selection for a sampler, since most home barkeepers would not stock more than one rye at a time, if at all, making this a great candidate for accelerated exploration via Flaviar.
Visit Flaviar to subscribe or find out more, or check out all our Flaviar Reviews. You will receive your first tasting pack for $24.99 when you use this link. See other cocktail, liquor, and spirits subscriptions in the directory.
The Subscription
:
Flaviar
The Description
: Subscribe, get a tasting pack and enjoy the carefully curated top-shelf spirits delivered every month. Taste fine spirits, build your home bar. Choose between tasting packs or full-size bottles.
The Price
: $39.99 per month
The Coupon
:
Get your first tasting pack for $24.99
!