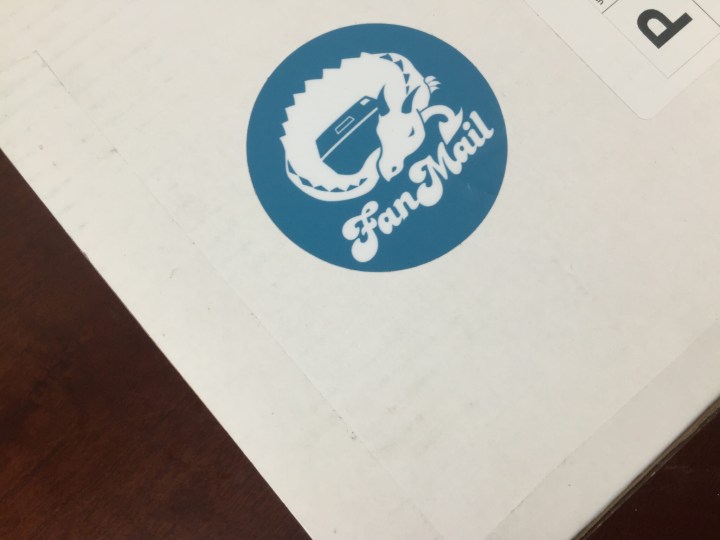 FanMail is a new monthly geek and gamer box for women, curated by women. Each month's mystery box will have a theme and contain a variety of memorabilia and collectibles.
The theme for July is Out Of This World.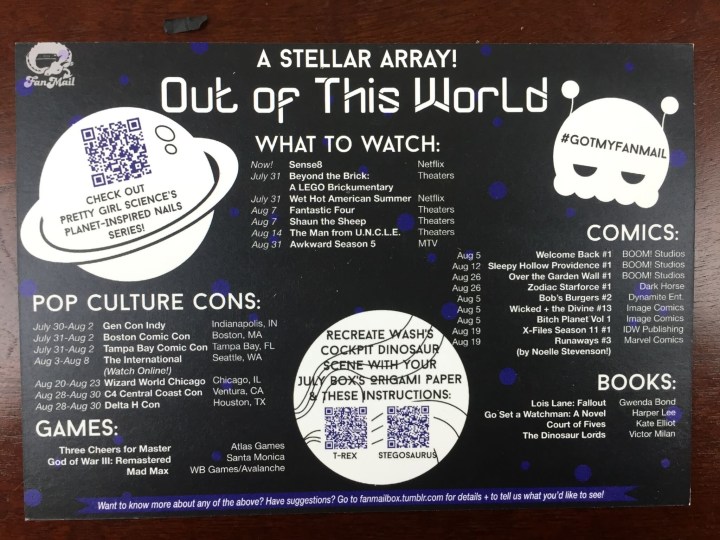 Each month, you'll get a handy pop culture newsletter that will tell you what movies are coming out, what's up for streaming and binging, and what conventions or events are out there that you may want to attend. I think this is a great feature!!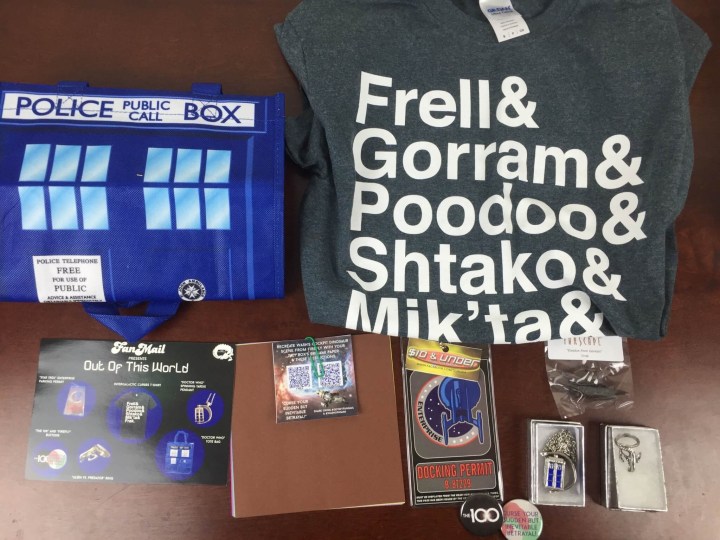 All the items in the July 2015 FanMail box.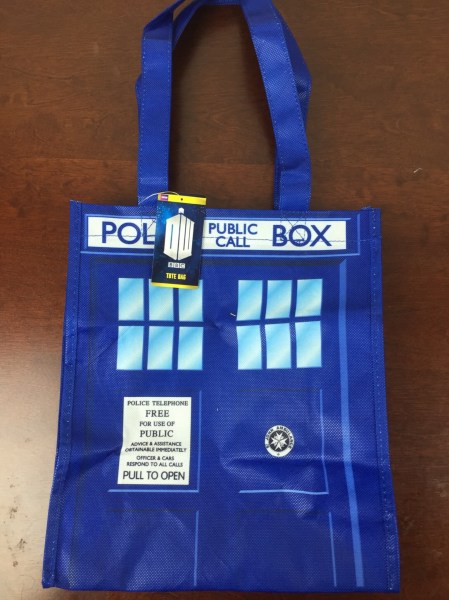 Doctor Who Tote Bag ($7.35)  This is a licensed product from Underground Toys.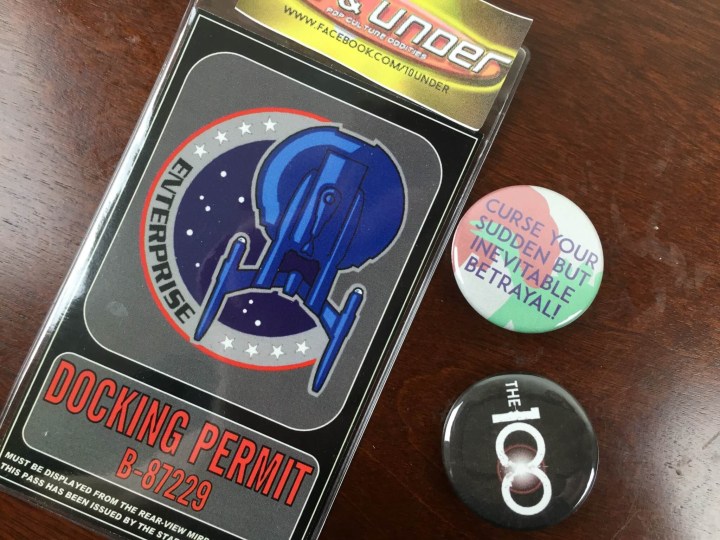 The 100 and Firefly Buttons
I thought the printing could be improved on all of these. They weren't crisp – and despite a copyright notice on the back of the Docking Permit (which is a cute idea), I doubt it was licensed.
Intergalactic Curses Shirt ($15) I totally forgot to change my shirt to a woman's shirt. That being said – I'm not wearing a shirt that says Poodoo on it. While it may garner significant amounts of geek cred in some circles, that's just a no for me. My kids will find this shirt hilarious.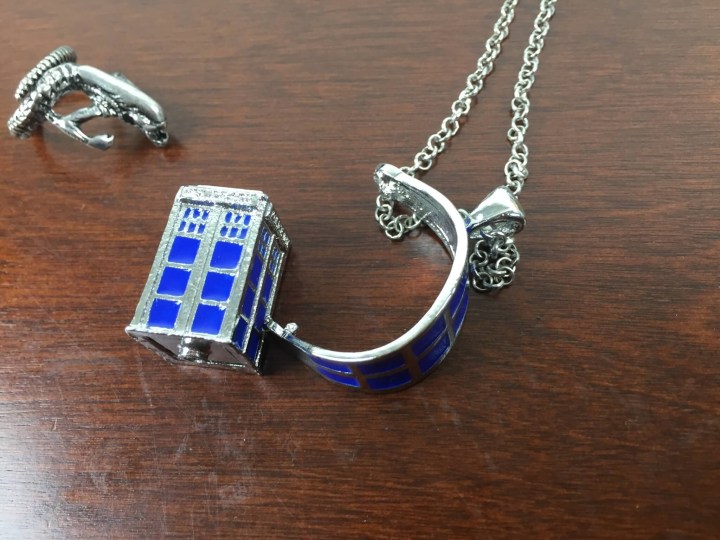 Doctor Who Spinning Tardis Pendant ($3.39)
My Tardis arrived unhooked. I'm not into Dr. Who at all, and would definitely not wear an alien ring. I think this box is for a different kind of fan than me. I would like to see one nice Etsy piece rather than imported jewelry. It's not a deal-breaker for me – boxes are full of imported items, it's just something to make note of. If you love the theme and curation, it shouldn't matter too much.
Origami Paper & QR Code instructions – Recreate Wash's Cockpit Dinosaur Scene from Firefly.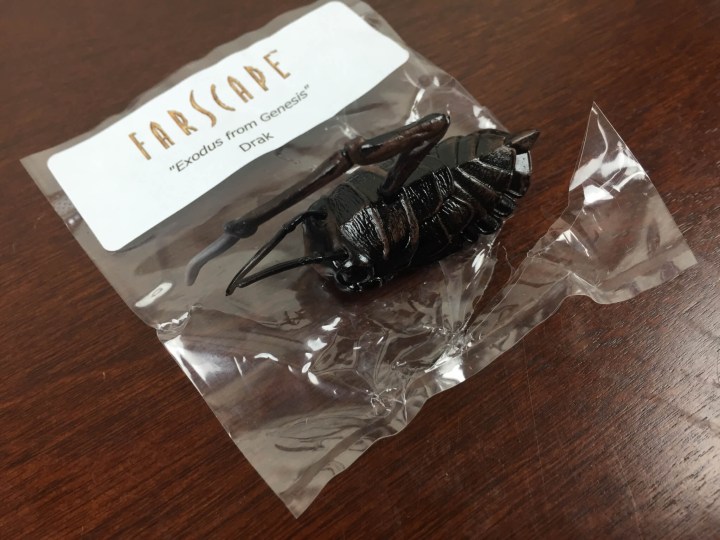 Farscape Exodus from Genesis Drak – While I count Farscape as one of my fave series of all time, I don't think I'm interested in displaying a bug.
August Theme Spoiler: Super Sheroes
The theme is "Super Sheroes"!! We will celebrate some of the #badass women and girls who protect our (fictional) universes!
While this theme sounded good, I opted not to continue my subscription. I know many women enjoy this box, but it didn't appeal to me personally. I would like this box a lot more without the shipping cost!
Visit FanMail to subscribe or find out more!
The Subscription
:
FanMail
The Description
: FanMail is a mystery box designed for lady geeks (by lady geeks!), which means that each box is filled with amazing products from the fandoms you love!
The Price
: $21.99 + $6 shipping