DapperBox
 is a new monthly subscription box of men's accessories. Every month they assemble a collection of men's goods & accessories to create a box that upgrades your style. Each box comes with 4 – 5 Dapper Items worth up to $96.  The team at  
DapperBox
 searches far and wide to gather a handful of key wardrobe enhancers and other goodies, and then they are shipped right to you.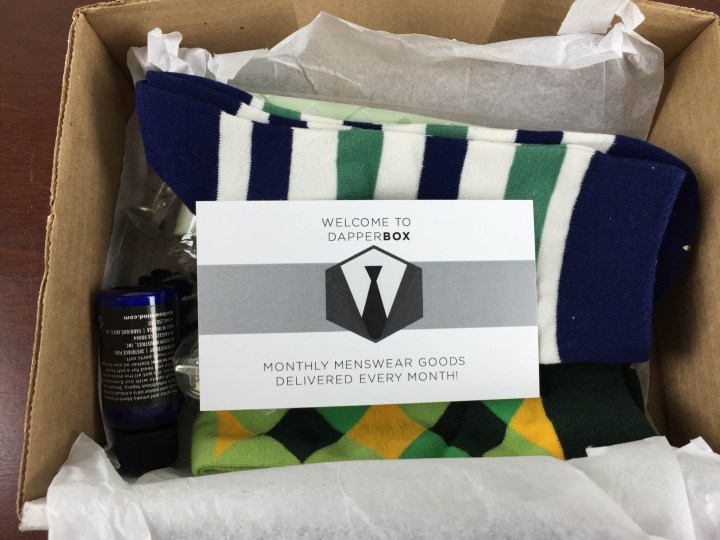 Everything is neatly wrapped in tissue with a welcome card.  It is a little bit of a mystery box, in that the card doesn't provide an inventory or rundown of the products.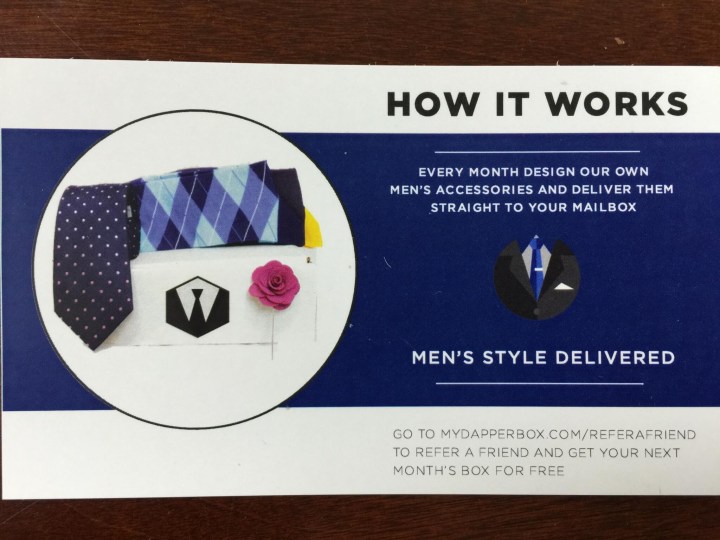 This box is all about automating your style. If you like or need to wear a suit or other dress attire you know that your apparel can look the same all the time. This extends your wardrobe choices by adding new accessories to mix and match.
Everything in the box.  Green was the theme of this month's box!  I like the mix in the box:  the socks and the tie are accent pieces that will liven up three outfits, the cufflinks are a really fun piece, the collar stays are eminently practical, and the lotion is handy and not at all boring.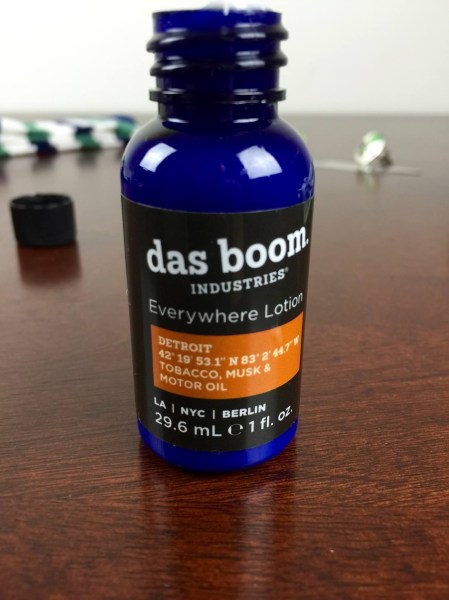 Das Boom Everywhere Lotion:  Definitely a masculine scent — reminds of my Grandpa.  But my Grandpa is very cool.  Smells like you've been hanging out in your den.  A lot.  Kind of a fun scent for a moisturizer — not girly or perfume-y, and you aren't going to wear enough of the stuff for it to drown out your cologne.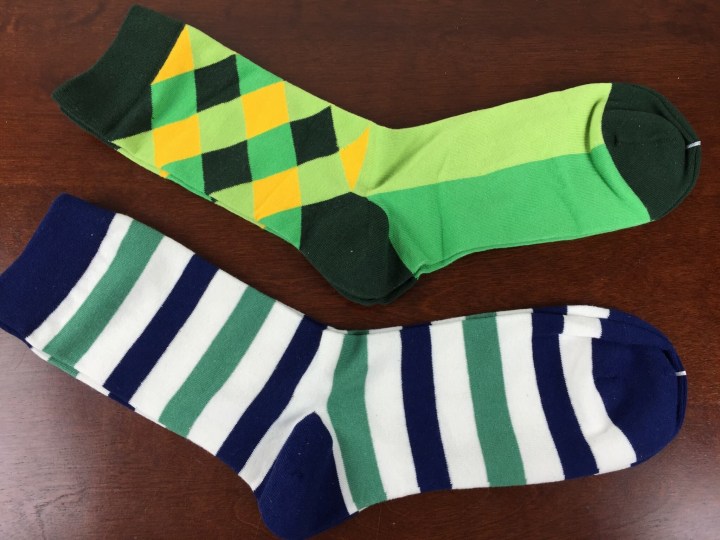 Socks: not much info presented on the socks — there is no labelling or tag.  They do feel nice, though, and have a fairly substantial weave to them.  They remind me of Richer Poorer socks, and are of similar quality (they are not RP, though, judging solely from the weave pattern used on the cuff area.  The bottom pair will go nicely with a navy suit.  The top pair will go nicely with a pint of Guinness.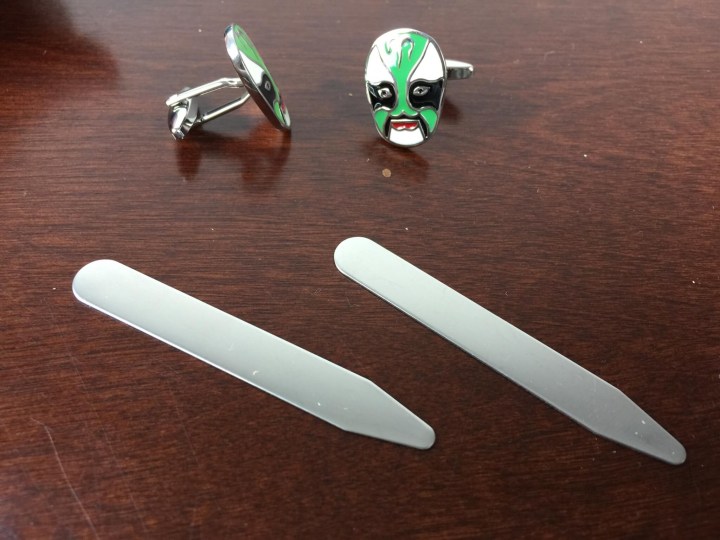 Lucha Libre Cuff Links:  Awesome.  Styled like masked Mexican wrestlers, these are clever way to liven up an otherwise over-stuffy dress shirt.  Cool cufflinks are trending (he says, completely anecdotally), and these make me wish I had more French cuffs.
Metal Collar Stays:  I was introduced to these a while back, and they are certainly one of my favorite finds in the last few years.  Throw out those plastic stays that always end up in the dryer.  These will keep your collars looking crisp without using starch (who buys that stuff?).  I'd wager these would work with the magnets from magnetized collar stays if you already have a pair of those (though the magnets tend to disintegrate over time and can pop loose, so the stays are actually somewhat better without them).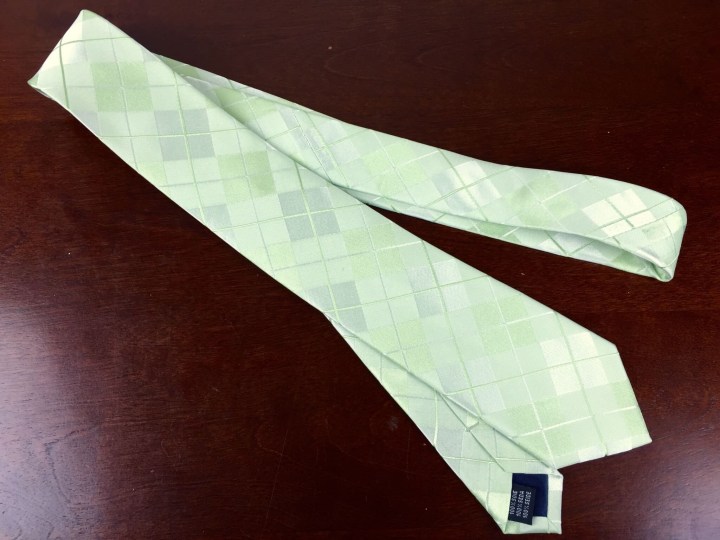 Green Argyle Tie:  100% silk classic argyle pattern tie in cool mint green.  Looks well-made, and the color is wonderful — I love ties with the subtle color/texture difference that changes as the light hits it — it makes the tie pair with a wider variety of greens.
I really like this kind of box — the choice finds allow you to extend the use of what currently sits in your closet.  It's amazing what a new tie, pair of socks, or similar accessory will do to revive and reinvigorate a suit.   The items included in the 
Dapper Box
 are good quality, and the style choices are pretty good so far.  I really liked the cheeky cufflinks and the supremely useful collar stays (trust me, they are awesome).  The branding and info provided on the items is sparse, so the items really have to speak for themselves.  I kind of like the notion of judging a piece by its appearance and craftsmanship, rather than relying solely on indicia of quality — I've got it right in front of me, why do I need the label to tell if its good?  This box is a decent value at $29/month.  The packaging is not fancy (if opening pretty boxes is what gets you out of bed in the morning), but the items themselves are quite nice.   Can't wait to see what takes the place of the cufflinks and collar stays in next month's box — they are kinda awesome, so the pressure is on!
Visit DapperBox to subscribe or find out more. Use coupon code HELLO for $10 off your first box.  You can also see all the men's subscription boxes in the directory.
The Subscription
:
Dapper Box
The Description
: Each month we assemble a collection of 4-5 men's goods & accessories to create a box that upgrades your style. Get premium men's brands you'll actually wear.
The Price
: $29 per month
The Coupon
: Use coupon code
HELLO
for $10 off your first box.