Cosmo-Cube is a monthly geek, gamer, and nerd subscription box. Every month includes a Funko or related vinyl product. Boxes will also always include a T-Shirt and Poster from the winners of the ArtWork Contest!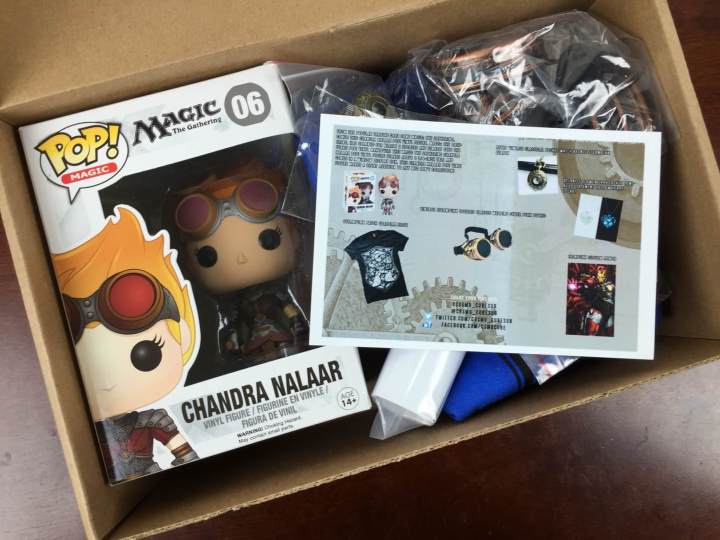 I really didn't know what to expect from this box – I hadn't seen a review before, and I doubt I thought I'd like it so much at first look! The theme was "Steampunk"!
The card has brief item details, and is very difficult to read. I hope they'll work on that!
Everything in the July Cosmo-Cube!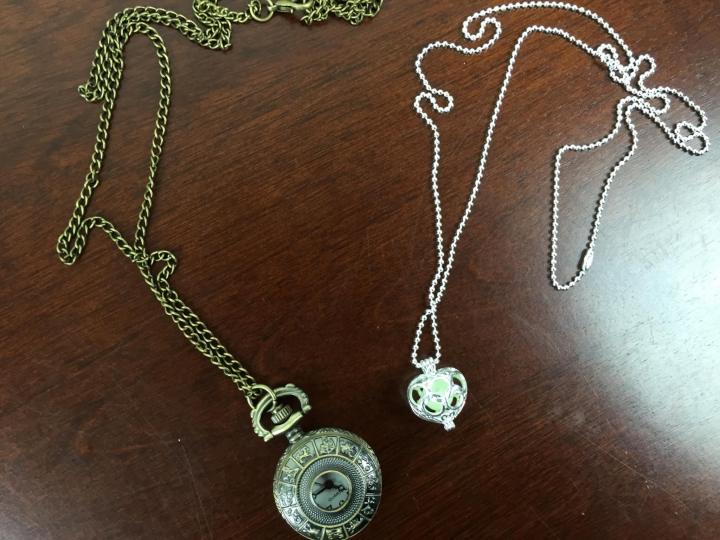 It was a bold, refreshing, and unique choice to include a necklace in this box. Boxes like Loot Crate are full of very male items (like neckties), so I really appreciate Cosmo-Cube for doing this. Like women subscribers of other boxes – you can gift it if it's not for you.
Retro Vintage Classical Pocket Watch Bronze Steampunk – Quartz Movement ($4.54)
Atlantis Glow in Dark Locket Luminous Statement Hollow Heart Locket ($1.33)
As usual, I prefer not to see imported jewelry and would like to see something artisan crafted, but I thought the style of the pieces was quite nice (though note that the heart is an Olympic rings knockoff) and fit well with the theme. I reviewed another geek box about an hour ago that also had two pieces of imported jewelry, and I just didn't like them. These reflected good curation in my book at least.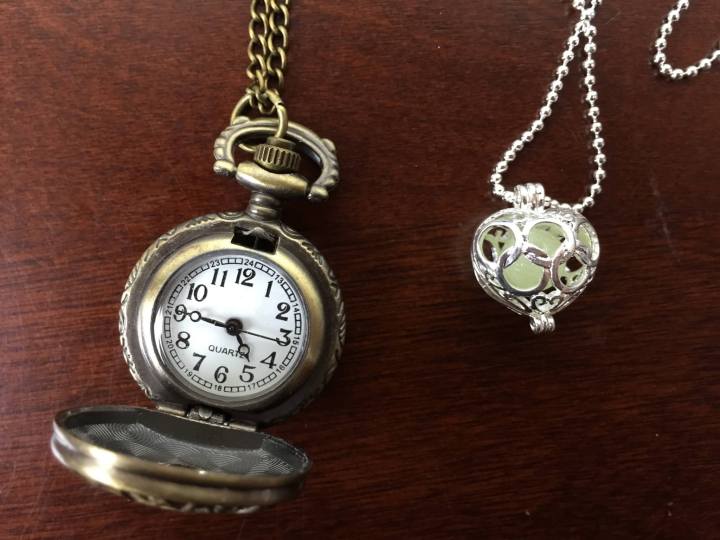 The pocket watch flips open (note you need to depress the button to close it again), and of course the inside of the heart glows in the dark.
Back of the pocketwatch.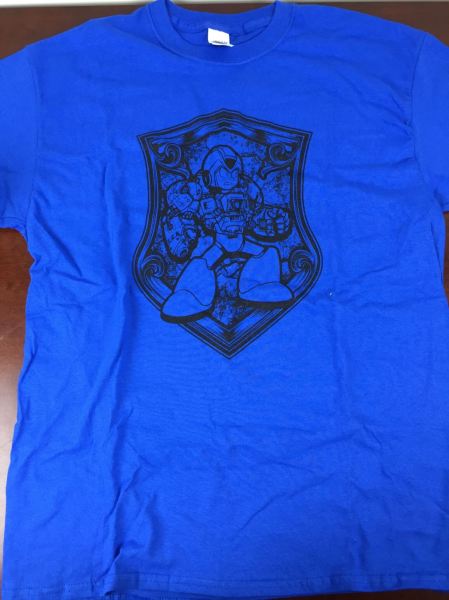 Steampunk Patch Guardian Elite ($15) I am not sure if this is part of a particular fandom?? It doesn't quite match the item photo, which I think was better (larger print, white screen on black), but it's a nice piece of art. I purchased this box with a men's size shirt because I didn't expect the artwork to be child-appropriate, although this one is. I'll keep it as a man's shirt for another month and see.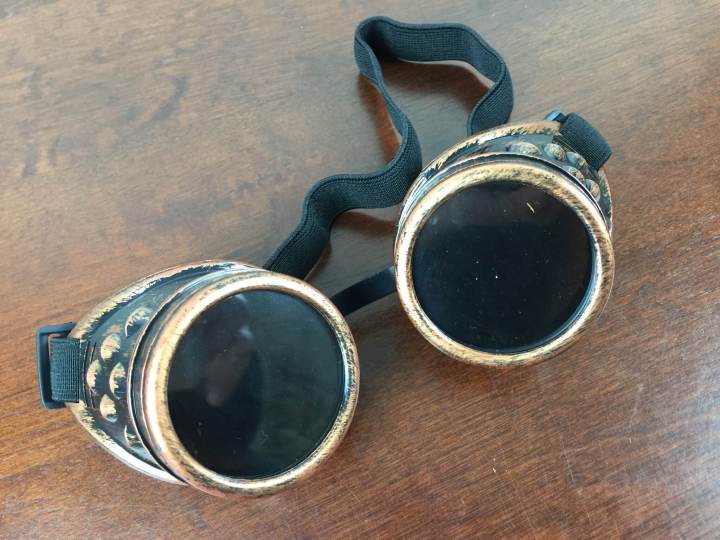 Vintage Steampunk Goggles Glasses Welding Cyber Punk Gothic ($4.15) These are a fun cosplay prop and definitely fit the theme!
Funko Pop! Magic the Gathering Chandra Nalaar ($6.49) I thought this was a really clever choice – steampunky and geeky in its own right.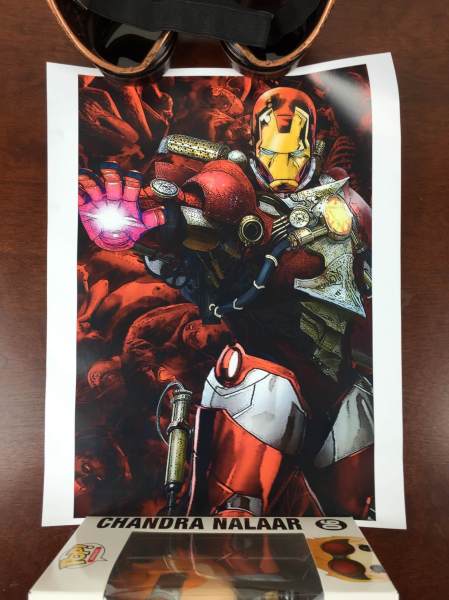 Ironpunk Custom Armor: The fan art poster of the month. Definitely unlicensed.
I really enjoyed this box! The value wasn't huge (about $31.50, plus whatever value you'd like to give to the poster), but I enjoyed the curation.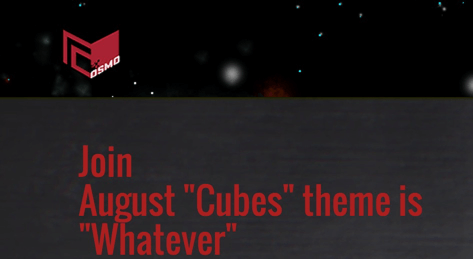 I actually visited this box the other day and saw the theme and thought hrrrm, and decided not to subscribe – but I was already subscribed and got a shipping notice a few hours later. I'm sticking around for another box. I found this box intriguing at least, and the price is pretty good. After seeing this box, I am wondering what "Whatever" might be!
Visit Cosmo-Cube to subscribe or find out more. See more geek, gamer, and nerdy subscription boxes in the directory.
The Subscription
:
Cosmo-Cube
The Description
: Cosmo-Cube is a monthly subscription box, which every month from whatever plan you chose you will receive a "Cube" of carefully selected amazing presents. They will always include a Funko or vinyl related item, T-Shirt and Poster from the winners of the ArtWork Contest.
The Price
: $24.95