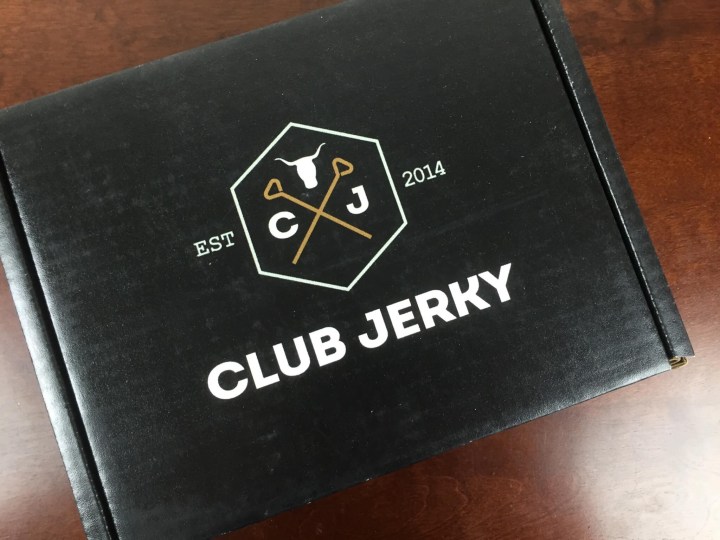 Club Jerky is a monthly craft jerky subscription box featuring new artisanal jerky every month. For each box they hunt down 2 jerky makers – always from different states to provide some geographical diversity – and feature fresh local jerkies. The jerkies in this subscription were both beef, but expect different types to be featured over the months (beef, lamb, bison, etc.)!
The packaging is simple, yet handsome.  Most importantly, it contains a nice stack of meat!
Clever and true.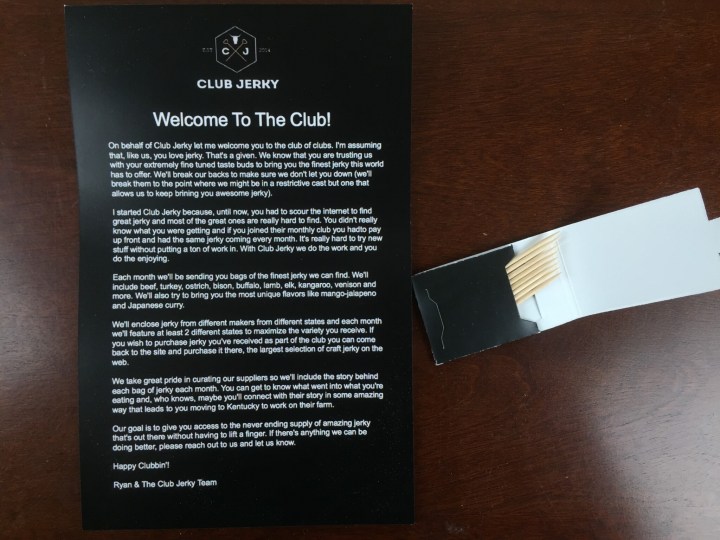 The box includes a intro card and some toothpicks.  Through the inclusion of the picks, you can tell team Club Jerky not only ships jerky, but they eat it too!  Sounds like there are some exotic offerings in the pipeline as well, up to and including ostrich and kangaroo jerky.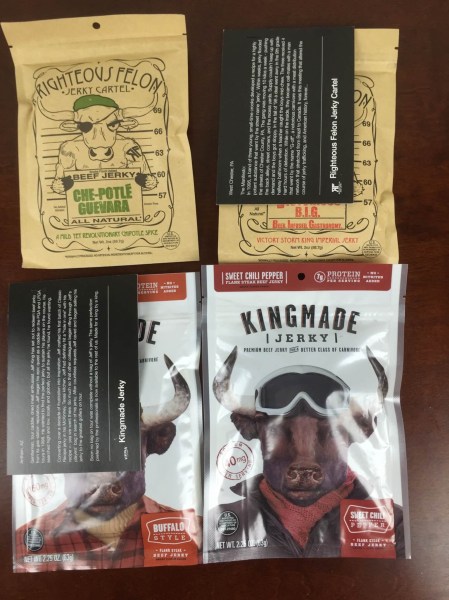 This box featured two varieties each from a couple of craft producers, Arizona's Kingmade Jerky (2 x 2.5 oz), and Pennsylvania's Righteous Felon (2 x 2 oz).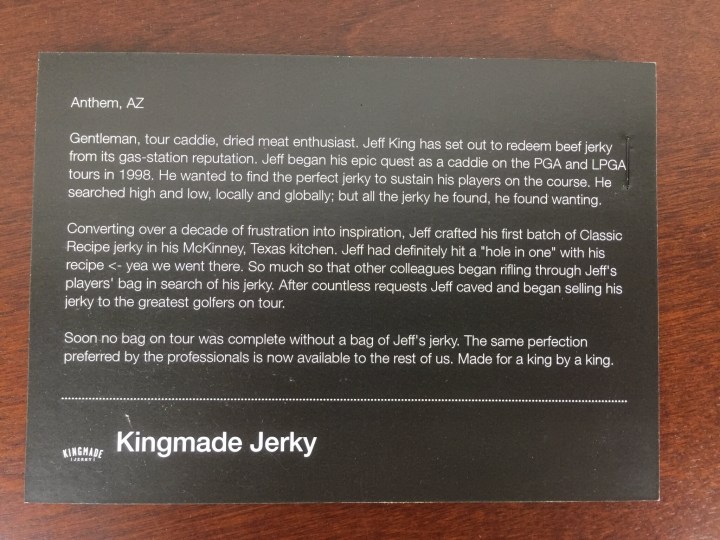 Kingmade Jerky's story. Surprisingly, Kingmade was crafted by Jeff King, PGA & LGPA caddy that began by supplying players.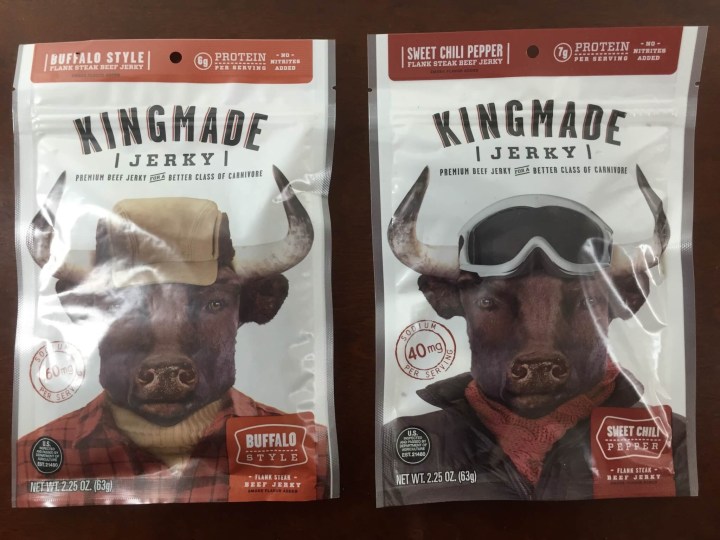 Kingmade Jerky  Buffalo Style: mildly spicy, this recipe has a great, lively vinegar kick.  The seasoning is not crazy-intense, and it has no fake wingzy flavor.  The beef is still the star and is nicely complemented by the seasoning.  Tender and served up in petite strips.
King made Jerky Sweet Chili Pepper:  The buttery beef takes well to the sweet marinade.  The had a slightly firmer texture, but absolutely no chewy or stringy bits.  As you are finishing up your first mouthful, the heat quickly builds to a pleasant intensity — warm, but no drink required.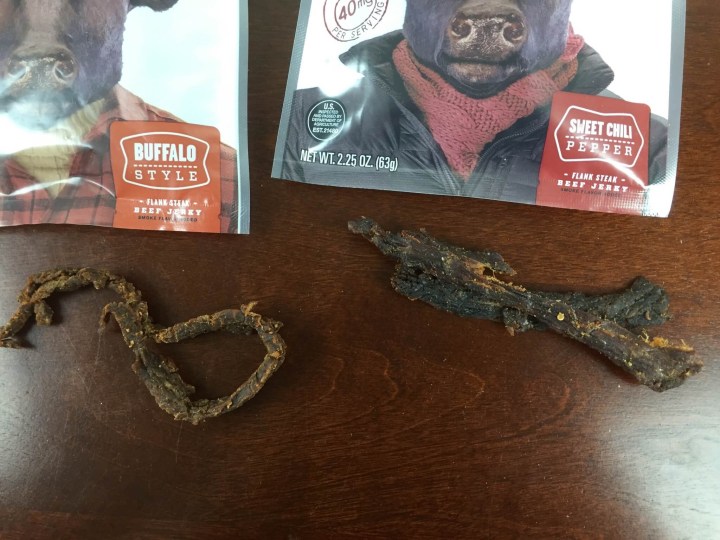 No giant slabs in the bag — the strips are manageable in size and comprise tender cuts.
A handy heat meter accompanies the nutrition info.
The Righteous Felon bio. Their packaging and copy is absolutely delightful.
Righteous Felon Che-potle Guevara:  Assertively spicy, this recipe is slightly smoky.  The onion and garlic shine through the even heat.  The cuts of beef selected for this batch had much more chew to them than the other three selections.
Righteous Felon Victorious B.I.G.:  The rich flavor of the Victory Storm King Imperial Stout is nicely preserved in the finished jerky, giving is a rich, malty base flavor.  Sweet and well-seasoned, the beef is firm enough to give a little chew and is served in small slabs instead of strips.
The back of the bag relates the origin tale of the product.
The four selections in this month's Club Jerky each brought some intense flavor, rounded out with varying degrees of heat, spice, and sweetness.  The thing that caught my attention more than anything, however, was the consistency of the cuts within each bag.  There was a noticeable difference in the texture and cut of the beef between brands and bags, but the beef was consistent within each bag — this proves the small-batch nature of the production, and goes to show these guys are serious about their meat and not just repackaging Oberto.  Jerky is one of the emerging craft foods areas.  There are plenty of great jerkies out there, and this box has a lot of potential.  This should get pretty wild when they start shipping the exotic meats and flavors.
Note from Brandy: I am really ticked at Tom for finishing off all the jerky while he wrote this review. It was really delicious. I loved how each maker had funny depictions of cows as their main creative. FYI – There's a jerky lite membership at $21 per month but both of us fail to see why you'd get 2 bags when you could get four!
Visit Club Jerky to subscribe or find out more! See other snack subscription boxes in the directory.
The Subscription
:
Club Jerky
The Description
: Quality, Craft Jerky Sent To Your Door Every Month. New suppliers and new flavors every month. Discover jerky that you've never had access to before.
The Price
: $34 per month for 4 bags. $21 per month for 2 bags.