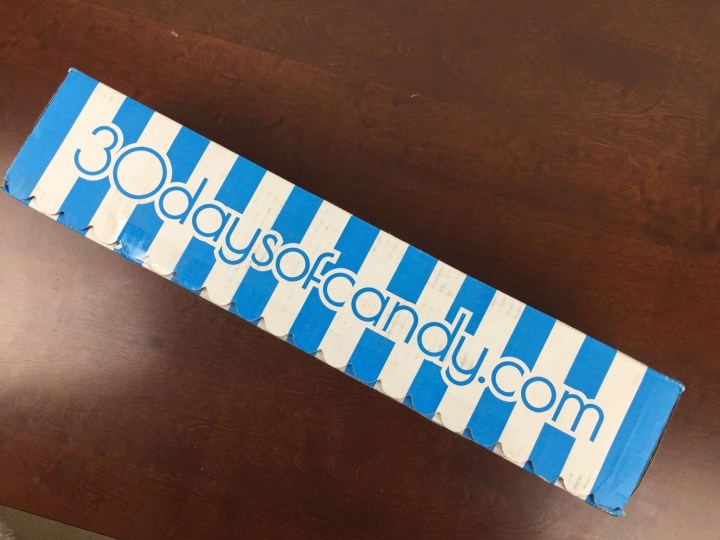 30 Days of Candy is a new monthly candy subscription box. Every month you'll get 30 different candies from around the world, packed into individual servings. I loved the first box – it was one the best subscription boxes I've ever opened – candy or no – and was excited to check out the second box. It was no less astonishing to open the second installment!
The theme for this month is From Durian to Treacle and Ramune to Sassafras! 30 candies with delicious, albeit unusual flavors. Currently when you subscribe you will always get the first 30 Days of Candy box, Around the World in 30 Sweets. Essentially you are subscribing to a candy narrative and as you go further, you will experience different parts of the story. This subscription's founders are candy experts and one of them is the owner of Powell's Sweet Shoppes in California. Their expertise shows in the packaging, quality, theming, and information provided with the sweets!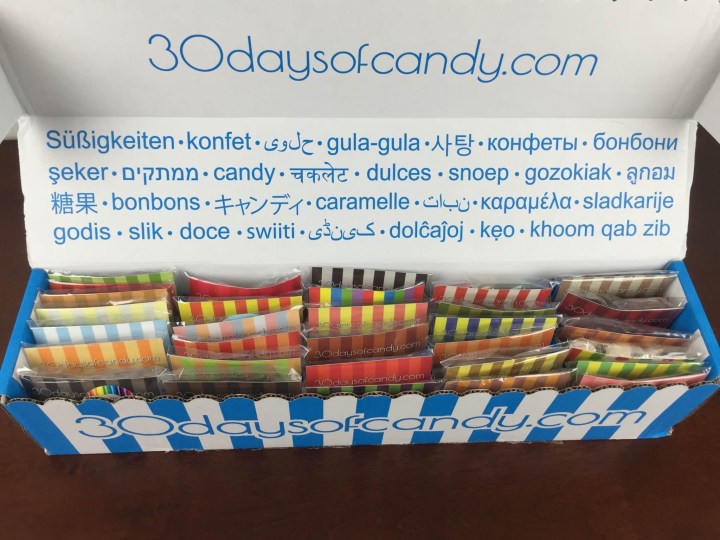 Usually when we review candy and snack subscriptions we try to sample most of the candies – there is so much candy, so we'll be showing you all of them (you can click on the photos to get a larger picture) and we tried a few as well.  The candies are individually packaged along with an information card as well as a cool photo on the back (this month it was a name that candy game). 30 Days of Candy has made each pack around 100 calories (perfect for a daily sweet treat!) but we also found that there's just enough to share for our family, too! We all enjoy tasting the candy and the kids adore reading all the facts. This would be perfect for a family (or maybe even a cool lunchbox snack??), a candy fiend, or of course, as a corporate gift.
The theme for this box was not organized by country, but by flavors. I didn't expect that but it made sense!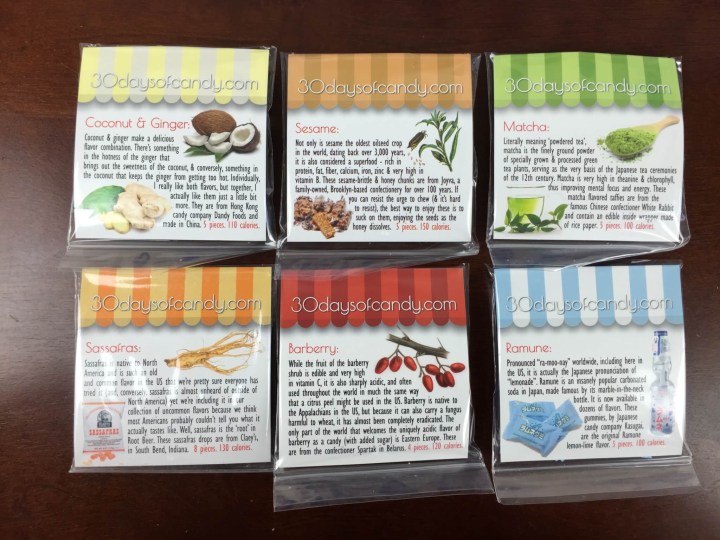 Coconut & Ginger – Dandy's Coconut Ginger Candy
Sesame – Joyva Sesame Crunch
Matcha – White Rabbit Matcha
Sassafras – Claey's Candy Drops
Barberry – Spartak from Belarus
Ramune – Kasugai Gummy Candy

I didn't try the Sassafras, but I did try the Horehound from the same company. It's so old-fashioned! I loved the ramune jelly candy. It was sweet and has that unique flavor. It's sorta kinda like Sprite, in a Japanese way!

Chinese Hawthorn – Haw Disc Candy
Tamarind – Gulas (Indonesia)
Corn Starch – Satellite Wafers
Extreme Sour – Warheads and Toxic Waste
Chili Powder & Peanut Butter – Atkinson's Pic-o-sito
Coffee – Amira, Latte Candy, Espresso Candy, Coffee Candy, and a few others!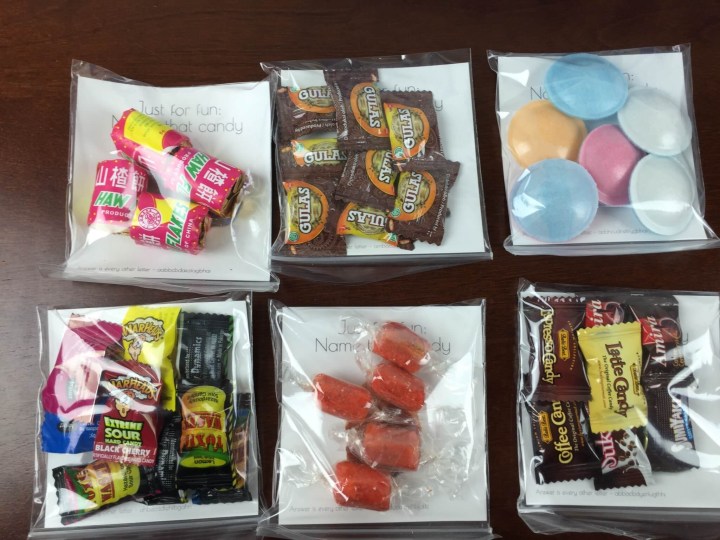 I skipped the coffee candies and the extreme sour candies and left those for my husband to sample! I loved the peanut butter and chili candy – I think it was my favorite in the whole box!
You're supposed to put this whole candy in your mouth but I wanted to show you the fun sprinkles inside!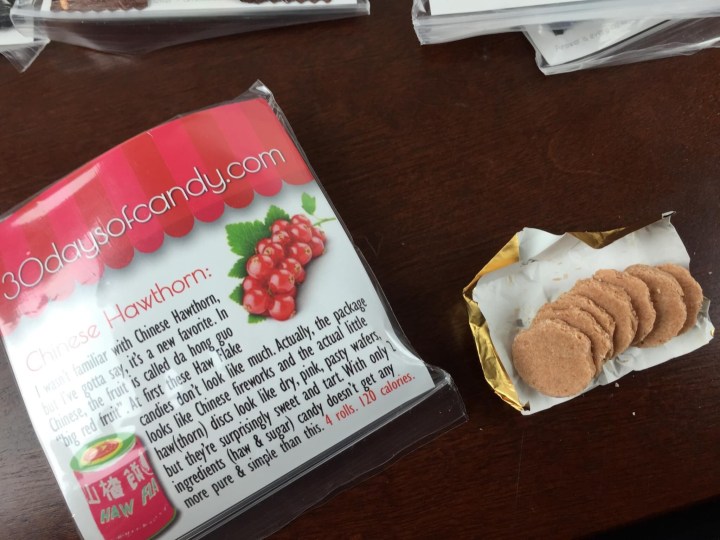 The Haw Flake candy was unusual and i'd never seen them before. It had a unique but pleasant taste.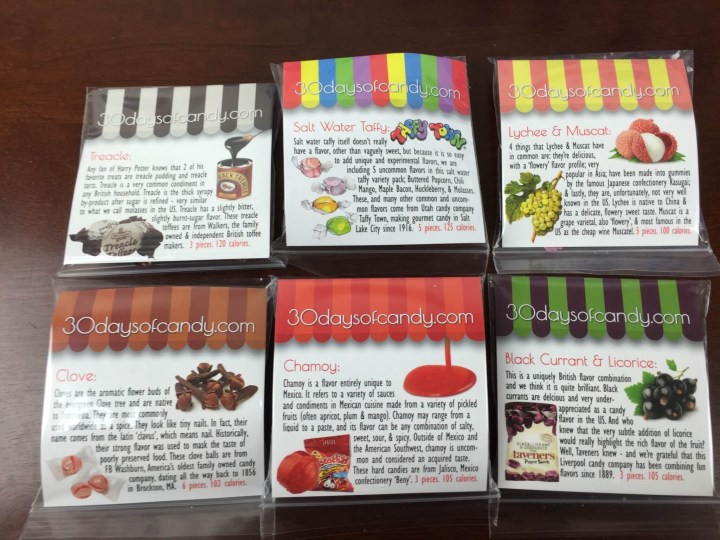 Treacle -Walkers' Treacle Toffee
Salt Water Taffy – Taffy Town in Buttered Popcorn, Chili Mango, Maple Bacon, Huckleberry, and Molasses flavors.
Lychee & Muscat – Kasugai gummies
Clove – FB Washburn Clove Balls)
Chamoy – Beny Locochas
Black Currant & Licorice – Taveners Black Currant & Liquorice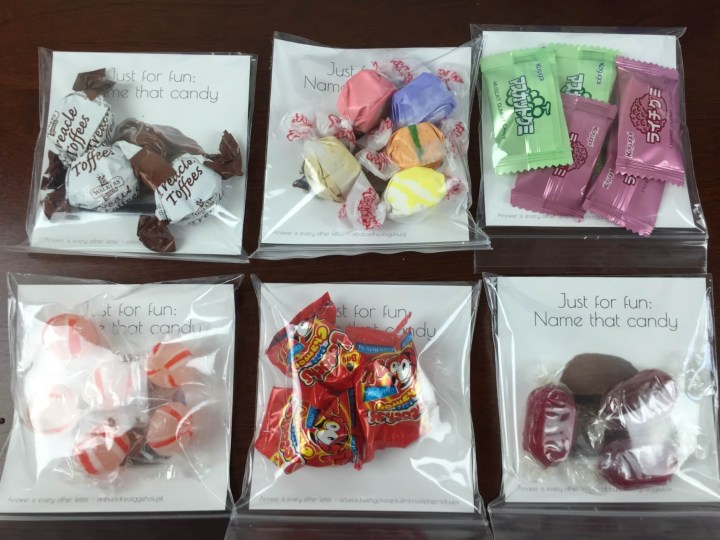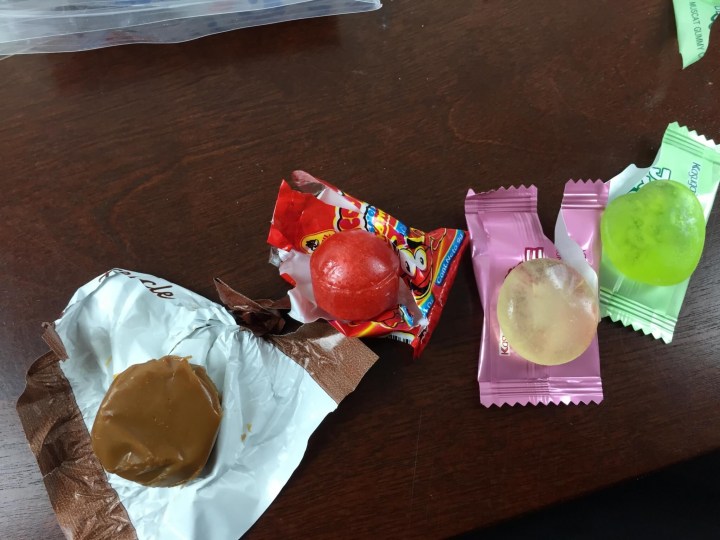 The treacle toffee was so delicious, with just the right amount of caramelization. I love basically all Japanese gummies and those were delicious – especially the muscat. I love both fake and real grape flavors. The taffy had such unique flavors but they were all really good!
Durian – Kico Durian
Dulce de Leche – Red Front
Pear & Plum – Spartak Pear & Harkov Plum Candy
Milky – Milky
Anise – pure Anise candies from Holland
Dill Pickle – Dill Pickle Barrels

The dill pickle candy was so bizarre and pickly while still being good! Only a little sweet, but not bread & butter sweet. If you're unfamiliar with durian, it's a fruit from Southeast Asia and banned in many public places because it can be stanky/rotten flesh smelling. You know it's ripe when it smells like someone died. I'm one of the people that enjoys durian and it tastes buttery to me (I think most people find the flavor at least somewhat palatable, and it's easier to manage in candy form because it doesn't smell!). This is a great way to enjoy durian.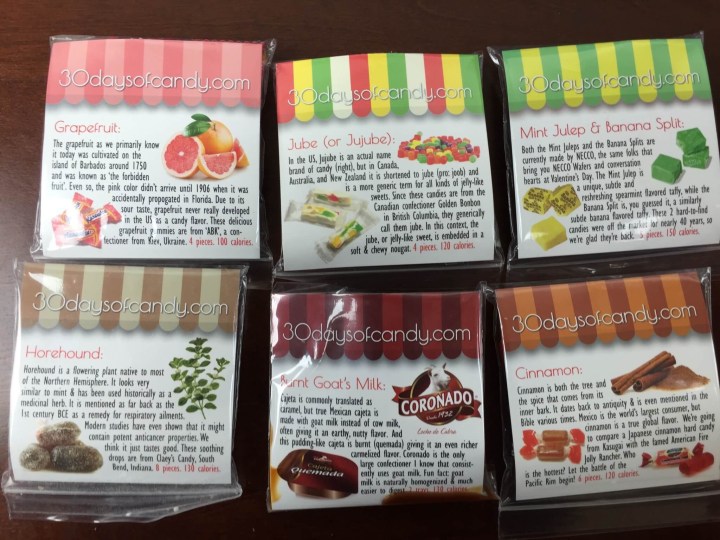 Grapefruit – ABK confectionery in Ukraine
Jube – Golden Bonbon in Canada
Mint Julep & Banana Split – NECCO
Horehound – Claey's Candy
Burnt Goat's Milk – Coronado
Cinnamon – Kasugai & Jolly Ranchers
Whoops! We had a caramel accident. They offered to replace it, which is what I'd expect.  The horehound on the bottom left was sort of minty, sort of rootbeer-y, and tingled my mouth for hours! At least I think that was it – I sampled quite a bit of candy. My son was wild about the jube, which is basically jujubees inside a soft but not sticky nougat.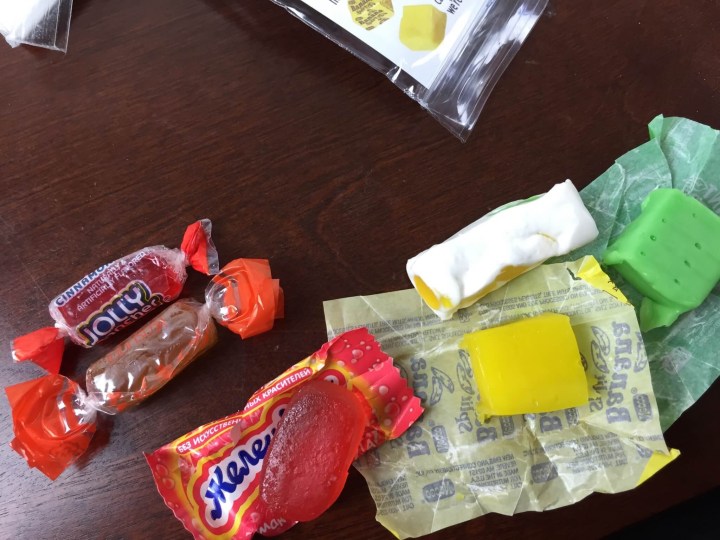 Pink grapefruit is my favorite, and I snuck the rest of those into my purse. My kids loved the NECCO taffies and I was happy to see NECCO in the box (expecting a lot from them next month – see below!).  I also thought it was a great idea to have a hard cinnamon candy throwdown – Jolly Ranchers vs. Japanese cinnamon candy!
Double Salted Licorice – This was a bonus item, which I think it was because it wouldn't be fair to send this as a candy. Tom eats anything and accepted the dare on the card to try it – he said this was the worst thing He'd ever tasted! It's one of the best-selling sweets in parts of Europe, which is crazy (I wouldn't try it!). It's very very salty he said.

The next theme in this subscription is The candy of our grandparents and great grandparents – 30 candies that are good enough to have stood the test of time for at least 80 years, often longer.
I think this subscription is amazing. There were so many flavors to go through and we sampled nearly everything, and pretty much liked all of it. I love how you can make this box actually last all month – it's one of the few subscriptions that it takes some time to work through, then you're ready and excited for the next box!
Visit 30 Days of Candy to subscribe or find out more. Use coupon code FREESHIPHELLO to get free shipping – expires July 31! Se all our 30 Days of Candy reviews or find more candy subscription boxes in the directory.
The Subscription
:
30 Days of Candy
The Description
: Get 30 deliciously indulgent, individually packaged, expertly curated, portion controlled (about 100 calories per bag) and super fun candies from all over the world every month. You'll also receive little behind-the-scenes stories of each candy and fun little trivia tidbits that add to the joy of discovery.
The Price
: $29.95 + $5.95 shipping