Starbucks Reserve Roastery is an exclusive coffee subscription box from Starbucks. Each month, one rare, small-lot coffee is selected by their experts, roasted in Seattle then delivered fresh to you within days.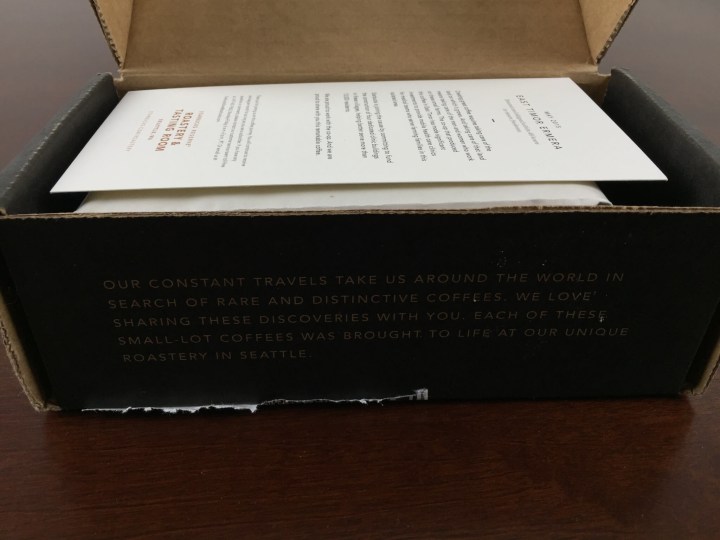 The box is a card and your coffee!
Roasted May 10, Shipped May 12, arrived May 18.
Amusingly Starbucks is now including this note with their boxes – previously lauded to arrive within days – that they arrive within a week. I'm certain they're only including it because multiple people have noticed and complained about the shipping speed. There are better, less expensive, and speedier coffee subscriptions. FYI – this subscription is also nearly impossible to cancel. After a less than middling first box we canceled – and have been trying to do so ever since. The good news is that they're now offering 1-month non-renewing boxes. If you'd like to try it once, that's what I recommend.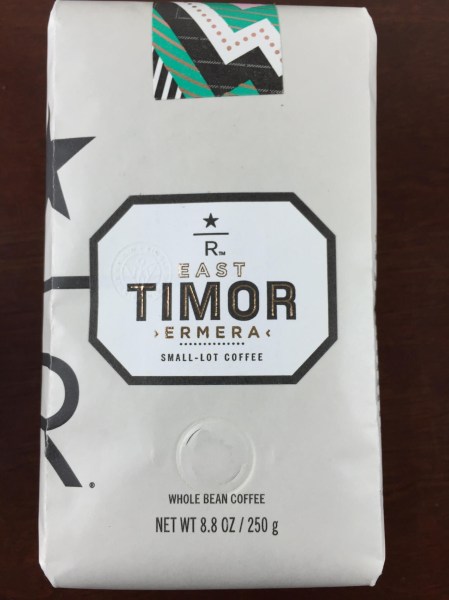 The Starbucks Reserve selection for May 2015 was East Timor Ermera.  I liked this selection better than the previous offerings, as the distinctiveness of the coffee survived the Starbucks Roastery better than the others.
Starbucks tasting notes:
Located in Southeast Asia, on the island nation of East Timor, is a co-op of smallholder farmers in the highland district of Ermera. Their approach to producing high-quality wet-milled coffee while also investing in health care for their farming families makes a significant difference in this remote part of the world. We are proud to contribute directly to the small network of clinics created by the co-op. And we are grateful to share the lemony, soft and peppery coffee they make possible.
My Tasting Notes:  I can't fault Starbucks for their donation to the co-op or to finding such a small batch coffee that it's unavailable for purchase (you can purchase some of the Reserve coffees without any surprise on their website).  The beans were very shiny; something I haven't seen before.  I enjoyed this selection, as it exhibited some of the rich, earthy tones that make the island coffees of the South Pacific unique.  The peppery flavor came through, and the beans made a very good overall brew.  The great equalizer, however, is the intense Starbucks roast.  It tends to make all the coffees have the same dark, charred character.  It probably makes for a more reliable and consistent product, but for that same reason, it overwhelms and burns off a lot of what makes the beans special to begin with.  This selection was good because the roast was a little less extreme, or the character of the coffee pronounced enough to survive it fairly intact.
Dollar for dollar, it's probably not your best bet, but Starbucks devotees will find some welcome departures from the standard offerings.
Visit Starbucks Reserve to find out more or to subscribe.  See all our Starbucks Reserve reviews or check out all the coffee subscriptions in the subscription box directory.
The Subscription
:
Starbucks Reserve Roastery
The Description
: Starbucks Reserve label coffees are one-of-a-kind rare and distinctive coffees. Every month you will receive one bag of freshly-roasted coffee delivered to you within days of being roasted in Seattle.
The Price
: $24 per month