S.E.R.E Box is a bimonthly subscription box filled with high quality emergency and survival gear (different theme every other month based on the 4 survival elements: food, fire, water and protection). SERE stands for Store, Equip, Rescue, and Escape.  Every other month (or monthly if you choose the mini box) you'll get supplies to stash away for any emergency, not just catastrophes. Every month you'll get a sealed kit with a data sheet and all the information on using your new survival products. Whether you're a prepper/survivalist or just want to be prepared, you'll get a new theme every box with a variety of gear that will get you through.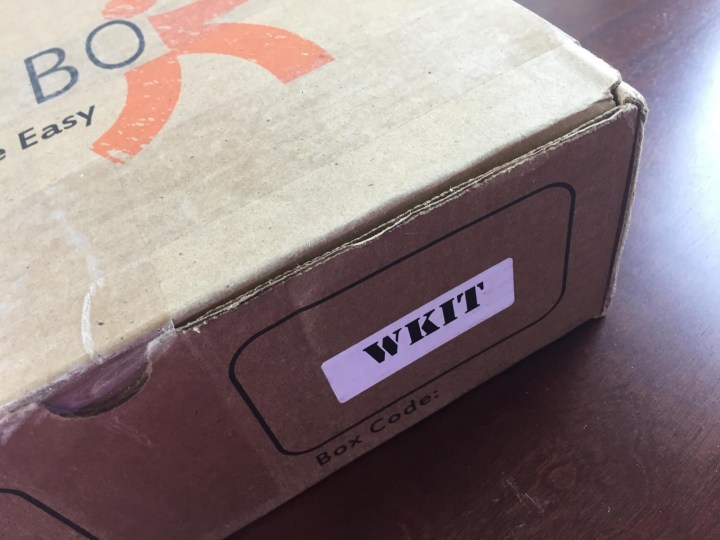 This is the welcome kit box, designed to introduce you to the idea of this box and start you off with the basics. When you start your subscription, choose either the welcome kit or that month's themed box.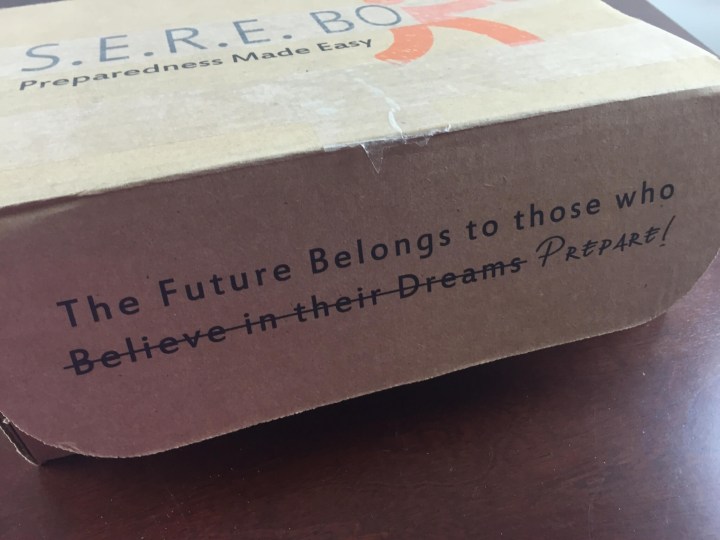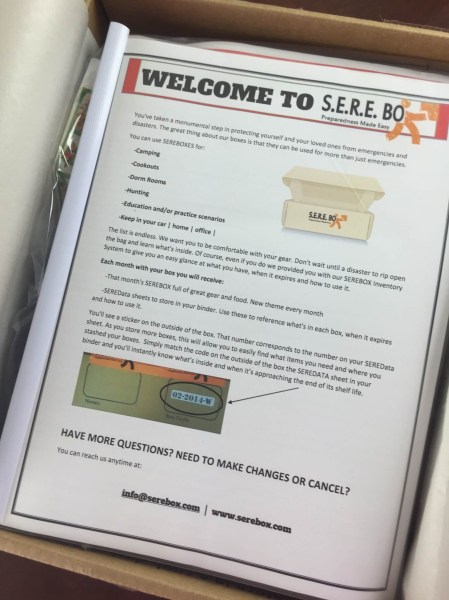 The welcome sheet gives you an overview of the box and introduces you to the codes on the side.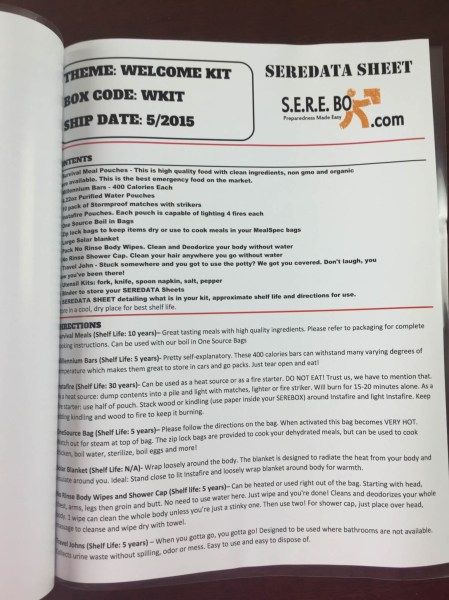 The data sheets you'll get every month include the inventory and shelf-life. The date is conveniently included on the sheet!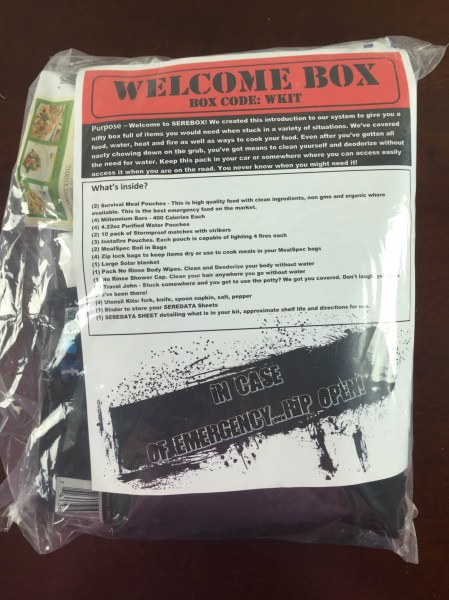 Unlike other boxes, if you don't need these items now, they're designed to be stored. The sheet sealed in with the kit has a reminder of what's in the box.
And here's the kit that's included, so I'm going to stick in on the shelf, and that's my review!
Ok not really.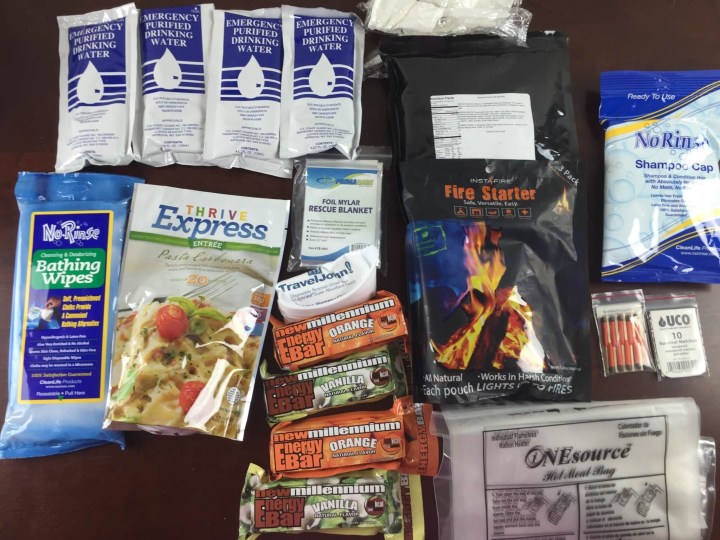 Here's all the items included in the welcome kit. There's a variety from food to water to personal hygiene basics.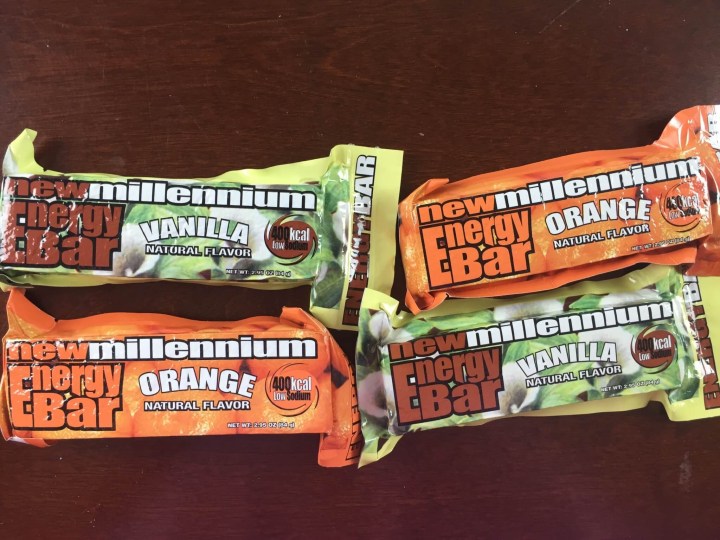 Millennium Bars: These have a 5 year shelf-life and 400 calories, and are designed to withstand a range of temps, which means you can keep them in your car. It's worth saying that if you have created "go packs" (like to grab and go in case of a natural emergency) and don't have food designed to withstand extremities, you'll need to replace whatever you have in there all the time, but you won't need to with these bars.
Naturally all the food items are clearly marked with manufacturing and expiration dates.
No-Rinse Bathing Wipes and Shampoo Cap: While this is not a survival necessity, it's a basic, and being clean is important. Wipe up and get your hair clean without using water. This would be great to store in case of hurricanes or floods, which compromise the water supply.
TravelJohn: Oh yeah, with 3 little kids any day is an emergency that can call for one of these. I'll be keeping this one in my car for life's little emergencies.
Foil Mylar Rescue Blanket: In case you aren't familiar with its use, the data sheet includes instructions (stand near heat source if available and wrap around body).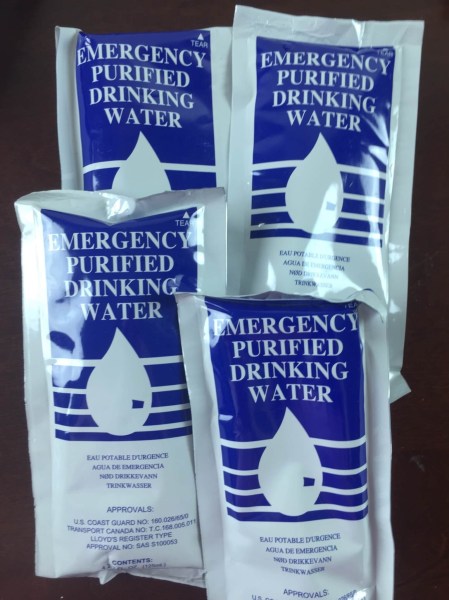 Emergency Purified Drinking Water: Definitely an essential!!
Instafire Fire Starter & UCO Survival Matches: These are fantastic for camping trips, natural disasters, anywhere you need heat or fire but can't get it. You can light wet wood even and there are no harmful chemicals or vapors. This is an excellent choice and has a 30 year shelf life!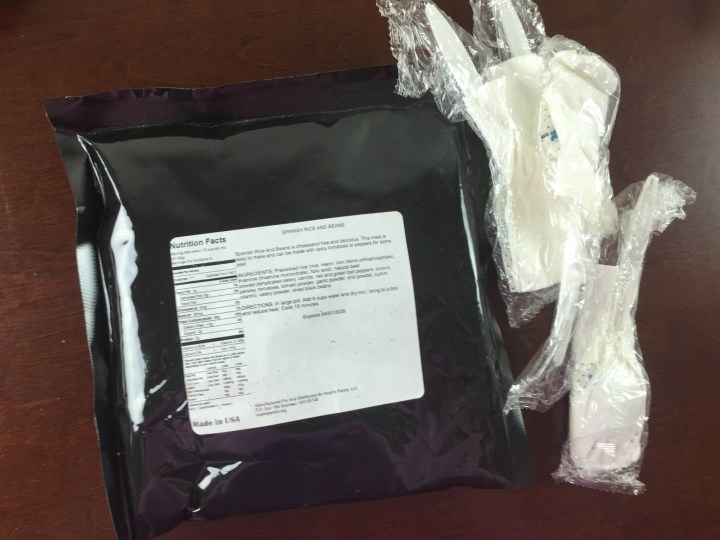 Noah's Pantry Spanish Beans & Rice + Utensils! So Survival and long-term shelf storage meals are super expensive. You can store these, or you can use this box to sample new ones and decide which brands or kinds to buy.  All of the survival foods have around a 5 year shelf life, and the box includes utensil kits.
One Source Boil In Bags – You get the bag warm with the heating element, and put your food inside the unlabeled plastic bag, which you drop into the hot meal bag. You can use them for your survival meals, to boil water, cook chicken, sterilize, that's crazy!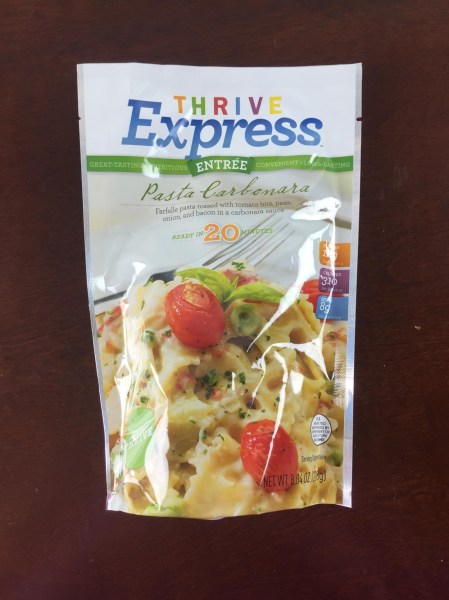 Thrive Express Pasta Carbonara Entree: Hey' I've heard of this one! While everything is labeled 5 years, if they are kept in a cool dark and dry place, they can last up to 10.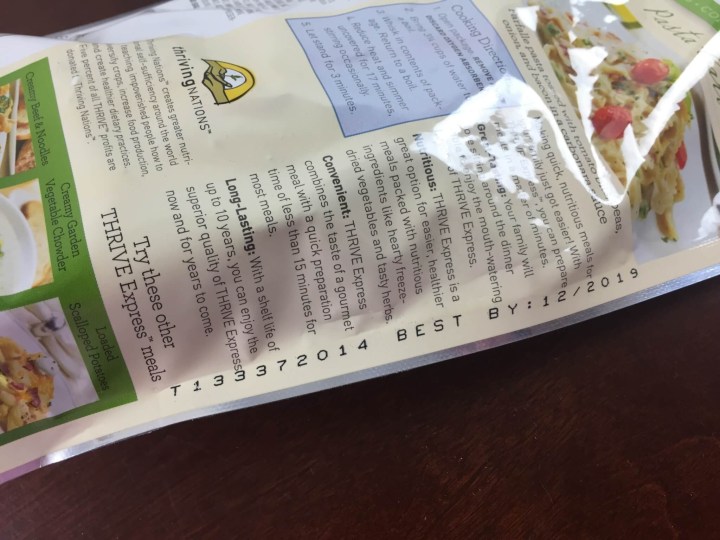 This looks really good and I think we're going to test it out the next time we have a power outage. I grew up in Florida, with lots of hurricanes, and am always pretty well prepared for at least a few days, but I can always prepare better. Since we don't have a gas stove I am going to make sure we have one of the boiling bags to try it – plus it will be fun!
This SEREbox would be great for camping, cookouts, hunting, to keep in your car or go bag, or in case of a real emergency, catastrophe, or natural disaster. Also, anyone who engages in outdoor or extreme sports. It doesn't hurt to be prepared, and I like the idea of being able to do it a little at a time!
Visit S.E.R.E Box to subscribe or find out more. Use coupon code HELLOSUBSCRIPTION to save 10% on your order. Find more subscription boxes for emergencies and survival in the directory.
The Subscription
:
S.E.R.E Box
The Description
: A monthly lifeline of emergency gear designed to effectively build your personal emergency needs month after month without costing you an arm and leg.
The Price
: $59 every other month, or get the mini SERE Box for $19 per month.
The Coupon
: Use coupon code HELLOSUBSCRIPTION to save 10%