Back in May one of my friends was getting married and she said "you should wear something sparkly to the wedding!" I already own two cocktail dresses, but one, known to my friends as "the blue dress" has been worn to a zillion weddings (seriously, I think I have worn it 15 times to different events, with very little overlap in the crowds), and the other is black and I realized I feel very "meh" about it.  After some attempts to find something fun at the mall and online, I decided to give Rent the Runway a try.  Worst case, I figured, the blue dress would make another appearance.
You order the dress you want in the size you want, plus you pick a backup size. Rentals are for 4 days or 8 days.  I did 4.  You pick an arrival date. I had mine arrive on Thursday for a Saturday wedding and mailed it back Sunday. When the dress arrives, try it on.  If it doesn't work, you can call them and they will overnight you something else. You can also get a free backup size when you order. The dresses arrive in a box, inside a garment bag, with a prepaid bag mailer for returns. (Sorry – no pictures of this!)
I got the Badgley Mischka Putting On the Glitz gown. It retails for $650, and rents for $80.  I was willing to spend up to $200 to buy a dress if I thought I would use it again, but after shopping, I didn't find anything that fit the bill.
I was able, very quickly, to find the right dress. Their search works well, and, being a bigger size, there were plenty of choices (several dozen), but not an overwhelming number.  For once I am glad I am not an 8 – there would have been a lot to look through. I had a friend looking with me to encourage me to be open to different styles.  Once I finished searching, I used the reviews to narrow things down.  Previous renters review the overall dress, the condition it arrived in (was it missing a belt, etc), what they had to do to modify it to work, etc.  Most importantly, many share their measurements, so I could focus on other tall people who are around my size.  It really doesn't help me to know that a 5'4″ person who wears a size 6 looked good in it when I am 5'10 and wear a 16.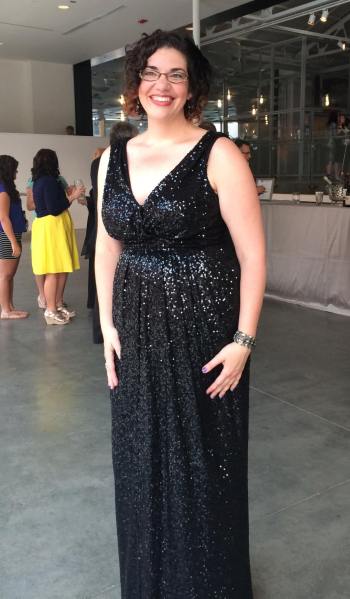 Here is my review from the site:
"I am 5'10, ~210-215lbs on the average day.  I carry my weight in my tummy, for the most part. I tend to be a 14/16 on top and a 16/18 on the bottom.  36G for the bra (if you think you're a 38D at Victoria's Secret, you're not. Go get fitted like the adult you are).
I got the 16L with the 14L as backup. Length was perfect for me – covered to the ankles, but my feet showing so I could walk and not trip. Could have been an inch longer, but not more. Put on the 16, thought I would wear it.  Day of, I thought, you know, the top on this is a little roomy, let me try the 14.  So glad I did!  The 14 was perfect.  Snug on my ribcage, but not loose on top, and the dress cut is forgiving for hips, tummy, etc. I could have gone without a bra, but that's not really my style, and you can wear a real bra with this.  I pinned the cleavage a little, but otherwise, no modifications.  LOVED IT.  Tons of compliments.  AND I am glad I didn't get the short gold version, because TWO women at the wedding were already wearing it."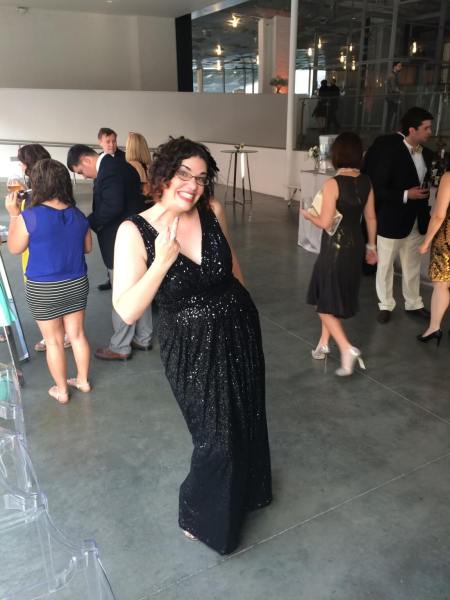 As a side note, one of my friends wore the same gold dress mentioned above as a bridesmaid dress and loved it. I am actually considering getting it for my cousin's wedding in November. [and a note from Brandy – Jen's gentleman friend apparently has a series of her flipping the bird. Don't hate on her because she's super cute when she does it! I have known Jen for over half my life and I honestly can recall her maybe once doing this, so it's pretty hilarious to me!]
I will definitely use Rent the Runway again. I am tired of owning things I rarely use, and if there is anything that is rarely used, it is formal wear.  I am excited at the prospect of having something different to wear at events without crowding out my closet or spending all of my fun money. 
The Subscription
:
Rent the Runway
The Description
: Rent Special Occasion and designer clothes for events, or just a girls' night out. RTR offers all the essential extras like Spanx and Fashion Tape.
The Price
: Varies
The Coupon
: Get $25 off your first $75 rental when you
join with this link