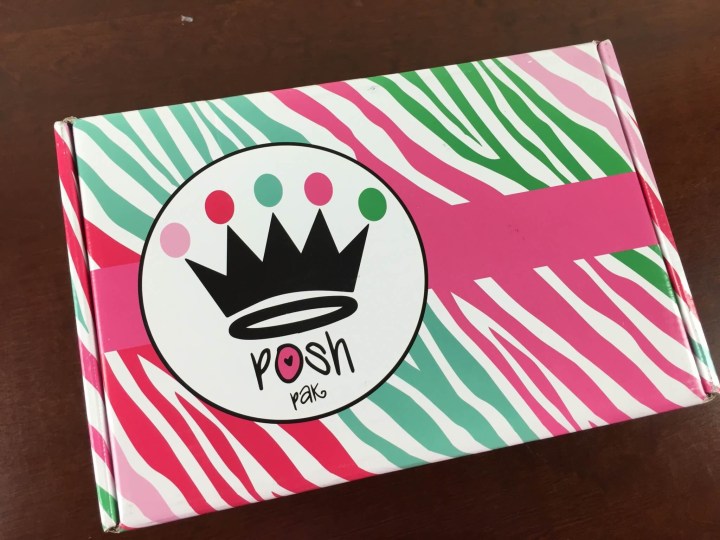 Posh Pak is a monthly subscription box for girls with three age ranges: Little Girl (5-8), Tween (9-12), and Teen (13+)!  It's the perfect box for your cute little girl up to your stylish teen and contains fun and trendy age-appropriate items. Posh Pak will be sending one of the June boxes to a reader, too! Enter the giveaway below!

The theme for June is #SummerSwag!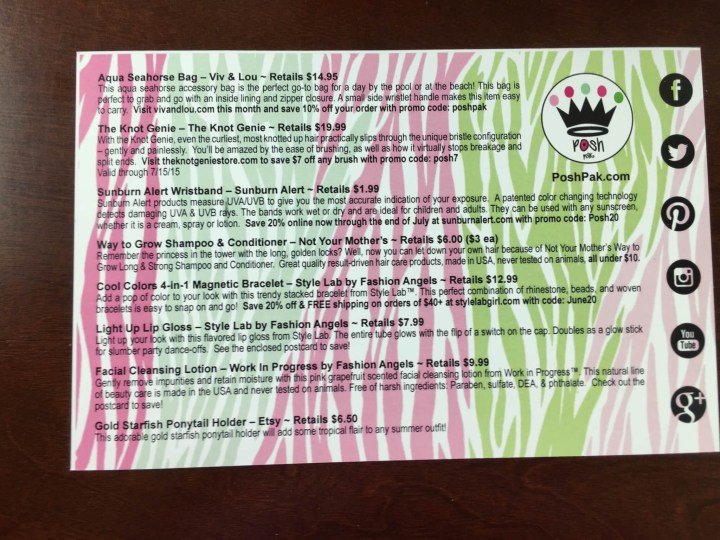 The information card has brief details on each item and why they're great!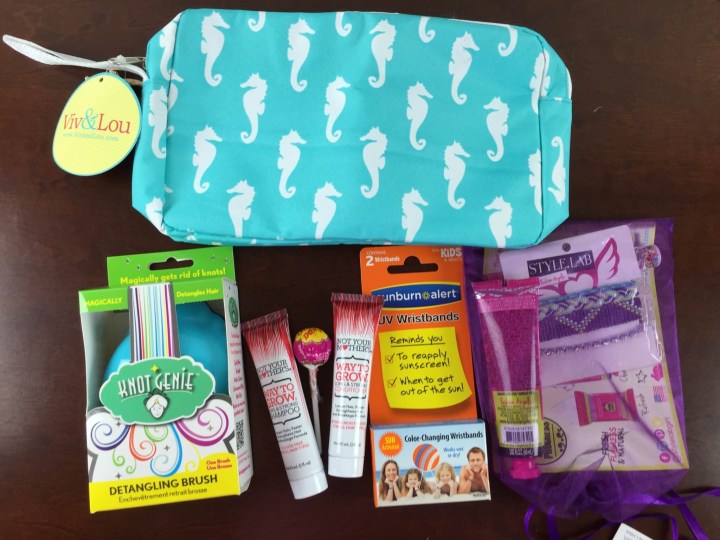 Wow, this is an impressive box! A fantastic beachy theme with a great variety of items!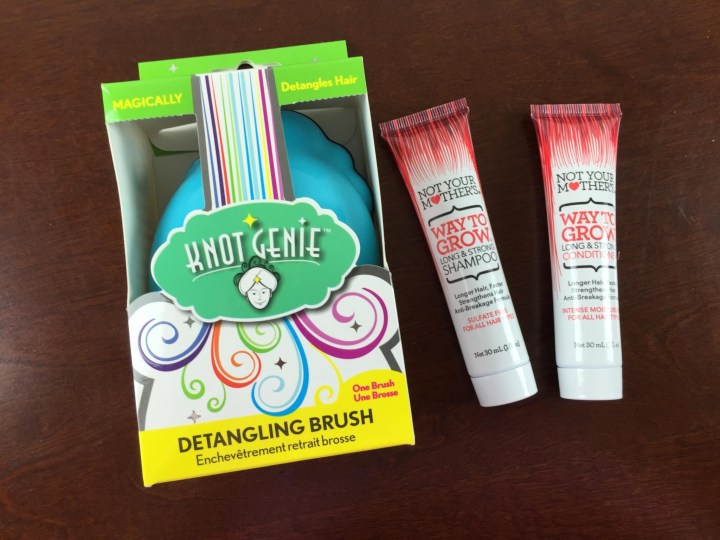 Knot Genie Detangling Brush ($10) We totally love the Knot Genie (and I use it too!). All moms fight battles with their girls over knotty hair. I think we spend all day detangling but this one does work!
Not Your Mother's Way to Grow Shampoo & Conditioner ($2) This is a great brand (and a brand that moms and daughters can share, despite the name!). Anti breakage formula, sulfate free. Looks awesome to me!
Sunburn Alert Wristband ($1.99) AS a mom I love these, and it also helps kids develop some responsibility for their own health needs. I'm always keeping track but this is a great way to get them started on that.
annnnnd. Chupa Chups! Always a sweet treat in Posh Pak but what kid doesn't love a Chupa Chups?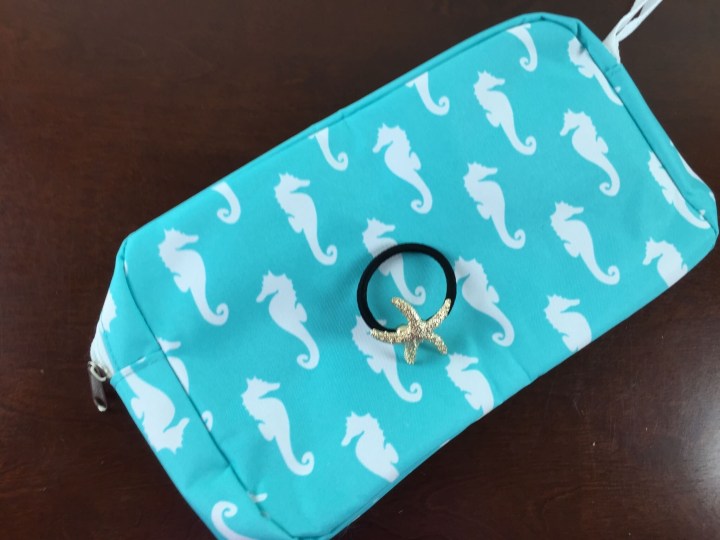 Gold Starfish Ponytail Holder ($6.50)
Viv & Lou Aqua Seahorse Bag ($14.95)
These came packaged together and what a great set! A nicely lined wetbag for your swimsuit, cosmetics, or body stuff, plus an adorable gold seahorse ponytail. This makes me want to grow my hair out so I can use it. I love the design!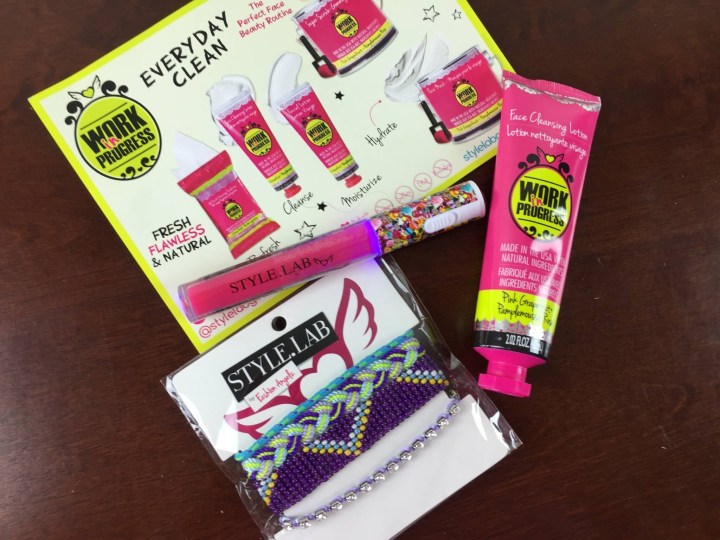 Style Lab by Fashion Angel Light Up Lip Gloss ($12.99)
Work in Progress by Fashion Angels Facial Cleansing Lotion ($9.99)
Style Lab by Fashion Angels Cool Colors 4-in-1 Magnetic Bracelet ($12.99)
What a great pack! These items were inside the purple organza bag and I couldn't be happier with them. Hello glowing lipgloss, you're my favorite! The cleansing lotion has an excellent grapefruit scent (and is paraben free). And the bracelet is super too cute and closes magnetically. I love not having to think about a bracelet stack, this makes it super easy. There was also a 20% off coupon for Style Lab by Fashion Angels, and I hope to see them in more boxes (even adult ones!). What a cute brand and super stylish and fun! I think this is a great brand discovery!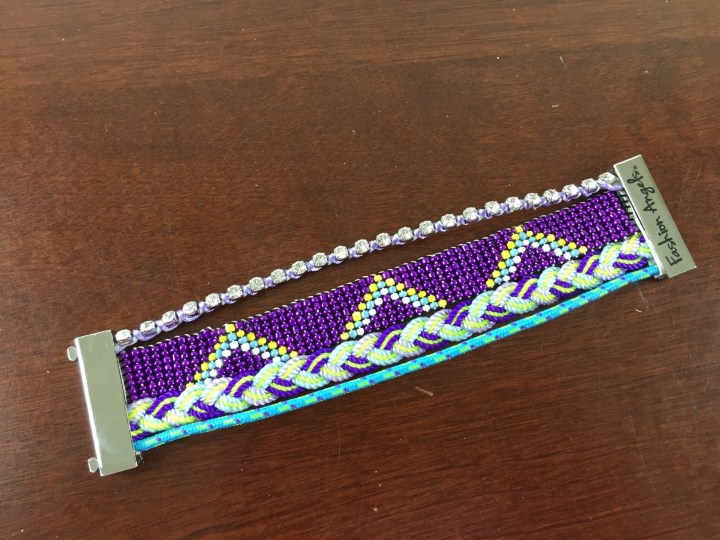 The value of the box this month was a really excellent $71 and I loved all of it. This was one of my recent faves for sure. Great theme, great focus on hair during the summer (again, if you're a mom of a girl you know), and a mix of great brand plus cute accessories. Don't forget to enter the giveaway below!
Visit Posh Pak to subscribe or to find out more about this box! You can also check out the teen & tween subscription box list or the rest of my PoshPak Reviews!
The Subscription
:
Posh Pak
The Description
: Inside the Pak you will find 4 to 6 items ranging from health/beauty, fashion accessories, tech, school supplies, tasty treats and some designer labels, just for girls. Choose between the age ranges of 5-8, 9-12, and 13+!
The Price
: $29 per month