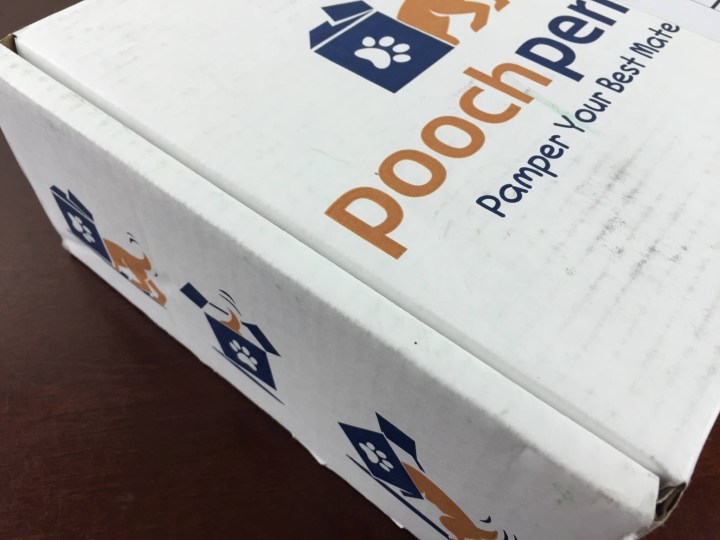 Pooch Perks ships a selection of gourmet dog treats and hand-selected toys to your favorite pup.  You can select either a small box (2-3 items) or a large box (6 items).  This is the large 6 item box.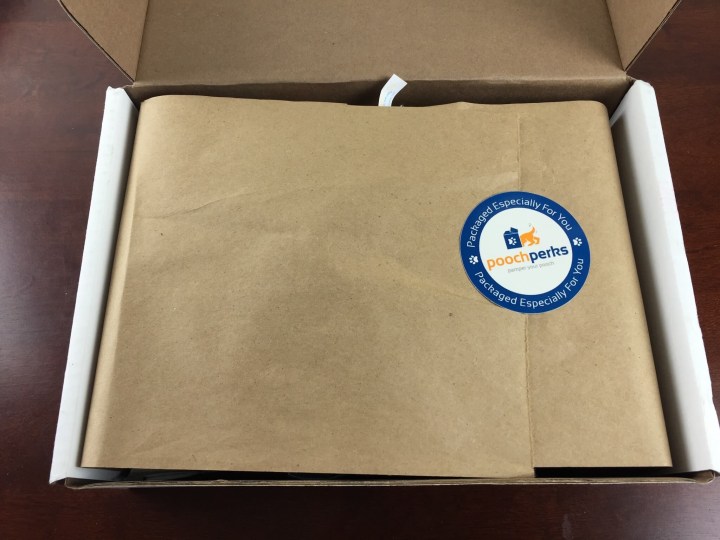 Though the contents are for your pooch, they still take care to make it presentable and enjoyable for you to open, too!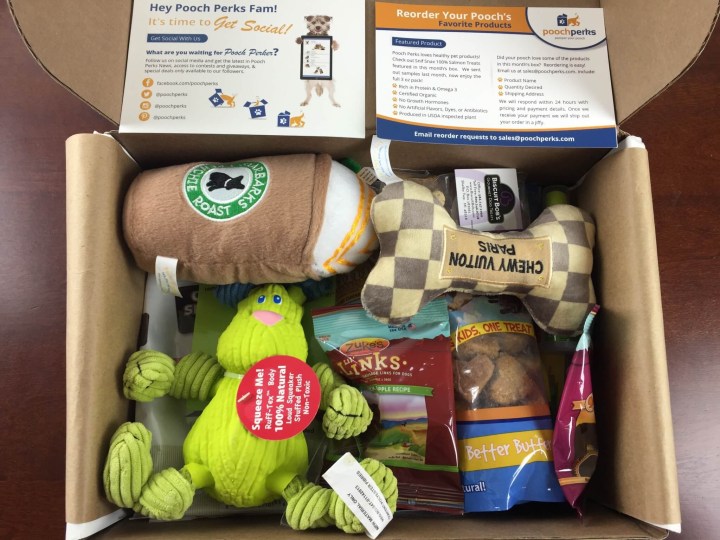 A nice variety of stuff — toys, treats, and even some health and wellness items.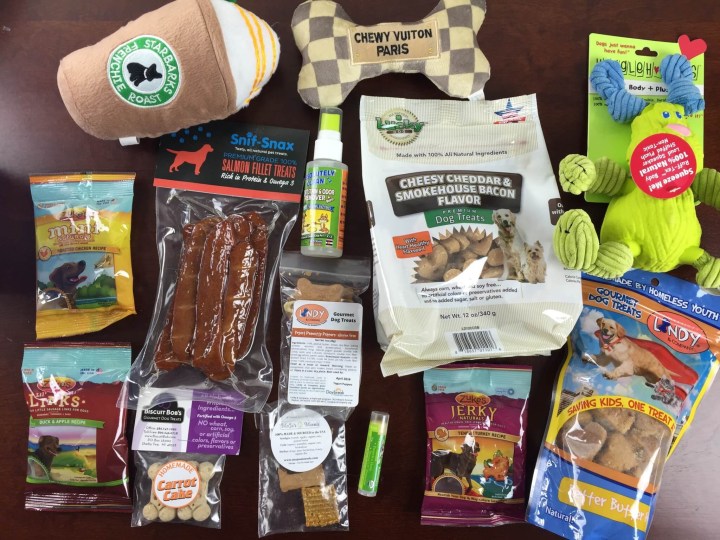 Everything in the box.  As you can see, the "6 item" box is anything but.  We received three big toys, three full-size treats, plus a bunch small and sample size treats and extras.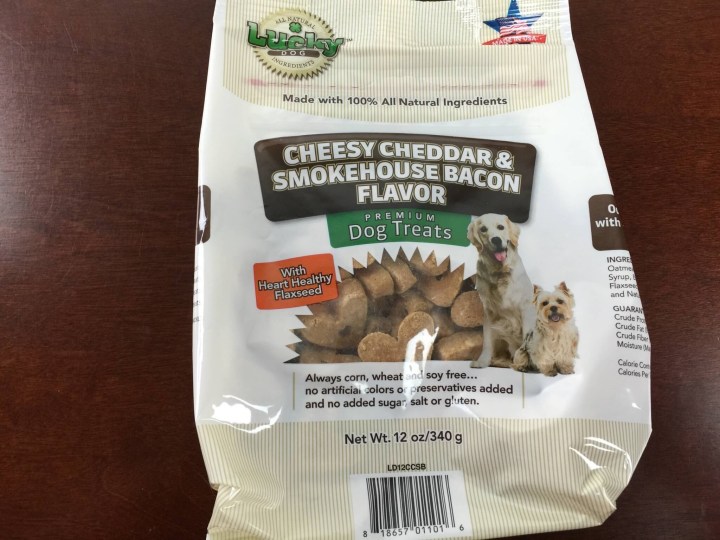 Lucky Dog Cheesy Cheddar & Smokehouse Bacon Premium Dog Treats ($10): Oat-based, these crunchy biscuit-style treats are corn, wheat, and soy free.  I think this was intended as one of the big six, since it is a big 12 oz bag.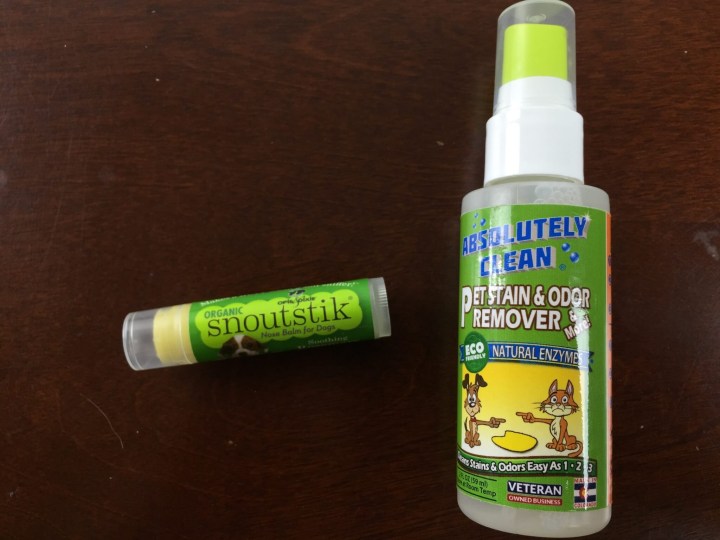 Snoutstik Nose Balm ($8):  We were glad to see this item included.  Organic balm for helping sooth dry noses.
Absolutely Clean Pet Stain & Odor Remover ($4): Our pup only has accidents when she is very ill (thankfully these occasions are few and far between).  She does, however, like to regurgitate with some regularity, so this will be put to good use.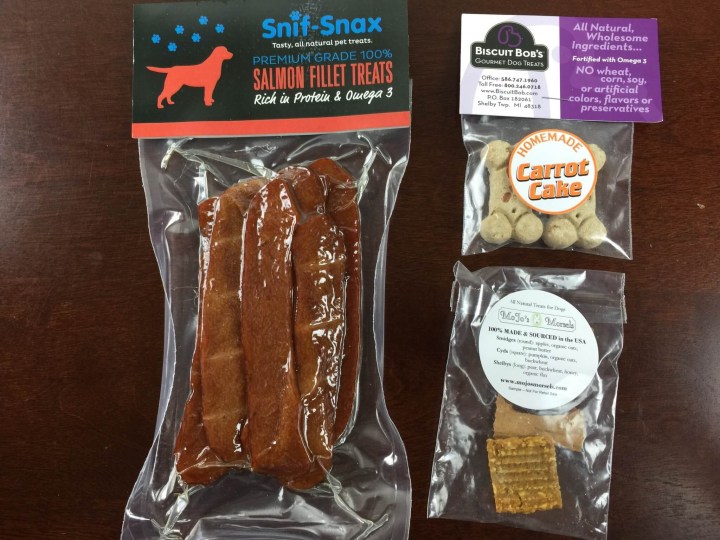 Snif-Snax Salmon Fillet Treats:  A big portion of all-natural dried salmon.  Salmon is great for both dogs and people — I can imagine what the price tag on this item would be if marketed to people.
Biscuit Bob's Gourmet Dog Treats: Excludes the most common allergen and body-weight problematic grains.
MoJo's Morsels:  Made and sourced in the USA, this sampler has three of MoJo's varieties: Smidges, Shelties, and Cyds.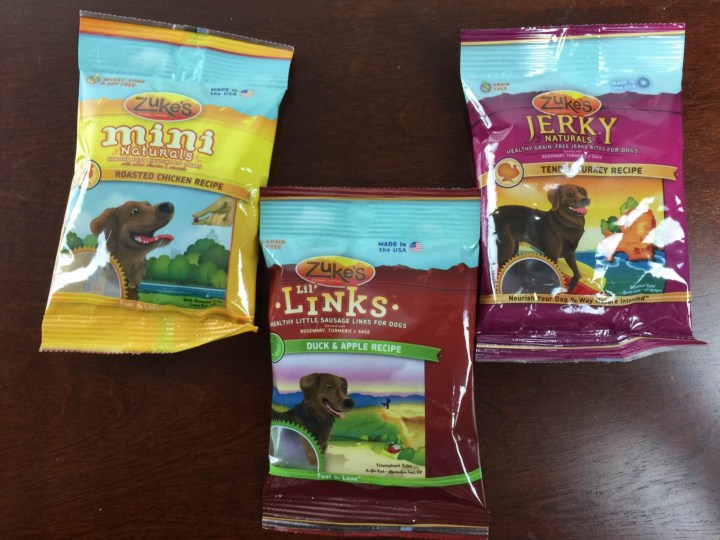 Zuke's Mini Naturals: Perfect for training treats — made in the USA from natural ingredients.  I like the inclusion of multiple varieties from the same company, particularly when the products differ in both form and flavor. Plus, Lindy loves Zuke's!
Zuke's Jerky: Natural jerky, made in the 'States.
Zuke's Lil' Links:  Grain-free and made in the USA, these little sausages are a healthier take on the Sausage-style snack treat.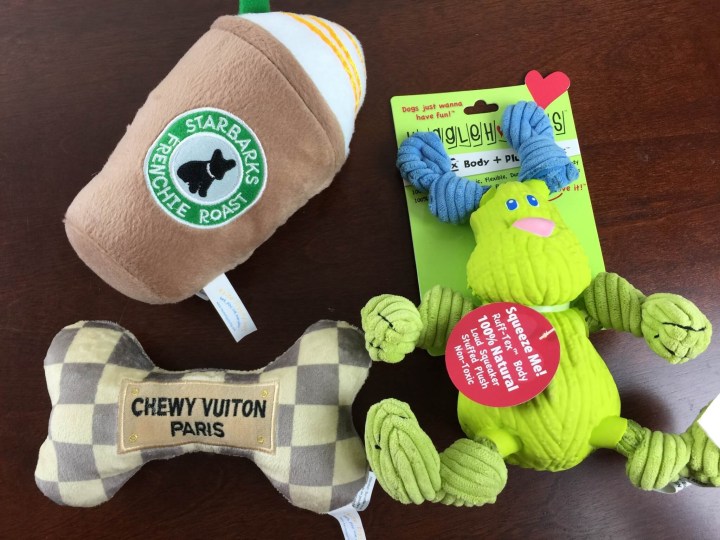 Starbarks Frenchie Roast Squeak Toy by Haute Diggity Dog ($15):  this little number is as much for you as it is your pooch. Our daughter thought it was hilarious.
HuggleHounds Bugsy Ruff-Tex Toy ($15.50):  Made from very durable Tuff-Tex fabric, should stand up to lots of roughhousing.  "Bugsy" is a peculiar Shrek-looking horned (4-legged?) bug.
Chewy Vuiton Checker Bone Chew by Haute Diggity Dog ($16): If its going to sit out on the couch, it might as well look good.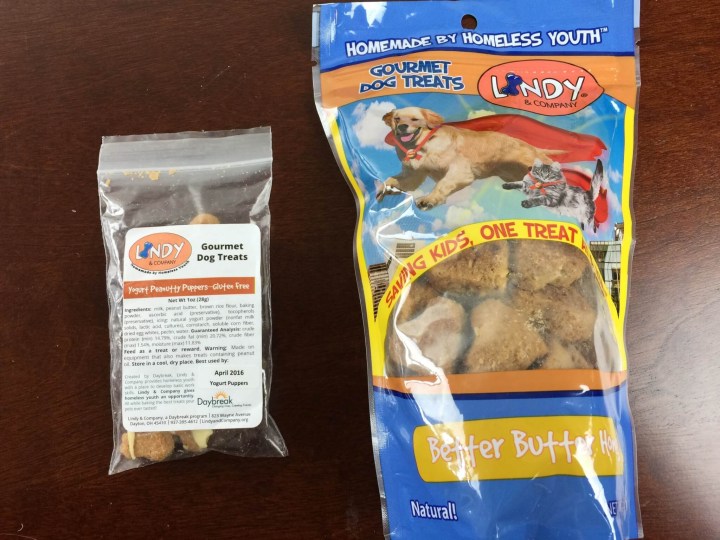 Lindy & Company Gourmet Dog Treats ($8.00):  We got a big bag of the Butter Honey variety, as well as a sample of the yogurt-covered peanut variety.
This box is a little expensive for a pet box (we reviewed the large box, which is $50, but they offer 4 size options, down to $20), but it came with a bunch of stuff — well beyond the anticipated "6 items."  The retail value of the items is above the price, so the value is definitely there.  I like that the treats are all natural and appear to be USA manufactured, which is important — we may put all kinds of junk in our own bodies, but American companies know we don't mess around with our pet's food!
Visit Pooch Perks to subscribe or find out more. Use code PYP30 for 30% off! Find more subscription boxes for dogs in the directory.
The Subscription
:
Pooch Perks
The Description
: Pooch Perks is a Pamper Your Pooch box for dogs full of fun toys, healthy Made in the USA treats, and other exciting goodies. They ship full size toys and treats bags to give you the most value for your money. Pick a box for small dogs or medium to large dogs.
The Price
: 4 sizes ranging from $20 for 2 to 3 items to $50 for 6 items
The Coupon
: Use code
PYP30
for 30% off!