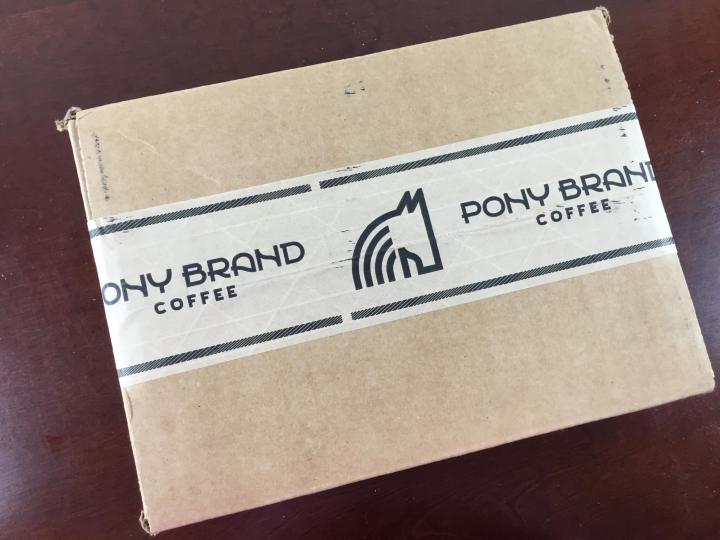 Pony Brand is a monthly coffee subscription that sends selections based on your chosen flavor profile.  I received a starter kit, called the "4×4 Sampler," that I would use to determine my taste preference.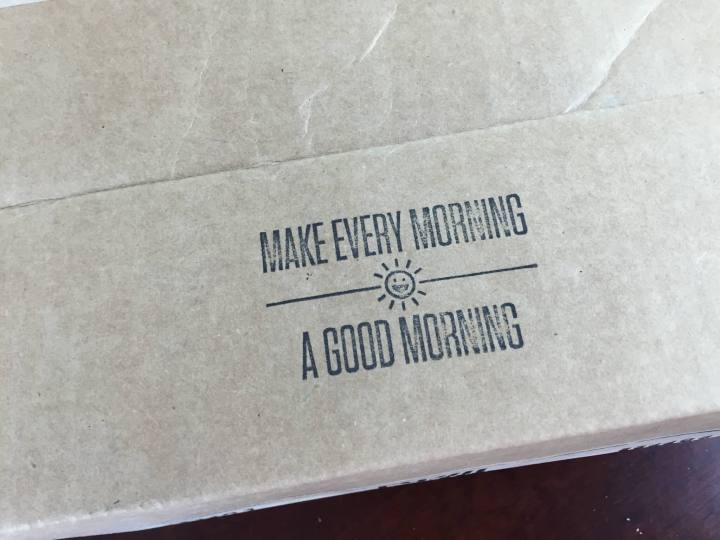 The sturdy shipping box, emblazoned with their motto.
Comes with a cute card describing the simple process.
These are the four selections sent.  Flavor profile is emphasized over bean and varietal, but each of the bags (other than the calendar blend) contains single-source beans.  Country or origin and source farm info is noted on the bag.  PBC's site has additional info, like the elevation at which the beans are grown, if you are hyper-technical about your coffee.

Roasting date is listed on the bag, so you know the beans are fresh.  I didn't notice anything from PBC suggesting that you wait a period of time to brew, but I know some other coffee clubs suggest that beans not be used within the week or so following roasting — I believe this is so the oils can reabsorb and some of the more volatile compounds created during roasting can dissipate, letting the more nuanced subtleties come to the fore.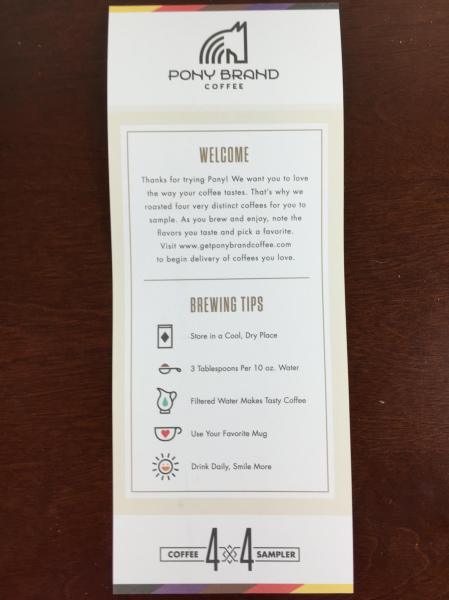 Some simple brewing tips (they have to print something on the back of the card, no matter how obvious).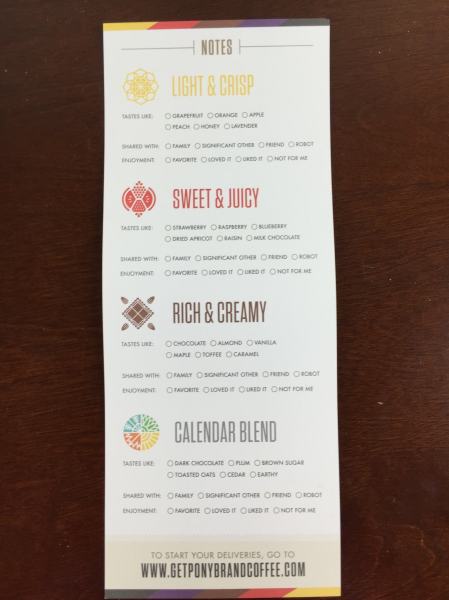 Each flavor profile has some flavor notes you are encouraged to hunt for.  I think the flavors noted under each profile are supposed to be in there and are not listed simply to trick you.
Sweet and Juicy — from Fedepma Coop in Guatemala:  I believe these count as single origin, even if the Coop sources from different local farms.  This bean has assorted berry and sweet fruit flavors layered on a milk chocolate base.  Slightly acidic, just tart/sour enough to engage you tongue and create  a "juiciness," the brew is predominantly sweet and mild.
Light and Crispy — Santa Elena, Costa Rica:  This bean is light and  accented with hints of citrus and honey.  There are no pronounced deep or bitter tones, and this makes a great afternoon pot of coffee.

Rich & Creamy — Las Segovias, Nicaragua:  This bean has all the nice brown flavor elements — chocolate, caramel, almond, maple, vanilla.  The dark flavors stop short of bitter, and the roast is pleasantly moderate.
Calendar Blend — a mix of beans from Las Segovias & Fedepma Coop:  I'm not sure if the component beans are the same appearing respectively in the Sweet & Juicy and Rich & Creamy offerings, but I suspect they are.  The result is a full-spectrum brew that has a rich, deep base and a sweet, playful liveliness layered upon upon it.
I enjoyed each of the selections, and none was over-roasted, bitter, or kind of "out there" in regard to flavor notes.  I'm not sure of the geographic reach of PBC — the fact that their blend is a mixture of two of the other selections suggests that they are Central America-focused.  If this is the case, you may not see the earthy coffees of East Asia or the highly floral beans of Africa, but you'll still get some very nice flavor profiles that expand our notion of what a coffee should be, and you will avoid some of the good-to-try-but-not-everyday selections a wider scope might bring. These were all good and I would have a hard time subscribing to just one.
Visit Pony Brand Coffee to subscribe or find out more. Find more coffee subscription boxes in the directory.
The Subscription
:
Pony Brand Coffee
The Description
: A monthly or bi-weekly coffee subscription in 4 flavor profiles: light & crisp, sweet & juicy, rich & creamy, and calendar blend. Available in whole bean or coarse/medium/fine grind.
The Price
: $20 per 1 lb delivery, $35 for two