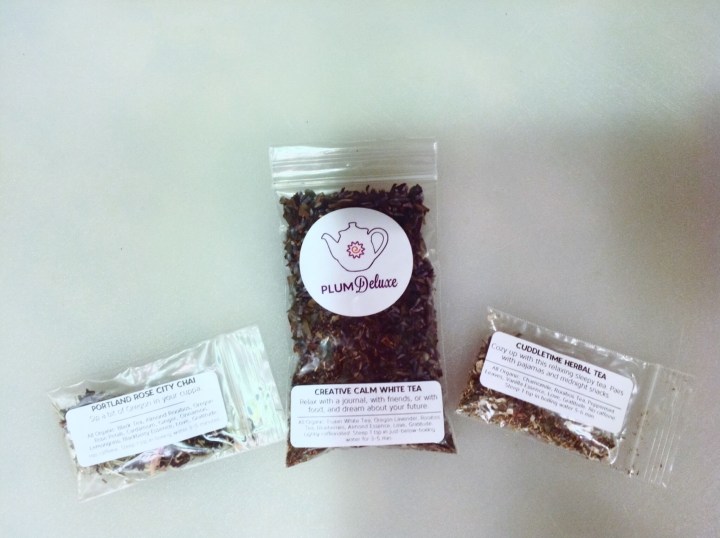 Plum Deluxe offers all-organic, hand-blended loose leaf teas that are blended in small batches. Plum Deluxe's Magical Tea of the Month Club is a fantastic way for tea lovers to discover fresh, seasonal teas that are delivered to you every month. Their limited-edition teas are vegan, gluten-free, non-GMO and their ingredients are from USDA Organic & Fair-Trade Vendors.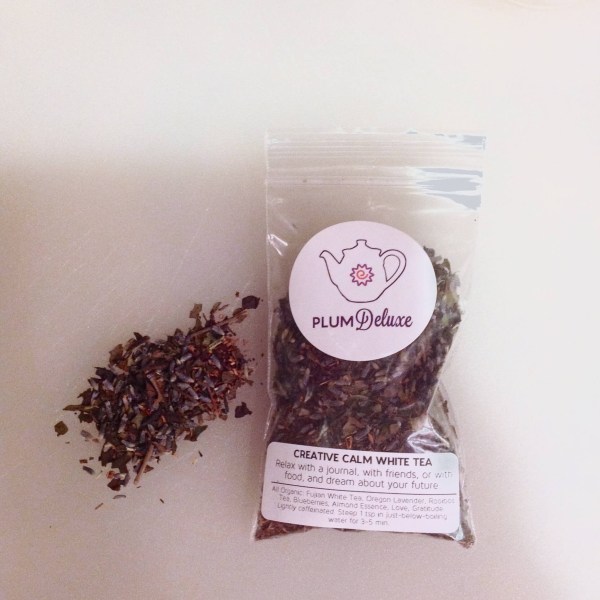 You will receive 1-2 oz. of tea, recipes and tips all direct from Portland, Oregon. Tea club members receive special benefits such as free shipping on tea purchases, a 15% savings on tea accessories, specials and surprises. There is also a sample of a 2nd tea included with your monthly subscription.
They offer 2 plans: One Tea per Month (One oz of one tea) $10/month and 2 Teas per Months (One oz of two teas) – $16/month (charged quarterly).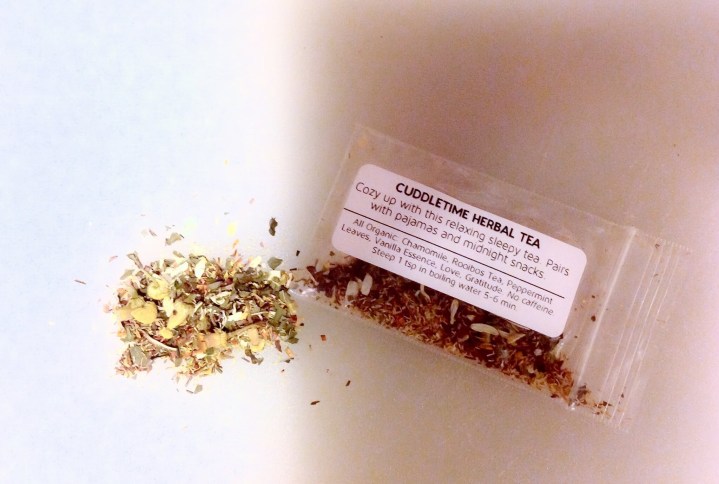 I received 1 one oz size tea packet and 2 samples size teas in my package. Once I opened the packets the scents instantly struck me! The beautiful textures of the tea also caught my eye. You can clearly identify the ingredients that are in each tea which to me equals quality and freshness. The teas are beautiful and you know you are getting the best ingredients.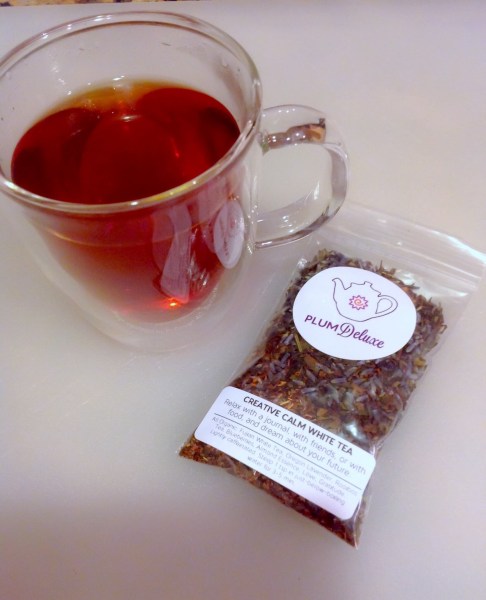 The first tea I tried was Creative Calm White Tea. On the label it says, "Relax with a journal, with friends, or with food, and dream about your future." Made from all organic ingredients: Fujian White Tea, Oregon Lavender, Rooibos Tea, Blueberries, Almond Essence, Love, Gratitude. I love how the ingredients are clearly labeled on the packet. This tea is absolutely delicious. I'm drinking it now and immediately notice how well all the ingredients compliment each other. It's definitely a calming tea that has such a great mix of distinct notes. It tastes very crisp with a nice lingering aftertaste of blueberries and a hint of almond essence. Definitely something you have to try if you are a tea lover!

The next tea I tried was Cuddletime Herbal Tea. On the label it says, "Cozy up with this relaxing sleepy tea. Pairs with pajamas and midnight snacks." Made from all organic ingredients: Chamomile, Rooibos Tea, Peppermint Leaves, Vanilla Essence, Love, Gratitude. Once I took my first sip I immediately fell in love! I'm a huge fan of Chamomile Tea and this tea definitely takes it up a notch with the addition of Rooibos tea and peppermint. It's a very soothing and relaxing tea that makes me want to crawl into bed, cozy up and fall asleep! The vanilla essence offers a nice aftertaste and scent. This is going to be a staple in my pantry – absolutely delicious and it's making me sleepy! Haha 🙂

Last but not least is Portland Rose City Chai. On the label it says "Sip a bit of Oregon in your cuppa." The organic ingredients are: Black Tea, Almond Rooibos, Oregon Rose Petals, Cardamom, Ginger, Cinnamon, Lemongrass, Blackberry Essence, Love, Gratitude. This Chai tea is so vibrant and spicy! I love the combination of all the ingredients…especially the Oregon Rose Petals. Although, there are many robust flavors in this tea; there is still a softness to it. I would like to try this tea for breakfast since it is very lively and could definitely provide some perkiness to the start of my day. Not only does the tea taste great but, it's also very pretty to look at with the roses in it.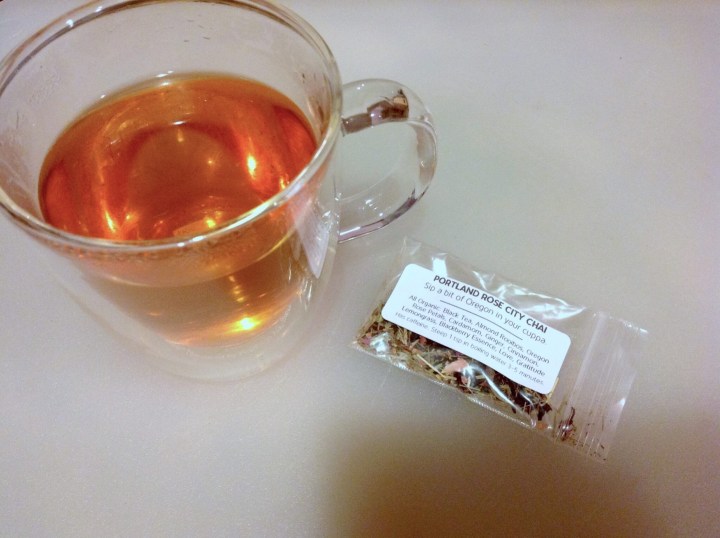 Overall, I am very impressed with Plum Deluxe. They provide excellent teas made from the highest quality organic ingredients. Their teas have the truest flavors I have ever tried in a tea and the feeling it leaves me with has me wanting more. Definitely check them out and let me know what you think!
Visit Plum Deluxe to subscribe or find out more! You can also see more tea subscriptions in the directory.
The Subscription
:
Plum Deluxe
The Description
: Always have a fresh, thoughtfully chosen, seasonal tea on hand. Each month you'll receive your tea along with brewing instructions and tips for peak enjoyment.
The Price
: $10 per month