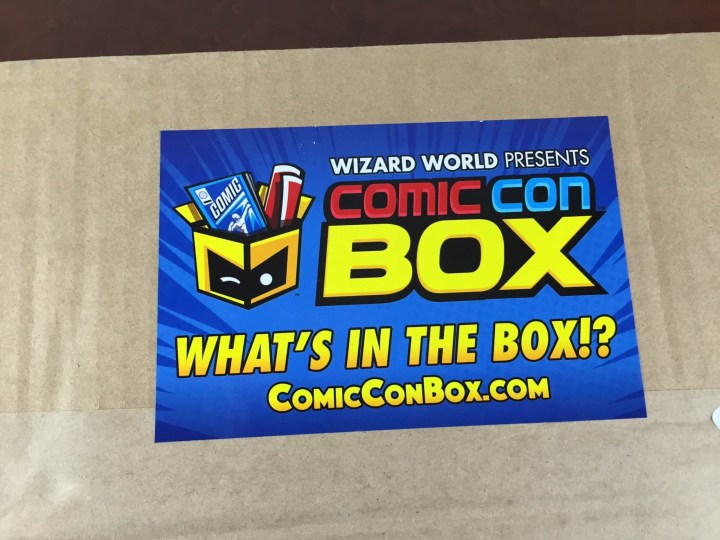 Comic Con Box is a new geeky monthly subscription. This one brings you Comic Con in a box – and is perfect for anyone who loves the kind of toys, tech, and gaming you would see at a ComicCon convention. Boxes are $29.99 per month plus shipping ($7 for me). Boxes include exclusives, collectibles, autographs, and many other amazingly awesome things you would severely GEEK-OUT to at a Comic Con including toys, comics, artwork, shirts, and various discounts.
The box shipped in an outer box this month – I'm not sure why, but it was surrounded by bubble wrap. I think they were being extra cautious due to a breakable item inside (though it probably would've been fine!).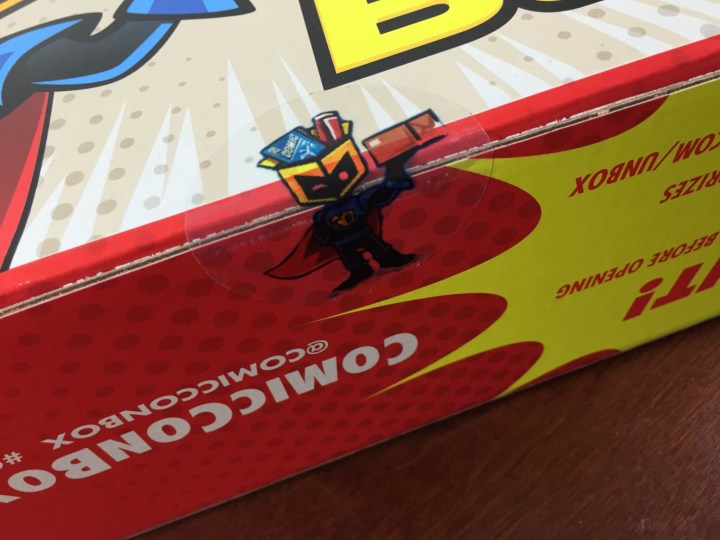 Cute sticker!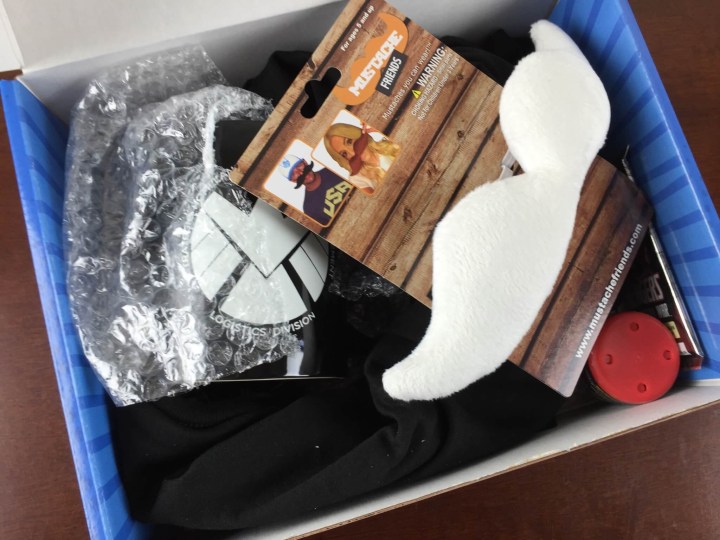 This was a little wild when I opened it, but full – which is always a good sign!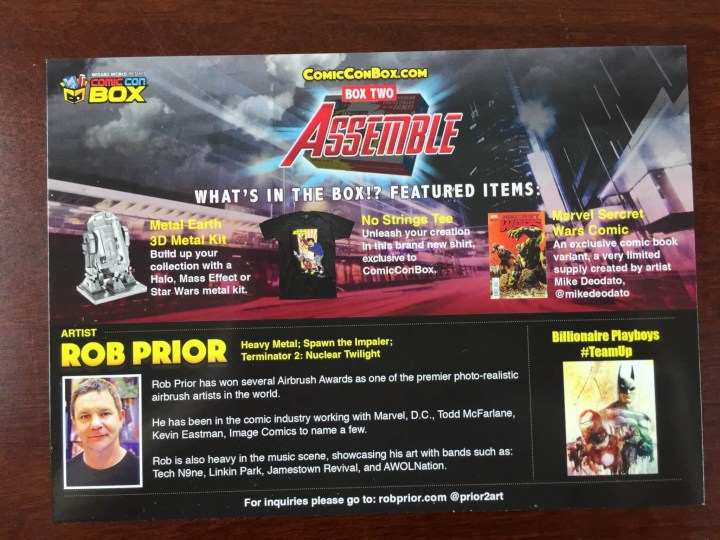 ComicConBox has chosen not to put all the items on the cards – just the featured items, plus the featured artist. I had a chance to chat with ComicConBox about their artwork and they are excited that the fans find the artwork such high quality (it is!). This box does have an official theme – ASSEMBLE – and so does the July box (see it at the end of the review)!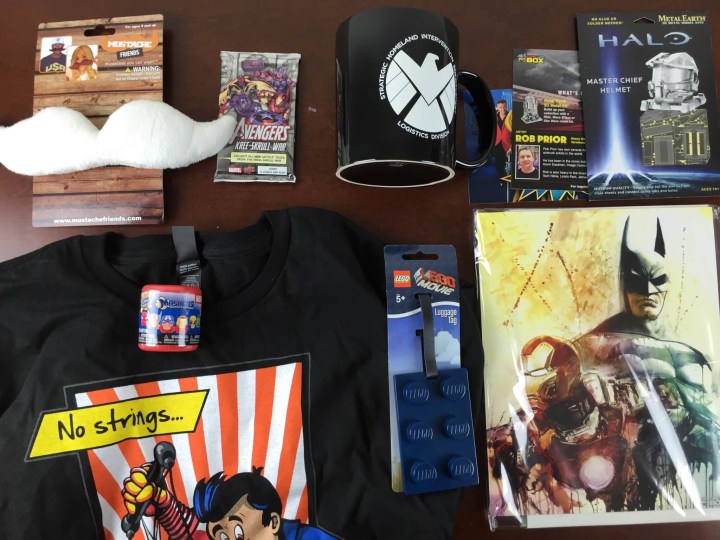 Everything in the box, and it looks fantastic. Note that they put all the "paper" items together in one protective wrapper, so there are comics below that print!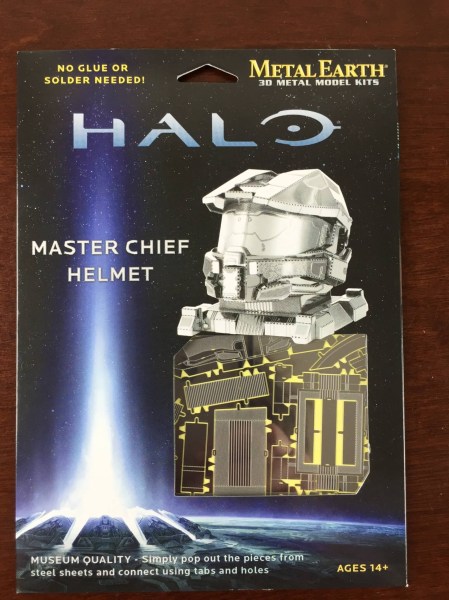 Metal Earth 3D Metal Model Kit – Halo Master Chief Helmet ($8.90) This looks cool, but complicated! You snap out all the metal pieces and build a helmet. My husband & I have spent way too much time playing Halo together 🙂 This is a great item for us!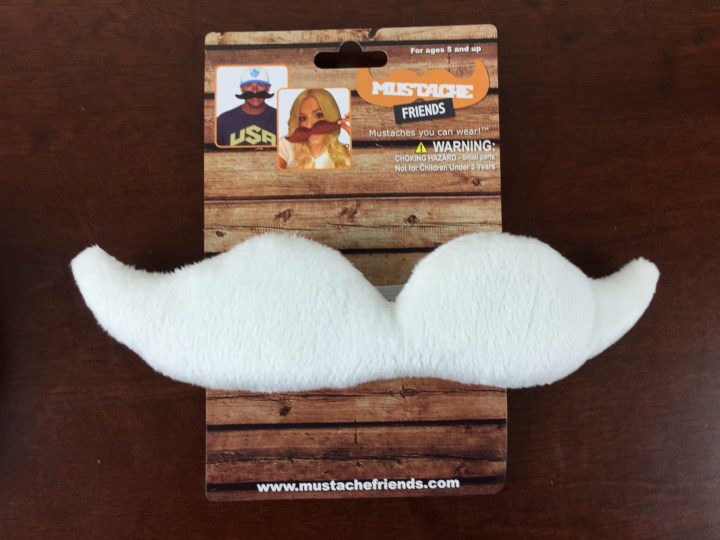 Mustache Friends Big White Stache ($4.99) I'm not sure how this goes with the theme, but it's fun and I'm sure someone can illuminate me in the comments!
Avengers Kree-Skrull War Trading Card Pack ($4?)
In July, Upper Deck will be releasing a very unique trading card product called "The Avengers: Kree-Skrull War." Resurrecting a previously published story arc around popular Marvel characters including Thor, Captain America, Iron Man and Vision, the 190-card set will boast one original main story and four original side stories that will share with Marvel fans untold tales from the Kree-Skrull War.
Marvel Mashems ($7) I really don't know the value of Mashems and Fashems in the store, but I'm going to have to find out, because my child wants another one! This was a hit!
Lego Movie Luggage Tag ($7) This is a huge luggage tag, and very unique (and sturdy!). I am sure my son will claim this for his "luggage"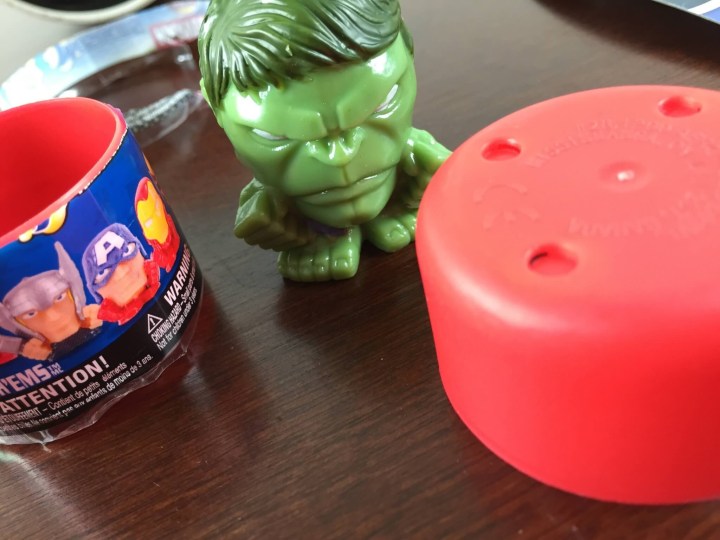 We got Hulk!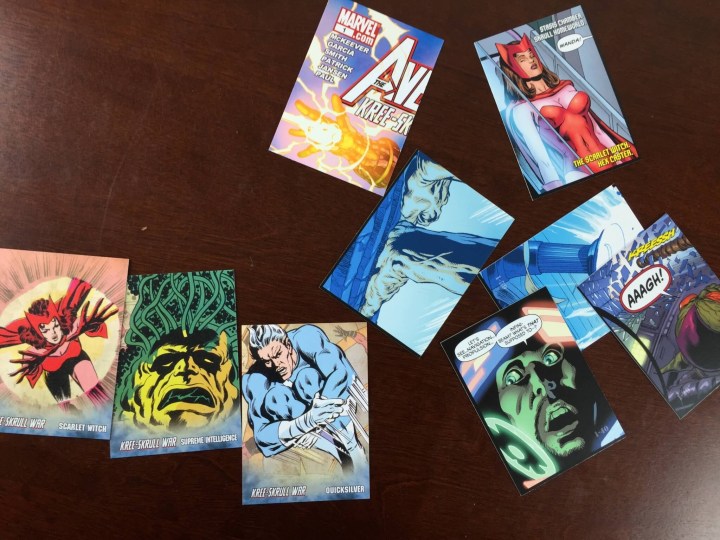 S.H.I.E.L.D. Mug ($12.99) My husband is SO pumped about this. I got him a Marvel mug a few years ago that is his fave – not just because of the characters  – but because it's so giant! All of the Marvel ones are and so is this one!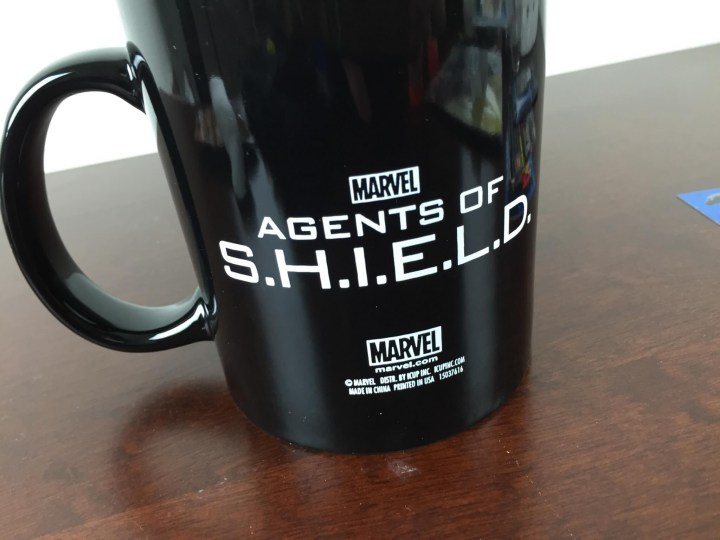 My husband's only complaint is actually the branding on the back – he wishes it was on the bottom so it would be more subtle and he could pretend he was actually in a S.H.I.E.L.D. meeting.   He's too funny. FYI, if you didn't know, SHIELD is the acronym for Strategic Homeland Intervention Enforcement Logistics Division.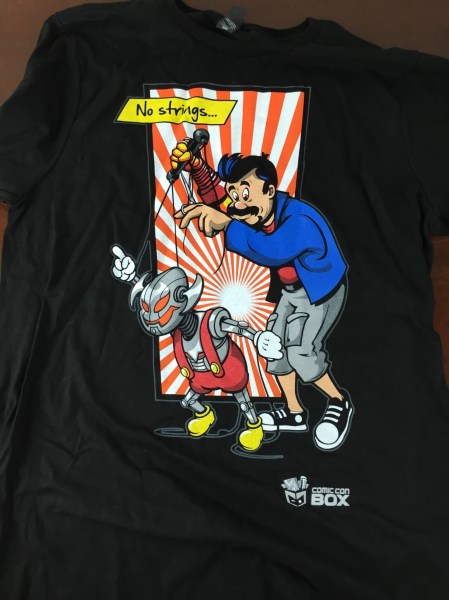 No Strings Tee ($15) Exclusive to ComicConBox, this one is Tony Stark as Geppetto and Ultron as Pinocchio! I love the graphic and the shirt is nice quality, and a good balance between soft and thick (not rough at all). This is a Unisex shirt, and my husband was happy about that (we get a variety of sizes in all our shirts so everyone can have some, and invariably we wish that we hadn't or had gotten the women's shirt!).
Marvel Secret Wars Comic #001 Variant Covers ($3.99) I got two, the black and white one was the bonus for getting a 3 month subscription. The cover was created by Brazilian comic artist Mike Deodato.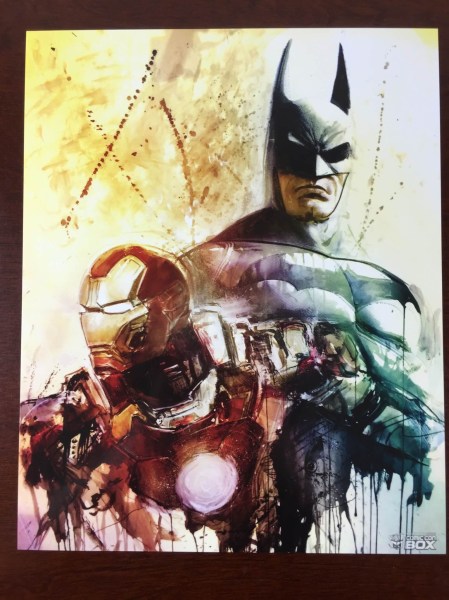 Billionaire Playboys #TeamUp Print by Rob Prior ($15) Rob Prior is an amazing artist with a huge following of his own! This is an awesome print and it is so so so high quality. We're going to mount this one and frame it for the boys' room. It has a really slick finish on it that is almost greasy, but doesn't come off on your hands. I have some feelers out on what it is – I'm not sure. I love this.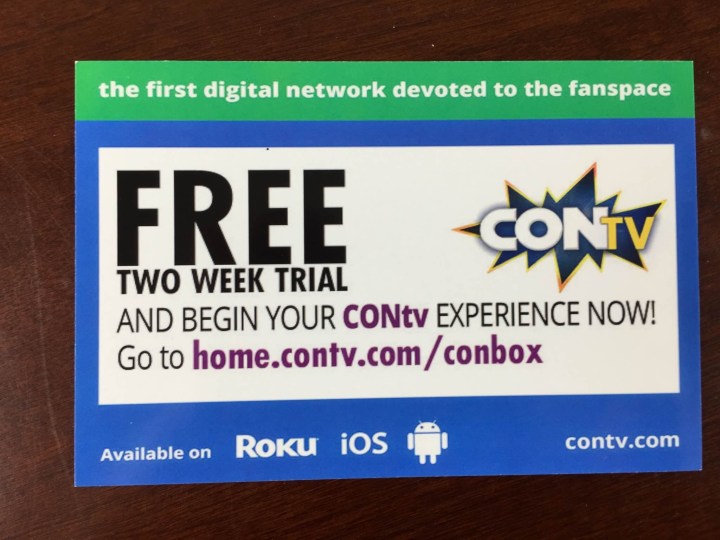 Plus a 2 week free trial!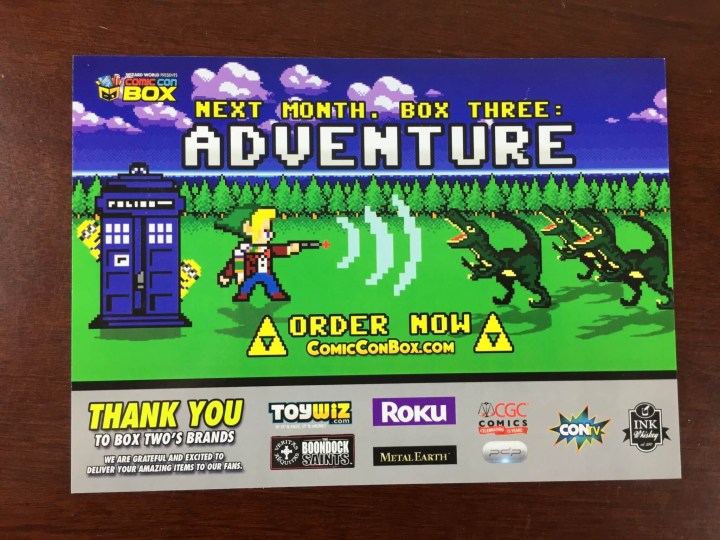 And a head's up on the July box with a theme spoiler: ADVENTURE! I see Minions, Link, Dr. Who, and… Jurassic Park???
FYI, I did not get the Boondock Saints bracelets that were in some boxes. I think they were random.  My box totaled about $79 in value, which was really excellent. We were more than happy with everything we received, and probably would have been happy with about 2/3 of the items by themselves! I'm definitely enjoying this subscription – looks like they will be sending items from some more unusual fandoms plus the heavy hitters, which is great! I thought this was an amazing box and I thought the curation was excellent.
Visit Comic Con Box to subscribe or find out more! See all our ComicConBox reviews or even more geek, gamer, and nerdy subscription boxes in the directory!
The Subscription
:
ComicConBox
The Description
: Comic Con in a box! Boxes include exclusives, collectibles, autographs, and many other amazingly awesome things you would severely GEEK-OUT to at a Comic Con including toys, comics, artwork, shirts, and various discounts.
The Price
: $29.99 per month + shipping