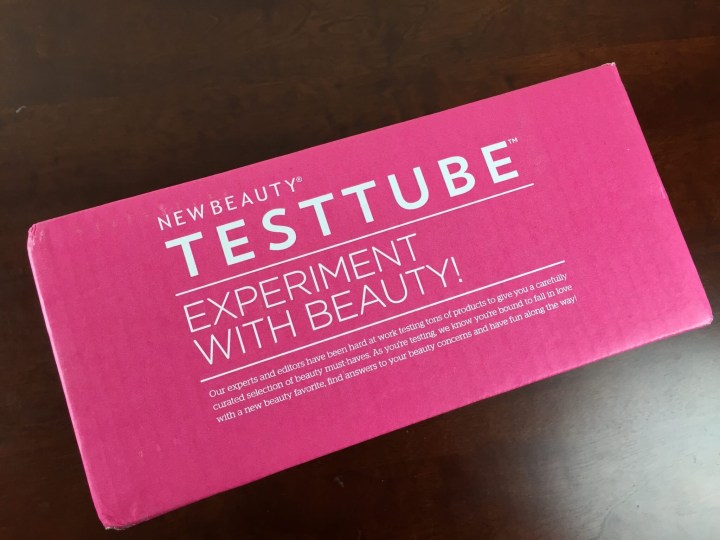 New Beauty Test Tube is a beauty subscription box filled with deluxe and full-size products. When you subscribe you will also receive a subscription to NewBeauty magazine, delivered quarterly.

Inside the box is the tube and information booklet.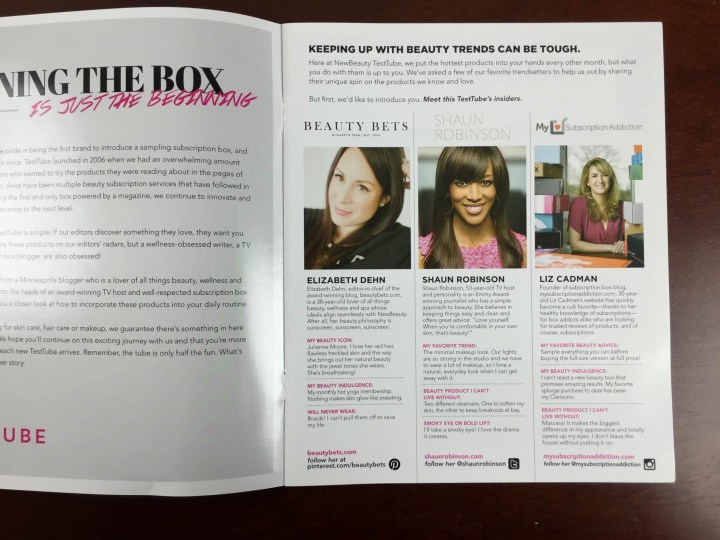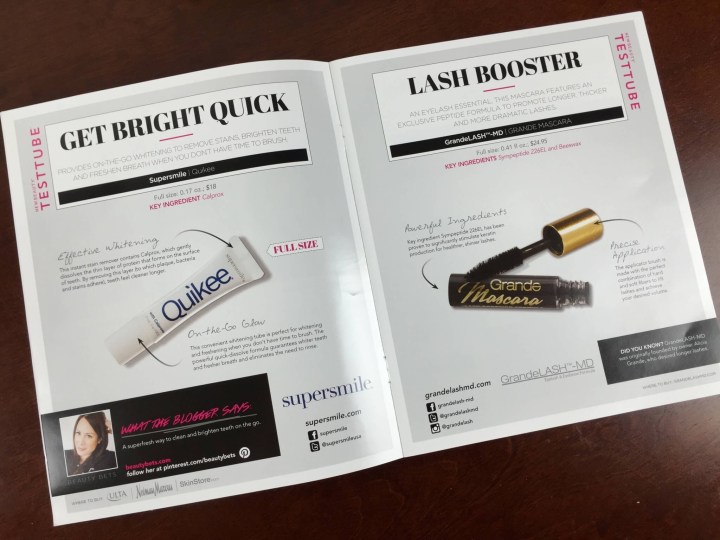 The information booklet has details on each item – and it's had a great refresh and redesign this month! Items were blogger selected and the front had short bios on the bloggers, too. One was Liz Cadman.
 All the items in my July 2015 New Beauty Test Tube! FYI there were at least 2 tube variations this month.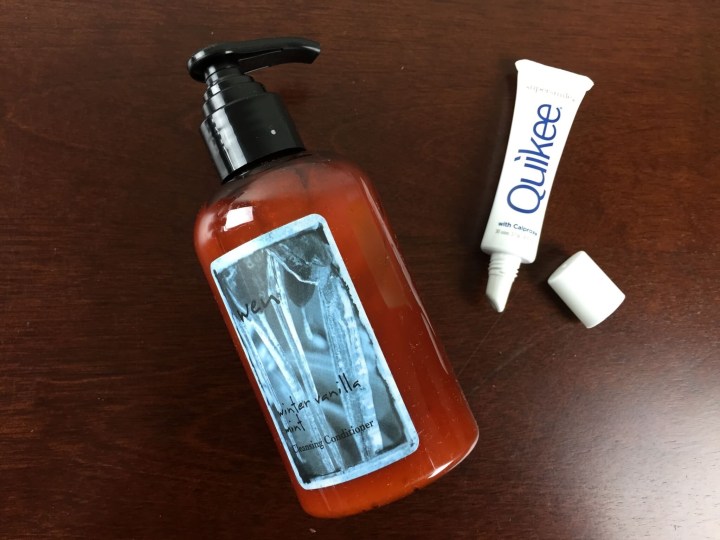 Wen Cleansing Conditioner in Winter Vanilla Mint ($10) Yay Wen! I saw on QVC (which is where the link goes) that they have coconut lime verbena. Wen's primary product is a cleansing conditioner, which just means that you use the same product to wash & condition your hair. Even in my fine hair it works extremely well, and despite having boatloads of products… I kinda want coconut lime verbena right now.
Supersmile Quikee ($18) This is… So weird. You squeeze this clear gel on your teeth to whiten them and it's bizarre, but I hope it works. I'm going to use it.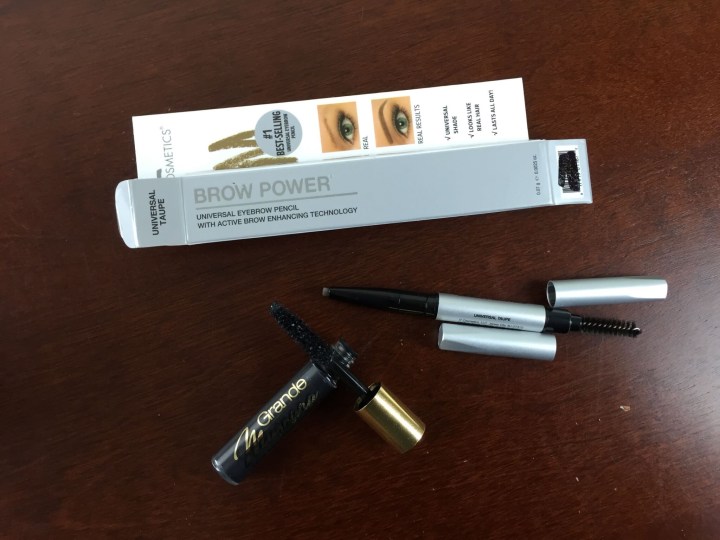 GrandeLASH-md Grande Mascara ($5) This was a nice little mascara with a great brush. I like how the container is clear so I can see what's in there.
IT Cosmetics Brow Power Universal Eyebrow Pencil in Universal Taupe ($24) This is a fantastic choice (and was MSA's selection). I love IT Cosmetics and this is a nice waxy brow pencil and a brush on the other side to get them just perfect.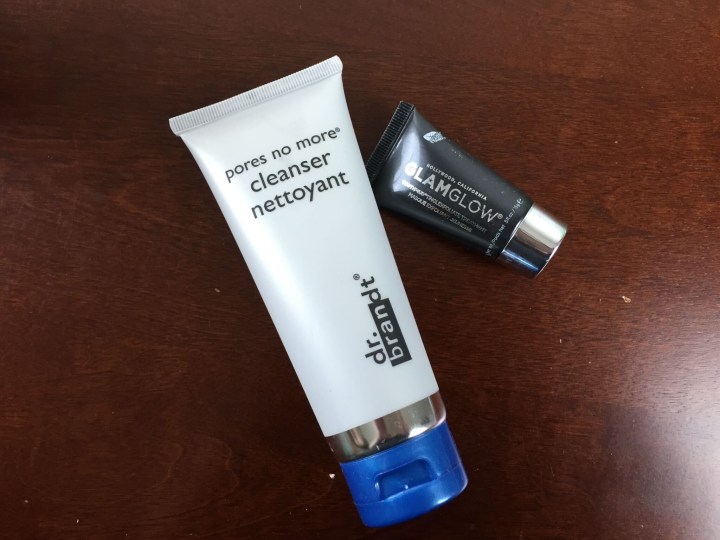 Dr. Brandt Pores No More Cleanser ($35) This is a full size product, but I don't have pore issues, so I am passing it along to a friend that I think will enjoy it!
GlamGlow Youthmud Tinglexfoliate Treatment ($19) What's a New Beauty Test Tube without a repeat? Fortunately, this is a great repeat to get and I've never heard anyone complain about getting this in more than one of their boxes.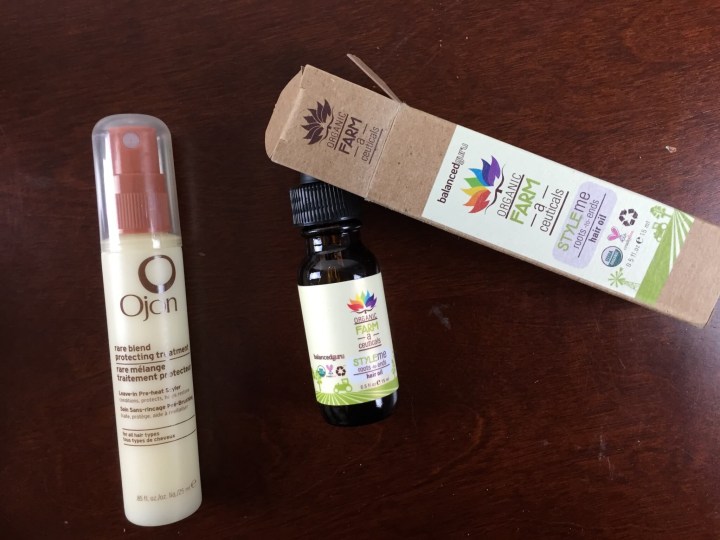 Ojon Rare Blend Protecting Treatment ($3.86) Protects against heat styling damage!
Balanced Guru Style Me Roots to Ends Hair Oil ($9.66) I invariably pass along hair oils – they're really more than our hair needs, but I am certain the person getting this one will enjoy it.
The value this month was phenomenal – around $125!!  While a couple products weren't for me (and I happened to be packing up a gift box so I always raid what's right in front of me), this subscription was really worth it. I love the refresh and the selected by bloggers idea is cute (although I never know if they actually get to select the products or just take their pick from what's in the box and write a sentence about them). In the end that doesn't really matter as long as the products are great!
Visit New Beauty TestTube to find out more and to subscribe, or heck out all our New Beauty Test Tube Reviews. Save 30% on your first box with this link – no coupon code required. Find other Beauty Subscription Boxes in the directory.
The Subscription
:
New Beauty TestTube
The Description
: Six times a year receive a TestTube filled with deluxe and full-size beauty products – top brands, time-tested formulas and targeted innovations. Subscribers receive a subscription to NewBeauty magazine, delivered quarterly.
The Price
: $38 bimonthly