Hawaii Snack Box is a monthly snack subscription full of Aloha! Every month this subscription sends 5-7 snacks from Hawaii, plus a little culture on the side!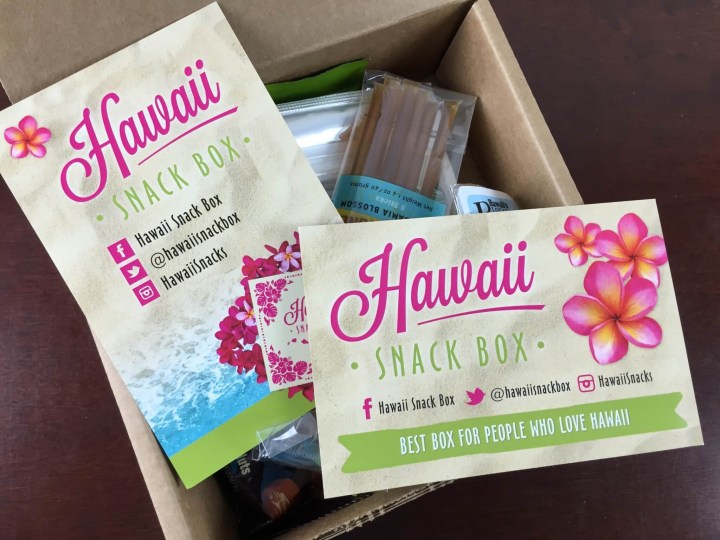 I liked their artwork, it was all very pretty.
The information card was fun and sweet, and the culture card discussed Hawaiian pronunciations. I didn't realize Hawaiian words never ended with consonants.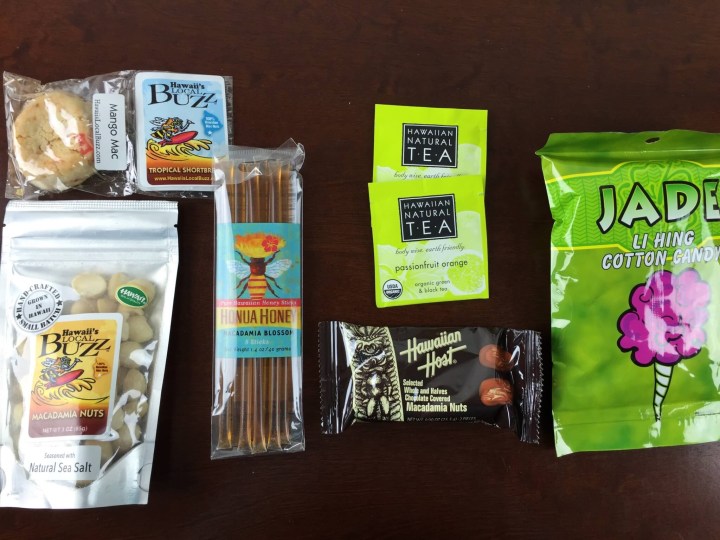 Macs, Macs, Macs, Macs, plus other stuff! YAY!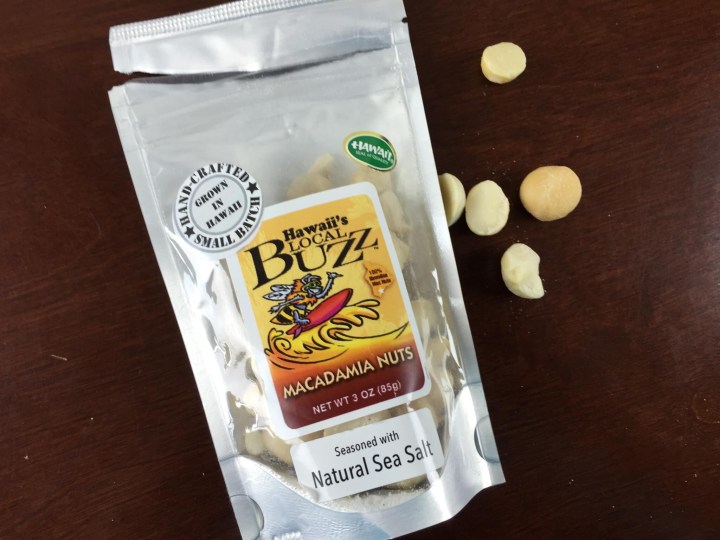 Hawaii's Local Buzz Macadamia Nuts – These were the best macadamia nuts I've ever had in my entire life. And I have eaten quite a lot. They're dehydrated instead of roasted and WOW! I would buy these again!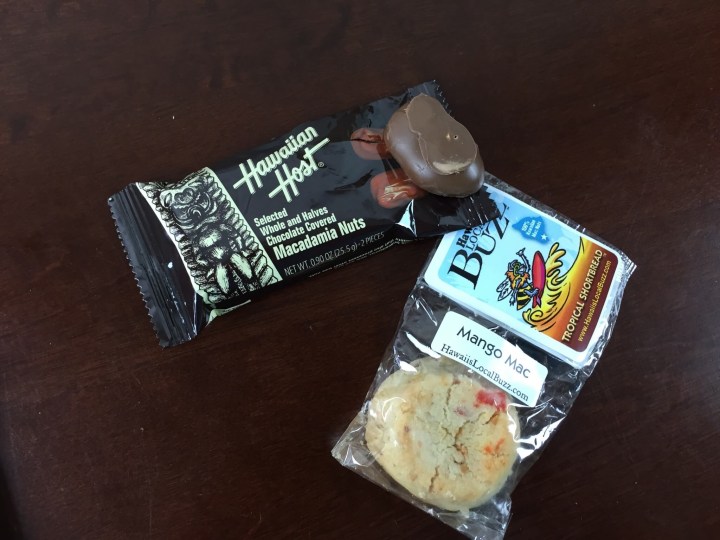 Hawaiian Host Chocolate Covered Macadamia Nuts –  I ate half of one of these and it appears that my husband ate all of the rest. Thanks for keeping my calorie count down, but I really wanted the rest!
Hawaii's Local Buzz Mango Mac Tropical Shortbread – This had an amazing interplay of flavors and textures between the mango, macadamia nuts, and the shortbread. Everything was just super decadent.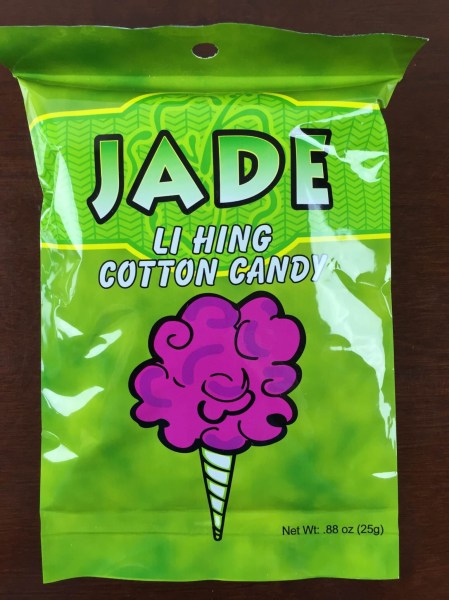 The Jade Company Li Hing Mui Cotton Candy – Li Hing Mui is salty dried plum, and this combines that in powdered form with cotton candy. I saved this for the kids and I hear they weren't crazy about it, which is ok. Still a good experience and good item!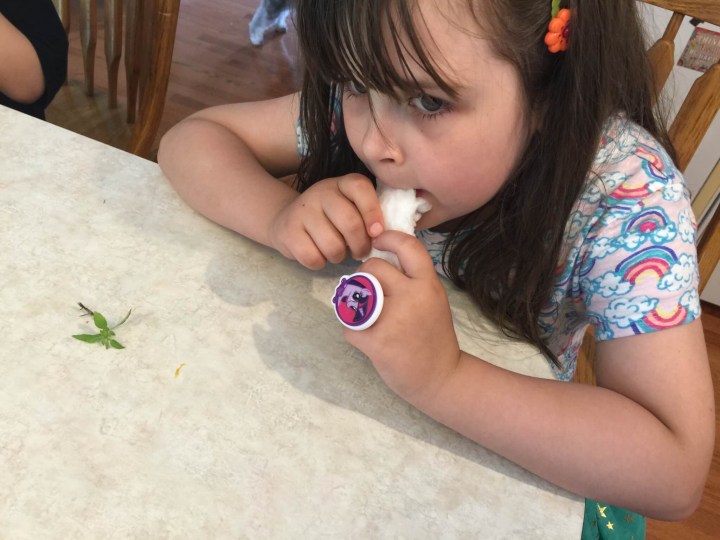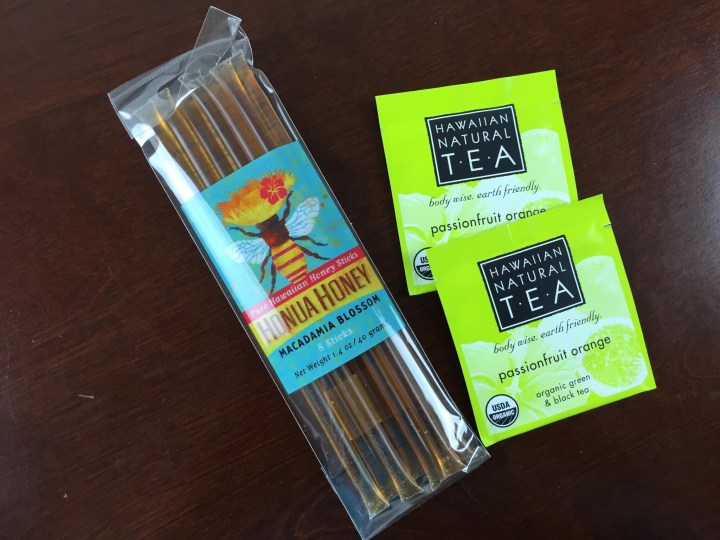 Honua Honey – Macadamia Blossom
Hawaiian Natural Tea – Passionfruit Orange
Certified organic passionfruit orange tea plus macadamia blossom honey! I'm not a big tea drinker so I will tell you that it's a green and black tea blend and I hear it was tasty, but the honey was delightful – nutty and very different than "mainland" honey!
What a delightful box! I didn't do a total breakdown but was happy with the selection and the deliciousness. I can imagine future months might be more adventurous, and this is just making me itch to visit Hawaii sometime! The cultural information was an added bonus, and it would be great to see some photos of beautiful Hawaii. SO jealous.
Visit Hawaii Snack Box to subscribe or find out more. Use code HELLO for $5 off your first box.
The Subscription
:
Hawaii Snack Box
The Description
: A monthly box that lets you sample local Hawaiian treats every month while receiving a taste of the culture, along with a fun word, phrase or recipe that teaches you about Hawaii.
The Price
: $19.95 per month
The Coupon
: Use code
HELLO
for $5 off your first box!