Flaviar brings the selection-of-the-month concept to the world of fine spirits. The concept is great for spirits, since the best out there can be quite expensive — a big investment for an item that cannot be truly understood without tasting for yourself. The Flaviar sample gives your the chance to sample before shelling out for a full size, or if you and your buddies want to go in on a full-size subscription, you are assured your selections will be prescreened for noteworthiness and drinking pleasure. Their debut sampler box features five fine whisky selections from around the world.
Within the shipping box is a handsome interior box, within which are nestled your five new guilty pleasures.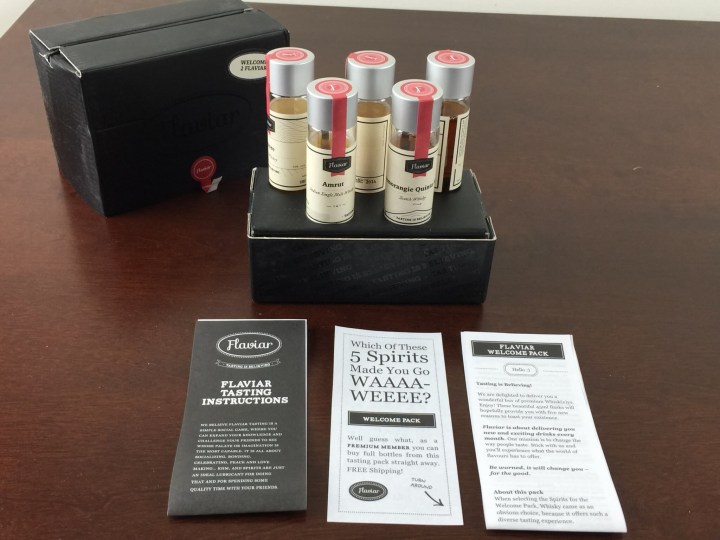 The kit in its full glory.
Included are some hints on conducting an effective tasting, as well as some key info on the samples, including flavors to watch for.
Here you have 5 Whiskies from 5 different countries – Scotland, Ireland, Switzerland, Japan and India – so you can experience different styles and appreciate the diversity.
Greenore 8 YO — Surprisingly smooth for a corn whiskey. Pale gold in color, has a banana and lemon nose, hints of vanilla, coconut and menthol in the body, with a chocolate milk finish. Tasting notes suggest to look for hints of fresh wood, almonds, and apples too.
Amrut Indian Single Malt — Also pale gold, this Indian whisky has a green banana nose, a licorice and buttery caramel body, and a subtle cardamom finish.
Nikka Yoichi 10 YO — Rich golden-colored, has a pronounced sweet sherry flavor and oily mouth feel. Finishes with floral and oaky notes.
Glenmorangie Quinta Ruban — The most well-rounded and drinkable of the lot, this strawberry blonde is extremely smooth and sweet. I detected notes of berries and port, with some rose, sandalwood, and citrus. Has a long dark chocolate finish.
Santis Cask Strength Peated — The peaty smokiness distinguishes this cask-strength offering. The deep cherry-wood color of this highly-acclaimed whisky portends its deep dark flavors. The malty flavor has sweet caramel notes and is like breathing the air near a maplewood-fueled stove. The heavy smokiness gives way to a clean, warm finish.
Full-size bottles of these spirits would be $377, so this is a budget-friendly way to test them out. Flaviar ships to 39 states, but not ours, so I'll have to wait again to get another one, but I'm looking forward to it – I love this subscription.
Visit Flaviar to subscribe or find out more! You will receive your first tasting pack for $24.99 when you use this link.
The Subscription
:
Flaviar
The Description
: Subscribe, get a tasting pack and enjoy the carefully curated top-shelf spirits delivered every month. Taste fine spirits, build your home bar. Choose between tasting packs or full-size bottles.
The Price
: $40.99 per month
The Coupon
:
Get your first tasting pack for $24.99
!