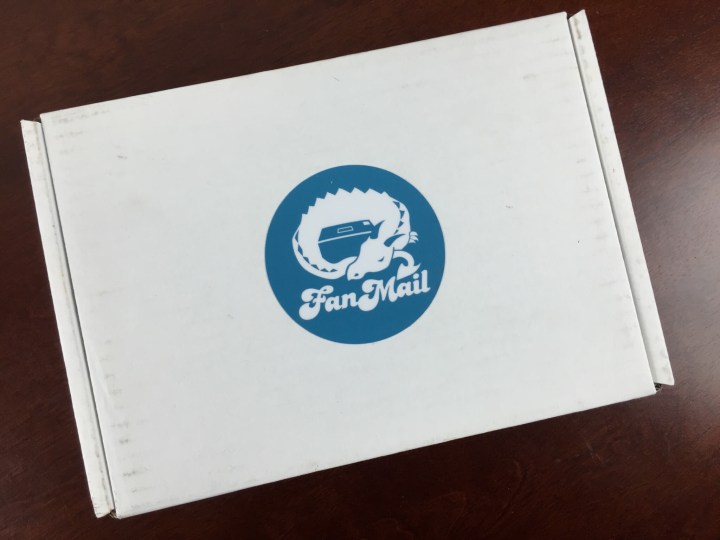 FanMail is a brand new monthly geek and gamer box for women, curated by women. Each month's mystery box will have a theme and contain a variety of memorabilia and collectibles.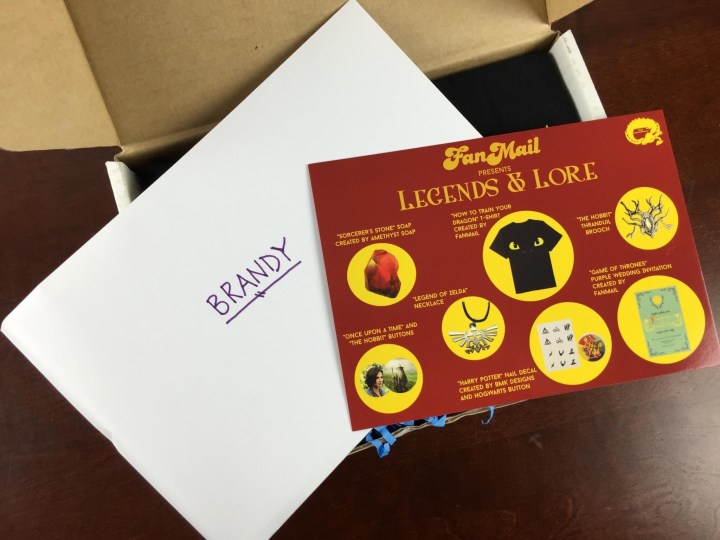 I had thought the theme for this month was fantasy, but it's Legends and Lore instead. Their website still says fantasy. I found this confusing!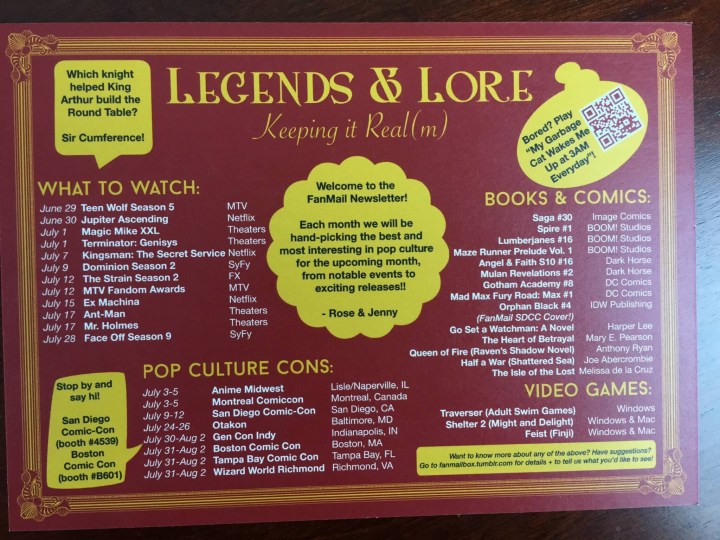 Each month, you'll get a handy pop culture newsletter that will tell you what movies are coming out, what's up for streaming and binging, and what conventions or events are out there that you may want to attend. I think this is a great feature!!
Toothless!!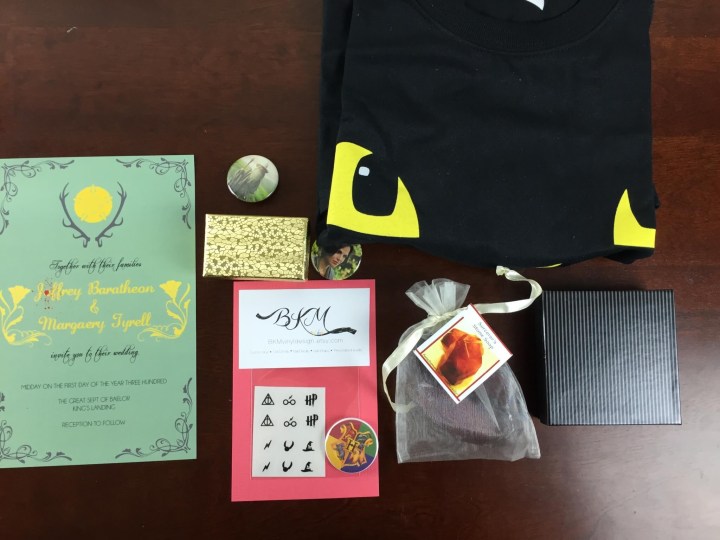 All the items in the inaugural June 2015 FanMail box.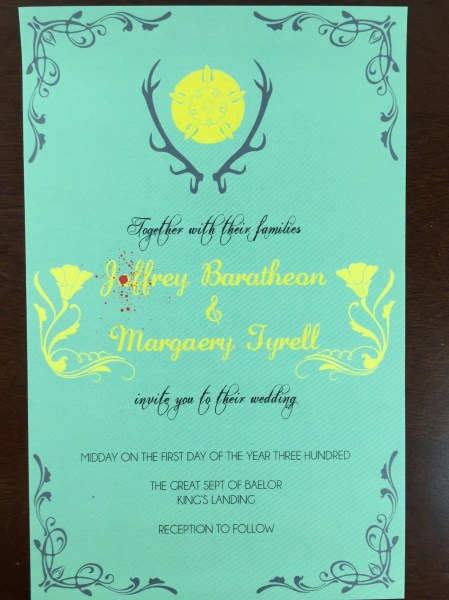 Red  (Whoops! Thanks Ann Marie!) Purple Wedding Invitation: This is cute, but it's a bit odd as a print. I don't think I'm the kind of fan to put it on my wall. If I were a scrapbooker then would definitely use it.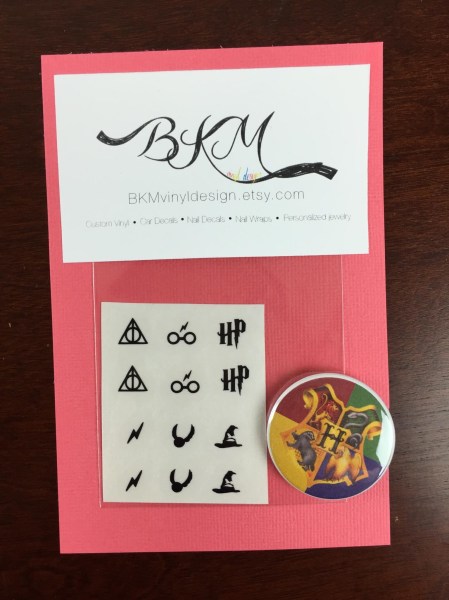 BKM Designs Harry Potter Nail Decals ($6)
Hogwarts Pin ($2)
This is super cute and perfect for the ladies! Fortunately I haven't sent my best friend her birthday package yet and I'm including these because she is a SUPERFAN! Like ridiculous. I'm going to have to take her to Harry Potter World at Universal.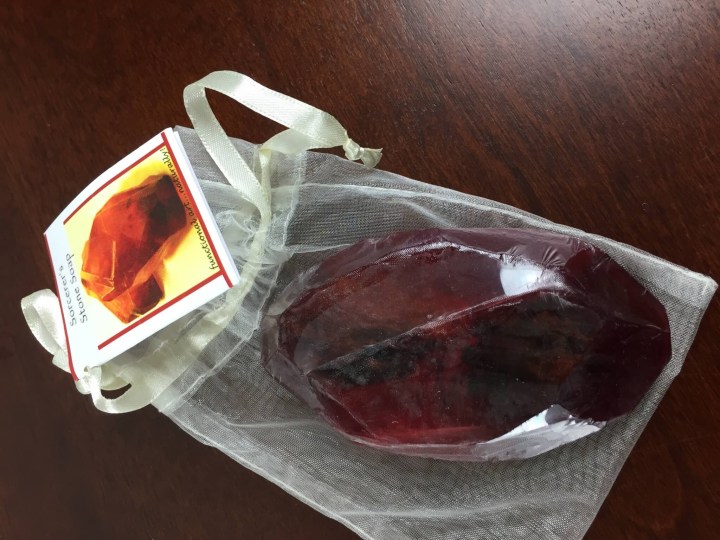 Amethyst Soap Sorcerer's Stone Soap ($7.99) Made with apricot kernel oil, kukui nut oil, avocado oil, jojoba oil, coconut oil! This has a great smell and I love that it's artisan crafted. It has a lot of detail and it's a fun item!
Toothless T-Shirt ($15) I love the design, but I really wish that it was available in ladies' sizes. I talked to them and the box owners said they would have to wait until they got bigger to have multiple styles of shirt, but I don't know why they didn't just go with a women's shirt to begin with. They fit better and are softer.
Update! An hour after I posted this they announced that ladies' cut shirts and plus-size shirts up to 4XL are now available!
We are happy to announce that we will have Ladies Cut T-shirts AND additional sizes (up to 4XL) available as an option for all future boxes!

Current subscribers will receive an email with information about how to indicate they would like to change their size from a Unisex to a Ladies Cut T-shirt.

New subscribers will be able to choose their size when they sign up for FanMail through our website.
This is great news! The shirt they sent is really quite large and it's going to my husband.
 Thranduil Brooch from The Hobbit ($8.99) Gorgeous & geeky all at once! The broach I think is my favorite item.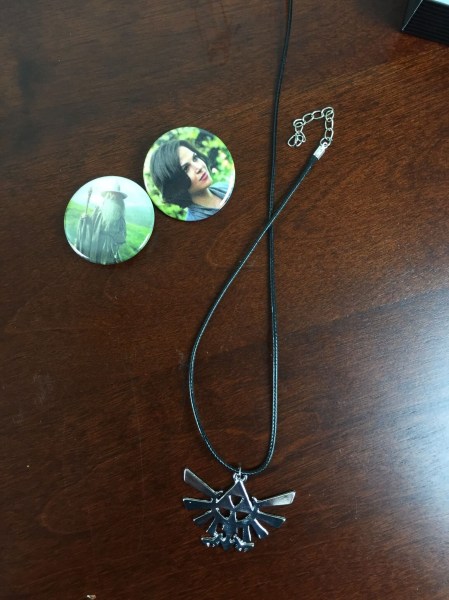 Once Upon a Time and The Hobbit Pins ($4)
Legend of Zelda Necklace ($2-3)
These were fun and fit the theme, and the necklace was nicely packaged! I am not a Once Upon a Time fan but it went into my button collection anyways! Everyone can use a good Hobbit pin and Zelda necklace, for sure.
The box was great fun and I can see it turning into something really fantastic. I am totally loving receiving geeky things just for women – these boxes are long overdue!  I think I would have preferred to see a little more quality on these items and generally am more happy with fewer and nicer items, but that's my personal preference, and it's probably a little easier to curate a box that more people like with a larger variety of items. Perhaps there was one too many button in this box. When I think of lore, I totally think of Supernatural (and so does my husband!). I think it's more in terms of the fantasy theme than anything else.  FYI, when you get charged for the box it's under Cinequest. I was super confused when I got that charge, and I figured it was for a box – I just wasn't sure which one.
I am hoping to see more prints (I love prints), maybe some vinyl decals for mirrors or water bottles, some artisan-crafted jewelry, and please, for me, someone curate a Nicolas Cage box (that's my geek side, not my gamer side). And also a 100% Supernatural box? Mmmkay.
Another update: The July FanMail theme is…
Out of This World!
We will deliver a stellar array of items from across the galaxies!
Visit FanMail to subscribe or find out more.  Find more gamer, geek, and nerd subscription boxes in the directory.
The Subscription
:
FanMail
The Description
: FanMail is a mystery box designed for lady geeks (by lady geeks!), which means that each box is filled with amazing products from the fandoms you love!
The Price
: $21.99 + $6 shipping