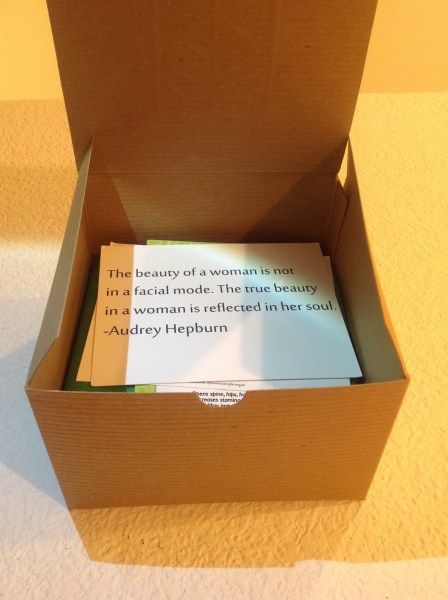 BuddhiBox is a monthly box meant to enhance yoga practice and encourage healthy living. BuddhiBox is $30.95/month for a curated mix of 4-6 samples and full size products. They also offer a sample size box for $11.95/month. BuddhiBox ships via USPS on the 10th of each month. This is a great box for anyone that is new to yoga or even those who are dedicated yogis. You can save $3 on your first BuddhiBox with coupon code buddhimommy!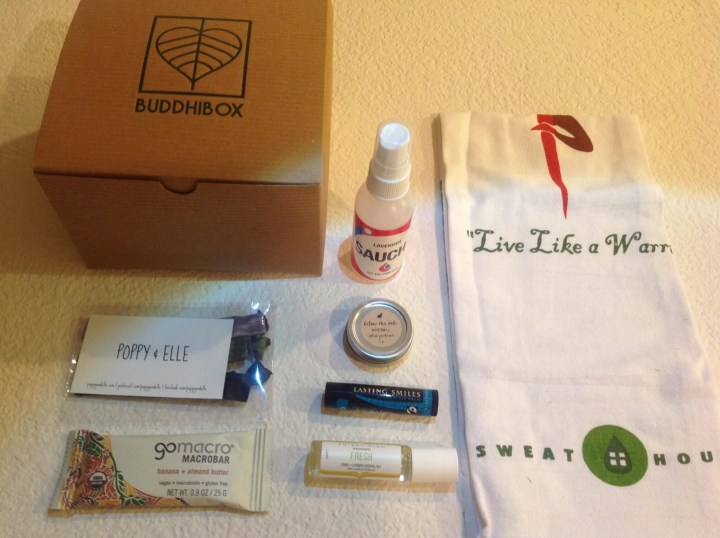 This is a great box for anyone that is new to yoga or even those who are dedicated yogis.
BuddhiBox is such a fun box to open! Their packaging is always so carefully prepared that it feels as if you're opening a present
The May 2015 BuddhiBox contains the following: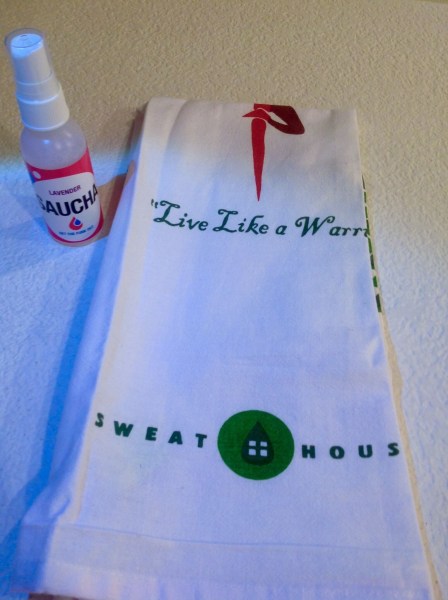 Sweathouse Brands – Yoga Towel + Saucha Spray ($15): This set is perfect to stash away in your yoga/gym bag. The towel feels and looks amazing. The Saucha Spray kills odor causing bacteria that are found on clothes and yoga mats. This spray is definitely something I know I will get plenty of use out of and great to carry with you.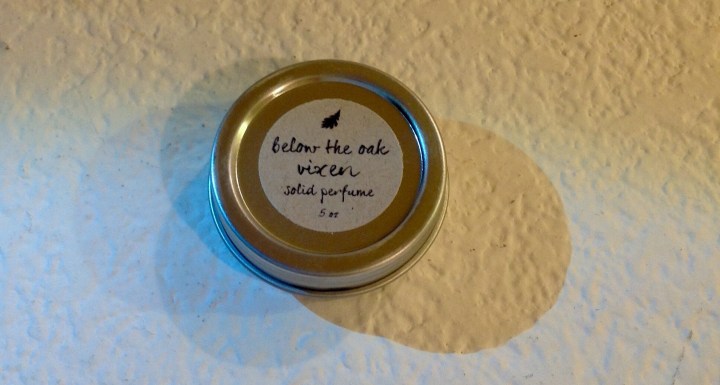 Below the Oak – Solid Perfume ($20): This is made from essential oils and smells wonderful. It has a very clean and inviting scent to it. This product is great to pop into your gym bag or into a clutch for a night out.
Poppy & Ellie – Set of 3 Headbands ($6): I adore headbands and these are just perfect. The colors are very versatile and can be used during yoga, running, lifting weights, etc. They are designed to provide just the right amount of grip without snagging or being too tight.
Go Macro – Go Macro Bar Sample (sample): These bars are high in protein, USDA organic, Vegan, GMO Free and Macrobiotic. I just finished eating the bar and I really liked it! The flavors of banana and almond butter were subtle yet, overall the bar really seems like something I could snack on normally and feel good about.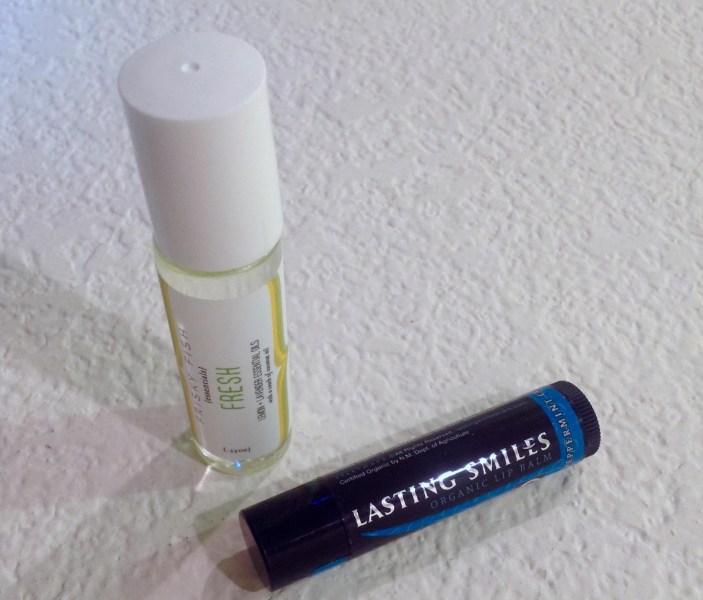 Frisky Fish – Fresh Essential Oil Blend ($14): Made from all-natural lemon and lavender essential oils. Use it to clear the mind, body and soul connection. I'm happy with this product because I can pop it into my gym bag and know that no matter what I can instantly clear my mind and yet smell amazing!
Lasting Smiles – Passion Fruit Mango Balm ($5): This lip balm is made from the finest organic ingredients. I can always use lip balm so, this was warmly welcomed! Not only does Lasting Smiles make incredible lip balm – they were able to donate the gift of a cleft palate surgery to one child. That's a great company in my opinion!
Yokibics – Four AM Meditation Downloads ($10): You will be walked through four guided meditations. You have the option to listen on-line or download to your personal device.
Overall, I came up with a total of $70 for the May 2015 BuddhiBox. I think the May box was a complete HIT – especially with how everything is portable and practical. I will use every item in this month's box and look forward to trying out new brands! Once again, BuddhiBox is definitely impressing me with their curation and passion for yoga.
Visit BuddhiBox to subscribe or find out more! You can also see more health & fitness subscriptions in the directory!
The Subscription
:
BuddhiBox
The Description
: A box to enhance your yoga practices and lifestyle. Items will include healthy food, supplements, beauty products and yoga accessories. Boxes will consist of a mix of 4-6 samples and full-size products.
The Price
: $30.95 per month
The Coupon
: Save $3 with coupon code
buddhimommy
!