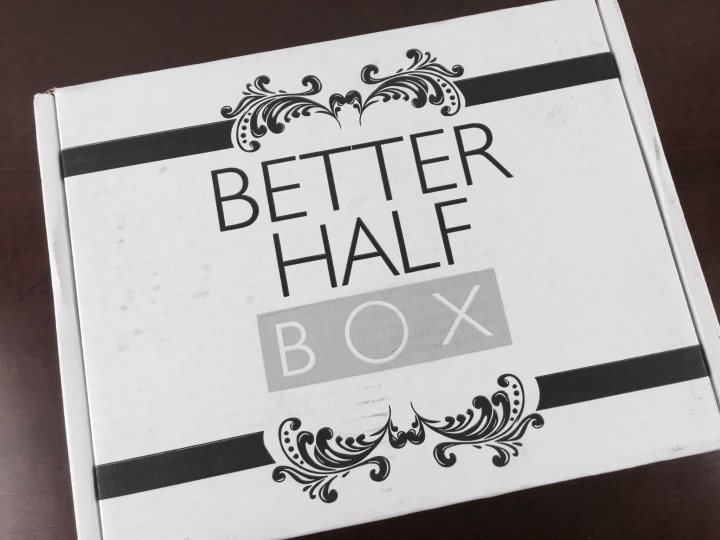 Better Half Box is a new monthly subscription box with two versions: Guys & Gals! I reviewed the May Women's Better Half Box here, and it's time to see the Men's box. Every month you'll receive items centered around a new and exciting theme. Products are full-sized and in categories like lifestyle, grooming, style, and home. FYI – usually Tom writes all the mens' subscription box reviews, but since I just reviewed the sister? wife? box to this one, I thought I'd go ahead and give my opinion.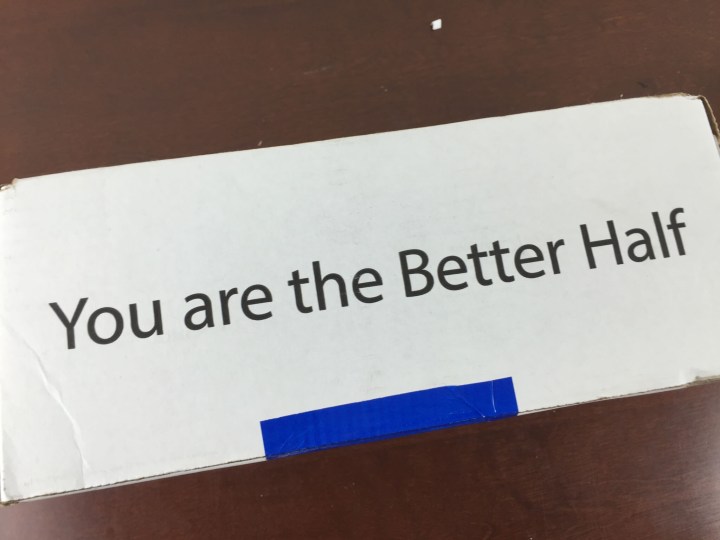 The Mens' Better Half Box is sealed with blue tape – ladies' boxes are sealed with pink!
The May Better Half Box theme for men is Casino Royale!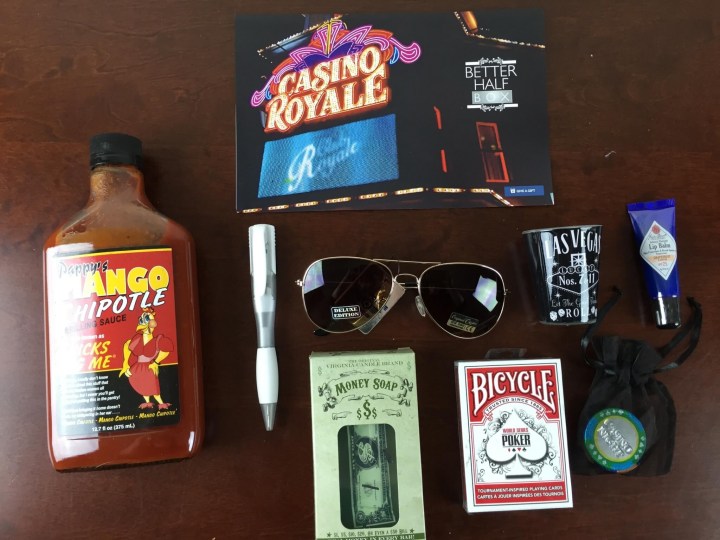 Everything in the box!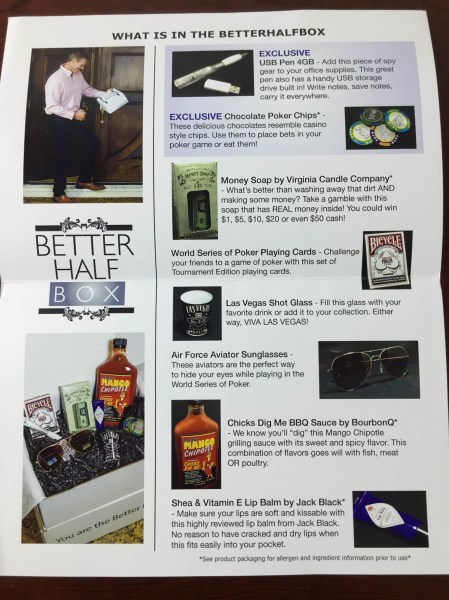 The information card provides details on each item. My husband was super excited about this box – it was totally right up his alley!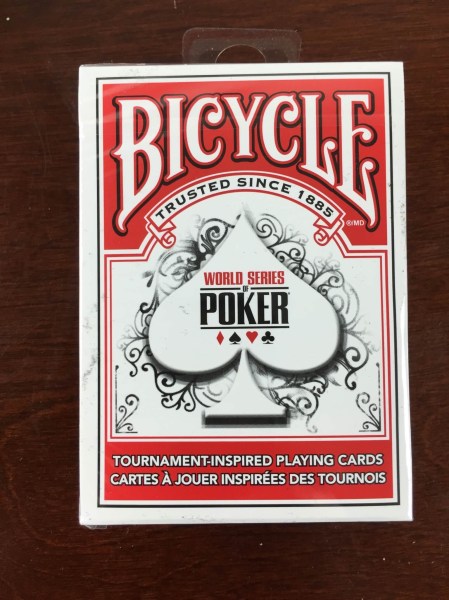 World Series of Poker Playing Cards ($3.99) Perfect for a casino night – always nice to have a fresh deck! No sticky fingers!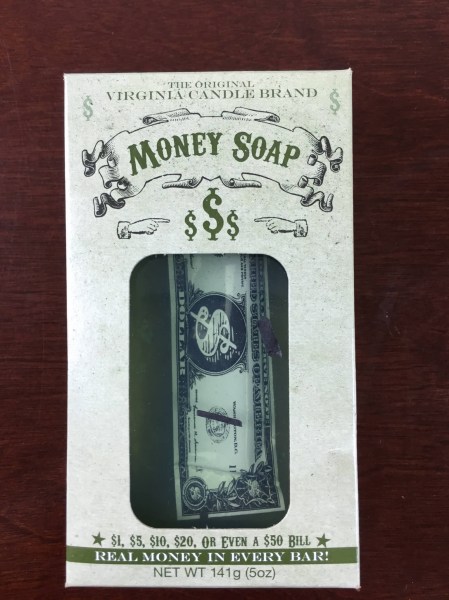 Money Soap by Virginia Candle Company ($10.99) I have never seen this before and I think it's really great. My husband will have to do a lot of cleansing to get to the surprise money inside and I suspect the kids will do a lot of helping, which is great! This is just fun!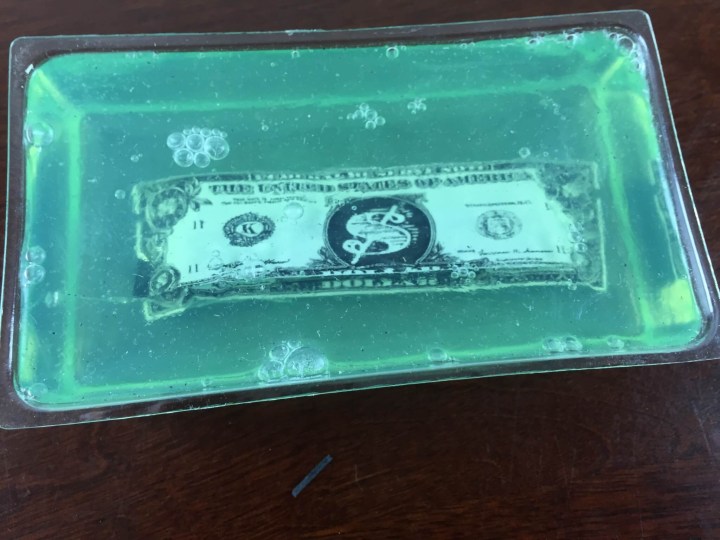 Air Force Aviator Series Deluxe Edition Sunglasses ($8?) Can I tell you about the time we had a Halloween party and I was just getting to know my husband, and he showed up on my back porch wearing white pants, a blacked on beard, and gold aviators, and I was like, can I help you? He is a sexy man in some aviators and he was pumped about the gold rims. 
Chocolate Poker Chips – I admit I ate one of these – they're milk chocolate, and a fun little item. The big winner gets to eat them!
Las Vegas Lucky Nos. 7&11 Shot Glass – Let the good times roll! My husband is sort of obsessed with going to Vegas – we have never been and he thinks of himself as this awesome gambler. We used to go to Mohegan Sun when we lived in MA. I am trying to find a conference in Vegas to go to so we can have a little getaway – as soon as we get grandparents to sign up. Anyways, he was really happy with this.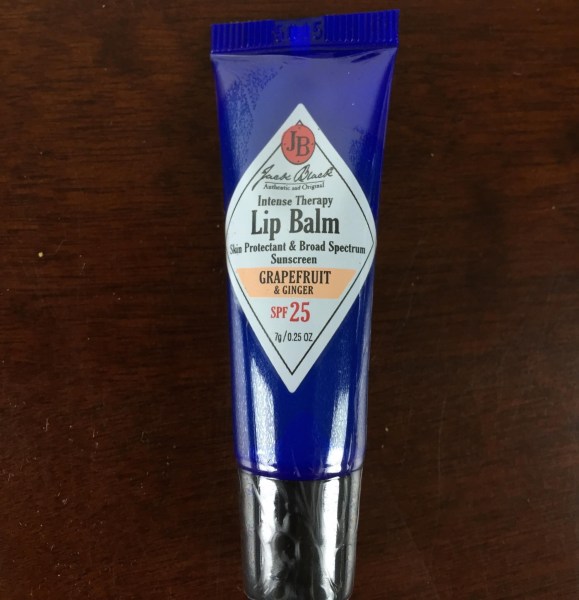 Jack Black Shea & Vitamin E Lip Balm ($7.50) The flavor on mine is grapefruit & ginger, which is delicious. I had to test it out for myself. It was softening and Tom loves lip balm with SPFs – it's one of his mini-obsessions.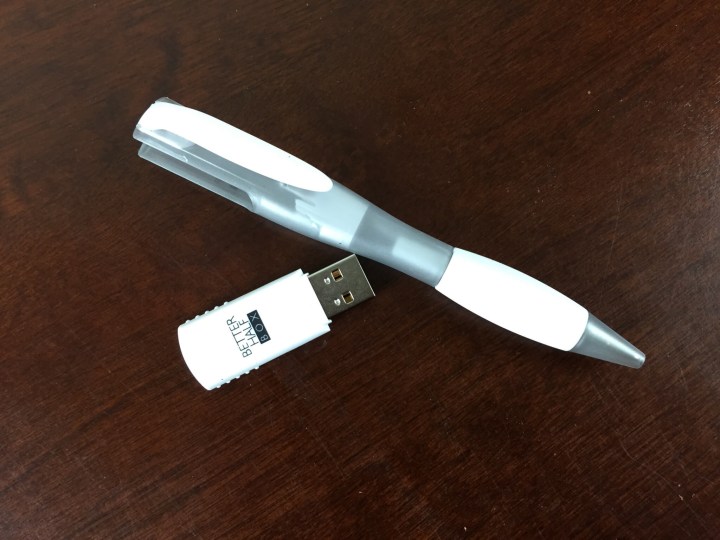 USB Pen – Just the day before we scrambled around the house trying to find a USB stick! We couldn't find one, but now we have one! This is a fun item and actually useful for us! Especially for my husband, who is not particularly computer savvy and cannot use iCloud.
Pappy's Mango Chipotle Grilling Sauce AKA Chicks Dig Me($6.99) This has sort of a bizarre description on the front of the bottle:
Hell Guys, I really don't know what it is about this stuff that gets the Yankee women all worked up, but I swear you'll get lucky just putting this in the pantry! And if bringing it home doesn't work, try whispering in her ear… "Mango Chipotle… Mango Chipotle… Mango Chipotle"
Ha ok! Tom actually made me cilantro mango relish for my burger tonight (he's so fancy) and I could totally get worked up over mango chipotle! He waxed effusively on this one while unboxing.
I am not sure about the value – too hard to find things online – but I have to say that Tom thoroughly enjoyed this box. It's very different from the other men's subscription boxes I've seen and I think this is a great addition!
I also have a theme and item spoilers for the June box: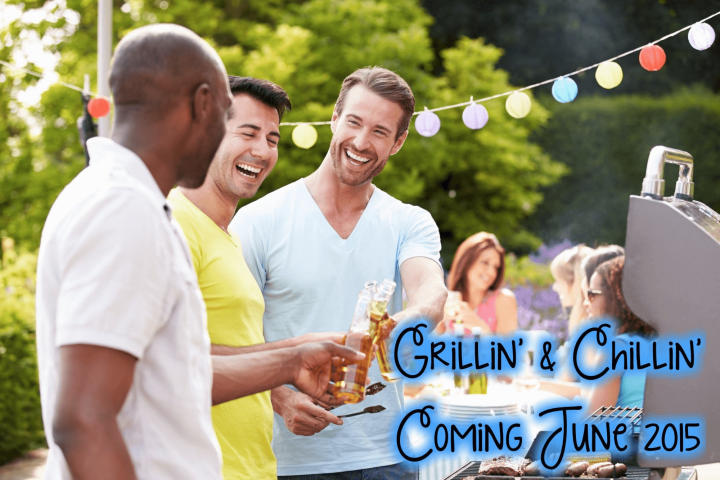 The June box theme will be Grillin' & Chillin'!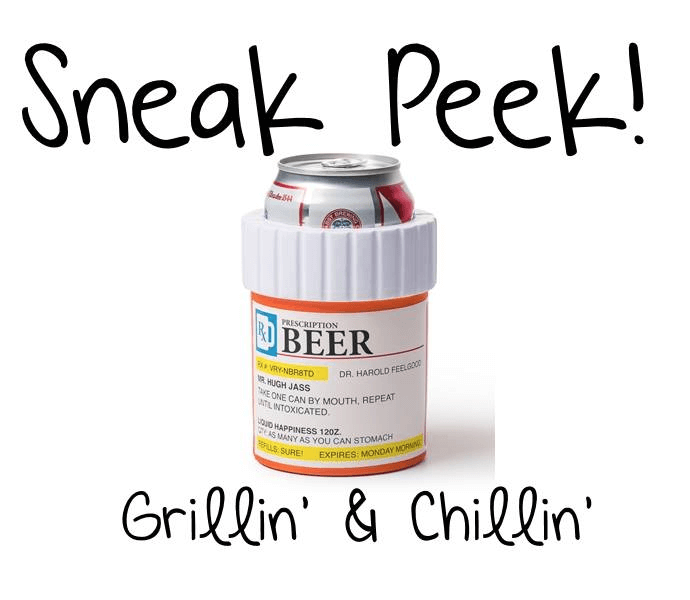 And there will be a Prescription Beer Can Cooler
Visit Better Half Box to subscribe or find out more. Get your first box for $29 with coupon code FIRSTBOX29. See all our Better Half Box reviews or check out more subscription boxes for men in the directory.
The Subscription
:
Better Half Box
The Description
: Better half box offers two thoughtfully curated boxes centered around a new and exciting theme every month. There is one for the women and one for the men, along with special edition boxes for anniversaries,birthdays, valentine's day and so much more. Packed with full sized products for lifestyle, beauty, fashion and home.
The Price
: $39.99
The Coupon
: Join now and get your first box for $29 and only $39.99 thereafter with Free Shipping. Use Promo Code
FIRSTBOX29